Shopping in Mirik
Well shopping scene isn't what Mirik is known for. But having said that, there are several nice stores in Krishnanagar area and also in Mirik bazaar that sell many interesting items. So even keen shoppers can keep half a day for exploring those. 
Some nice items to buy from Mirik are Nepali curios and hand crafted products like cups and other small pottery items with typical Tibetan designs. You can also buy nice woolens like sweaters, jackets, gloves, socks, carpets etc. The local artisans (mostly Tibetan women) in the hills here are experts in weaving colorful Tibetan woolen carpets, particularly the small bedside carpets. They use spinning wheels known as Chassba. One of the most popular types of carpets is known locally as Dun... it usually has bold and colorful geometrical patterns. 
There are rows of shops in Krishnanagar (the area south of the lake) selling these items. 
Another good thing to buy is Darjeeling tea. There are several tea gardens around Mirik including Thurbo tea estate, Gopaladhara, Sourenee, Tingling Phuguri and so on. You will get authentic packaged Darjeeling tea of some of these well known tea gardens from several shops in Mirik. And the strange part here is that stores selling curios and clothing also sell packaged tea and pottery items. 
Krishnanagar Mirik and the Shops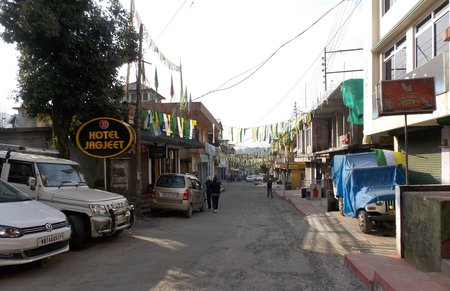 There are small stalls set up along the eastern bank of the lake. They sell all types of items including hats & caps, bags made of cloths, small curios, hair bands, woolens and jackets, and many other knick knacks. You can bargain and negotiate prices with most stores in Mirik including the more formal looking ones in Krishnanagar and bazaar. 
Lakeside Stalls, Mirik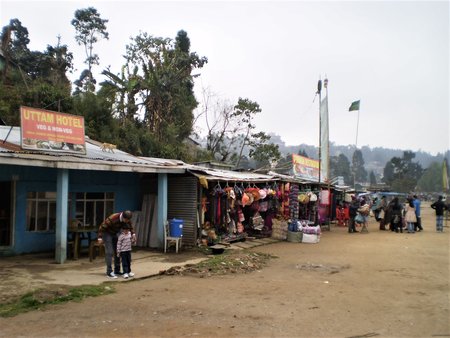 If you are interested in flowering plants like Orchids etc and other decorative plants, then there is a great floriculture nursery which you can visit. If you continue to walk along the trail that goes along the right bank of the lake, in about 15 minutes you will reach Chogyal Floriculture Nursery. Chogyal, a local has been running this nursery since 1980s and has great collections of different kinds of flowering plants. 
Chogyal Floriculture Nursery, Mirik 
His collections include orchids, hybrid flowers, vegetable seeds and seedlings, bulbs, house plants, bouquets and even pesticides, fertilizers and fish aquarium equipment. Chogyal himself is a very knowledgeable person on his subjects of plant nursery and takes keen interest in growing different varieties of plants. 
He showed me small glass containers full of tiny seeds which he imports from foreign countries like Germany, USA an others. You can either buy the seeds or seedlings of flowering plants like Orchids. It takes three months to grow orchid seedlings from seeds and therefore they are costlier. Once bloomed, flowers remain for one full year. 
Chogyal at the counter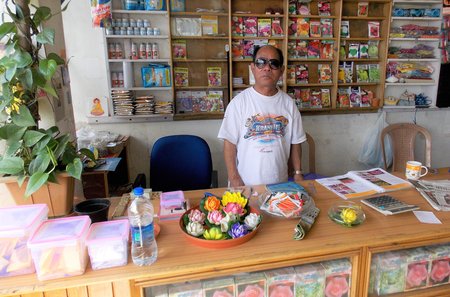 Further down the lakeside trail and in a minute you will reach the staircase that leads to Mirik market or the bazaar. This trail by the side of the lake is a shortcut to reach the market area. You can also come by the main road, but then you will need a vehicle. It takes about 6-7 minutes by car to reach Mirik Market from Krishnanagar area. While returning you can take a shared or a reserved jeep from the market stand. 
Mirik Bazaar (Market)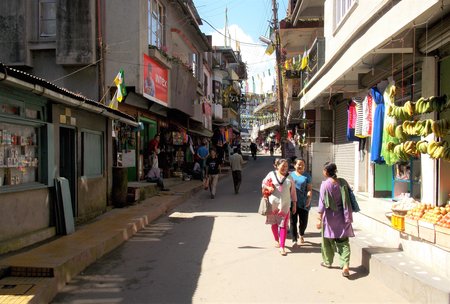 The market is usually very congested, the roads are narrow with lots of passing vehicles and lined up with numerous small stores on both sides. These are the typical hill market stores that you see in other hill towns. There are all sorts of stores selling items like dress materials, T-Shirts, watches & sunglasses, shoes and bags, caps, woolens, curios, electronics etc, and others selling daily essentials and grocery. 
Mirik Bazaar (Market)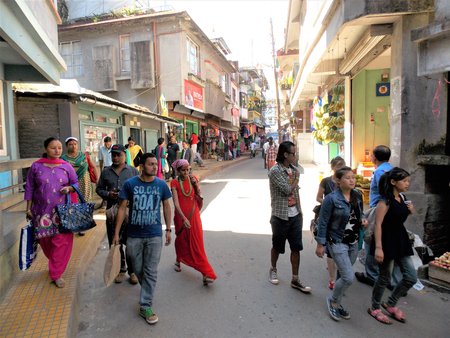 However there is one shop which stands out from the rest here. It sells large varieties of lovely artificial flowers and plants. We have picked up many combinations of orchids, gladiola, lilies and lot more. They are really nice, live like and prices are reasonable. As with any other shop in this area, you can negotiate the rates. The shop is not large but quite colorful with large window panes through which you can see the collections inside. You can easily spot it once you climb the staircase coming up from the lakeside trail and reach the bazaar. If you don't see anyone inside the shop, don't think it's closed. Just ring the bell at the adjacent door, and the owner will come down from upstairs. 
One of the recent developments is the Mirik Floating Handicraft Market which has been set up on Mirik lake. It was inaugurated in March 2018, however it was destroyed completely in August 2019 due to  severe storm. In February 2020, it has been remodeled and re-opened. 
There are about 4 to 5 shopkeepers here at the floating market selling a variety of local handcrafted items such as woolens, Tibetan woolen carpets, figurines that are made using direct wax, cane baskets of various shapes and sizes, local oranges (in season), packaged Darjeeling tea etc. The floating market is usually open from 10am to 4pm. 
Stores in Mirik market and Krishnanagar usually open at around 10:30am and close by 7pm. Note that shops at Mirik bazaar remain closed on Wednesdays. However some shops at Krishnanagar and the lakeside stalls remain open all through the week. 
Related Articles
Visitors' Reviews/Comments
Share your experience or stories.