Krishna Residency Darjeeling
Service Apartments
Category: 2-Star 
This is the first and only property in Darjeeling offering proper service apartments which you can avail for both short and long term stay. But why should you choose a service apartment like Krishna Residency instead of a good mid range hotel of its category? 
The answer is simple. If you want the comfort of a great mid-range hotel while staying in a fully serviced spacious apartment with one or two bed rooms, private kitchenette where you can cook to avoid outside food, private balcony with great views, and your own living room with a TV and dining table, then this has to be the only choice in Darjeeling. 
18 staff in the property will take care of all your needs including room service and cleaning, just like in a good hotel. The in-house restaurant serves excellent vegetarian food of nice spread with North Indian and South Indian selections. So if you don't want to cook, that's fine too... you can just use the restaurant services. 
And with this particular property, there are few other great advantages. It's located on a flat stretch of Lebong Cart Road and about 1km away from the bus stand. This means you are away from the noisy crowd of the town center. It's much quieter here and the air is fresher. And sitting on your private balcony you get sweeping view of Happy Valley Tea Estate below and that of Darjeeling town towards left. The location is quite convenient. You can even walk down to the town. 
Krishna Residency, Darjeeling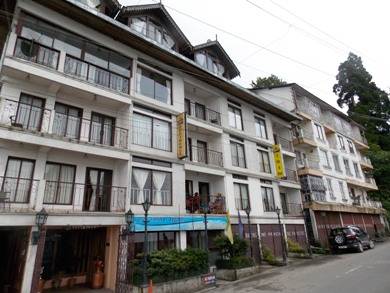 There are two white buildings with four floors in each. The property is privately owned and operational since 2007. Mr. Sriharsh Sharma, a member of the owner's family is the General Manager and overall in charge of administration. The reception is at the ground floor. 
The property has 18 apartments or units. So 18 units and 18 staff? That to my mind is a great ratio to expect great service. All the public areas are on the ground floor. The tea lounge and lobby area is nice and has free wi-fi for the guests. 
Reception & Lobby, Krishna Residency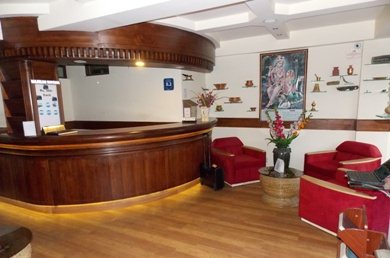 Let's now take a look at the apartments or the suites: 
A) Suites with one bedroom: These are basically like a 1 BHK Apartment (suitable for a couple).  A child can also stay with an extra bed. Each such unit has one bedroom with a queen or twin bed, one small but cozy living/dining area, one bathroom with western style toilet, geyser and one small kitchenette. 
All these Suites (except one) have a private balcony overlooking the Happy Valley Tea Estate and with a view of Darjeeling Town. There are 7 such units each with an area of 400 sq. ft. 
Suite with two bedrooms 
B) Suites with two bedrooms: These are like a 2 BHK Apartment (for two couples or a family of four). Extra beds can be arranged. Each has two bedrooms with a double/twin bed, one living/dining room, one small kitchenette and one bathroom with a western style toilet (note only one bathroom per suite). 
All these Suites also have a private balconies overlooking the Happy Valley Tea Estate and with a view of the Darjeeling Town. There are 6 such units each with an area of 550 sq. ft. 
Bedroom with a balcony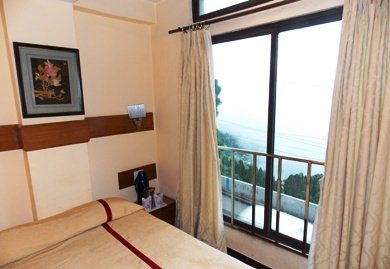 Bathroom (see the toiletries provided) 
C) Attic Rooms: Attic Rooms are at the top floor. They feature a seating area, an electric kettle, attached bathroom with geyser, a private balcony overlooking the Tea Estate with a view of Darjeeling Town. There are 5 such units of 400 sq. ft each. 
One of the attic rooms is quite special and ideal for honeymoon couples. It has slanted wood paneled ceiling giving a cozy look and a nice open patio in front. The room heater here is also special - a part of the wall is the heating panel and warms up the room nicely. Right adjacent to this room is the residential apartment of the owner. 
The special attic room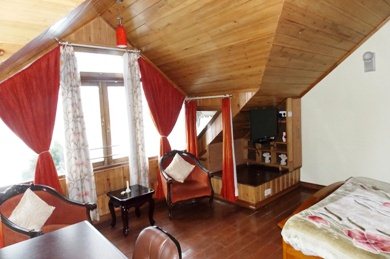 I was told that this special attic room was once part of the residence of the owner (Sharma). However his family has moved down to Siliguri and he lives here alone now. He therefore has converted this room into a guest room. 
Few points to note 
1) The buildings do not have elevators. An outside stairway behind the buildings lead to the rooms. The climb is however quite gentle and easy. If you have problems walking up, you can choose the apartments on the first floor. The stairway finally leads up to a pathway which goes all the way to Chowrasta Mall (about 25 minutes walk). 
Stairway leading to rooms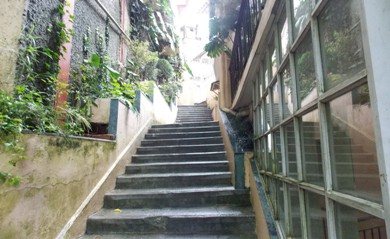 2) Only vegetarian food is allowed in the property. So you can not bring in packed non-veg food from outside or cook non-vegetarian food at the kitchenette including eggs. 
Having said this, the hotel's vegetarian preparations are quite good, particularly the breakfast spread is excellent There is no good restaurants in the vicinity, so if you must have some non-veg food, you should go to a restaurant in town. 
Dining Room at Krishna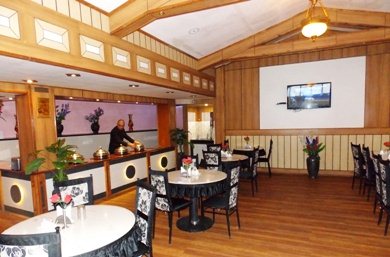 3) The kitchenette is equipped with utensils, plates, containers, crockery, gas oven, LPG gas cylinder (charged at actual cost) etc. You can buy ingredients for cooking from the market or from the in-house store. They can also provide cooking and/or dish washing assistant at a nominal extra cost. 
4) The living/dining area of all apartments are furnished with a TV, divan/couch, a small dining table for four, a dressing mirror etc. The balcony is accessible from the living room and faces south west. The rooms have floor-to-ceiling glass windows. Plenty of sunlight available in the rooms. The best part is the fresh breeze coming in from the valley and tea estate below. 
5) The bathrooms are well finished with tiles. Geysers allow hot and cold water both at the wash basins and shower mixers. No bath tubs though. 
6) There is no in-house laundry or Laundromats for self service. However laundry service is provided through external agencies and you pay directly. 
7) Although room service is available during day time, there is no service at night. 
8) All transport and sightseeing tours are coordinated through external agencies. Krishna Residency does not keep any profits in such services. 
9) You can walk down to the lower town and the bus stand - about 20 minutes walk. From there the Mall or Chowrasta which is the main town center is another 20 minutes uphill walk. You will however get taxis easily or even shared jeeps. 
My overall opinion
1) It's an excellent choice if you are looking to stay away from the overcrowded town center of Darjeeling although at a convenient place so that you can reach the town easily. Apart from the noise of occasional passing vehicles during the day time, there is no other sound (unless you are unlucky to hear barking dogs which can happen anywhere in India). Early in the morning and at night, the location is heavenly. 
2) The best part of the stay here is the view of one of the best tea gardens of Darjeeling - Happy Valley Tea Estate. You get this view from all rooms. But for the best views of the tea estate and the valley ahead, try to take rooms in the upper floors. You can walk down to the tea estate during the day time and take a tour of the factory and see tea processing (in season of course). And at night the view of the twinkling lights on the hills coming out from the shops and houses is awesome. 
Front View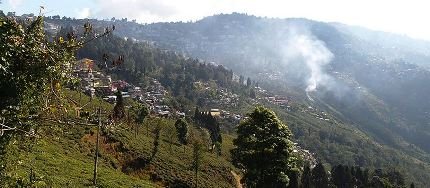 3) Rooms and the apartments are very spacious and clean. Sipping a cup of Darjeeling tea in the morning while sitting on the balcony is a special experience. A lot of focus is given on the details while keeping it simple like cookies in a jar, tea cups etc etc. 
4) Himalayan Mountaineering Institute & Zoo is only about 15 minutes walk. The Ropeway (i.e. the cable car station) is also quite close. You can easily get taxis outside or ask the reception, they can organize one for you. 
5) The food served is only vegetarian, the preparations are nice. The breakfast spread is particularly great with lot many selections. Food is very reasonably priced. 
6) Staff are courteous and very friendly, and will make you feel at home. However there is no service at night. Most come in at about 8am in the morning. 
7) Overall a great value for money considering the location, opportunity to stay in an apartment rather than within four walls of a hotel, and the hospitality. 
Rates provided by booking.com 
Location and Contacts
Krishna Residency 
51/1 Lebong Cart Road, Darjeeling - 734101 
Phone: (0354) 2259-271; Mob: 97345-23963 
Direction 
From the bus stand or Chowk Bazaar, it's about 1km along the main road, i.e. Lebong Cart Road. While taxis and shared jeeps ply along the road, the distance is also walkable and takes about 20 minutes past the District Magistrate's Office. Once you reach the flat straight stretch of the road, you can see the property on the right. 
Related Articles
Visitors' Reviews/Comments
Tapan Das (December 2017) 
I am a sr citizen with heart ailment, decided to take my wife to Darjeeling. We have booked in Hotel Krishna Residency, how far is this hotel from NJP, and what will be available to visit Darjeeling city at what cost. 
Raj (darjeeling-tourism.com) December 2017 
Once you reach Chowk Bazaar motor / bus stand in Darjeeling from NJP, it will take another 10 minutes by car (about 1km) to reach Krishna Residency (a total of about 3hrs 15 minutes from NJP). The hotel is located a little off the main town center. Although it is possible to walk to Chowrasta (Mall), but it's a fairly long uphill walk. As senior citizens you need to take a taxi to get to the Mall area.