Little Tibet Resort, Darjeeling
Category: 3 Star 
This is a small boutique resort located on the Mall road (west) and right across the entrance to Raj Bhawan. The mall or chowrasta is an easy 4-5 minute walk. So the location is quite excellent. 
The hotel is by the hillside overlooking the valley and the town. Much part of the hotel is below the road level. The entrance is a bit odd, a narrow steep stairway from the gate leads down to the hotel's reception and the lounge area. But once inside, it's quite charming. 
The whole idea behind the design of the hotel was to offer an experience of Tibetan charm and hospitality, and hence such name of the hotel. It's run by a Tibetan family. You will therefore certainly find several Tibetan touches in the hotel including Tibetan food like momos etc in the menu. 
But the owners perhaps know that not many tourists may be interested  just on Tibetan theme, so they tried to combine modern luxury and amenities, as well as several variations to the food menu. 
Little Tibet Resort, Darjeeling 
Photo: Little Tibet Resort 
There are 24 rooms - Deluxe and more expensive Executive rooms, and a suite which are spread across three levels. The executive rooms have a common terrace of their own with nice valley views. You can have a choice of double bed (Queen size) or twin beds. 
All rooms have standard amenities like western style toilet with glass paneled showers, LCD TV, DVD players, hair dryers, safe, tea & coffee maker etc. While most rooms would have view of the valley and the town ahead, there is no Kanchenjunga view from the rooms. 
Executive Room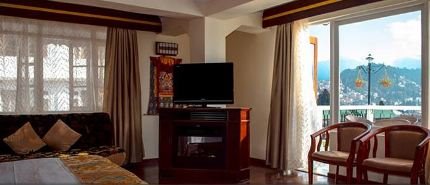 Photo: Little Tibet Resort 
They also provide free wi-fi in the common lounge area. There is a nice lawn with a gazebo where you can enjoy Darjeeling tea and watch the valley views ahead. The in-house gift shop has nice souvenirs at reasonable prices. 
The in-house multi-cuisine restaurant is a tad expensive. The breakfast is nice and comprises of both Indian and western items. But the dinner and lunch are usually buffet, and they will push you for that instead of ala carte. The menu of course has several items including Indian, Chinese, Tibetan, Continental etc. Unless you are stuck with meal plans, you may prefer to have your meals outside. 
The resort also has an in-house salon & spa offering massages, pedicure & manicure services etc. Another interesting place to explore is the roof top sun deck & coffee parlor. 
Overall a nice boutique hotel with personal touches. However as you can see, there are not much of in-house activities. The hotel is particularly suitable for couples planning on a romantic vacation or just wanting to relax in a quiet yet centrally located hotel. 
Rates provided by booking.com 
Location and Contacts
Little Tibet Resort (Opposite Raj Bhawan) 
The Mall Road Darjeeling, 734101 
Phone: +91 354-22110100/01; +91 354-2110100/01 
Related Articles
Visitors' Reviews/Comments
Seema Krishnan (June 2017) 
Hi Raj, We traveled to Darjeeling in the first week of May and had a wonderful time. We were so glad that we booked an executive room in Little Tibet. Both the room and wash room were kept squeaky clean and it was an energising shot to our tired eyes after a whole days journey from Chennai.