Pure Vegetarian Restaurants in Darjeeling
This page is for vegetarians planning to visit Darjeeling and looking for vegetarian-only restaurants. Notice that I have mentioned pure-vegetarian, which has nothing much to do with the purity or quality of the food, it is to mean that restaurants that serve vegetarian-only food in Darjeeling. Because almost all restaurants that serve non-veg dishes in the hills will also serve some vegetarian dishes anyway. 
However the vegetarians mostly look for eateries that serve only vegetarian food and won't like to sit with those having non-vegetarian food. And this section will also list restaurants where you can ask for Jain food (food without garlic or onion, or even root vegetables like potatoes). 
And if you are a vegan, ask the restaurant not to use any milk products like ghee, butter or yogurt in the preparations. Some of them will customize it to your needs. 
But before I start listing the vegetarian restaurants, I would like to set your expectations and say that Darjeeling is certainly not a paradise for vegetarians and you won't find too many restaurants serving only veggie food. The locals that are mostly immigrants from Nepal are not vegetarians by any means. Only a small population of Marwaris and other non-Bengalis have created few restaurants that serve vegetarian only food.  
Here are the best veggie eateries. Go through the links to get detailed information including food and ambience. 
(Price: Mid Range, Cuisine: North Indian, South Indian, Chinese) 
This is by far the best pure vegetarian restaurant in Darjeeling and located centrally next to upper club-side stand on Gandhi road. You will need to climb a few flights of narrow steep stairs to reach the restaurant. The dining room is quite spacious and nicely done up. The menu is quite extensive. 
You will get all sorts of north Indian, South Indian and Chinese dishes here including tandoor. The service is friendly. Take a table next to one of the large windows. You can see swarms of people and activities below while having a lovely view of the mountains. They serve breakfast, lunch and dinner. 
Kasturi Palace Restaurant
(Price: Mid Range, Cuisine: Gujrati, Jain, Marwari & South Indian) 
This is another nice restaurant located at Hotel Kasturi Palace on Hill Cart Road. It's little away from the main town center of Darjeeling and located near Ava Art Gallery. It's barely 10 minutes by car from the main town center and on the way to Ghum. Staff are friendly, inside dining ambience is clean and nice,  vegetarian food is good. They also have a terrace sitting. 51A Hill Cart Road, Rose Bank, Darjeeling. 
Kasturi Palace Restaurant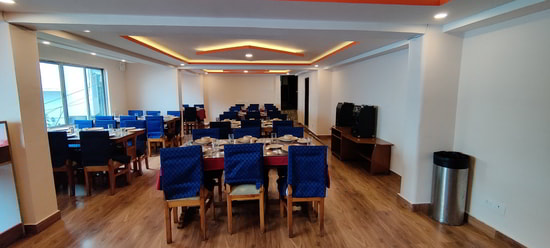 (Price: Budget, Cuisine: North Indian, South Indian, Chinese, International) 
This is a cafe serving vegetarian breakfast and snack items. It's located on Nehru Road and close to the Mall. You won't get regular vegetarian meals here. But the snacks are quite nice. They make great dosas as well as veggie chowmeins, north Indian chats etc. 
They also serve tacos, nachos, pizzas, sphagettis etc. You will get beverages as well like coffee, tea, cold drinks and even ice creams. Overall a nice cozy environment. Service is friendly but a bit laid back. 
Restaurant at Hotel Sunflower
(Price: Mid Range, Cuisine: North Indian, Chinese) 
This is an in-house restaurant of Hotel Sunflower but open to outsiders. The hotel is located right at one corner of the Mall and steps away from Nathmulls Tea Shop. The restaurant is on the ground floor and has a very nice ambience with wooden paneling and woodwork at the ceiling. 
You get lovely views of the valley from the window-side tables. The menu is quite extensive and they serve different types of Indian and Chinese vegetarian dishes. You can have full meals here. 
Sunflower Restaurant, Darjeeling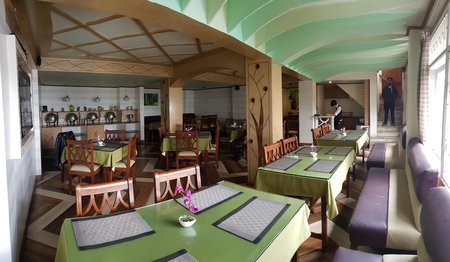 Some of the popular dishes here includes fried rice or naans, paneer preparations including palak paneer, mixed vegetables, daal makhani, green salad etc. Finish it with a juice or ice cream. Service is friendly and professional. They serve breakfast (7am to 10am), lunch (12noon to 3pm) and dinner (7pm to 10pm). They are vegan friendly. 
(Price: Budget, Cuisine: North Indian, South Indian, Chinese) 
You won't miss this restaurant with its bright red board as you walk along Nehru road towards the Mall. This has remained a popular vegetarian eatery since many years, mainly because you get wide range of items including snacks and meals at a budget price. The large board on the left as you enter lists all the dishes available here, and there are literally countless items. 
You can also ask for few Jain dishes here. Chaats like dahi kachori, papdi chaat, and dosas are most popular here. This is one place where you can try out the local dishes like Alu Dum and veggie momos. They serve late breakfast, lunch and dinner. This is a self service restaurant. 
Gharana at hotel Shambhu
(Price: Mid Range, Cuisine: North Indian, Chinese) 
The restaurant is part of hotel Shambhu which is located at Gandhi road and about 5-6 minutes walk from the taxi stand. You can see the hotel perched a bit high on the cliff on your left. So it requires climbing a few flights of stairs to reach up to the reception level where the restaurant is located. 
Ambience is quite ordinary with wooden tables with glass tops laid on rows. The restaurant serves all the standard vegetarian north Indian and Chinese dishes. There is a large floor-to-ceiling window on one side. Take a table next to that and you will get nice terrace view with garden setting. 
Gharana Restaurant at hotel Shambhu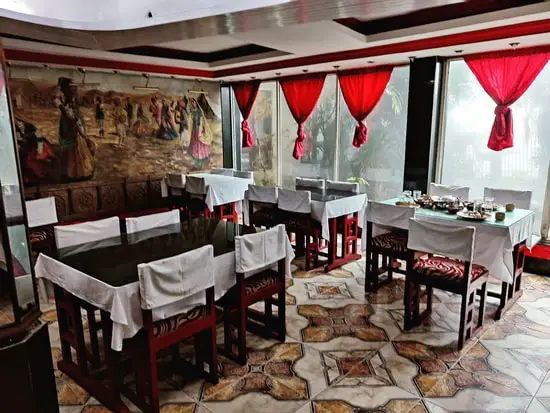 There is a wood-paneled bar on one side with bar-stools. The bar did not however look adequately stocked and wasn't too impressive either. I have hardly seen anyone at the bar. The service is friendly and average. It's vegan friendly. 
The bar at Gharana 
Restaurant at hotel Apsara
(Price: Budget, Cuisine: North Indian, Chinese) 
This is an in-house restaurant of hotel Apsara (a budget hotel) and located on Laden La road. The ambience is average with rows of tables on both sides of a longish dining room. You can go for the vegetarian thali which is what most have. They also serve buffet. Breakfast, lunch and dinner are available. Service is average. Address: 6 Laden-la Road. 
Tip Top Gujarati Guesthouse
(Price: Budget, Cuisine: Gujarati) 
This is a guesthouse on Gandhi road and offers both food and lodging to its guests. They serve nice Gujarati, vegetarian and Jain food in their dining hall. You get Gujarati thali (platter) as well. Although accommodations are quite ordinary, food is good. 
It's a homely guesthouse and quite popular with Gujaratis. It's at a walking distance (of about 12-15 minutes) from the main commercial center of Nehru road. Address: 106 Gandhi Road. 
(Price: Budget, Cuisine: Tibetan, Chinese) 
It's a shack type low budget eatery located close to the HMI & Zoo entrance and serving mostly snacks. Some nice items to go for are veggie momos made by Lily (the lady owner), veg burgers and homemade beer. NOTE: While they are a vegetarian eatery, they do serve egg items like egg burgers and omelet with toast etc. 
Related Articles
Visitors' Reviews/Comments
Jai Ganesh H (February 2017) 
Hi ! Like for many, your website is of great help for people like us who are planning to visit Darjeeling and Surrounding places. I am planning to visit Darjeeling during April 2017. Is it safe for 2 persons (a lady included) to goto Gangtok via a private taxi from Bagdogra airport, supposing we take a taxi from airport at 2:30PM? Do we get good vegetarian foods in Darjeeling? Appreciate your advise and help. thanks a TON in advance !  
Raj (darjeeling-tourism.com) February 2017 
Yes, it's safe to travel. There are not many vegetarian restaurants in Darjeeling - you can try Lunar (on Gandhi road) and Sunflower (part of Sunflower hotel at Mall) for your meals. Gangtok has plenty of them on MG Marg.