Tathagata Farm
15 minutes drive from the lower town of Darjeeling to Lebong bazaar, and then about an hour's drive along a narrow winding road all the way down to the foothills will take you to a place known as Mineral Springs. This is a plantation controlled area where a community of villagers live mostly on farming potatoes, millet, corn and vegetables. In 2007, Navin Tamang, a local had set up an organic farm in a small village here and named it Tathagata Farm. 
Unless the driver knows, you will surely go past the entry. There are no signboards. A narrow opening by the side of the road with Buddhist prayer flags fluttering is the only sign for you to stop. But this is only the entry to a long steep pathway deep below where the cottages and farm facilities are located. 
However the farming land starts from the road level itself, goes all the way down to the main area below and then stretches beyond. It will take about 15-20 minutes of downhill walk along the stony pathway to reach down to the farm house. But once there, it's a different world! 
So how is it? As they themselves define it - "Experiential, Interactive, Simple and Local". Yes that is it. You will get to know about the farm through experience and interaction with life & nature around, and it's kept simple and local to retain the authentic rustic flavor of a typical farm in a mountain valley of Darjeeling. That's what you want after all. 
Apart from vast greenery, crops and plantations, you get wonderful views of the mountains around. Few steps ahead is a small pool filled with fountain water, next to it is a garden and a shaded area to relax, sit and enjoy the greenery around. Pathways through the farm reach out to various sections including the gardens, cottages, kitchen and the dairy. 
Navin once worked for NGOs and understood the value of sustainable living through organic farming and eco tourism. He later quit his work and acquired this land to create an organic farm of his own. He has engaged several young men from the local villages to work in the farm and earn their living. They grow tea bushes, cardamom, ginger, corn and other vegetables, and even fruits like oranges. There is also a dairy. While all of them take active part in farming activities, most also double up to perform other roles such as cooking, repairing, guiding treks, customer service etc. 
Tathagata - Stony pathway leading down to the farm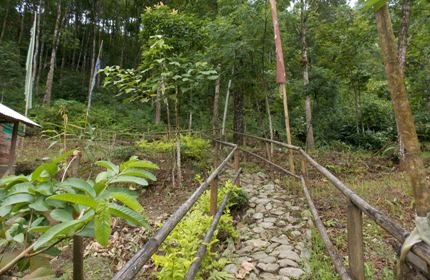 The charming and smiling young lad Basant was my main company while I was there in the farm. He was initially a guide and now one of the key persons coordinating the activities. He is also a good cook and continues to be a guide. 
Accommodations
Pathways around the farm lead to the cottages and tents. There are actually two cottages and two luxury tents that can accommodate a couple each. The tents are the first to be seen as you come down from the road level and approach the farm. The two luxury tents are placed next to each other. There is a small wooden stairway to negotiate to climb up to the tents as they stand on stilts. Don't be concerned if the stairway shakes, that's natural and fun. 
Luxury Tent - Tathagata Farm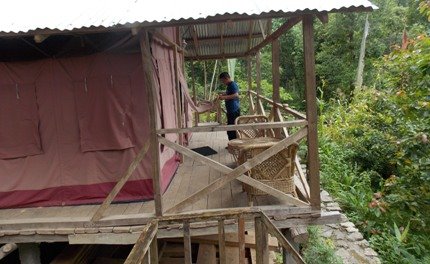 Unlike normal camping tents, these luxury tents have proper beds (actually two single beds in each), side tables and even attached bathroom (of European style). The bathrooms have been constructed separately using concrete and attached to the backside of the tents. You can access the bathroom through an opening from the tent. Towels, soap, liquid hand soap etc are provided. Bathrooms are simple with corrugated roofs. 
Inside the tent - see middle (zipped) section of the tent 
that opens to the attached bathroom behind 
There is electricity in the tents including lights and pedestal fans. Another good feature of the tent is its front private wood floored balcony overlooking the farm and the mountains ahead. Well, since the tents are on the pathway leading to the kitchen & dining room, you will often see guests and staff passing by and waving at you as you sit on the balcony. 
The cottages are great too and located at far end of another pathway. They have more privacy and overlook the farm vegetation (not much of mountain views though). They too have nice & large private balconies, rooms are cozy with beds for two, with lights and pedestal fans, and attached European style bathrooms. 
To a cottage - Tathagata Farm 
There are couple of more rooms coming up above the kitchen building (which is located centrally). I came to learn that one of those rooms would be used by Navin himself while the other one would be open to guests. Those upstairs rooms too have nice large and open common patio in front. Navin and Basant mostly stay at the farm at nights while the other staff go back home. Presently when all rooms are full, they need to use the store room to sleep at night. 
Inside Cottage Room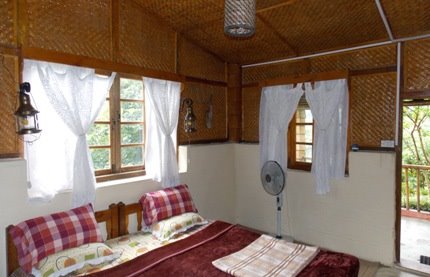 Note that there are no TVs, geysers, or wi-fi in the farm. Mobile network is almost non-existent. 
Having a cup of tea while sitting on your private balcony is special. Why? While I was sipping my cup of tea, Basant mentioned that the tea is made from the leaves plucked from the tea-bushes grown in the farm. And it tastes great. They not only pluck the tea, but also process the tea manually in the farm which involves withering, rolling and drying to make it ready to consume. Tea gardens of Darjeeling do such processing in their own factories using machines.  
You will find small bags of Tathagata Farm's organic tea sold at a boutique store called 'Life and Leaf' in Darjeeling Mall (i.e. Chowrasta). They are fairly expensive because they are all manually processed by the villagers here. Darjeeling tea can't possibly go any further natural and organic than this. 
Note that your stay at the farm here and even buying a bag of farm's tea helps in the cause of socio-economic growth of the villages here. Because Navin's main objective has been to pursue sustainable living and create alternative earning sources for the local villagers who are otherwise dependent only on farming. In line with this vision, he also encourages villagers to open their homes to tourists and create village homestays which many in the city crave for. And there have been several villagers who have already done so. 
Cottage - Attached Bathroom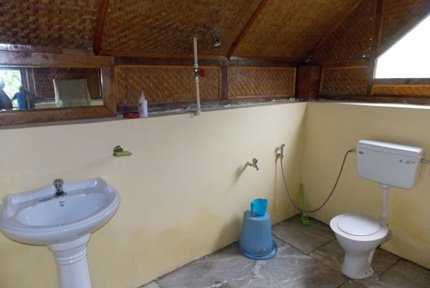 As I sat on the tent's balcony, sipping my cup of tea while chatting with Basant, he took my attention pointing high up towards a tiny looking structure on top of the mountain ahead and said "Sir that is actually the backside of Gorkha Ranga Manch building located on Mall road of Darjeeling town". We were actually sitting at a valley right below Darjeeling Mall. 
Basant on the cottage balcony giving me company 
Dining at Tathagata
There are no restaurants within miles, or for that matter any hotels or other establishments. But luckily the food at Tathagata is something you can't complain about. In fact there are couple of great cooks in the staff team. They make excellent Indian and Nepali food, and use optimum level of spices and oil to keep them healthy and tasty. 
Guests, and open kitchen behind 
The vegetables and ingredients for cooking come directly from the farm's gardens and therefore they are always very fresh. They have a small poultry cage where they keep live chickens. You can also have pork and beef if you want. 
The open kitchen is large, centrally located and next to the common sitting area. You can sit and watch how they cook, or directly volunteer to prepare the dishes. The dining room too is open with covered roof and is adjacent to the sitting area. It has nice wooden picnic tables and greenery all around.... lovely ambience. When the dining area is free, this is where they wither (i.e. dry) the tea leaves plucked from the bushes in the farm. 
The dining room - see tea leaves on trays being dried 
The common sitting area (you would call it a lounge in a proper hotel) is placed between the kitchen and the dining room, and is in the same building. The kitchen, sitting area and the dining are only separated by partitions, are all open with roof cover. This is where the guests usually gather in the evening and chat with each other. Sometimes (usually during the high season when the farm goes full with guests), they arrange ethnic dance and music performed by local villagers. 
The sittng area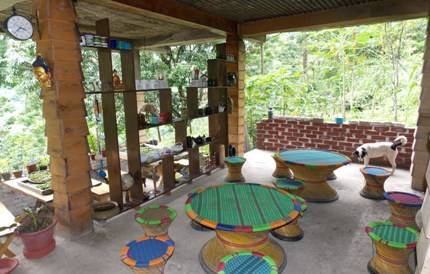 Things to do
Well you can watch or participate in the farming activities, milk & feed cows, or just relax and enjoy the serenity and  nature around. You can walk down for about 15-20 minutes to the local mountain stream and relax by the river side or even do fishing. They can also organize local sightseeing tours by car. 
Farm and mountain view - see the cow shed (in blue)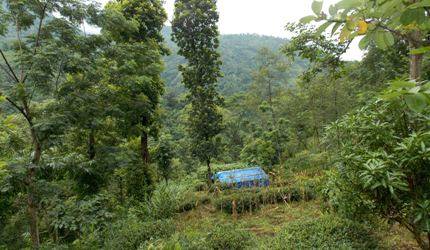 But if you are the active type and like to walk, then here are couple of treks and village walks I'll recommend: 
They offer a 5-hour guided trek to Majitar - a place in south Sikkim which is about 13kms away. Basant or the staff known as Jr. Navin is usually the guide. You will cross the Rageet river and reach Rangeet forest. Along the way you pass through tea gardens like Tukdah, Glenburn etc. Once you reach the bridge over the river, its time to have your packed lunch, relax and end the trek. You get back by car. 
Go for a village walk which takes about four and half hours. You will visit several villages such as Balbirdura, Sinadura, Gudamdura etc, meet with villagers and know about their life which I'm sure is unknown to you. 
The small pool and garden at Tathagata 
How to reach Tathagata Farm
From NJP railway station or Bagdogra airport, Darjeeling lower town takes about 3 hours by car. From there you need to head along Lebong Cart Road to reach Lebong bazaar which is another 15 - 20 minutes away. Then a narrow road winds downhill all the way to the foothills to Mineral Springs where Tathagata Farm is located (in a village known as Aaapbotay). From Lebong bazaar it takes about an hour to reach Aaapbotay. So initially you are driving uphill up to Darjeeling town (about 6,700ft) and then all the way down to the valley below. 
Once you reach the farm's entry point located by the roadside, a narrow steep pathway leads further down to the tents and cottages below. You need to walk this pathway. Initially this used to be a muddy village pathway. Navin has laid natural stones on it to make it easier to negotiate, but it can still be quite slippery (particularly if it rains). 
It takes about 15 minutes to go all the way down to the farm below. But while climbing up, it would easily take 20-25 minutes to walk up to the road level with several breaks in between, and you could be panting for breath when you come up to the road. So it's certainly not meant for those who have problems walking. However they send staff to help with your luggage. And after a several walking trips up and down, you will eventually get used to it. 
The Tathagata Team  
(which also includes a few dogs, cows, roosters etc)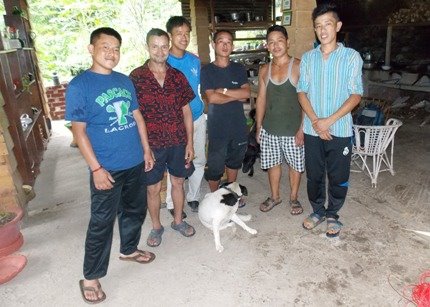 I do not recommend that you reach the farm after dark. Because climbing down the pathway won't be easy. There are no lights along the way although the staff do carry solar lamps, but that may not be good enough for city dwellers. 
Most taxis from NJP or Bagdogra won't be willing to go beyond Darjeeling town unless you pay a lot extra. Also finding the place is not easy and you will end up making several calls to Navin. It's better to ask him to organize a pickup. You need a large vehicle like a Sumo or Scorpio because of the road condition beyond Lebong. 
Rate Inclusions
Cottages are little cheaper than deluxe tents. Single occupancy rates (in both tents and cottages) are lower. The rates include all meals including breakfast, lunch, dinner, tea and snacks. 
Rates provided by booking.com 
Location & Contacts
Tathagata Farm - Aanp Botay, Mineral Spring, P.O. Lebong, Darjeeling, West Bengal, India. 
Mobile: +91 9932021569 / 9775809299 
Related Articles
Visitors' Reviews/Comments
Share your experience or stories.