Ivanhoe House
A Heritage Stay in Darjeeling
Category: 3-Star 
While having a chat with Elizabeth Clarke, the Director of Windamere, she suggested that I take a look at Ivanhoe House. This old heritage property which was built during the British colonial days, was then managed by Windamere Hotel administration. She added that this is the only house of that era which has remained unchanged and offers a rare opportunity to the guests to live in the old ambience of the Raj days and feel the aura of the period.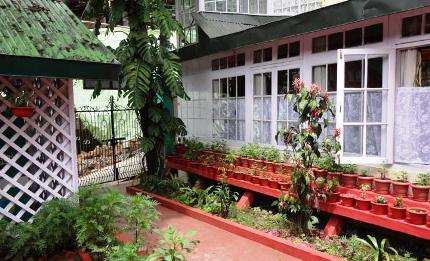 It was this special aspect of being able to go back in history that made me interested to explore the property. Elizabeth herself and the General Manager of Windamere Subhana volunteered to take me around. 
As you walk down the Mall road from Chowrasta and past the entryway of Windamere Hotel, you will reach the large building of Gorkha Rang Manch in about 4 minutes. Next to that take a left turn down a narrow lane and within a minute you will see the house on your left. Walk in through the entry gate and along a paved pathway and you will reach the main entrance to the house. There is a nice lawn in front and an open patio at the end of the pathway. 
This house was originally built in 1841 by a British lady named Mrs. Mackie as her summer retreat. Later in 1871 it was converted into a boarding house to accommodate British families. This was the house where several well known celebrities and famed personalities lived or spent their holidays. 
Some of such names include movie stars like Vivien Leigh of 'Gone with the Wind', Julie Christie of 'Dr. Zhivago', and even Sir George Everest after who Mt. Everest was so named. The rooms are all named after such famed guests.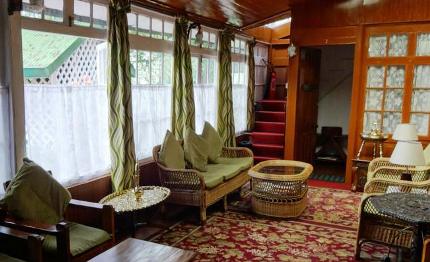 The moment you walk in, you realize that you are entering a house which bears all signs of the old British grandeur. There is teak finish all over including the ceilings. I liked the fact that no modern renovations or structural changes were made to convert the house into a hotel. It has remained as the original house and guests occupy the different bedrooms of the house. The only changes have been additions of antique furniture, modernization of bathrooms, electrical fittings etc. Even the original fireplaces in the rooms have been retained and are lit when necessary. 
The lounge area is fully carpeted and was once the living room of the house. Cane sofas and center tables are kept here. This is where you can relax and read newspapers or chat with fellow guests in the evenings. While there are few rooms on the ground floor, an wooden carpeted staircase leads to rooms upstairs. 
As you would expect in a large aristocratic house, there are bedrooms of different types satisfying all needs of a family. Large bedrooms have twin beds and a sitting area. The single room is quite small but equally well furnished. Looking at the fireplace in the single room when I asked Elizabeth if it could get suffocating when the charcoals in the fireplace are lit up, she said no, and pointed to the exhaust as outlet for smoke.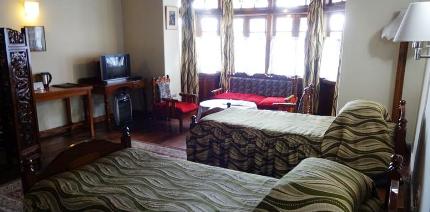 All rooms have fireplace, dressing table with mirror, TV etc. While most rooms are airy and have windows, there are no views of mountains from any room. 
The deluxe double suites have a large room and a small room, and the bathroom is attached to the small room. The concept here is to use the smaller room also as the dressing or changing room. There is a bed in the small room as well. Bathrooms are modernized and some have shower mixers in glass cage.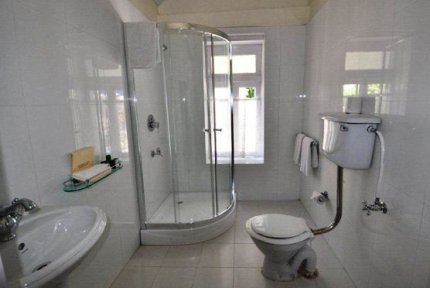 The dining room is at the ground floor and matches perfectly with the aura with all its furniture. There is a fireplace here as well. They have also kept a mobile cellar here in case you like to have some drinks. Breakfast is included in the tariff and you will get eggs prepared to your liking, toast, cereals, fruit juice etc. 
Lunch and dinner are also available, but you need to order well in advance and let them know the time you will dine. They will accordingly make your meal. They are flexible and can make several different types of dishes in their kitchen including Continental, Indian etc and even momos on request. Snacks are also served if you order them. The kitchen staff are skilled and prepare the dishes well. You will of course get fresh Darjeeling tea anytime - both black and green. 
The only male staff here is the manager who is a very polite and a modest man. Rest are all local ladies including the kitchen and housekeeping staff. While service is very friendly and all staff are helpful, it can be at times a bit slow. But that is understandable because they are trying to run this property as a house and not as a professional hotel. 
Complimentary wi-fi is available, but it may not cover all rooms. Works well at the lounge area. 
Note that there is an annex building right next to the original main house which serves as an extension of the main house. There are few rooms on different floors in that house as well which are also equally well furnished. 
My Overall opinion about Ivanhoe House
This is a great opportunity to go back in time and feel how life was during the British Raj days. 
The property is maintained spotlessly clean, the wood panels and floors are meticulously polished. 
Location is very convenient (only 5-minute walk to the Mall, Chowrasta). 
Food is good. Breakfast is sumptuous. You can take your breakfast or tea in the outside lawn or patio. 
Service is friendly, but can be slow at times. However you will get service even at mid-night. 
There is no parking here. 
Stay at the original main house to get the real charm of an old heritage house. 
It's relatively expensive. 
Contact Info
4, Franklyn Prestage Road, The Mall, Darjeeling, West Bengal, India. 
Phone: +91 - 9975830996 
Related Articles
Visitors' Reviews/Comments
Janet Gasper Chowdhury (April 2015) 
Dear Raj, This is indeed a wonderful place to stay. It is like a home with staff to assist you. We stayed in the master suite Vivien Leigh. It has 2 rooms. The larger one with a fireplace, bed, sofa and seating in front of fire place and dressing table, table and space to keep luggage. The smaller room is near the toilet and serves as a walk in closet type. It also has a bed and is very cosy. But the best part is the very helpful staff. Amit, Kalpana, Monika and Ricky are exceptional. We enjoyed our stay mostly because of their hospitality. Even better than a five star. Prompt and efficient. While the cost of a room is possibly more than Mayfair it is well worth it especially if you have children and need assistance. Thanks for your suggestion and we highly recommend this Place.