Nestle Homestay Darjeeling
Category: Budget   X CLOSED 
This is a small homestay run by the retired couple Mr. and Mrs. Pradhan. Both are very hospitable and helpful persons and love to host guests and make them feel perfectly at home. 
The homestay is located near the lower town area. From Chowk Bazaar (the lower town main market) as you walk along Lebong Cart Road towards the District Magistrate's Office, the narrow Convent Road on the left goes downhill and leads to the homestay. It's located in a peaceful and quiet residential area. 
At the same time it's quite conveniently located. The Chowk Bazaar is less than 5 minutes drive and within walking distance of the homestay. So if you like to stay in a quiet area, get the comfort and safety of a home, have lovely homemade food prepared mostly by Mrs. Pradhan herself while be within 10-15 minute walking distance from several great attractions, this is a great choice. 
The Pradhans have been running the homestay since 2012. There are three guest rooms each having access to a bathroom. Rooms are nice, clean and cozy. The one upstairs has a triangular slanted ceiling and completely wood paneled giving a great cozy feel. The view of the surrounding mountains and the valley from the upstairs room is also outstanding. All rooms are nice and well equipped with TV, double comfortable beds, almirah or cupboards etc. 
Nestle Homestay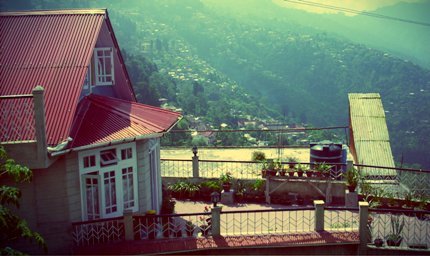 Bathrooms have geysers and therefore you get hot showers whenever you like which is a big plus of this homestay. But the most impressive of all are the host themselves. They seem to have perfected the art of ensuring a home away from home. 
Mr. Pradhan would join you at the dining table or over tea and tell you a lot of stories about Darjeeling, its history, about the natives (they being natives themselves), about toy train and lot more. You can get lots of useful tips from Mr. Pradhan to know what are the best places to see around and how. 
A Guest Room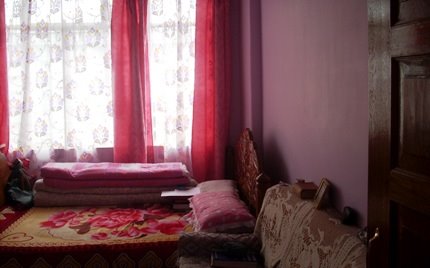 The food is prepared in the in-house kitchen under the supervision of Mrs. Pradhan. You can join her in the kitchen and learn how to prepare some of the local (Nepali) dishes. Food prepared is simple but nice. In breakfast they serve veggies and eggs of your choice. In lunch and dinner you can get simple Indian or Nepali dishes like steamed rice, daal, vegetable dish (for example a corn preparation or a mixed veg), chicken etc. They use very little spice and oil in the food. If you are a vegetarian, they will make veggie only food and with nice variations. 
They also serve good quality Darjeeling tea. And when that comes with Momos (homemade Tibetan dumplings with hot sauce), it's out of the world. They have a common hall or a living room where guests and hosts sit in the evenings and chat. It's a nice carpeted room with cushioned seats. 
There is also an open terrace in the property. View of the valley and the hills of Darjeeling from the terrace is wonderful. You can see the glittering lights of the township at night. There is free wi-fi available 24 hours. They also offer board games like chess, carom etc. There is also a mini library, but the collection of books is quite good. Note that smoking & drinking is not allowed in the homestay. 
The Living Room 
Some of the key tourist attractions which are within walking distance from the homestay are Happy Valley Tea Garden (about 15 minute walk), HMI & Zoological Park (about 20 minute walk), Botanical Garden (15 to 20 minute walk), Chowrasta Mall (about 30 minute walk). Note that for some the only difficulty might be the uphill walk from the homestay to the main road, market area and the Mall. 
However ask Mr. Pradhan, he can organize a cab at a reasonable rate. In fact Pradhan can organize any local tour & transfers at a very reasonable rate. Foreigners can take Pradhan's help to get documentation and permits (the District Magistrate's office is only 4-5 minute walk). Pradhan can also help buying the Toy Train tickets. 
Rates provided by booking.com 
Location & Contact Info
Convent Road, Below District Magistrate's Office, Haridas Hatta, Darjeeling 734101 
Related Articles
Visitors' Reviews/Comments
Papiya Roy (December 2016) 
Hi Raj, we ( me & my husband ) are planning to visit Darjeeling for the first time in April next year. I have gone through your website and its wonderful. thanks a lot for those very useful info. We are thinking to stay at nestle homestay. But google map is showing that it is 2.2 km far from mall. In daytime this walking distance is manageable but in the evening time? Will it be safe to walk down from mall area at 8pm?? Are there any mode of local transportation ?? As we are newly married couple, we are concerned about our safety. Waiting for your reply.we will confirm our accommodation only after your suggestion. Thank you. 
Raj (darjeeling-tourism.com) December 2016 
Hi, you are right. After 8pm you are unlikely to get a cab near Mall and walking down is not advisable. It's a fairly longish walk. So if you plan to stay at Nestle homestay, you should not plan to take your dinner in the Mall area or plan to roam around beyond 6pm or so, unless you hire a car for few hours. Also note that it's a steep uphill walk to the mall and may not be easy for all city dwellers unless one is used to long walks. 
Mithun Khamaru (May 2016) 
I booked two double bed rooms through online/ phone. I was quite tensed as this was my first tour at hill with my 2 and 1/2 years old daughter and my parents are also with us. Mr, Mrs Pradhan and their family members are so cordial & caring and made us very comfortable. My daughter was so so happy that she did not want to come back. Rooms, bathroom, bed, quilt, foods, driver everything give home feeling.. Especially Ms. Pradhan....really thankful to her that she made our tour most remarkable and we definitely visit again.