Gatty's Cafe Darjeeling
Category: Mid Priced, Cuisine: Western 
CLOSED
---
Gatty is the nick name of Gautam Shreshtha, a well behaved and polished local who runs this cafe along with his wife. It's more than just a cafe. You can conceive it as a mix of lounge, an art & music space and of course a cafe. Whatever that may mean, it is certainly meant to draw tourists and locals young at heart, and it has been successfully doing that since the time it was first set up in 2012.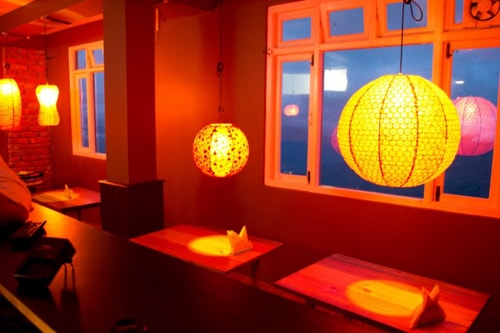 Another side to this cafe... Gautam also runs a popular adventure sports outfit known as Adventures Unlimited which is located within stones throw from the cafe. And that outfit is quite popular with trekkers and other adventure lovers particularly from the western world. 
So as you can well imagine, there will be a lot of trekkers and tourists from western countries in the cafe who have been part of treks or other adventure activities through the outfit. 
And that's perhaps the main reason why you won't find much local or Indian food here. The cuisine here is mostly western that would primarily suite the palette of westerners. Having said that, the cafe is also frequented by many locals and Indian tourists, because the food after all is good & not common in Darjeeling, and the inside ambience even better. 
The cafe is located on Zakir Hussain road, about 10 minute walk from Chowrasta (Mall). 
First the ambience... 
The dim lights mostly hanging from the ceilings, cushioned sofas, wicker seating, one part with wooden tables with bench type wooden seats... they all create a casual, soothing and friendly ambience inside. If you look carefully, the decor is very carefully done and well optimized for the space. In fact four wicker seats can be pushed under a wicker table elegantly forming a box like structure if required.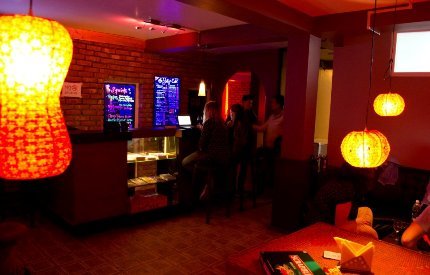 There is a music room. Live European music is played and sometimes even Jazz during the high season. Several local musicians as well as bands from outside Darjeeling are  invited to play in the evenings. This is one place where tourists can find plenty of co-travelers and easily engage in a chat with them, and most of them do so. Don't be surprised to find some even sitting on the floor taking it easy. 
There is a section that has several books. They also offer free WiFi and there are tables where you can place your laptops or mobile devices, sit on a stool and be online with a drink. 
While most tourists and locals come here at night, the cafe is also open for breakfast and you get lovely views of the mountains from here. Would be a great idea to have a cup of tea, read a book and enjoy the views of the mountains. But haven't seen many doing it though. Perhaps for its location. 
Now the food & drinks... 
The cafe has a bar. This is one place which unlike most others in Darjeeling, remains awake until late night... up until mid night and sometimes even beyond. The music continues through the night making it a very attractive proposition to the young, particularly tourists looking for a night out. You get nice cocktails, spirits, chilled beer. 
Additionally there are hot & cold beverages beverages like different types of coffee (including Lavazza expresso & black, House Blend, Nepal blend etc) and Darjeeling tea (black, green and even iced). 
And it's a great place to chill and listen to music while you have good food. As I mentioned, the menu is of western cuisine although there are a few Indian snacks as well. 
Some of the nice western food to try would be pasta, ravioli, lasagna etc in Italian (you get options for veggie, pork , beef etc), Arabic platter, meat platter, pitta, hummus and so on. 
In Indian, you can try the chicken or cheese pakodas (fried dumplings), chicken, fish or veg cutlet, chili or crispy chicken, sesame chicken, French fries etc. 
Service is very friendly and accommodative. 
Overall a great cafe and place for the young at heart to have a great nightlife in Darjeeling :) 
Location and Contacts
Gatty's Cafe is located on Zakir Hussain Road off Chowrasta (Mall). From the Chowrasta go past the horse stables along Zakir Hussain road and it's about 10 minutes uphill walk. It can be a bit tiresome for some to reach up to the place, but walking back is easy. 
Mobile: (+91) 99330 70013 
Related Articles
Visitors' Reviews/Comments
Share your experience.