Bose Institute Darjeeling
Highly under-rated as a tourist attraction, Bose Institute of Darjeeling is a branch of the main unit in Kolkata. This was setup by the famous scientist Acharya Jagadish Chandra Bose in 1920. This fascinating building was designed with advises from personalities such as Nobel Laureate Rabindranath Tagore, famous artist & painter Nandalal Bose and others. 
In fact Acharya Jagadish Chandra Bose himself lived in this building between 1922 to 1933 as he worked on his specialized research. That time, the building was named as Abbey House and Sanctum. The house where he lived is now converted into a museum which is open to Public during normal working hours. It has several exhibits showcasing some of the original belongings of AJC Bose. 
Bose Institute, Darjeeling 
Photo: Bose Institute 
The Bose Institute in Darjeeling is now specialized in high altitude research & science. The campus is also known as Mayapuri campus. There are actually two buildings in the campus and an adjoining land area. One building is named 'Mayapuri' and the other one 'Haimavati'. 
The institute has been the seat of many eminent scientists for their fundamental research work including AJC Bose himself, DM Bose and many others and their prominent students. 
In recent times, The Department of Science & Technology, Government of India has given a go ahead to set up a national intensive research facility in the area of Astroparticle Physics & Space Science at the Bose Institute Darjeeling. The institute has also now drawn up a detailed program for the same. The research facilities and the research outcomes of Bose Institute in Darjeeling is used by various universities and research centers all across the country. 
The view from the lawn area behind the building is awesome. On a clear day you get sweeping views of the Kanchenjunga range from here. 
Kanchenjunga View from Bose Institute Darjeeling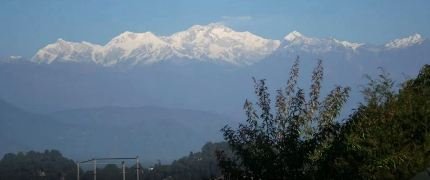 Photo: Bose Institute 
NOTE 
While the research facilities are not open to tourists, you can certainly visit the museum which was once the residence of the scientist AJC Bose. You can see many of his personal belongings including furniture. 
Address & Location
Bose Institute 
16 A. J. C. Bose Road, Darjeeling, West Bengal 734101. 
You can get into AJC Bose road from Gandhi Road. (bout 12 - 15minute walk from the Gandhi Road traffic police point or the Clubside taxi stand). 
Related Articles
Visitors' Reviews/Comments