Local Food & Beverages in Bhutan
You should know a few things while ordering Bhutanese food and beverages to ensure you get what you asked for. Here are some tips for you: 
Datsi
Any dish that ends with Datsi will have cheese in it. Emma Datshi, Asparagus Datshi, Sekum Datshi (pork), Sakum Datshi (beef). 
Maroo
Any dish whose name ends with Maroo is a light stew which you can safely order as it's light and usually tasty. There are chicken, pork, beef and veggie variants. 
Paa
Any dish that ends with Paa is a fiery combination of local green leafy veggies and meat and big red chillies. Quite good if you like your food to be a little spicy. 
Momos
Fried or steamed dumplings with fillings. Most small restaurants only have the beef and cheese versions so do not expect chicken momos at each stall like in Darjeeling/ Sikkim 
Rice
Order Red rice…it has a rich nutty flavor and will go well with most cheese based local dishes. You can also have white rice with corn. 
Noodles
You will find a wide variety of them from rice to buckwheat to the Wai Wai and Koko brands. Try the spicy buckwheat noodles (Puta)…they have a different flavor. 
Beverages
Apart from Alchol, you can choose to supplement your meal with hot water/ iced tea (lipton variants)/ Big Cola or Butter Tea (Suja). Do not expect Suja to taste like Indian version of tea… it's actually like salty/ sweet flavored light porridge. They even have Suja with paneer and eggs in it at some places. According to locals, drinking Suja prevents chapped lips and keeps the body warm. 
Local Liquors of Bhutan
If you are travelling to Bhutan it's recommended to forget your branded liquor preferences and sample the lovely local selections of wine, whiskey, rum and vodka on offer. 
Liquor is surprisingly cheap and good quality here. Incidentally, one of the things you should shop for while in Bhutan is local brands of alcohol. 
Most restaurants will serve these brands and almost every grocery shop sells the following. You can sample each and then choose to continue with your favorites like I did. Below are some of the alcoholic drinks I tried and purchased. I have mentioned the brand and price for each. 
K5 (Whiskey) 750 ml – 850 NU 
Named after the King of Bhutan, this is Bhutan's most popular and the best whiskey. Has a mellow flavor and combines malt from Scotland and spring water other than processed fine spirit. 
K5 Whiskey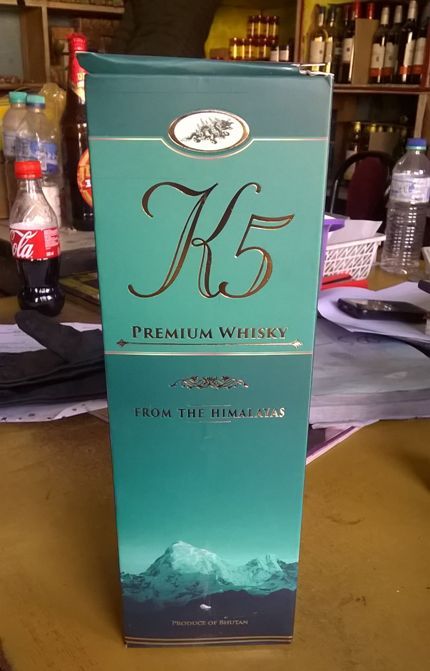 Grain Whiskey 750 ml- 300 NU 
Produced in Gelephu distillery of Bhutan and very nicely blends selected Scotch malts. 
Grain Whiskey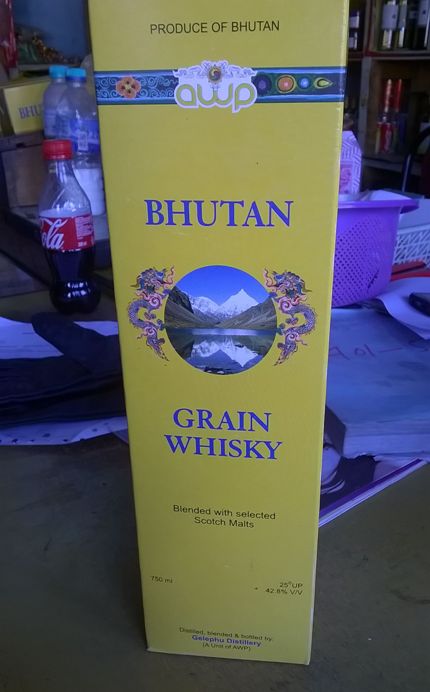 Another popular whiskeys of Bhutan produce include Black Mountain Whiskey 350 ml-130 NU. A local brandy known as Rock Bee Brandy 350 ml -100 NU is also popular here. 
Royal XXX-Rum – 110 NU 
Royal XXX-Rum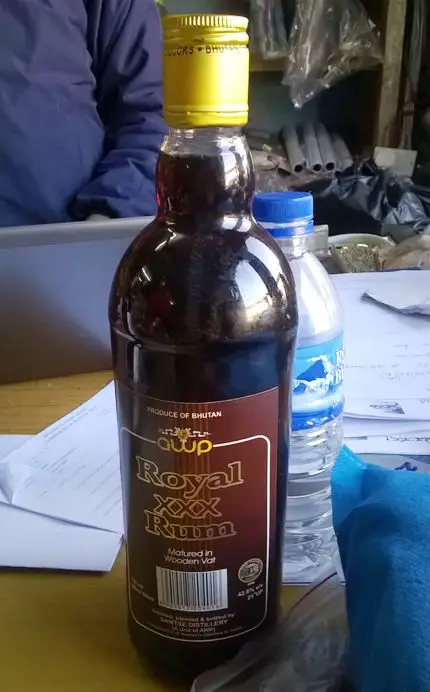 Takin Red Wine- 100 NU 
(350 ml) 
Medium Acidic, richly flavored with sweet notes…the Takin Red wine is Highly recommended by locals. 
Vintria Dry Wine- 250 NU 
(750 ml) 
A good accompaniment to light salads and fruit bowls. Vintria is a good choice if you are fond of light dry wines. 
Takin and Vintria Dry Wine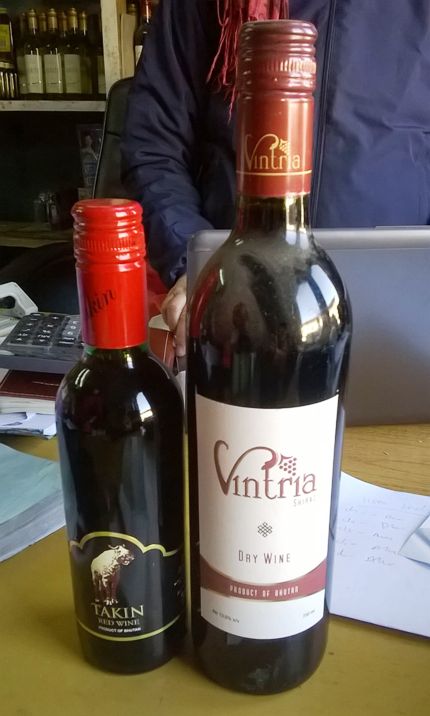 Raven Vodka 
(250 NU for 350 ml) 
I tasted this Vodka in a Screwdriver and it was okay…Raven also has Red Wine which I didn't sample.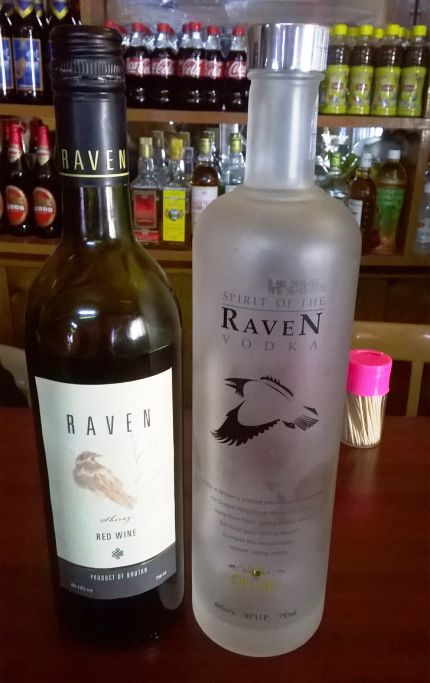 Zum Zin Peach Wine- 100 NU 
(350 ml) 
My personal favorite… loved the light fruity taste and carried two bottles back home. 
There is a SPY range of wine coolers that is basically a mixture of wine, mineral water and flavor. Tried the strawberry version and found it to be too sweet. Red and Black versions are also available.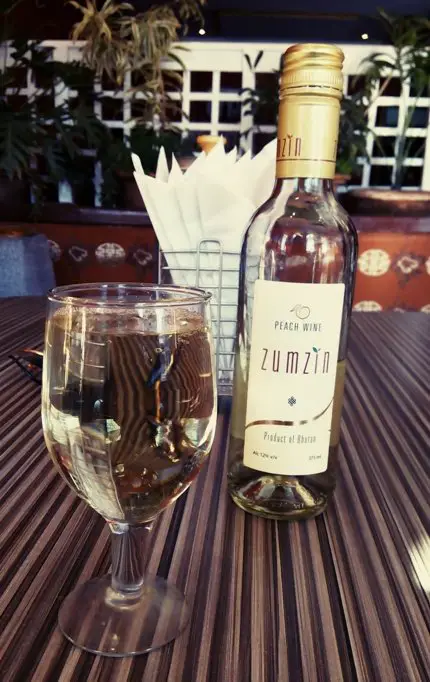 Ara 
(50 NU per bottle) 
This is Bhutan's local liquor made of fermented rice. Tastes like very strong SAKE and recommended for people who have experimental tastes. 
Drukes 100 Beer – 100 NU 
Hearty beer which is the Bhutanese staple drink during summers. 
Related Articles
1)
Dining & Wining in Paro
- Get to know more about the local Bhutanese dishes and the best restaurants serving authentic Bhutanese cuisine. 
2)
Dining & Wining in Thimphu
- know about many budget, mid range & upscale restaurants in Thimphu as well as about great cafes, bars & nightclubs. 
Visitors' Reviews/Comments
Tithi Sen (May 2017) 
Hi Mr. Raj we have visited Darjeeling 2016 June and got a ton of help from your details. Now my 3yrs old kids is fond of fish and specially with soft kind of rice he doesn't take anything apart from that. So please suggest whether we can have fish through out Bhutan or not as we have a plan for that place.. 
Raj (darjeeling-tourism.com) May 2017 
Chicken, beef and pork are much more common in Bhutan than fish. Many restaurants serve it but the produce is imported from China and India. You will get fresh trout and snow fish... These are cultured locally. Most kids love cheese... If your kid is one of them, Bhutan will be fun... They have a huge variety of cheese based dishes. Do ask the cook to tone down the use of red chilly in dishes if you do visit Bhutan.