Permits, Visas, Packages & Travel Procedures for Bhutan
The government of Bhutan has a very structured approach to its paperwork. Biometric records are retained, there are check posts at regular intervals and processes are well explained on the official tourism website of the Bhutan Government. 
However, for the ill-informed (that's me when I first visited Bhutan), the variety of permits needed to visit different geographical areas and the variance of procedures as per nationalities may appear to be a little confusing. This article should make things clearer for prospective visitors to the Dragon Land. 
The entry points to Bhutan are through Phuntsheoling (most preferred option) and Gelephu (information about this entry is obscure) if you are travelling by road. The entry point is Paro if you are flying in to Bhutan. All permits and final Visa stamps are done at the entry points. Similarly, all exit stamps and exit formalities happen at these points when you exit. 
Rules for Permit
(to Thimphu, Paro) 
Permits are only applicable for citizens of India, Bangladesh and Maldives. Citizens of other nationalities have to go via a tour operator to get their Visa in which case they have to pay in advance for an all inclusive tour (see section on packages). 
Amongst citizens of these countries, Maldives and Bangladeshi citizens must produce passports to procure permits. Indians have special advantages (due to India Bhutan bilateral agreement) and they can produce any one document (either passport or Voter Card) and use its copy to obtain the permit. 
NOTE: Effective July 2020, Indian, Bangladeshi, and Maldivian tourists need to pay Rs. 1,200 per day as tourism or entry fee in order to visit Bhutan. Entry is no longer free. If you are going through a tour operator, they may charge you an additional nominal amount for the permits. However, going via a tour operator is not compulsory for tourists from India, Bangladesh and Maldives. 
Travel by Air 
If tourists from India, Bangladesh or Maldives are flying in to Bhutan they would have to land at Paro International Airport where a permit will be granted to them after the passport is produced and the entry stamped at the airport. This permit will only be of 7 days (maximum) and will allow travel only to Thimphu and Paro. Similarly, during exit via air, the passport will have an Exit stamp. 
Travel by Land 
For obtaining the permit after entering Bhutan from Phuntsheoling, citizens of the above-mentioned countries need to visit the Immigration Office of Royal Government of Bhutan in Phuntsheoling. The office is situated on first floor, right above the Clearance and Custom office of Bhutan Govt.  
Immigration office at Phuntsheoling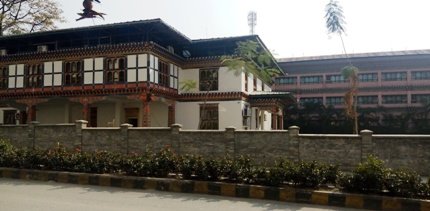 After reaching the office, you need to submit one copy of your document and fill up the permits form (stick your photo on the form). You need to specify the duration of your visit on the form. 
After scrutinizing the form, you will be called for fingerprints and retina scans which will be preserved as official identification proof in Bhutan. Once this process is over, the permits form is officially stamped and returned to you. This is an important document which you need to submit back on the check post on your exit route from Bhutan. 
If not submitted back properly, your next entry into Bhutan becomes doubtful. The permit obtained from the Immigration office at Phuntsheoling will allow travel to Thimphu and Paro only. 
Update: Until October 2018, Indians carrying documents like Adhaar card, driving license, ration card (and not passport or voter id card) could approach the Indian Consulate General's Office in Phuentsholing (located at the border area) and receive an Identification Certificate. They could then go to Bhutan Immigration office at Phuentsholing and get an entry permit to Bhutan. However effective 1st January 2019, the Indian consulate office will no longer issue Identification Certificates and every Indian would require to carry a passport or a voter's id card to get an entry permit for Bhutan. 
Extension of Permits 
Permit extensions to stay in Bhutan for more than a week is available from Thimphu Immigration office in Norzim Lam. There you will be asked to submit a copy of your documents, passport size photo and will be required to write down your tour plan on a A4 sheet of paper along with reason for tour extension After the verification of these papers, permit extension will be done in less than half an hour. 
Special Route Permits 
If you want to visit Punakha, East Bhutan, Haa, Wangdi, Trongsa or Eastern Bhutan then seek a Special Route Permit by filling in a form again at Norzim Lam. In case you wish to travel further to Trashigang, Trashi Yangtze, Samdrup etc., a local Bhutanese acquaintance or a tour operator needs to provide written guarantee for your safety. Once this is done, permits will take less than half an hour to be issued. 
There are special permits issued for trekking and visiting some ancient restricted temples. Once you submit your tour plan at Thimphu immigration office, they will guide you on procuring permits to visit these places. 
Fines for over-exceeding stay 
In case your stay in Bhutan exceeds the duration mentioned in the permits form, you will be fined 165 NU (for each day of delay) at the check post during your exit from Bhutan. 
One way to avoid the fine is to add two more days to your original intended stay when you are filling up the entry permit application…. you never know the beauty of Bhutan can seduce you to stay for a couple of more days. However, keep in mind that the maximum time limit of entry permit is 7 days…beyond that extensions need to be sought from Thimphu immigration office. 
NOTE: Entry Permits and extensions are required to be submitted at the last immigration point during exit. So, do check that the tour operator must return the permit to the government at the completion of the tour. 
The Permits office (Phuntsheoling) opens at 9 a.m. and closes at 5 p.m. Lunch break is from 1 p.m. to 2 p.m. (Bhutan standard Time). The Permits office (Thimphu) opens at 9 a.m. and closes at 4 p.m. Lunch break is from 1 p.m. to 2 p.m. (Bhutan standard Time). 
The office remains closed on Saturday and Sunday and all public Holidays. Plan your visit in a way that you reach the office on a working day otherwise you may be stuck in Phuntsheoling/ Thimphu. 
Online Bhutan Travel Permit Application 
Indians and Bangladeshis can apply online for Bhutan permits. This is an alternative process for procuring permits if citizens of these nationalities wish to save time. The Bhutan Government does not have any official website for issuing online travel permits. However, since November 2016, an online agency is accepting online application of permits at a nominal charge. 
They actually do the liaison work with Bhutan Immigration Department and helps you get the permit well in advance. This helps avoiding several hours of wait to get the permits at the border. Another advantage is, they also help getting the special permits so that you can travel to any town of Bhutan. You would need a passport, clear passport size photo and your tour itinerary for the online application. 
Here is the website for onine permit application: 
http://totallybhutan.com/online-bhutan-travel-permit/  
You may choose to contact the Tourism Council of Bhutan and request a formal validation: 
Tourism Council of Bhutan: 
Phone: +975-2-323251/+975-2-323252 
Rules for VISA
All visitors to Bhutan except citizens of Maldives, India and Bangladesh are required to procure a Visa before their visit. For citizens of the above mentioned countries, a permit (instead of Visa) can simply be procured at the entry port where showing a valid passport (with six months of validity at least) will be sufficient to get it. For Indians, the Voters Identity Card can also be shown to obtain a permit. 
Tourists of other nationalities need to procure a VISA before their BHUTAN visit through a licensed tour operator (must belong to the Association of Bhutanese Tour Operator) or an international travel agent.  
For doing this, you need to make a copy of the photo page of passport and submit the same to your agent/ tour operator who will fill in the VISA application. The TCB (Tourism Council of Bhutan) and Ministry of Foreign Affairs will process your application once you have paid for your holiday in full (this includes a VISA fee of 40 USD). Once the money has been received by TCB, VISA clearance will happen in 72 hours and your tour operator will receive a VISA clearance letter/ approval letter. 
The Tour operator will then apply to Ministry of Foreign Affairs and after its cleared, a Visa confirmation number will be issued to the operator as well as Druk Airlines. Remember, that the airlines will not issue tickets until it gets the confirmation number. In case you need to extend your Visa later, you need to pay 20 USD fee and your tour operator will arrange it. 
Keep this letter safely, you need to show this at the entry point to Bhutan where your passport will be stamped with the Visa endorsement. Though there are many levels of bureaucracy in procuring Visa, you are benefitted as most of your paperwork is done before your Bhutan visit and your tour operator will take care of any special requirements. 
In case you are facing passport issues for your travel plans to Bhutan, you can contact the Bhutan Consulate of your country. https://bhutan.visahq.com/ has an extensive database of consulates and embassies of Bhutan. 
If you are friends with a Bhutanese citizen who has lived abroad for some years, then you can ask him/her to write to the Department of Immigration to procure a Personal Guest Visa for you. In this case, you will be exempted from paying the daily Tourist Tariff. 
Country diplomats or White Passport Holders can only enter Bhutan freely (Diplomatic Visas are granted by Royal Government) if they are invited officially…otherwise rules are the same as applied to normal tourists of their nationality. 
In case you hold more than one passport, make sure that you carry the passport that you had used for the Bhutan Visa. If information on Visa letter and passport differs, you will be fined heavily. 
Bhutan Tourist Tariff/ Package Rates
In accordance to the Government's controlled approach towards tourism and the High impact-low volume policy, there is a list of tariffs applicable for all tourists visiting Bhutan. These rates are non-negotiable and no tour operator can lower or hike up the rates. 
Per night package rates during the high season (March, April, May, September, October, and November) are as follows. 
For a solo traveler to Bhutan the rate is USD 290 per night. 
For two people travelling to Bhutan the rate is USD 280 per night per person 
For three of more people travelling to Bhutan the rate is USD 250 per night per person. In the low season, this rate is USD 200 per person per night. 
This package rate includes many amenities which include accommodation in 3-star hotel, provision of ground transport within Bhutan, all meals, entry fee into Dzongs and temples, bottled drinking water, cultural programs etc. 
Remember, that the package doesn't include stays at four star & five star hotels in Bhutan and you need to pay extra for such luxuries. Interestingly $65 from the package value goes as royalty into the coffers of the Bhutan Government as Sustainable Development Fee (SDF). 
Checkpoints and Important Addresses
There are immigration checkpoints in Bhutan. On the Phuntsheoling-Paro-Thimphu route you will encounter checkpoints at Chhukha (between Thimphu & Phuentsholing), Rinchending (above Phuentsholing) and Hongtsho (east of Thimphu). Your documents will be checked at each of these points. 
Address and phone number of Royal Consulate office (immigration office) of Bhutan 
Phuentsholing  Address  
Maysel Apartments, Near Bank Colony, Phuentsholing, 
Phone: 00975-5-252101 
Fax no: 00975-5-252992 
Immigration office in Thimphu  
Norzim Lam, Thimphu,  Bhutan 
Address and phone number of Embassy of India, Bhutan (for the use of Indian nationals facing legal/ official issues in Bhutan): 
Embassy of India - PO Box:193, Jungshina, Thimphu 
phone: +975-2-322162, Fax: +975-2-323195 
web: www.indianembassythimphu.bt 
RSTA 
(Royal Safety Transport Authority) 
You need to contact this office for obtaining road permits if you are driving your own vehicle to Bhutan 
Chukha (near bus stand Phuntsheoling) 
Web: http://www.rsta.gov.bt/rstaweb/ 
References 
http://www.tourism.gov.bt/plan/visa 
https://bhutan.visahq.com/ 
http://www.lonelyplanet.com/bhutan/visas 
https://www.indianembassythimphu.bt/pages.php?id=52 
Related Articles
Visitors' Reviews/Comments