Great Hotels in Thimphu
Budget, Mid-Range & Luxury
Thimphu being the capital city of Bhutan sees the maximum inflow of tourists and business travelers along with foreign diplomats and officials. Some of the finest five star hotels in Bhutan are present in Thimphu and it also has an impressive range of four star and three star hotels. You will also find a decent range of budget hotels here. 
Budget Hotels in Thimphu are more prone to accepting credit and debit cards than their contemporaries in other parts of Bhutan. Check out times of most hotels is 12 p.m 
You can find out the hotel of your choice at the best price using the following search: 
Five Star Hotels n Thimphu are priced at 40,000 NU and above 
Four Star Hotels in Thimphu re priced between 13,000 NU to 30,000 NU 
Three Star Hotels in Thimphu are priced at 5,000 NU and above 
Budget hotels in Thimphu are available between 1500 NU to 3000 NU 
Most budget hotels do not have a elevators. Most hotels will provide airport transfers and pick ups (and it's complimentary in some hotels). 
Five & Four Star Hotels in Thimphu
Taj Tashi 
(Category: 5 Star) 
Samten Lam, Chubachu, Thimphu 
Ph: +9752336699, 0097502336677 
Taj Tashi has 57 rooms and 9 suites. The rooms are ultra-luxurious and each one has beautiful mountain views. The washrooms are inlaid with pure marble and have specially crafted bath fittings and luxury bath hampers. Wi Fi with excellent connectivity is available all over the hotel premises.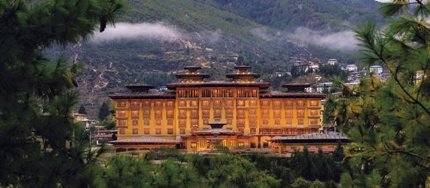 Source: www.tajhotels.com 
The Taj Tashi offers an array of dining options for guests and other tourists. The in House restaurant Chig-La-Gye is the best Bhutanese restaurant in Thimphu Valley (in luxury dining category). The Throngsel is the in-house European restaurant and Rimps is a luxury tea bar of Taj. Ara; the in-house bar hosts carefully curated music performances during season times. 
The hotel provides a great array of amenities in accordance with the lofty standards of the Taj group. There is a well-equipped Jiva Spa that offers a range of massages and spa therapies. There is also a 24-hour heated indoor swimming area and a fitness center that runs 24*7. 
Round the clock on call doctor, baby sitter and nurse services and special facilities for the disabled makes sure that Taj Tashi suits guests with special needs too. 
The location is a big advantage (just an hour away from the airport) and there is an array of private staff and personal concierges available at the service of guests. The parking can cover up to 70 cars. 
The Taj Tashi is suitable for business conferences, meetings and corporate retreats as it has excellent conferencing facilities, secretarial services, translators and interpreters and state of the art workstations 
The staff is especially courteous and friendly and have a policy of "never say no!!!". The room rent per day for the deluxe room is 47,455 NU per person. However, good discounts are also offered by the hotel especially during off season. 
Le Meridian 
(Category: 5 Star) 
Chorten Lam, Thimphu 
Phone: +975 2 33778 
There are 4 kinds of rooms at the Le-Meridien; Classic Rooms, Deluxe Rooms, Junior Suite and Royal Suite. The sprawling king sized beds in each room can accommodate 3 people comfortably. The Suites can accommodate up to 4 people. All the rooms have sophisticated modernistic décor which expresses the cosmopolitan elegance that is the signature style of Le-Meridien. 
All rooms and suites have mountain and city views, 42 inch Flat TV screens, luxurious attached baths, ergonomic recliners and study desks. The suites have 46 inch screens, separate sleeping and living spaces, guest bathrooms and private lounge access apart from the other usual amenities. 
The rates for the Royal Suite is USD 850, junior Suite is 650 USD, Deluxe Room is 450 USD and classic Room is 350 USD. You can get discounts especially during off-season. 
Le Meridien is especially suited for business travelers and businessmen both because of its location (commercial capital Thimphu), ambience (cosmopolitan not ethnic) and facilities. There is a fully equipped business center that has latest computers, multipurpose printers, privately screened meeting rooms, Wi-Fi connectivity, quality copying and scanning services. Incidentally, Le Meridien has won awards by the GBTA (Global business traveller associations) 
The Explore Fitness Center has state of the art fitness equipment, fantastic views of the giant Buddha statue and is free for the use of guests. The Spa facilities are managed by trained masseuses and therapists. There is a sprawling Indoor pool which is pre-heated. 
Le Meridien offers a range of celebratory offers that are specially curated for special occasions like birthdays, anniversaries and special events. You can check the Celebration Package range at the Le-Meridien official website. The hotel website also features seasonal all-inclusive offers. 
If you are not too particular about a Bhutanese ambience and prefer a more contemporary living environment, then you will find the Le Meridien to your taste. 
Terma Linca Resort and Spa 
(Category: 4 Star) 
Babesa, Thimphu 00975 
Phone: 975-3235-1490 
The best part about Therma Linca is its location (if you are a nature lover). The Wangchu river (amalgamation of the Paro and Thimphu rivers) with its tranquil loveliness flows throughout the hotel premises and gives this hotel the look and feel of a nature's retreat. The gorgeous mountain vistas in the background is a bonus. 

Source: termalinca.com 
APS Restaurant; the in-house dining facility of Terma Linca is well known for is authentic dining scope especially when it comes to indigenous Bhutanese cuisine. Food is prepared on fire kilns and local folk dancers and musicians are provided for the entertainment of guests. There is another more cosmopolitan restaurant at Terms Linca called Aie and it offers a selection of Thai, Chinese, European and Indian cuisine. The Bar is called Ara and it stocks a good collection of international and local favorites. 
Terma Linca is one of the few 4 star hotels that offers its own archery field and offers archery lessons to guests. The 5700 yard Royal Thimphu Golf Club is nearby and guests are offered easy access to it by the hotel. 
Chefs of Terma Linca are quite friendly and helpful and they offer short cooking courses to Guests where the latter can learn to make Ema Datshi, Jasha Maru, Butter tea, Momos etc. 
Wedding packages, cultural tour packages and Conference packages are offered by Terma Linca and the Bhutanese officials, diplomats and international VIP's often make Terma Linca their chosen destination for conferences. 
The Deluxe Rooms of Terma Linca are paneled in 3 understated blocks that are designed in commensuration with Bhutanese architecture and design principles. The Suites offer all amenities as offered by deluxe rooms but they have extra space and some added facilities like mini bar, bath tub etc. 
The room rent per day is 28500 NU but you can get massive discounts online if you search properly 
The Hotel is in Babesa which is in Thimphu downtown. The shopping area is a little far but the location Babesa scores high on the cultural exoticism quotient. The Clock tower of Thimphu is a car ride away but if staying in the heart of Thimphu is not a priority then the Terma Linca is a good option in this budget. 
Hotel Druk 
(Category: 4 Star) 
Clock tower square, Wogzin lham, Thimphu  
Phone: +975 77198819 
Hotel Druk stands grand at the very center of Thimphu and represents the perfect location if enjoying the city life and night beats is a priority. Hotel Druk is easily one of the landmarks of Thimphu and is preferred by many diplomats and VIP's. 
The room facilities include Wi Fi, tea/coffee maker, central heating, mini bar, complimentary robes and slippers, bath-tub and luxury bath amenities, work desk and ultra-comfortable beds. The Gold Suites are specially recommended with their American Walnut furnishings and gold toned décor. All rooms and suites in Hotel Druk are made with American Clay that is a non toxic and organic alternative to cement. 
The Druk Hotel as seen at night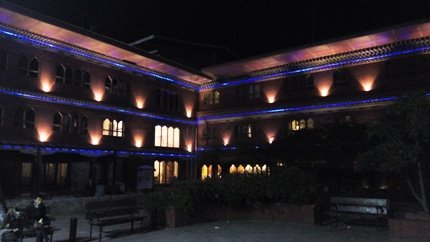 The rates are different in off season and high season (as with most Bhutan hotels). The season rates are 13,000 NU for Suites and 8,700 NU for Deluxe Double rooms. 20% tax is charged over and above. 
The hotel is founded by the Tashi Group which is one of the oldest business enterprises in Bhutan and the theme is of showcasing the indigenous heritage and culture of Bhutan 
The Spa of Hotel Druk is specially well known for its range of wellness therapies and holistic healing courses. The Spa is called Lha Yul which literally means 7th heaven promises a fine balance of aromatherapy and positive sound energies along with a range of beauty and rejuvenation techniques. 
Hi Jinks…the in-house bar of Hotel Druk is one of the better-known lounge bars of Thimphu. The place has an interesting rustic décor and a good range of international wines and liquors 
There is an in-house restaurant called 7th which serves Thai, Chinese, Indian and Continental cuisine 
Most popular pubs, karaoke parlours, restaurants and shopping malls are within walking distance. Superior amenities within a very reasonable price bracket is the USP of the Druk brand. 
Ramada Valley 
(Category: 3.5 Star) 
Lungtenphu, Thimphu 11001 
Phone: +975 2 341 286/87 
The Ramada Valley Thimphu signifies Ramada Group's first venture in Thimphu the location is picturesque with mountain and Wangchu river views from most of the rooms 
There are 41 well equipped rooms with 7 suites that have all modern amenities like huge flat screen TVs, central heating, fast Wi Fi, electric kettle, mini fridge etc. 
Room Tariffs range from 12,750 NUS and above and you can find deals in off season 
The rooms are all done up with local Bhutanese handicrafts and reflect the heritage of Bhutan. 
Other facilities available are a multi cuisine in house restaurant overlooking Wang Chu River offering Bhutanese, Indian, Asian and international cuisine, two bars, spa, meeting room and gym. 
Three Star Hotels in Thimphu
The Namgay Heritage Hotel 
JangChhub Lam, above Thai Temple, Thimphu: Bhutan 
Phone : (+975)-2-337 113 
This hotel is very centrally located at the heart of the city and is right next to the Thimphu market. If convenience is your watchword, then the Namgay Heritage Hotel will suit you. However, if you are averse to traffic sounds then the location won't work for you. 
This is a smaller property in comparison to the other 3 star Hotels in Bhutan. However, personalized service and better standards of service are also offered. During season times the hotel is always full so book your rooms well in advance 
There are three kinds of accommodation options; Heritage Deluxe, Heritage Grand Deluxe and Luxury Suite. The Heritage Deluxe room tariff is 4000 NU per night, Heritage Grand Deluxe tariff is 5500 NU per night while the Luxury Suite tariff is 15000 NU per night. 
There is an in-house restaurant (serves continental and Bhutanese) and an in-house bar named Chang Khu. There is a spa with steam room and sauna room. Hotel guests are allowed complimentary use of the steam and sauna rooms. 
Hotel Norbuling 
Building #5, Changlam Street, 
Phone +975 1711 1727 
Hotel Norbuling is centrally located in Thimphu and is one of the few enterprises that is completely family owned and managed by the Choso's…an affluent business family in Thimphu. 
Hotel Norbuling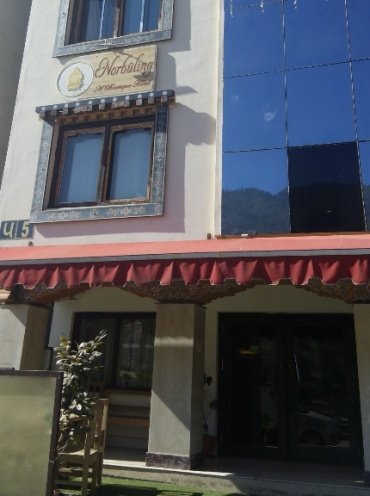 This is quite a new Hotel and formal operations begun in 2014. I surveyed quite a few hotels of similar standards in the same location (Changlam Street) and these included Wangchuk Hotel, Kisa Hotel etc. and found Norbuling to be offering the best ROI in terms of services offered as compared to tariff. 
For a more detailed review of Norbuling click here. 
The Thimphu Towers 
Clock Tower Square, Thimphu City 
Phone: +975-02-330025/02-335367 
The Thimphu Towers is located right behind the Clock Tower which is the social hub of Thimphu. Most of the best restaurants and pubs are around this area so location wise the hotel is good. 
There are two kinds of rooms; deluxe and premium. The deluxe rooms feature sprawling king size beds/ twin beds, marble fitted washrooms, room heaters, personal safe, DVD players (on request) and comfortable washrooms with separate shower areas. 
The deluxe room tariff is 5481 NU and the premium room tariff is 6481 NU (for double occupancy). The charges are 500 NU less for a single occupant. 
The premium rooms are bigger and have better views with the same amenities 
Value added services offered by Thimphu Towers include mini library, airport transfers (chargeable), taxi service, gift shop and a standard business center. The hotel also conducts guided tour in Bhutan and have their own brochures and guides for the convenience of guests. 
There is a separate event management cell which can host birthdays/ anniversaries and parties along with business conferences. The Thimphu Towers is much preferred by business travelers. 
The in-house restaurant has glass walls that offer panoramic city views. Continental, Bhutanese and Asian food is served and all food is made from locally sourced ingredients. There is also a small in house bar and lounge that is open to locals as well as guests. 
Budget Hotels in Thimphu
Khamsum Inn 
Phendey Lam, Hong Kong Market, Close to Norzin Lam 
Phone: 975 77 37 18 75 
This is a budget hotel located quite close to the main street in Norzin Lam and is within walking distance to all the major restaurants and cafes as well as the Thimphu Immigration office. 
Rooms are priced at 2600 NU per night which is quite cheap by Bhutan standards. 
In comparison to most budget hotels, this one has better standards of hygiene and a big LCD screen. However sound proofing is not good and if you are a light sleeper…you can be plagued by either barking dog sounds or the traffic cacophony 
In comparison to the room rent, the food prices are quite high and reviews said that breakfast is very expensive. However, this shouldn't be an issue as you can simply go and have your meals at any of the umpteen restaurants in Thimphu 
Some of the rooms have washrooms with bath tubs but you would have to check with the management about their status and availability. Most rooms have balconies which are good for people watching. 
Yeedzin Guest House 
Jangchub Lam, Thimphu. Next to Le Meridien 
Phone: +975 2322932/ 325702 
The Yeedzin Guest House is a small property with three compact floors and a small attic. The guest house enjoys a loyal legion of repeat guests. 
There are 5 deluxe rooms and 10 single rooms. Deluxe rooms are 4800 NU (in season) and single rooms are 2500 NU and both have up to 50% discount if you stay for more than a week. 
The deluxe rooms are like suites with a drawing/dining space, functional kitchen, bedroom and a large washroom with shower cubicle and bathtub. There is free wi fi and two TV sets in the suite and this combination at the low price makes staying at Yeedzin Guest House a very attractive proposition. 
The hotel offers airport transfers and complimentary (sometimes) drops to nearby location. The staff are very friendly and almost homely in their approach. 
Food quality is not that great but there are plenty of great restaurants around so that shouldn't be an issue. There isn't a lift so opt for the lower floors if you want to avoid climbing stairs. 
The amazing range of facilities at the low price gives the Yeedzin an edge over all other budget hotels. There are many repeat visitors to this hotel and its advisable to book really early to avoid disappointment. 
Hotel Shanti Deva 
(Vegetarian hotel) 
MKTS Building, Norzin Lam 
Phone: 975 17 11 98 88 
The MKTS Building is right in front of the Clock tower so the usual advantages and disadvantages of staying in the heart of the city apply here. 
The rooms are a bit small and the washroom looks a little cramped. However, neatness is scrupulously maintained and the staff will oblige with multiple housekeeping requests. 
Only the rooms facing the clock tower have a decent view so do opt for them if you are staying in Shanti Deva. The room tariff per night is 3042 NU but you can get better deals online. 
Like most budget hotels in Thimphu, food quality is not that great and there seems to be a communication problem with the staff which makes the ordering process difficult. However, the location allows guests to have their meals from outside. 
This is one of the very few vegetarian hotels in Thimphu 
Hotel Riverview 
Dechhen Lam, Thimphu, Bhutan 
Phone: +975 2 325 029 
The River View stands on a hillock that overlooks the Wangchu river which accounts for its name. Most rooms have a nice river-view and that can be an advantage (depending on what you are looking for) as most other budget hotels are situated inside the main city. 
There are 47 rooms in total which makes this quite a large establishment. The standard rate of room per night is 2900 NU (for standard rooms) and 3600 NU (for deluxe rooms). However, you can easily get hefty discounts online and book rooms for as low as 2000 NU. 
For a hotel of this range, there are many facilities provided like beauty salon (provides excellent oil massage at very cheap rates), steam and sauna facilities, business centre, doctor on call, Wi-Fi etc. 
Each room has Cable TV, electric kettle, comfortable bed, wardrobe and other amenities 
The hotel provides postal service and Foreign currency exchange for its guests 
The Riverview is a little far away from the city center, it will take you 25 minutes to reach the city centre. However, because of the location, the traffic din and sounds of barking dogs are less disturbing and that's a good thing for light sleepers. 
The order to delivery cycle for food is quite long and sometimes food must be ordered 10 hours in advance for them to keep the food ready in time. However, the staff is cooperative and will back early breakfasts for you on request if you plan to go on a hike or a ride in the morning. 
Related Articles
Visitors' Reviews/Comments