Shopping in Bhutan
Shopping in Bhutan is very region centric as not every kind of item is found in equal abundance or ease everywhere. Bhutan is not a cheap shopper's paradise, so do not expect to find throw-away deals here… you can however find some reasonably priced souvenirs. 
If you are interested in high quality handlooms and handicrafts, then you will love shopping in Bhutan. Scroll down to see the various categories of items and their areas of availability in Bhutan. Shopping categories in Bhutan are listed below per their order of importance in the country: 
Textiles of Bhutan are amazing…and they have a spiritual story behind them which makes their study a fascinating process. The weaves of Bhutan are closely linked with their cultural identity and in the suburban and village areas, every home has a loom. 
Sometimes the fabrics you see are weaved so intricately that they look like prints and its only when you turn the cloth over that you see the hours of labor that must have gone into it. The Bhutanese call it Hingtha or the Heart Weaving. 
So when you pick up textiles from Bhutan, you pick up a piece of their history. You would be interested to know that the Metropolitan Museum of Art at NY, Museum of International Folk Art (Santa Fe) and the Osaka Museum (Japan) all stock textiles sourced from Bhutan. International fashion designing icons like Donna Karen and Vivienne Tam produce clothing lines that are inspired by Bhutan. 
What kind of textile to buy 
Opt for shopping for textile fabrics only if you are highly knowledgeable about the same or have a local to guide you. You need someone who can point the different patterns like eternal knots, double thunderbolts, swastika, tree of life, bird's eyes etc in the textile items and can differentiate between Yak wool/ sheep wool/ pashmina in warmer fabrics and can identify pure silk weaves. 
Helped by a local, you can visit independent weavers or shops and can buy weaves at a lower price. If you do not have a local helping hand, it's best to visit a Govt operated outlet. 
A standard choice otherwise is to buy a Gho and Kira (traditional men's and women's Bhutanese robes) or a Kabney/ Rachu (ceremonial scarf for men and women). Ghos and Kiras can have many kinds of weaves like Shinglo, Lungsem, Pesar, Alkapur, Kam Dhuem, Adha Marthra, Nagsham (my personal favorite… explosion of colors on a black background) etc some of the more ornate kiras are of the Jangserm, Marsham and Ngo Sham styles. 
Nakata sells his wares near the playground Paro. 
He sources kiras from villages and sells them to tourists. 
Contact him at +97517373127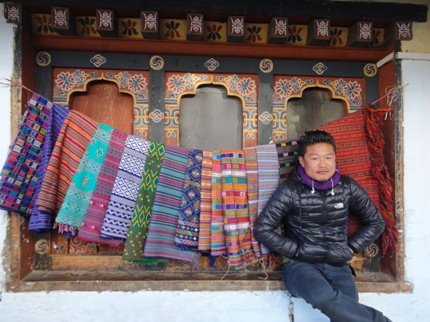 A single high quality Kira made by a weaver takes 2 to 3 months and 8 hours of labor per day. Unsurprisingly, its highly priced at nearly 10,000 USD. 
Shawls made of Yak wool, pashmina and sheep wool are also a good buy in Bhutan and I personally found Paro to be a better option for shawls than Thimphu. You must be a little persistent with your bargaining skills though. You will find embroidered, weaved and plain dyed versions and there is usually a high explosion of colour in all of them. 
You can buy a high-quality Bhutanese Weave and then use it as a wall hanging like the picture below 
An East Bhutan Weave used for Wall art at 
Zhiwa Ling Hotel in Paro. Approximate price: 15,000 NU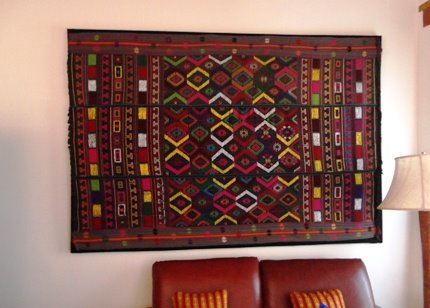 Textile Stores in Thimphu 
Check out any of the craft stalls in Norzim Lam near Taj Tashi. You will surely hunt up a great bargain and there is an amazing range of fabrics and other crafts on offer. Sephub Gyeltsen Tsongkhang is a good shop and the Gho's and Kira's are available between 2000 NU to 3000 NU (silk look alikes). You will also find waist coats and garments 
National Handicrafts Emporium (in Norzim Lam) is a good choice for buying textiles. 
National Textile Museum has its own retail outlet which has a good collection. Address: Norzing Lam, Thimphu, located near National Library, Phone: +975 2 336 460 
Gagyel Lhundrup Weaving Centre: This is a privately-owned weaving center but holds very good repute. You can watch weavers at their craft here and get a demonstration of different kinds of fabrics. Location: Changzamtog, Southern Thimphu 
Textile Stores in Paro 
Paro is much more expensive in comparison to Thimphu when it comes to textiles but still there are a few good places to shop in. 
Cheencho Handicrafts: Located in the corner of the town square in Paro, this shop has probably the largest collection of woven, embroidered and dyed textiles as well as indigenous garments in the city. Prices are a little on the higher side though the shop owners are open to bargaining. 
Kuenphen Terzoed Weaving and Handicraft House: This  handicrafts and weaving speciality store is near the famous Brioche Cape in Paro main market. This shop specialises in Kiras and you will get amazingly beautiful variants. However prices start from 5000 NU upwards for Kiras. 
There are other umpteen shops in Paro but textiles are best brought from a Govt regulated outlet to be assured of the quality. 
Budget Textile Buys 
The cotton/ terrycot machine made Gho/Kira ones will cost you around 850 to 1000 NU and you can find good bargains in both Thimphu and Phuntsheoling. If full length fabrics do not interest you much, buy pouches or bags made from these textiles. You can also buy scarves, stoles and skirts woven from Bhutanese textiles. 
Most locals shop for their daily sartorial needs at Phuntsheoling/ Jaigaon. Once you cross the border, you will find a considerable difference in price. Look around the main market jus near the border gate on the Jaigaon side… there are many shops out of which the Banerjee Enterprises seemed to be popular. 
However, you must bargain hard as the shopkeepers quickly recognize that you are a tourist. Also, Jaigaon is honestly speaking a dirty place and you may not appreciate the unruly and dirty surroundings once you have seen the pristine prettiness of Bhutan. 
Textile Hubs in Bhutan 
The finest fabrics are found in Eastern Bhutan…if you are really interested in fabric shopping…go East. 
Lhuentse: the most beautiful textiles of Bhutan are woven in Lhuentse and the Khoma village in this district is known for its intricate Kishuthara style of weaving. Gonpa Karo is another weaving cluster. You can target these places if you are visiting Mongar in Bhutan. 
Bumthang: Chumey Valley (right before Jakar) in Bumthang is famous for its Yanthra style of weaving and the patterns are indigenous to Bumthang (difficult to find these in Thimphu or Paro). Look for textiles in Yak wool died with natural dyes like madder, lac and indigo…they have a different feel to them. If you are visiting Bumthang…don't shop for textiles in Thimphu. 
Samdrup Jongkhar (Assam entry point to Bhutan) and RangGunj (Eastern Bhutan) are both famous for their raw silk weaves. Remember that silk weaves in places like Thimphu, Paro and Phuntsheoling will be very expensive and prices range 10,000 NU upwards for a single handwoven silk garment. 
The others textile hubs are Wangdue, Pemagatshe, Zhemgang, Paro, Haa, Dagana, Punakha and Tsirang. All these places have different patterns and textures of weaves…check the textile maps below to find out. 
Note: 
If you are interested in fashion designing or Fabric....you can consider going for a textile tour in Bhutan (many travel agencies organise them). These tours mostly concentrate on eastern and central Bhutan. 
If you must choose just one item to carry back home and if you are an art lover… then you would probably choose Thangkas. The word Thangka actually means 'rolled up'. They are scroll paintings. Earlier Thangkas were only brought out on special occasions and were kept rolled up for the rest of the time.  
Bhutan has a vast collection of priceless and spiritually valuable Thangkas which are present in its Dzongs and monasteries and though these can neither be sold (sometimes even photography is forbidden), there are schools in Bhutan which actively promote Thangka painting. If you are deeply interested in art, you would be able to appreciate the three main styles of Thangka making; Kama Gardri style (Chinese style), Khamdri style (kham region) and the Tshangdri style (Tshang region in Tibet). 
Ideally, you should buy a Thangka that has a robust picture panel, textile mount, a silken cover and leather bound corners along with wooden dowels at both bottom and top sides. Thangkas in Bhutan almost always have strong religious elements and are good objects of meditation. 
The Thangkas depicting the Circle of Life. 
They are very potent meditation objects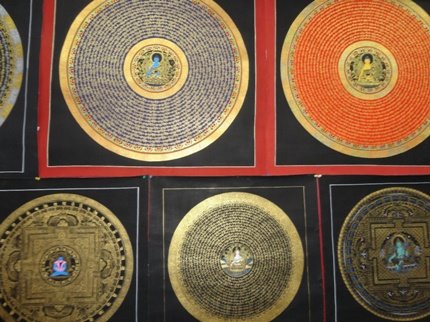 Where to buy Thangkas 
A lot of the smaller shops in Bhutan bring in Thangkas from Nepal and Tibet and sell them at lower prices (as compared to original Bhutanese Thangkas). If you are looking for a high quality true blue Bhutanese Thangka... the following options are good. 
High Quality Thangka Painting 
This is Bhutan's leading art gallery which has two branches (Paro and Thimphu). The one in Paro is about 5 k away from town near the 7th century monastery. The Thimphu branch is much bigger and you can see Thangka painters at work there. 
The nondescript building contains a vault of treasures 
Mr Pema Tshering, the proprietor is a highly-trained artist who has a 6-year painting diploma from Zorig Chusum. Contact the Facebook page of High Quality Thangka Paintings for more details. 
An impressive array of top notch Bhutanese Thangkas 
priced between 12000 NU to 50000 NU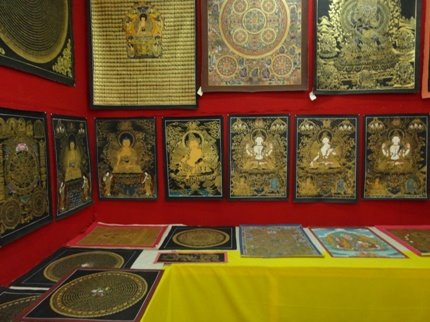 Bhutanese Collections 
Main Market Paro (near vegetable market). Phone: 17618742 
This is one of the better-known shops of Paro and it has an impressive array of thangkas, paintings by local artists and souvenirs. Though you will not get museum quality products here but a decent Thangka is available in the range of 7000 NU to 9000 NU 
Bhutanese Collections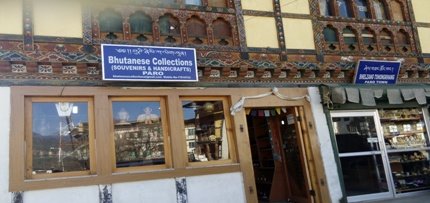 National Institute for Zorig Chusum 
Timing: 9 a.m. to 5 p.m. Located near National Library Bhutan 
Go straight to the shop inside the institute where you will find an admirable collection of Thangkas. You never know, you can end up purchasing the work of a great upcoming Thangka artist at a very reasonable price from here. It is said that the future jewels of the world of painting are trained at Zorig Chusum. The art here is a little premium priced but the quality is great and you can be sure of the genuine nature of the Thangkas. 
You can also get good quality local paintings made by students of Zorig Chusum 
A beautiful thangka made of gold paint on silk. 
This exquisite piece took 2 months to make 
and costs 23,000 NUS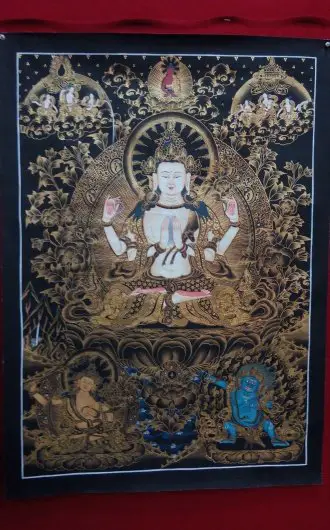 Shopping for crafts and decorative items in Bhutan is a little tricky as much of the stuff is imported from Nepal where these items are sold at much lower prices. You need to be a real art connoisseur to detect which are genuine Bhutan made items and otherwise you need to rely on Government Emporiums and some well-known Craft centers. 
Masks cost 1000 NU upwards. 
Decorative items like metal inlaid flower vases, horns, boxes and showpieces are found in dazzling array in Bhutan. These are mostly high value items and will cost you 7,000 NU upwards. If an item looks especially old and precious, have your tourist guide certify it as "non-antique" otherwise you will be stopped at immigration. 
Bhutanese Masks depicting Kings, Gods and demons 
They make nice additions to your home and have a striking appeal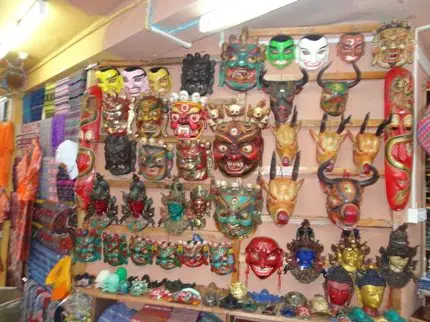 Crafts like table runners, wall hangings, bed spreads have exquisite embroidery and are a good buy provided you can bargain well. Inexpensive buys include wooden bowls, spoons and handicraft items. You can also buy foldable models of traditional Bhutanese homes. 
Models of Traditional Bhutanese Home on sale, 
(priced 2000 NU) at a Paro Curio shop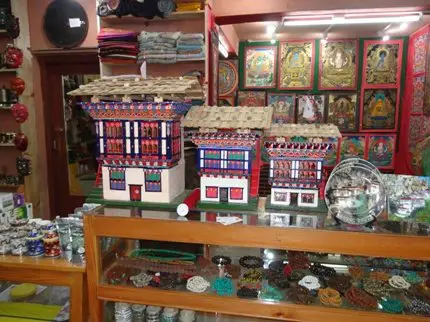 Where to Buy 
Paro, Thimphu and Phuntsheoling are all good places to buy crafts, masks and decorative items. Paro has many curio shops and you will find aesthetically superlative things there while Thimphu and Phuntsheoling offers lower prices. If you want to be sure about authenticity buy from the following places. 
National Handicrafts Emporium in Norzim Lam, Thimphu. They take credit cards and all items are highly quality controlled. 
Authentic Crafts Bazaar is located at the heart of Thimphu town. There are over 100 shops selling a variety of handicrafts and all are operated by women. Bargain hard and bring cash if you plan to shop. 
Chencho Handicrafts (phone: 271633) in Paro Town has a good collection of masks and decorative items. Remember, the more ornate the item…higher the price. 
Visit Jungshi Handmade Paper Factory at Thimphu for picking up exquisite quality paper products like notebooks, decorative paper, wrapping paper, diaries, greeting cards etc. Bhutan has a huge forest reserve and its papers are made using 100% natural dyes sourced from its flora. This paper is imported to USA, Japan, China etc. and is a good gifting item for folks back home. 
Address: Namtag Lam, Thimphu, Bhutan. phone: +975 17 60 03 95 
One of the best things you could buy in Bhutan are freshly packed and dried produce from the local market as there are several kinds of things on sale here which you have never probably eaten/ used before. Mostly, Bhutanese homes make their own noodles, chilly pickle, spices etc. so all these are good buys. Here are seven things that could be on top of your grocery shopping list. 
Noodles 
Buy the yellow straight variants that are sold in plastic packets or paper bags. They cost about 100 NUS for a pack of four and have a huge quantity. These are excellent for making Thupka or spiced pan Asian style noodles. You can also buy glass noodles... they are locally made and completely preservative free. 
Rice 
Don't miss this one…red rice is delicious and is supposed to be healthier. I tried red rice with white as well as red chicken curry and it tasted good with both…which means that it's a versatile addition to your kitchen. 
Chilly Powder 
Bhutan is famous for its chillies and their chili powder is potent, fiery and 100% natural. If you like eating spicy dishes, this chili powder is a good takeaway. A medium sized packet will cost you 70 NU from the local market. 
Tea 
Bhutan doesn't have its own tea gardens but they get a lot of superior quality blends from China including Jasmine tea, White tea etc. you can buy these at reasonable rates from any of the grocery stores in thimphu/ phuntsheoling. 
Snacks 
Dried apples, dried yams, dried crunchy veggies, dried figs… the Bhutanese snacks are as healthy as they can get and you will find a huge variety in the local market 
An array of dried veggies and fruits at 
Paro Weekend Vegetable Market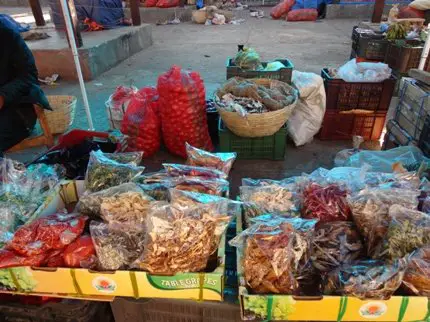 Cheese 
if you stay in a country which has hot tropical climate don't bother…the cheese is going to get spoilt by the time you reach home. For people staying in cooler climate, carry yak cheese back home….250 NU for a pack of 6 supersized chunks (you can make your own Emma Datsi at home). If by any chance, you are visiting Bumthang... you can buy Bumthang Cheese (tastes like Gouda) from there at Mr Maurer's Swiss Cheese Farm. 
Local Yak Cheese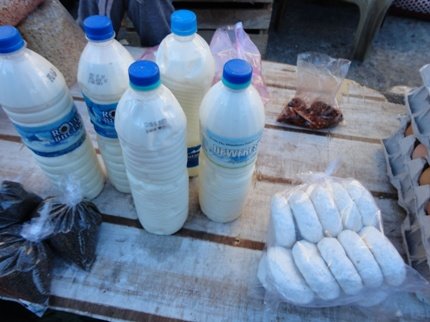 Incense sticks 
These are not really grocery items but the local vegetable markets are full of them, they have a beautiful fragrance and are good for meditation. Also, incense packets make for good souvenir gifting options. 
Locally made Incense packets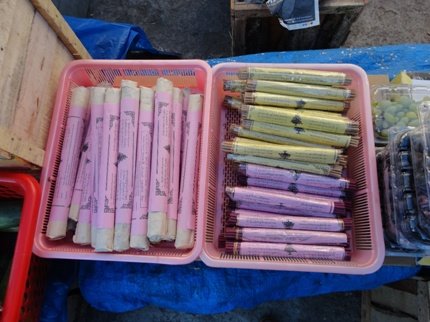 Best places to buy grocery items 
Centenary Farmer's Market in Thimphu, located near the Wangchu river (below main town) is the biggest farmers market in Bhutan. This is an interesting place to visit for grocery shopping and all the items on the above list can be found there. 
Weekend Vegetable Market in Paro is another good option for buying fresh groceries at reasonable prices. Located on the main town area (ten minutes away from Sonam Trophel Restaurant), you will get all the items mentioned in the list above. 
For buying Teas, target any big grocery retail outlet in Phuntsheoling/ Thimphu and try to pay in cash (they charge 5% extra for credit/ debit cards of other countries). 
Thimphu and Phuntsheoling are the only two places where you can buy apparel like warm woollens, Bangkok style clothes, designer denims and modern items of clothing. If you are fond of shoes, then Thimphu will give you a wide and interesting choice. 
I would specially recommend buying boots from Thimphu as a good array is found at cost effective rates. Most of the stuff comes from Bangkok so if you are poised for a trip to Bangkok in near future then don't bother shopping for apparel and accessories from Bhutan. 
Hong Kong Market Thimphu: There are more than 40 shops here and you will get fashionable and reasonably priced apparel and accessories here. Check out shop number 4 at this market…its run by a friendly lady Geeta who went out of her way to cater to my stringent requirement in shoes. 
Colorful array of boots at Hongkong market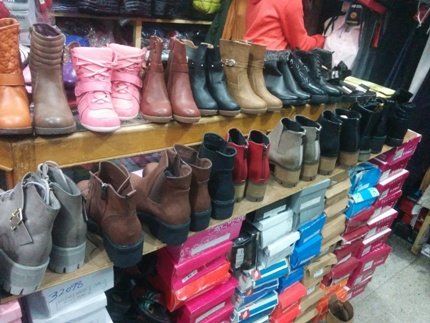 Ethno Metho Plaza, Thimphu: there are about 15 shops here and you can see the work of some Bhutanese designers. However, clothes and accessories here are expensive. 
Yanki's Sales (in Paro near Taxi stand): this is possibly the only affordable apparel and accessory (bags and shoes) shopping place in Paro. You can get good quality woollen garments, tops, pants and shoes here at very low prices. When I arrived in Paro my hands were completely frozen and I brought very looking gloves here at as low as 100 NU. 
There are umpteen shops in Phuntsheoling Main Market near the town square which sell t shirts, tops and other clothing items at very low prices. Just enter one with sale written on it and you will find low prices for sure. 
If you are a woman and are reading this then you were probably waiting for this part to pop up. Jewelry in Bhutan is indeed fascinating as the quality of craftsmanship is good and there are wonderful looking pieces available in the most nondescript curio shops. However, most chunky neckpieces and bracelets are inlaid with semi-precious stones and metals, brass and silver and are very expensive. You can easily get similar quality more reasonably priced jewelry from Nepal or Tibet. 
The one jewellery item you could buy from Bhutan are homemade bread and wire earrings and neckpieces…they are cheap and pretty to look at.  
Jewelry Stores in Paro 
Paro is full of curio shops and it is fun to wander through them searching for something that catches your eye. Here is one which caught my eye: Sorji Jewelry Gift Shop 
Array of handmade beadwork earrings and bracelets 
in Sorji Jewelry Gift Shop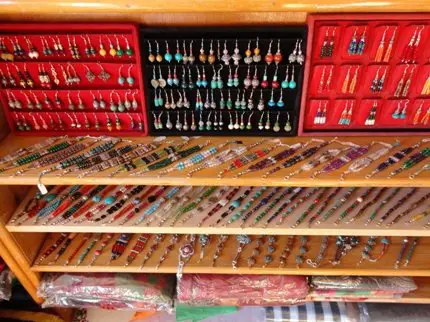 Jewelry Stores in Thimphu 
Just below the Bhutan Kitchen, there is a big souvenir and Curio store run by the owner of the Bhutan Kitchen. There is a good range of jewellery at reasonable prices sold there. 
Jewelry Stores in Phuntsheoling 
There is a small shop just beside the famous Kizom Café in Phuntsheoling which sells pretty jewelry at decent prices. 
Related Articles
Visitors' Reviews/Comments