Great Restaurants, Bars & Cafes in Phuentsholing
For people who are not particularly fond of local Bhutanese cuisine, Phuentsholing represents a more cosmopolitan palette and offers the food lover a multitude of options. 
Phuentsholing being the border town as well as the commercial capital of Bhutan sees a huge influx of tourists as well as businessmen and officials. The food options in this town are therefore versatile enough to suit people with differing gastronomic choices. 
There are a lot of upscale and budget dining places in Phuentsholing. The major cuisine options are Indian, Chinese (proper Chinese unlike what is found in the interiors of Bhutan), Thai, Bhutanese, Mexican, Continental (proper continental/ European food again!!!) and there are also some good vegetarian restaurants around (very rare in deeper pockets of Bhutan). 
However, there are no restaurants in Phuentsholing that can be classified as a five-star category and that's understandable as people use this place for either a transit point or a business centre. Most restaurants in Phuentsholing have an attached bar…you can try the ones at the Zen, Urban Kitchen and Majenla's…they are the best of the lot. Phuentsholing doesn't really have a nightlife except the occasional Karaoke night at Majenla's. 
Most restaurants in Phuentsholing are arranged in a circle around the Zangtho Pelri Lhakhang... you can just circle the park and walk in to whichever restaurant catches your fancy. 
Upscale Restaurants in Phuentsholing
The Zen 
Next to Kizom Cafe, Upper Market, Phuentsholing 
When I first visited Puntsheoling, my taxi driver was very vocal about recommending The Zen while vociferously claiming that it's the best restaurant in Phuentsholing. The restaurant occupies a central position in town as its close to most of the good hotels and the shopping complexes.  
The front view of the Zen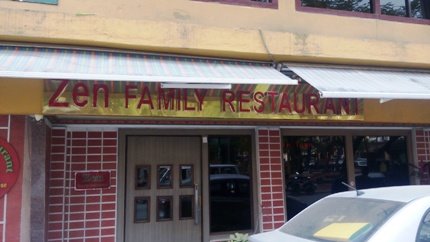 The restaurant has a nice relaxed ambience and has dining options on two floors with a bar as well as Hookah counter. Like most restaurants in Bhutan, its well maintained and clean. I found the lighting to be a little too dim and I was unable to take any pictures of the food. The menu card stocks a wide variety of cuisine options including Chinese, Indian, Bhutanese and a few Thai items. 
I ordered momos followed by fried rice and chilly chicken (I thought these would take minimum preparation time and I was ravenous!!!). The momos arrived fast but the main course took close to 40 minutes. The waiter kept on assuring us "here food is prepared from scratch". 
The fried rice was not like Chinese fried rice …it didn't taste bad though…just passable. The chilly chicken was good though it was too dry. Unlike many other restaurants in Phuentsholing, no cards are taken in Zen. The menu card is diverse though all options are not prepared (I visited in off season though). The restaurant has interesting décor and very nice cutlery. Truthfully, I felt a little let down after all the amazing reviews of the Zen that I read online. 
The interestingly styled cutlery at the Zen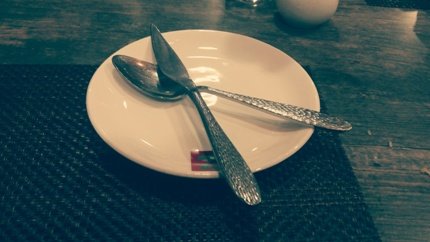 Meal for two cost 1300 NU (little expensive considering our menu choice) and they take 20% tax. Indian and Bhutanese currency accepted. 
Note: the Bhutanese food at the Zen seems to have great reviews. You can order that instead of opting for Chinese if you visit this place. 
The URBAN Kitchen 
Town Square, Right Next to Zangtho Pelri Lhakhang and Zanglo Peri Park 
This is a relatively newer establishment and draws a more cosmopolitan tourist population. I could find very few reviews online and I guess that this restaurant needs to be marketed better. Lunch at the Urban Kitchen is one of my best experiences in Phuentsholing. 
Front View of the Urban Kitchen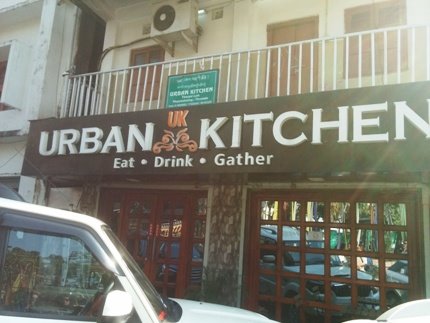 The restaurant is not very big and can only accommodate about 25 people comfortably. The Urban kitchen specializes in European, Chinese and global cuisine and they have a nice dessert selection including shakes and smoothies. 
Inside the Urban Kitchen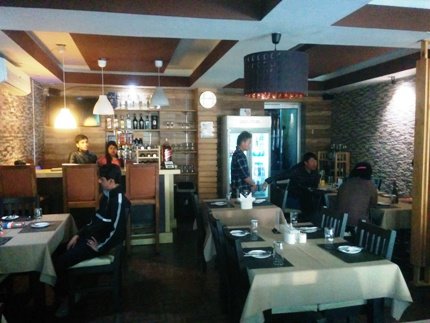 I ordered pork momos first and they were so unbelievably tasty that I packed another plate for next part of my journey. Next I ordered virgin Mojito and chilly Garlic fried Chicken. Both items were served quick and the quality was superlative. The chilly garlic chicken was a little fiery but by then my palette had adjusted to the red chilly factor of Bhutan. 
The tempting Chilly Garlic Chicken 
and Virgin Mojito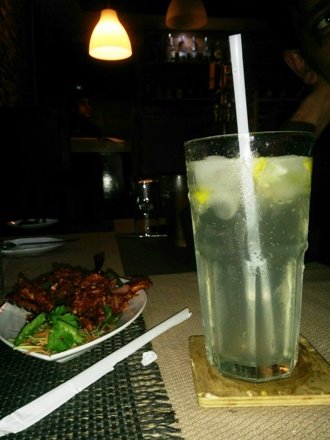 I tried the chocolate MISSISSIPPI mud pie and it was very delicious too. Priced at just 180 NU…the gooey combination of liquid chocolate, baskin robbins ice cream and nuts is a treat for people with a sweet tooth. My friend tried Blueberry smoothie (200 NU). 
The total bill came up to 1200 NU and that included a plate of momos I had packed for our journey. The best part is that Urban Kitchen charges only 15% tax as opposed to the standard rate of 20% everywhere else. Would I visit this restaurant again??.... totally yes!!! I would recommend this as one of the best dining places in Phuentsholing. 
Majenla's Restaurant 
Near Bhutan's Immigration Office 
This is one of the few restaurants in Bhutan which serves good quality Mexican food. If you are visiting with a group of friends, you will really like the ambience at Majenla's. there is live music and the staff are very friendly. 
Majenla's hosts parties on special occasions like New Years and Christmas Eve and if you are in Phuentsholing during this time you can enjoy the festive vibes there. For the young Bhutanese crowd, Majenla seemed to score high as one of the coolest places to be around town. 
The menu represents a nice mix of typical Mexican cuisine like fajitas, tacos and nachos and classic Italian items like pastas and pizzas with a few fusion food items thrown in. Do check out the dessert and cocktail menus too...  there are quite a few interesting choices. Majenla's has a good-looking bar counter and you can just slip in for a drink even if you are not in the mood for a full meal. 
The Majenla's accepts credit and debit cards and charges 20% tax. Meal for two including alcoholic beverages would cost around 1700 NU. 
The Kloud 
Haseen complex, First floor, Jaigaon, India 
Phone:9933131389 
In case, you arrive by train to Hasimara and then find yourself ravenously hungry… you might just want to eat at Jaigaon (small town at the Indian side of the border with Bhutan) before you start preparing for the journey into Bhutan. Restaurants in Jaigaon are few and the Kloud is one of the better options. 
The ambience is pleasant and casual and you will get a tempting spread of Indian and Indo-Chinese items. In case you love Biryani, Butter Chicken, Nan, Mutter Paneer or any other classic Indian dish then the Kloud will surely appeal to your taste buds. 
The restaurant is very near the Indo Bhutan gate so you can just stroll across the border of Bhutan. The ambience is nice and lively and it's a good place for a family lunch. 
Cards are usually accepted at the Kloud. A meal for two will cost around 1200 NU (Without alcohol). 
Budget Restaurants in Phuentsholing
Asian Kitchen Restaurant and Bar 
Tharpai Lam, next to Zangdok Palri Temple & Park, Phuentsholing Town 
Phone: +975-5-251906; Mobile: +975-17465178 
The Asian Kitchen is a hotel, restaurant & bar and it is a pretty popular option amongst Indians and other Asian tourists. The restaurant is located upstairs in a building which is located at the corner of the main town square of Phuentsholing (across Zangdok Palri Temple). 
Asian Kitchen Restaurant & bar at first floor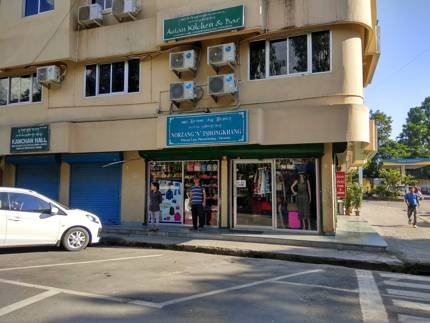 If you are using Phuentsholing as a transit point and want to try some good quality Indian food (the Kebabs platter is a must try) then hopping in to the Asian Kitchen is a good idea. However avoid the biriyani if you are looking for traditional Indian or Calcutta type ones. 
The Asian Kitchen serves good quality Chinese food too and is one of the more affordable restaurants in Phuentsholing. Though the Vinyl board in front of the Restaurant gives the impression of cheap place, inside it's quite roomy and nice. It's well air-conditioned. 
Inside Asian Kitchen Restaurant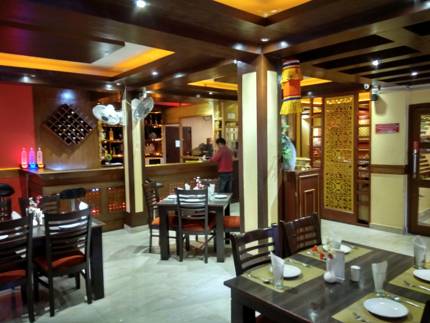 Traditional Bhutanese dishes like Ema Datsi and Phasha Maroo served are also good. The wine and liquor collection is also great including local beer (mild as well as strong) ... a top runner amongst the budget restaurants of Phuentsholing. If you are lucky, you might even get to hear some live music. A meal for two at the Asian Kitchen will cost you around 800 NU. 
Service is at times patchy. In one occasion the waiter was reluctant to serve us extra plates so that we could share some of the meals that we ordered. 
Tshering Phensum Hotel 
Town Square Near to Zangdok Palri Temple, Phone: 975 5 251 311 
This is a mini hotel in the heart of Phuentsholing which has a popular Restaurant by the same name. Though the fare is priced in the budget bracket, the restaurant offers a lot of value addition like free wi-fi and exceptional décor (candles floating on decorative urns on table). The service is a little slow but the staff is so friendly and courteous that you wouldn't really mind waiting. 
The Tshering Phensum hotel is famous for its Chinese and American food. Like most restaurants in Bhutan, a classic variety of Bhutanese food is also available. The food quality has always gathered consistently good reviews. 
A meal for two here costs approximately 700 NU 
Ashoka Restaurant 
(Pure Vegetarian) 
Open from 8.30 a.m. onwards. Shop number p-14, Zhang Lam, Phuentsholing 
I stumbled upon the Ashoka restaurant by pure chance…I was very hungry and breakfast time at my hotel was over. While wandering around looking for a decent breakfast café, the Ashoka restaurant caught my eye. At 10.30 a.m. in the morning in January, this restaurant was packed and this spoke well of the quality of food being served. 
Ashoka Restaurant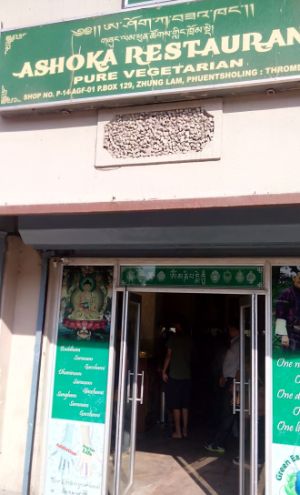 As the name suggests this is an Indian pure vegetarian restaurant and I was pleasantly surprised to see local Bhutanese folks happily polishing off plates of puri sabzi and poha with relish. Other popular items in the restaurant are idly, Dosa, paratha and dahi wada. The walls held pictures of Hindu Gods and Goddesses along with Buddhist religious figures. 
The masala chai and lassi both tasted great. If you are looking for a simple vegetarian breakfast/ snacks/ lunch place in Phuentsholing then the Ashoka restaurant is a good choice. 
Breakfast for 2 is 250 NU (Approx.) 
Lunch for 2 is 450 NU (Approx) 
Cafes and Bakeries in Phuentsholing
The Kizom Café 
Next to the Zen Family Restaurant, Phuentsholing Town Square. 
The Kizom Café is hands down the best café in Phuentsholing…in fact I would even go a step further and call it one of the best bakeries in the whole of Bhutan. Their bakery products like Cinnamon sticks, vanilla cookies, chocolate cookies are packaged and sold via many leading groceries in Phuentsholing and surrounding areas.  
The shelves on the first floor are loaded with 
a tempting array of baked goodies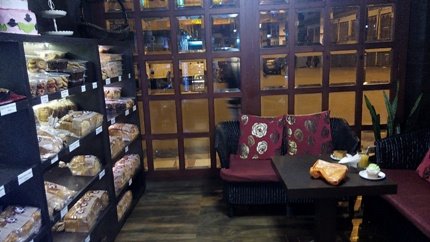 The Café has an excellent range of Pizzas, burgers and bite sized snacks on offer along with a range of freshly rustled up salads. I tried the pepperoni pizza myself and it was quite good. The range of coffees and non-alcoholic beverages is also great. But what literally takes the cake at Kizom Café are well... the cakes... one look and you will be forced to order just because they look too tempting.  
The plush sofas on the second floor of Kizom Café. 
Don't miss the eclectic list of desserts on today's special menu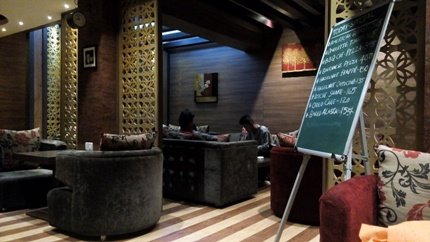 There is free Wi-Fi and the ambience is bright and peppy making you want to hang around a little longer. The Café has two floors, comfortable seating arrangement and a few tables are perched outside so there should be room enough for a large group. 
Zham La Bakery 
Next to Park Hotel Phuentsholing 
This small café/ bakery was right next to my hotel "The Park Hotel" in Phuentsholing. This bakery is easy to miss. However, I happened to stumble in just by chance while I was on the last leg of my "grocery shopping in Bhutan (this included cookies too)" and I was glad to discover the place. 
The easy to miss entrance to the bakery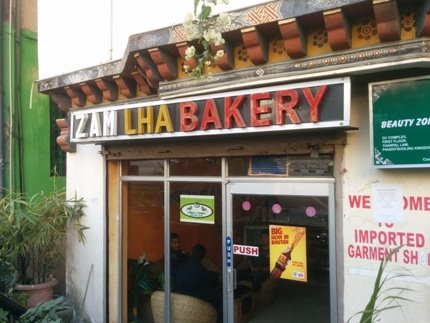 I brought super-sized nutty cookies from there and I loved them (everybody back home loved them too). Chocolate chip cookies, snacks, pastries etc were also on offer and they looked tempting. This café sources honey from Bumthang and sells so you might want to pick up a jar. 
The delectable spread inside 
This bakery doesn't accept cards. There can be some problems in communicating with the staff as they speak very broken English. 
Related Articles
Visitors' Reviews/Comments