Where to stay & dine in Wangdue Phodrang
Hotels in Wandue Podhrang
Wangdue is a naturally beautiful and semi-rural region so do not expect outstanding luxury here. The resorts available here are mostly mid-range and the nearest luxury hotel is Amankora Gangtey (check the page of Trosang and Gangtey). For photographers, bird watchers, naturalists and seekers of peace and solitude, Wangdue hotels offer decent comfort and adequate living facilities amidst serene beauty. 
Punatshangchhu Cottages 
Thimphu - Wangdue Phodrang Highway, 5 km away from Wangdue Town 
Phone: +975 2 481 942 
The Punatshangchhu Cottages are situated in a lovely idyllic spot quite near the Wangdue Thimphu highway with 18 acres of grass covered land overlooking Punakha river. This is one of the few hotels in this region which offers good facilities to the business traveler as well as tourist. 
There is a business center as well as well sketched conference room (can accommodate more than 150 people) apart from other facilities like library, parking, taxi on call and laundry. The hotel has an event management wing which can assist you in case you want to celebrate a special occasion here. 
You can choose between double and twin bedded rooms and enjoy amenities like coffee maker, emergency lights room heaters, cable TV (reception falters often) and Wi Fi (only available in lobby). 11 standard twin bed rooms are available with tariff of 2500 NU per night per room. 
There are 16 deluxe cottages with 3500 NU tariff per night. 20% tax is levied on all room tariffs and the cottages have beautiful balconies overlooking the mountains and the river). 
Dragon's Nest Resort 
Opposite Bajo Town, Wangdue 
Phone: 975-2332959 
The excellent location with a direct view of the Punakha Chu is a major advantage of staying at this hotel. The staff is very warm and hospitable and there is a beautiful garden outside which is perfect for strolling around. The Hotel's common sitting area has a relaxed vibe and offers good views too. 
On the downside, if you are coming in the summers insects will plague you. It's better that you avoid staying in the ground floor altogether. Service is sometimes slow as the hotel appears to be a little understaffed. 
You must choose between double bedded and twin bedded rooms and all of them have amenities like coffee maker, electronic safe, room heaters, emergency lights and cable TV. The attached baths are reasonably sized and clean. 
The standard rooms are priced at 3000 NU while the deluxe rooms are priced at 4500 NU. Deluxe rooms have bigger beds and better views. 
Kichu Resorts 
Chudzomsa, Wangdue 
Phone: 9752841359 
The hotel is situated in Chhuzomsa that is 9 km to the eastern side of the Wangdue town, the resort is equipped with a wonderful garden that provides a view of the Dang Chu river. Ask for a room with a river facing balcony and make sure you carry insect repellent creams and sprays if you are arriving in summer. 
There is one very beautiful luxury suite in the Kichu Resort whose tariff is 8000 NU per night. It's the closest that you will get to luxury living in Wangdue. There are 24 standard rooms with double/ twin beds whose tariff is 3700 NU. 
The interesting aspect about this hotel is that the son of the owner has been blessed with the Rinpoche title by the lamas and so the hotel will serve mostly vegetarian food. The food has great variety and is delicious and there is an in-house restaurant & bar. This is a great hotel for naturalists and lovers of solitude who would love to sip on tea or beer while enjoying the beauty of the surrounding landscape. 
Hotel Pema Karpo 
Bajo Samtang Road, Wangdi 
Phone: 975 2481102 
This is one of the biggest hotels in Wangdue town with 35 rooms. Two luxury suites are priced at 6000 NU per night while the tariff of the 6 deluxe rooms per room per night is 3500 NU. There are 27 standard rooms (tariff 2500 NU). The luxury suites are beautiful and spacious with separate sleeping, dressing and writing areas and they have bathtubs in the large attached bathrooms. 
Try opting for a room which has a view of the archery ground across the road. The hotel doesn't have a lift but it should be ok as its only 3 storeys high. Wangdue is quite hot in the summers and this is the only hotel with a swimming pool. 
Wangdue Eco Lodge 
Overlooking Ngashigaykha, Rubessa, Wangdue 
Phone: 9752482900 
The Wangdue Eco Lodge is built in the style of a nature retreat and is fully designed in the traditional Bhutanese style. On a beautiful clear day, I saw the snow tipped Ganchen Tag mountain peak as well as the Wangduephodrang Dzong from the resort and the view was wonderful. 

Source: Wangdue Eco Resorts 
Later, I understood that it has pioneered the concept of eco-tourism in Bhutan and the lodge is committed to its goal of fostering a green sustainable community that emits low carbon footprints.  
The large balcony and the seating area overlooking acres of lush greenery are perfect for enjoying your morning beverages and evening drinks. This is a small almost boutique style accommodation option with only 8 large suites/ 4 cottages (2 suites in one cottage). 
The tariff per room per night is 3999 NU. Each room is large enough to occupy more than 2 people though there are only double bed/ twin bed options. You can ask to include an extra bed at 1000 NU charge. All ingredients for the food are fresh and most of them are grown in the lodge's own garden. 
There are lots of activities on offer at the Eco Lodge such as Bhutanese cooking classes, cheese making and distilling sessions. There is also an opportunity for learning archery and participating in darts. From the Eco Lodge, you can hike to the Sha Temple, Nahi village, Rinchegang village etc. an ideal accommodation option for hikers, photographers and nature lovers. 
Hotel Tashi Gatshel 
Bajo Town, Wangdue 
Phone: 9752481153 
A very reasonably priced and small establishment, the Tashi Gatshel is very close to the town centre of Wangdue. If you want to stay in the heart of a town and are not a solitude lover, then this hotel will suit you. There are only 9 rooms in the hotel and the tariff is 1500 NU per night making this one of the most affordable accommodation option in Bhutan. There is an attached bath, cable TV and emergency torch inside the room besides the standard furniture so don't expect any fancy frills. There is no lift. The in-house restaurant offers good and reasonably priced food. 
Restaurants in Wangdue
There are very basic dining options in Wangdue so do not expect star quality restaurants in this area. It is advisable that you choose to have dinner at your hotel (whichever hotel you choose from the above list will have a decent in house restaurant) and lunch outside. For lunch, there are a couple of good dining places that can provide an interesting experience. 
Wangdue Eco Café 
I stopped at this rather charming little place on the day of my Punakha exploration trip. This small restaurant & bar is about 10 km away from Wangdue town and offers a rather selective menu. 
The Eco Café sits in the middle of 
unadulterated natural beauty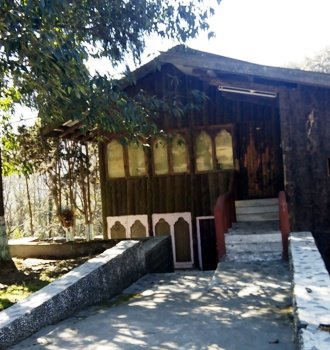 However, what it lacks in diversity…. it makes up with oodles of charm. The entrance is plastered all over with pictures of the Bhutanese Royal family and the window side tables commands excellent views of the mountainous landscape.  
The wall facing the entrance is layered over with 
photos of diplomats and royalty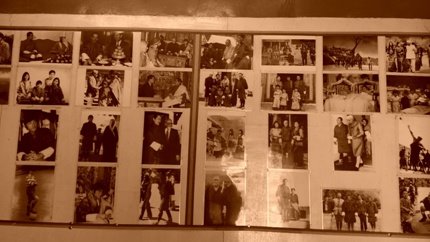 The red door leads to a balcony which commands 
a sweeping view of the nearby mountain ranges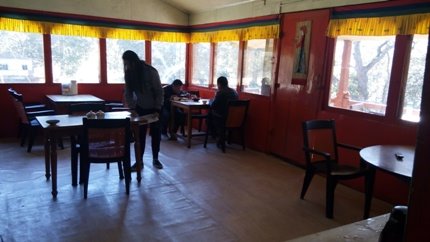 We had Wai, masala omelette and black coffee and this simple meal gained beauty and flavour from the picturesque setting. There is a rather interesting selection of local drinks on offer should you wish to sit a bit longer and savour the place. 
Pick your favorite drink from this quaint little cluster…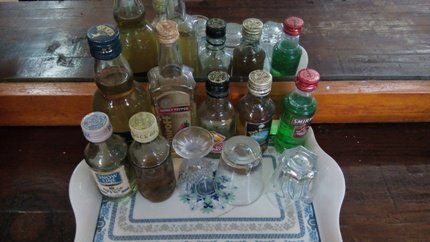 Khandu Hotel 
Road from Wangdue to Pele La, Nubding 
This Hotel is located quite conveniently in the road from Wangdue Phodrang to the beautiful Pele La Pass. Offering traditional Bhutanese fare like Maroos (stews) and Datsi's (cheese based dishes) with red/ white rice, the restaurant also offers momos along with tea/ coffee or Ara. 
There is a large VIP room inside that is reserved for entertaining Bhutanese royalty and ministers though the place doesn't look like it has seen too many such visits. 
KuenPhen Restaurant 
Road from Wangdue to Pele La, Above village of Nobding 
This is a small and intimate restaurant that's the best place to stop for a lunchbreak during your excursion to the majestic Pele La Pass from Wangdue Phodrang. This is also one of the very few multi cuisine restaurants around though it basically serves very limited continental and Chinese options along with a profusion of Bhutanese food. 
The USP of this restaurant is its view which will stun you with its beauty (there are plenty of vegetarian food options too). Try the Yak butter tea while stretching your legs on the log hewn seats outside…it is sure to be an unforgettable experience. 
Related Articles
Visitors' Reviews/Comments