Central Gleneagles Heritage Resort, Darjeeling
Category: Heritage, Mid-range 
Darjeeling is rich with heritage properties which have been converted into resorts and hotels to let tourists experience the old world charm while vacationing and at the same time enjoy modern amenities which did not exits in such era but are now required for comfort. 
However most of such heritage properties are upscale luxury class hotels which are out of reach from the common tourists and entertain mainly the rich and the affluent. But Central Gleneagles offers a nice mid-way option as an affordable heritage property which can be enjoyed by many. 
Central Gleneagles Heritage Resort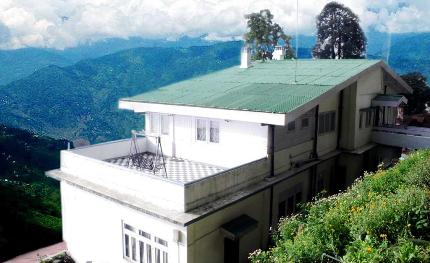 See the tiled terrace of a Club Room with a swing 
The property is however quite small and has only six rooms. After all it's a two storied building, an old house of the British era which has been converted into a hotel, but has immaculately retained the aura and authenticity of a heritage property. It is undoubtedly a little gem in Darjeeling. 
Being part of the large Central Group of Hotels, you can expect a high level of amenities, cleanliness and hospitality which goes without saying. Being a small property, it offers more intimate and homely feeling compared to many other heritage hotels in Darjeeling. 
In less than a minute walk from the Mall (Chowrasta) along the Mall road, you reach main entrance to the hotel (an iron gate on Mall road). A narrow ramp like downhill pathway leads to the building. 
The hotel has only six rooms of different types. The ground floor rooms are the Deluxe rooms (the cheapest category), upstairs you have two Club rooms and a suite. The Deluxe rooms are good for those who want an easy access to the flowering garden/ kids playground at the back side. 
Reception & the Lobby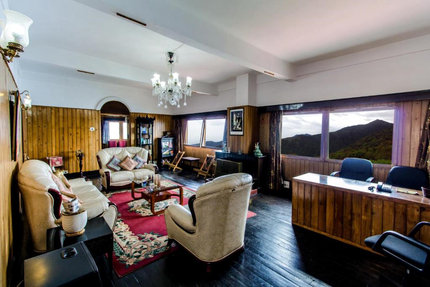 The reception is at the upper floor with a nice lobby, wood paneling all around and with nice leather comfy sofas, carpet, huge windows with great views of the valley, and an wooden desk for the staff. 
The two club rooms (no. 104 and 105) are next to the reception at the same floor. The club rooms are really spacious, wood paneled on all sides, and have large windows opening out to the valley views. In fact all rooms have valley/mountain view windows, the Deluxe rooms have smaller windows, while the Suite has largest windows. 
Deluxe Room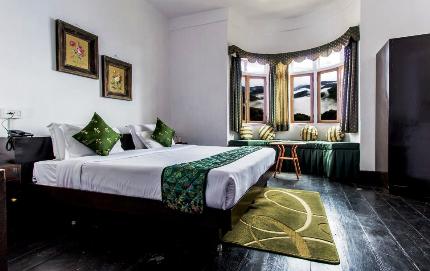 All rooms have wooden floor and antique wooden furniture (some of which may seem to be too old making creaky sounds). All rooms are equipped with Flat screen TV & DVD player, room heater, Electrical Bed Warmer with temperature controls (very effective during winter), attached bath with 24-hours hot & cold water, Tea/Coffee maker and most importantly free Wi-Fi. 
The two Club rooms are quite large and have large windows with views and each has a king size bed. One of them has a vaulted ceiling with an wood burning fireplace, while the other one has an adjoining terrace with a rot iron swing (see the first picture on this page). 
A Club Room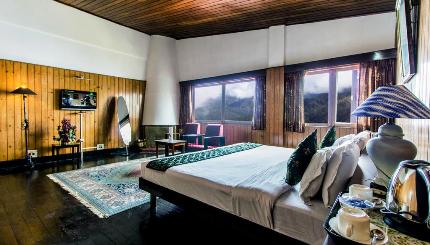 The suite has separate living and bed rooms. It has specially designed antique furniture, three walls of the unit have large windows to soak in the views. The suite too has a King size bed. 
You get wonderful view of Kanchenjunga from the terrace as well as from the lawn below. The garden below which is also the Kids playground has some toys. It has been converted from what earlier was a flower nursery. The green house at one end (usually kept locked and opened on guests' request) has a table tennis board. There is also Dart. So this hotel can be attractive for Families with kids. 
The Lawn/kids Playground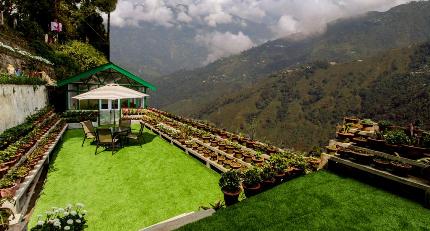 There is also a small library in the property stocked with books... good for those who like to spend some time reading and getting some knowledge about Darjeeling and places around. The front desk also doubles up as the travel/tour desk, and can organize local sightseeing tours and transfers. 
There is a dining room in the property and they serve Indian and Chinese food. Breakfast (toast, omelet, tea etc) is included within the room tariff. The food is average. 
Staff are well behaved and cooperative. However being a small hotel, the service may not be always adequate. Also some of the furniture and fittings including in the bathrooms need replacements or modernization, some of it show signs of serous aging which can not be misled into thinking of heritage experience. 
Having said that, this is a good mid-priced hotel and is great to enjoy the heritage charm with nice views of the valleys and being so close to the Mall (Chowrasta, the town center). Although the entry to the hotel is less than a minute walk from the Mall, it enjoys a quiet locality.  
Rates provided by booking.com 
Location and Contacts
The hotel is located less than a minute walk from Chowrasta (Mall). Note that taxis or cars can not come up to the entrance of the hotel because it's in Pedestrian zone (the entire Mall area is). You will need to be prepared to walk for about 5-6 minute uphill from the taxi stand at Gandhi Road / Laden la road (i.e Club Side stand), or a few minutes from Bhanu Bhavan (Gorkha Rangmanch). 
Central Gleneagles Heritage Resort 
Mall Road, Opposite Mahakal Mandir, Darjeeling, West Bengal 734101 
Related Articles
Visitors' Reviews/Comments
Tapas Poddar (January 2019) 
Thanks for everything you are doing for us who love Darjeeling. This time I have a quiry from your great knowledge bank. Do Central Gleneagles Resort has the view of great Kanchenjunga from the room or balcony. Please let us know so that we can plan accordingly. Regards to your entire devotion and efforts. 
Raj (darjeeling-tourism.com) January 2019 
Rooms do not have direct views of Kanchenjunga snow peaks (although some of them have very nice views of the valley and surrounding mountains). You can get view of the snoe peaks from the terrace or the lawn. Alternatively, you can walk for 5 minutes to the nearest Kanchenjunga view point on Mall road (east) get lovely views.