Gelephu Tourism
Gelephu is a charming town in the Sarpang district of Bhutan. Gelephu is 30 km away from Sarpang i.e. the headquarter of Sarpang district. Gelephu represents another entry point to Bhutan from India. The town is large but somewhat quiet and doesn't have the busy atmosphere of Phuntsheoling or Samdrup.  
Most people visit Gelephu when they are entering or leaving Bhutan so it serves as a transit town. However, there are some points of interest in and around Gelephu that could make your stay worthwhile. 
Gelephu Airport is the newest domestic airport in Bhutan and the first inaugural flight flew on 25th October 2012. The airport is instrumental in creating and strengthening links between the rural areas of Bhutan. At present, no proper building exists in the Gelephu Airport and a gravel path leads up to it. Incidentally, the term Gelephu means "Sanctuary of Virtue". 
Gelephu is in South Bhutan and the climate is warm, sub-tropical and humid and remains fairly unchanging all year around. In summers the temperature may cross 30 degrees centigrade which is why most hotels in Gelephu have air conditioning. This is also why south Bhutan is one of the zones of Bhutan you can easily explore in winters (temperature will range around 10 to 18 degrees C). 
Gelephu is well known for cross border trade and you can visit this town for some last-minute shopping. The Hong Kong Market area is good for buying fancy items, apparel and accessories. 
Gelephu is adjacent to Dadgiri in the Chirang district of Assam. Incidentally Dadgiri has no hotels or even a proper lodge so make sure that you do not arrive there after the border gates are closed (you will be refused border entry and will not even get accommodation). The Gelephu-Dadgiri area looks almost like a military cantonment... its quite well organised. If you enter Bhutan through Assam Dadgiri Gelephu border you can only visit southern Bhutan and won't be permitted to go to popular destinations like Bumthang, Thimphu, Paro etc. unless your permits have been procured beforehand. 
Gelephu is situated on Southern Central Bhutan and its 30 km to the east of Sarpang town (headquarters of Sarpang district). There are well developed direct roads to Gelephu from Shemgang, Bumthang, Daga, Thimphu and Trongsa and Wangdue (this goes through Chirang). 
Unlike other areas in Bhutan southern Bhutan in general is a little less hilly. You will have a relatively smooth ride to Gelephu should you wish to travel by car or bus. From Gelephu many tourists move north towards Zhemgang or west towards Thimphu via Chirang.  
Gelephu is quite well connected by buses. There are buses at 7.00 a.m. and 7.30 a.m. which run from Thimphu Bus Terminus to Gelephu. The bus journey takes 8 hours approximately. 
From Wangdue, a bus leaves for Gelephu at 8.00 a.m. and reaches at 3.00 p.m. (only on Monday, Wednesday and Friday). 
Gelephu has a large bus terminus and you can take direct buses to Punakha, Thimphu, Wangdue, Tsirang, Bumthang, Trongsa, Phuntsheoling etc. 
Many tourists prefer to drive on Southwards to Gelephu from Bumthang (distance 312 km) and the fare is 5304 NU. From Daga Dzong you can hire a cab to Gelephu (distance 198 km) and the fare is 3366 NU. From Zhemgang to Gelephu the distance is 133 km and the fare is 2261 NU. From Thimphu to Gelephu the distance is 258 km and the reserved cab fare will be 4386 NU. 
From Damphu to Gelephu, the distance is 889 km and the taxi fare is 1581 NU. From Punakha to Gelephu enroute Wangdue, the distance is 219 km and the taxi fare is 3723 NU. From Trongsa to Gelephu the distance is 244 km and the taxi fare is 4148 NU. 
Gelephu is popular primarily as a transit point for entry/ exit to Bhutan. However, once you arrive here you will find plenty of attractions to absorb your interest for a day or two. If you are a nature lover then Gelephu will appeal to you as it can serve as a base for travelling to the Royal Manas National Park and Phibjoo Wildlife Sanctuary. Remember that the permits for visiting other districts of Bhutan are not issued from Gelephu... you must pre-arrange those from a travel agent or procure them from Thimphu. 
Royal Manas National Park 
This national park is lovingly called the "conservation showpiece of Kingdom" and it is the oldest natural reserve of the country. In terms of bio-diversity, this park is the richest. The Park has been opened for tourist visits only recently and many of its facets are yet undiscovered. 
There are exotic mammalian species like clouded leopard, Asiatic elephant, gangetic dolphins, Water Buffaloes and Himalayan Black Bear in the park along with a rich resource of medicinal plants and herbs. 11 different kinds of snakes and 45 different kinds of reptiles reside in the park. There are two options of entering Royal Manas Park; from Gelephu (in Sarpang district) and Gongphu (in Zhemgang District). 
If you do visit the Manas National park then book a room in the Mathanguri Forest Lodge that's situated by the river which divides Royal Manas National Park (Bhutan) and Manas National Park Assam). This is the only accommodation option inside the park and even here you get electricity only between 6 p.m. to 11 p.m. 
Many Khengpa families live inside the park and visitors will have a unique opportunity to experience their culture. Reports of rhino, langur and hornbill sightings are common during forest elephant safaris. Boating expeditions are arranged in the river that divides Royal Manas Park from Manas National Park. 
If you wish you can opt to stay in the log huts inside the park that are maintained by the Khengpa families. You will get western toilets, hot water and comfortable beds but no frills are available. The log style accommodation can be arranged by your tour operator and it's a good option for those who want to experience the intricacies of forest life. 
You can also opt to participate in the 4 day eco trek from Gongphu to Norbugang village. To reach Gongphu you need to drive 150 km from Gelephu and on the way, you can experience the ascent to Gongphu of 1450 meters). On the way, you can see the fragrant mandarin and cardamom fields in the Surey Village and if the sky is clear then the majestic Dungshing peak (tallest peak in Black Mountain Range) can also be viewed. If you wish you can camp at Chaplikhola that's a popular camping spot.  
Interestingly, this place sees maximum rainfall and it's a lush ecosystem. Driving on, you will reach the picturesque Tamala Pass (2500 m). If you are lucky then you can spot the Royal Bengal Tigers here (this is one of Bhutan's densest tiger habitats). You will drive on further to Tingitbi along the highway (along the Mangdichu river). This is also the area where Royal Manas Park joins the Jigme Wangcuk National Park. From here it is a 50-km ride to Gongphu. 
Phibsoo Wildlife Sanctuary 
Covering only 269 sq km Phibsoo is one of the smallest wildlife sanctuaries of Bhutan. The sanctuary borders India from the Sunkosh river in the west and the Sanathang river in the east. In the southern side PWS is joined to protected areas like the Buxa Tiger Reserve, Dhaneshi Ridge, Petu Reserve Forest and Chirang Reserve Forest. This is one of the only sanctuaries in Bhutan which has a large reserve of spotted deer's apart from golden laungurs, gaurs and elephants. 
Phibsoo Sanctuary is connected to Royal Manas National Park and Jigme Wangchuk National Park through biological corridors so you can actually trek to this sanctuary during the famous Sakteng Trek. Alternatively, your tour operator can arrange for a visit to this rather remote and unexplored sanctuary. 
Phibsoo Wildlife Sanctuary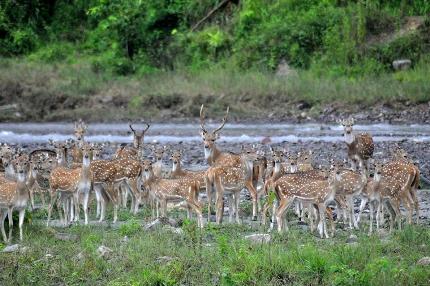 Photo: Phibsoo Wildlife Sanctuary 
Gelephu Army Distillery 
Gaylegphug, Gelephu, Sarpang 
The AWP (Army Welfare Project) was set up in 1976 and represents the commencement of the organised liquor industry in Bhutan. A visit to AWP Gelephu will be a nice experience, you can check how whiskey, rum and gin are packaged and bottled at the 30 KLPD Plant at Gelephu. 
Gelephu Army Distillery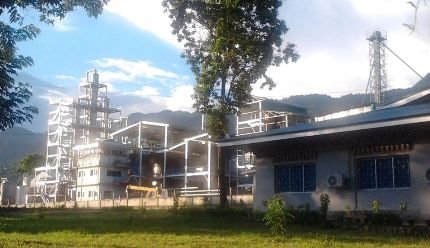 Photo: Bhutan Centennial Distillery at Gelephu 
Products of the AWP like Bhutan Mist Malt Whiskey, Apsoo XXX-Rum, Coronation Silver Jubilee Whiskey and Dragon Rum etc. are exported to international markets. There is a large manufacturing plant and a water treatment plant inside the AWP Compound. 
Thursday Market 
Dathgari (3 km away from Gelephu) 
If you happen to be in Gelephu on a Thursday then do check the Thursday open market at Dathgari. You will be stunned to see the sheer number of vehicles parked around the open market and farmers from at least 7 different districts come here to sell their produce. This is probably one of the cheapest places in Bhutan to buy organic produce. Apart from indigenous vegetables, spices, Juma (sausages) and cheese, you will also find incense powder, dried and packaged fruits and sweets. 
Thursday Market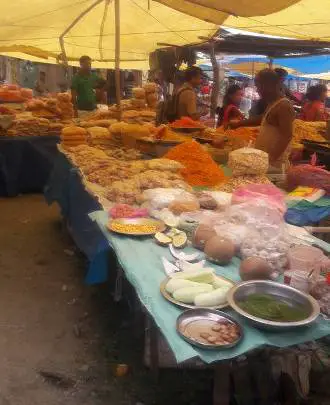 Photo: Gelephu Official Facebook Page 
Tali Dratshang 
10 minutes' ride from Gelephu Town 
This Lhakhang was established in 1971 by the Lam Therchung. The Lhakhang saw a series of renovations and many large statues of Zhabdrung, Tempa and Guru Rinpoche were added to the ground floor of the Lhakhang. 
The Tali Dratshang is the winter home for the official monastic body of Sarpang. Every year in late January a Tsechu is held and thousands visit the Lhakhang for witnessing the festivities. 
Gyenyen Lhakhang 
The Gyenyan Lhakhang is about one km away from the Tali Lhakhang and it's a relatively new construction (established in 2003). The Gyenyen Lhakhang is known as a Goenkhang or a seat of the protective deity. 
Threma Lhakhang 
This beautiful temple is 20 minutes away from Gelephu Town and was established in 2002 under the orders of Garab Rinpoche. There is a grand statue of the Threma Lathog inside the Lhakhang. You can also check out the Tharpaling Drashtang and Nimalung Drashtang in Gelephu 
Tsirang Dzong 
The Tsirang Dzong is located right next to the Sarpang Dzong. It will take you about 2 hours and thirty minutes to reach Tsirang from Gelephu town. Tsirang has rich biodiversity and is very fertile. The richness of its produce has inspired its name "the vegetable bowl of Bhutan". 
The beautiful Sankosh River flows through the Tsirang District. If you happen to visit Tsirang then do buy fresh oranges, apples, raspberries, walnuts, apricots, sweet lime, pears avocado and peaches as they grow in great abundance in Tsirang district. 
One of the main attractions in Tsirang is Namgay Choling Dratshang that spans over 9 acres. This beautiful complex housing 3 Lhakhang's and many religious treasures and antiquities was established in the year 1984.  
Sunday Market 
Gelephu Town 
A smaller version of the Thursday market, this one is open only on Sundays and is inside Gelephu Town. Browse through the colorful array of fruits and vegetables that mostly come in from Tsirang (the vegetable bowl of Bhutan). This is a good place to shop for cheese, berries, meat sausages and local vegetables. Also, a great opportunity for people watching and photography. 
Sunday Market, Gelephu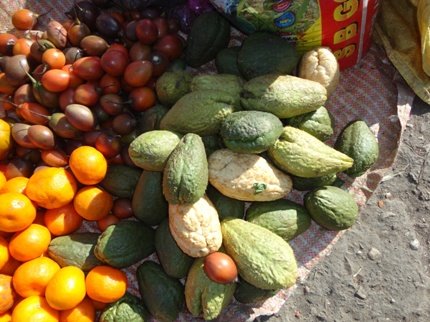 Most hotels in Gelephu are in the budget category with a few mid-range ones. Unlike Western and Central Bhutan, south Bhutan is at a lower altitude and comprises of plains which is why the weather will be warmer. Look for a hotel with air conditioning inside the town area. 
Hotel Khamsang 
Gelephu Town, Phone: 06252051 
The hotel is located right in the town centre so if you want to stay in town there isn't any better option. The services on offer are pretty well sketched with mini bars, tea/ coffee makers, complimentary bottled water and free wi fi in rooms. All rooms are air conditioned and there are attached baths. There are 16 rooms and the tariff per room per night ranges between 1500 NU to 1800 NU. 
Most rooms have twin beds but you can ask the staff to join them if you want. The rooms are clean and the in-house restaurant serves decent food. 
Hotel Kuku 
Gelephu Town, Phone: 975 6 251 435 
The Hotel Kuku is centrally located in Gelephu town and offers a good option for a couple of days stay in the town. There are only 15 rooms in the hotel and the standard per night rate is 1300 NU. The rooms are clean and the service is quick. The interiors are a little uninspiring but you really won't get star quality accommodation in Gelephu... so this should be good enough. 
There are air conditioned rooms, attached baths, good supply of hot water and ordinary furnishings. The restaurant is cute but food is quite average. 
Tesedan Hotel 
Gelephu, Bhutan 
One of the best hotels in Gelephu, the Tsedan is always fully booked in season time. The ground floor of the hotel complex is filled with general supply, grocery and other shops. The restaurant & bar along with the reception is situated on the second floor while the ten rooms of the hotel are distributed on the third and fourth floor. 
All rooms are air conditioned and have spacious attached washrooms. There are good facilities like airport transfer, safe deposit boxes, taxi services, free wi fi, laundry service and well developed conferencing arrangements. There are 9 standard rooms whose tariff is 900 NU per night while the king size deluxe room costs 1650 NU per night (there is only 1 such room). The rooms are clean and well maintained and there are good amenities like tea/ coffee maker, hair dryer, large beds, cable TV etc. the service is also good... though sometimes the staff is slow to understand your requests. 
Hotel Chorten 
Pelri Lam, Gelephu Town 
Phone: 9756251252 
The Hotel has a mid-sized conferencing facility that can be hired for a day at just 3000 NU. Many small-time business men stay over in this hotel because of its location, parking facility and conferencing arrangements at such an affordable price. 
There is also a currency exchange and taxi on call service. Attached bath, cable TV, 24x7 hot water supply and room service are some of the standard amenities provided to guests. 
The fare is quite affordable as the deluxe room tariff is just 900 NU per night plus 20% taxes. Do check the room before you opt for booking as the house keeping service is not very good. Best meant for a night's halt at Gelephu. 
Hotel Pelrithang and Spa 
Pelrithang, Gelephu. Phone: 975 6251580 
One of the more aesthetically pleasing accommodation options in Gelephu, the Pelrithang will impress you by its clean outward appearance with a lawn and garden along with parking facilities. The hotel has standard facilities like offering a small conference hall, currency exchange counter, business centre with fax, copier and good internet facilities and paid airport transfer. 
The hotel has a swimming pool, in house restaurant & bar and a spa. There are 15 rooms in total which are grouped into executive, deluxe and Suite categories. The tariff per night ranges between 1400 NU to 3000 NU plus 20% tax. The service is quite good and the pretty little outdoor seating area provides an interesting diversion. The washrooms are modern, westernised and the hot water supply is always adequate. 
Hotel Immanuel 
Gelephu Town, Phone: 97517666800 
If you are at the fag-end of your Bhutan tour and are bored with Bhutanese food and architecture then try staying at the Immanuel Hotel which is in the heart of Gelephu Town. This hotel offers a distinctly non-Bhutanese and typically westernised experience (though of not very high quality). 
You will get to colourful rooms in rather debatable colour schemes with comfortable amenities minus frills. Rooms are air conditioned with choice between double and twin beds. There is cable TV and Wi Fi and rather basic looking furniture. For food, you can get decent continental options but do not ask for anything too fancy. The standard double room tariff is 800 NU per night while the deluxe room tariff is 1500 NU per night (opt for deluxe if you can). 
There are very few tourist oriented restaurants of repute in Gelephu. However, there are small eateries selling momos and Assamese food inside the town. It's advisable that you have most of your meals at your hotel and pack your lunch. Most hotels are clustered around the town centre and each has its own in-house restaurant and bar so you can explore some of them for meals during your stay at Gelephu. 
Many hotels in Gelephu take cards and ATM machines are also present nearby so you will not have much of an issue with payments. For casual meals, you can check out the options below. 
Karma's Fried Chicken 
Hong Kong Market, Gelephu 
Phone: 97517831261 
Chicken Cheese Balls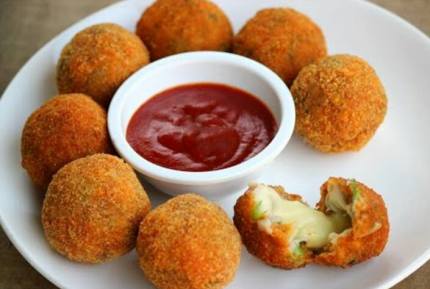 Photo: Karma's Fried Chicken Facebook Page 
Karma's Fried Chicken has styled itself on KFC's design and offerings. The menu comprises on Chicken Burger (like the Zinger Burger), chicken popcorn, fried crispy chicken, milkshakes, floats etc. Good stuff... and its very popular amongst locals. They have home delivery option too and they give away free coke with most of their main dishes. A fun place to visit if your feet are aching with all the shopping. 
Front Line Restaurant and Bar 
Samden Lam, Gelephu, Thronde 
Phone: 97517627848 
Photo: Front Line Restaurant and Bar, Gelephu 
This small non-descript looking restaurant & bar is situated in the Samdem Lam area of Gelephu. The menu is affordably priced and you will get traditional Bhutanese food here along with momos, chilly chicken, chilly beef etc. there is a chequered sofa seating area in the corner of the restaurant that can be a good place for an evening during and a plateful of momos. In the evenings, the restaurant is mostly full as this is one of the rare standalone restaurant for a good meal in Gelephu. 
Leywang Café and Pizzeria 
Twin Fishery Building, Near Kim 77 WaterFall, Gelephu 
Open from 9.00 a.m. to 9.00 p.m. 
Phone: 97517954855 
This is actually one of the few pizzerias that are operational in South Bhutan so a visit to the Leywangs Pizzeria should be on your priority list (especially if you are a pizza lover). 
Inside Leywag's Pizzeria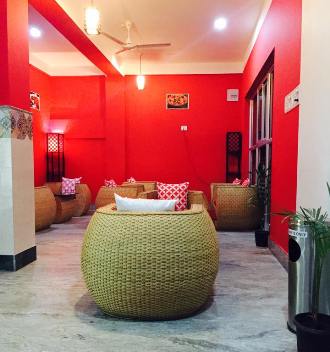 Photo: Leywangs Pizzeria and Café 
The décor is surprisingly good and you would want to relax and soak in the warmth exuded by the cheery red walls and cane furniture. The menu is not very diverse but you will get a selection of both vegetarian and non-vegetarian options apart from garlic bread and soft drinks. There is a selection of coffees ranging from espressos, cappuccinos, macchiatos, lattes and cold coffee. The food quality is consistently good and the pizzeria is very popular amongst the youth. 
Related Articles
Visitors' Reviews/Comments