Mawlynnong Village
Besides being an incredibly clean, in fact the cleanest village in Asia (as proclaimed by BBC), Mawlynnong has a lot more to its credit. There is a 100% literacy rate and a surprisingly high women's empowerment situation in the village. 
While strolling around the village, you will be struck by the orderly rows of houses each with its little vegetable and flower garden and animal pen. Remember, the little Lego villages that kids build... well Mawlynnong is a bigger and prettier version. 
Mawlynnong is about 100kms from Shillong town. You can take a reserved car to get to this showpiece village easily. You can also go by bus up to Dawki which is 17kms before Mawlynnong. The details of reaching the village is given at the bottom of this page. 
Local Khasi Huts that abound in these areas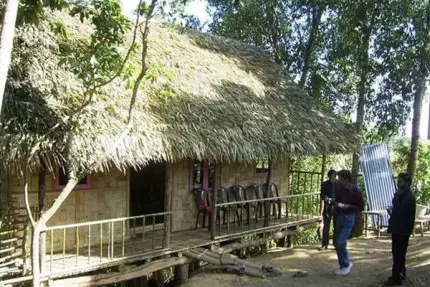 Photo: Meghalaya Tourism Official Website 
Umngot River/ Dawki River
Whether you travel by car or bus, you will reach Dawki before Mawlynnong and its here that India's cleanest river Umngot/ Dawki River flows. The beautiful river is the actual boundary between the Jaintia Hills/ Ri Pnar and the Khasi Hills/ Hima Khyrim and a rather antique looking single suspension bridge (built in 1932) on which a lot of cross border trade happens, spans the river. Interestingly, the Umngot River is the gateway to Bangladesh. It's rather easy to understand why the Indo Bangladesh border is a point of controversy; no evidence of fences or demarcation exist. This is a good fishing site and you can see a lot of Khasi fishermen angling for catfish, golden carps and silver carps. 
A part of the Umngot (the high current side is considered to be a dividing line unofficially. The water of the river is so clear that the boats (belonging to both Bangladeshi and Indian Fishermen) seem to float on the river bed. You can opt for a ride in one of the boats in the Umngot river (they charge 600 INR for 40 minutes) and you will be taken to a certain point on the river bank which has a tea stall selling tea, coffee and snacks. 
If you want, you can camp by the riverside (it's especially beautiful on a moonlit night) at a point called the Shoongpden. There are a series of tents on the riverside and a night's camp with only the silver river and sparkling stars for company. 
The rate per person for a night's tent stay is only 400 INR and you can contact Mr Pyndap (he is a local) on 09612089521 for other details. Bonfire facilities and basic dinner arrangements are provided…don't expect luxury in such an environment. 
Bophill Waterfall
As you travel towards Mawlynnong from Dawki, 5 km away from the Umngot River …you will come across an amazingly beautiful waterfall called Bophill Falls. This is a very wide waterfall whose water flows down to form a river in the Sylhet border area of Bangladesh. 
The water falls down with such force that it appears milky white in colour. Try to spend at least ten minutes appreciating the beauty of this place. 
The Bophill Waterfall 5 km away from Dawki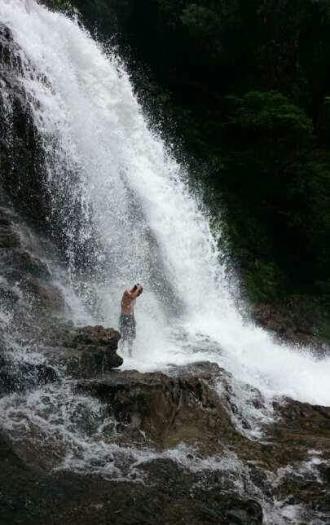 Umgrem Falls/ Dawki Falls
Another very beautiful yet scantily explored waterfall lies near the Borders Road while travelling to Mawlynnong from Dawki. 
This gushing foaming waterfall doesn't have a signboard or a published name to it but the locals call it the Dawki Falls…. another testament to the hidden gems contained inside Meghalaya. 
Mawlynnong Village and its Attractions
Acres of greenery surround the village and orchids and other flowers stun viewers with their abundance. Almost 90 houses exist in the clean little village and almost all the residents are uniformly charming and friendly. Villagers have decorated their village prettily with natural stone statuettes, creepers and shrubs. 
Clouds descending on the hill 
surrounding the Mawlynnong Village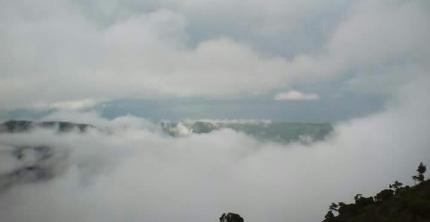 There are many things which struck me when I paid a visit to this incredible place but what really amazed me was how cleanliness is embraced as a way of life there. Though this is a rather remote area, all homes have functional washrooms since the year 2007. 
At every cornerstone of the village roads (at 30 meters interval), you will find beautiful bamboo dustbins and everything including the dry leaves from trees are picked up and thrown there. No plastic bags are in sight and no one is allowed to smoke (compliance to these rules are quite strict and heavy fines are levied in case of noncompliance). 
Mawlynnong has its own compost pit in which garbage is dumped and ecologically processed into organic manure. Rainwater harvesting on a small scale has also been perfected by them as there is a huge rock in front of each house with a large crater in it that collects rainwater. 
All residents believe in keeping their homes and roads clean and planting trees is a normal part of their lifestyle. There are very few touristy eateries and Haathygkong is the only option which serves local noodle dishes, pastries, puffs and teas. 
Mawlynnong is mostly populated by the Khasi tribe members and they follow a matriarchal society. Kids get their mothers surnames and wealth is passed down matrilineal. You would love to feel the warm hospitality exuded by the village members and the best way to feel this is to opt for a homestay visit... at least for a night. 
Another amazing attraction at Mawlynnong is the Sky View/ Sky Walk that's a vantage point and a very popular attraction. This is a big structure made of Bamboo and Cane (a local school teacher Rishop Khongthongreh designed it) that offers a 360 degree view of the Indo Bangladesh Border and the Mawlynnong Village.  
The entire structure of the Sky Walk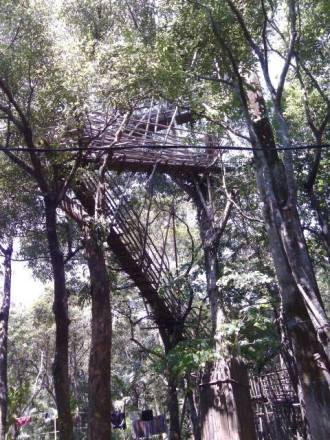 Photo: Sky View Point Facebook Page 
You will be charged an entry fee of INR 10 per person for the sight. This bamboo made 85 feet high viewing tower with a walking path is rather difficult to navigate and when you finally heave yourself to the top, you will be rewarded by amazing views of the Indo Bangladesh border. Much of the Bangladesh side of the landscape (green verdant plains) is also visible and it's interesting to watch the locals on the other side of the border go about their daily activities. 
The Skywalk and view point at Mawlynnong Village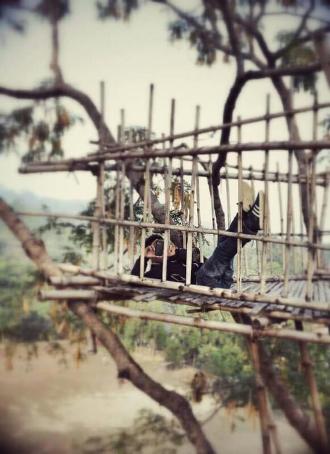 Check out the natural balancing rock which is actually a huge boulder that stands at a peculiar angle on another rock. How the gigantic stone balances itself at such an odd angle remains a mystery. The rocks are encircled by a strong wire fence and the structure has preserved itself for ages in spite of the scores of cyclones and storms that have ravaged the area. 
There are many stories circulating about the balancing rock... local elders say that human sacrifices were made in this spot to placate the reigning deity. However the guides say that this was actually an ancient Khasi tribe which is no longer used after the advent of Christianity in the area. 
Very near the village, inside the lovely woods is a mid-sized beautiful waterfall named as the Mawlynnong Waterfall. This is a great picnic spot and nothing could be better than sitting here with a bottle of wine and a light packed lunch. 
The graceful Mawlynnong waterfalls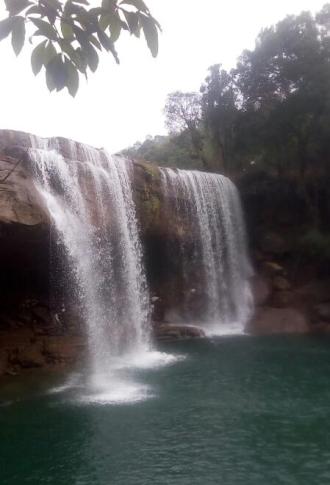 Another landmark of the village is the century old Church of Epiphany which has a unique old world charm. The church premises are wonderfully soothing and there are rather unruly bushes with gorgeous orange and red flowers around. 
Church of Epiphany, Mawlynnong Village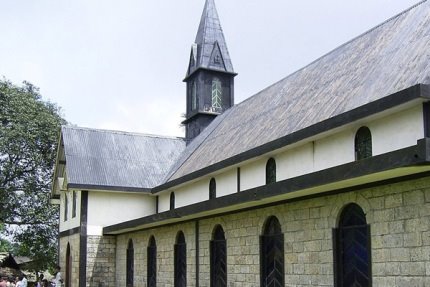 Photo: Meghalaya Tourism Website 
All the food that you will eat in the village is cooked using locally grown and sourced produce. Every house has its own vegetable garden and most have their own hen pens and livestock. You can sample delicacies like a spicy meat and rice dish (Jaddoh), smoked tender banana flowers, pork with fresh greens and bell peppers and Tungrymbai…a signature Mawlynnong Khasi dish made of fermented soya bean, bamboo shoots and local spices. 
Weather in Mawlynnong is pleasant the whole year through but the best time to visit this place is the monsoons when the whole area is filled with jade green leaves. Meghalaya is at her most beautiful in the monsoons and if you don't mind getting drenched a couple of times then do target a visit during the Behdienkhlam festival in July. Another good time to come to Malynnong is the September to December slot when the famous Nongkrem Dance Festival and Wangala festival happens. Summers in this place are rather hot and humid. 
Living Root Bridge and the Riwai Village
Once you are done with Mawlynnong sightseeing, you can drive 2 km to reach the Riwai village. The vehicle has to be parked in the outskirts of the village while you continue walking through the forest buffer zone in Riwai for about 300 meters till you reach the living root bridge (beware of leeches…carry salt in your pocket!!). 
If you decide to trek then you will have to trek for 2 hours till you reach the village of Riwai from Mawlynnong and it's a sweaty trek (humidity is high in this region). There is a well-established trekking route in the area. However the visual rewards will be so great that you will forget about all the discomfort that you endured during the trek. 
Once you are in Riwai, it is a very easy and beautiful hike through the rain forests of Riwai to reach the single tiered living root bridge in Riwai (double tiered bridge is in Sohra). The villagers of Riwai charge a nominal fee of Rs 30 per person for a visit to the bridge and this amount is used for the maintenance of the village. 
The living root bridges are the most popular attraction in this area and no amount of preparation can actually prepare you for the surprise when you first view the bridges. The scene will remind of a JR Tolkien novel setting. Gigantic bridges naturally constructed by Arial embraces of super-sized rubber trees. 
As one of the villagers informed me... the construction of the bridges was a fiercely guarded secret of the Khasis War tribal who noticed that the Ficus Elastica tree produces robust secondary roots high up in its trunk and these can create a bridge if they are positioned on the huge boulders along the banks of the river. Interestingly the villagers (most of them are Khasi warriors) use the juice of betel nut trunks that are sliced in the center and then hollowed out to create a root guidance system. 
This is how the thin tender rubber roots are stopped from fanning out and then they grow straight. The roots keep growing till they reach the other side of the river and they take root in the soil there and in many years…an amazing solid living root bridge is created!!! This bridge is very strong and it can take the weight of a wild elephant herd. The development of one such bridge takes about 15 years and with time it becomes even more resilient. 
Take a walk along the bridge and stand for a few minutes in silence while admiring the knotty roots that have fashioned themselves into fortified structures. Time will stand still and you can actually feel the power and strength of nature when you are here. 
The living Root Bridge in Riwai 
As mentioned the living root bridges are actually in Rwai village which is a short trek away from Mawlynnong. If you wish to spend the night in Riwai then you can choose to book at a couple of good home stays including one that offers the option of staying in a tree house. 
One look at the Riwai village and you will understand that they are imitating the model used in Mawlynnong. The whole village is filled with Robab Tenga trees bearing ripe citrus fruits (the locals love these trees). Like Mawlynnong, You will see huge bamboo dustbins and small shacks selling packaged water, egg, tea etc. to tourists. 
About 5 km away from the Riwai Living Root bridges is another gorgeous waterfall called the Niriang Falls. This fall bears the clear waters of the Rymben River that falls via a 400 meter sharp drop to the deep greenish pool in the middle of a lush green forest. Reaching this place isn't easy as one has to pass through slippery stone paths and locals/ guides refer to this place as a secret waterfall. If you visit this place then make sure that you take along a local for company. 
However, there are no restaurants and you will have to rely on home cooked food which happens to be quite tasty. A typical meal will consist of rice, lentils, chicken curry and spicy pork curry. For snacking options, check out the bamboo stalls in the village which sell biscuits, noodles and cold drinks. Many pineapple groves abound in the area and you can taste these luscious fruits. 
It is recommended that you set apart at least one and a half days (including a night halt at Mawlynnong Village) if you want to explore all the attractions of this area. 
How to reach Mawlynnong
Apart from directly travelling to Mawlynnong village (it's 100 km away from Shillong) by car, you can also choose to travel to Dawki from Shillong by bus. Dawki is 17 km away from Mawlynnong and buses leave every day from Shillong's Bara bazaar area to Dawki every morning. From Dawki, you would have to catch a shared cab or hitch a ride to Mawlynnong village.  
Incidentally, from Mawlynnong you can take a bus to Sylhet (Bangladesh border) which is 55 km away and this is a good option to explore Bangladesh (provided you have the permits). 
If you decide to hire a car for Mawlynnong Village and Dawki site seeing (these are usually clubbed in one trip) then you can hire either a small car (this will cost you 3000 INR) or a Sumo/ big car  (this will cost you 4000 INR). It's highly recommended that you hire a hardy vehicle as the road conditions are not good in some stretches. 
You can contact Dipak Sarkar (local driver) at 9615765231/ 9862330333 for Mawlynnong, Dawki, and Riwai sight-seeing…he is quite knowledgeable about the area. 
Homestays in Mawlynnong
Most homestays in Mawlynnong are in the budget price bracket. Do not expect star facilities and luxury amenities. However what you get in abundance is warmth, hospitality and a cheerful willingness to talk about the village life and its quintessential aspects. 
Embor's Homestay 
This is by far the most affordable homestay option in Mawlynnong village and they provide decent comfortable accommodation with delicious home cooked meals. The homestay is managed by Embor Klamet and his mother and they arrange sightseeing trips to nearby attractions too. 
Small Cottages in Embor's Homestay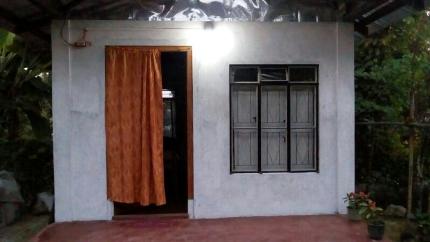 Room with double bed and attached bath in Embor's Homestay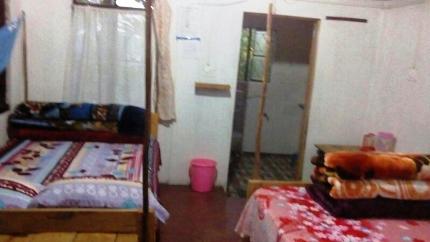 Tariff per night is 2000 INR only and this includes delicious home cooked breakfast. You need to call and book early if you plan on staying here as the rooms get sold out pretty fast. 
Sky View Point 
Phone: 8575615877 
Tariff per night: 4000 INR 
There are only two rooms with two beds each and one room with a single bed. Renting the entire cottage will cost you 8000 INR per night. This is very near the Skywalk tourist point. 
Bangladesh View Homestay 
Phone: 9615386060 
Tariff: 4000 per night 
There are two rooms with in a double bed in each room. Rooms are clean and well maintained with basic facilities and home cooked food. 
Epiphany Society Guest House 
Phone: 9856939465; Tariff is 3500 INR per night 
Two rooms each with double beds 
Ila Jong'House 
Phone: 09615043027 
If you want to stay in a homestay then book really early as there are only 5 to 6 such options and most have only two rooms. This is supposedly the only place in Mawlynnong that has a tree house which can be used by tourists. 
Related Articles
Visitors' Reviews/Comments