Best Restaurants & Cafes in Shillong
Shillong is literally a foodie's paradise with lots of great restaurants, cafes, bars and bakeries. Restaurants in Shillong are mostly mid-range with a few less affordable and a few backpacker style options thrown in. Even for a person with budget limitations... visiting the top/ most popular restaurants in Shillong isn't a problem. The only issue is the unwillingness of most restaurants to accept debit/ credit cards so make sure that you carry around plenty of cash. Card swiping machines are sometimes unavailable and sometimes out of order so prepare yourself for these scenarios. 
The great views and charming smiles exhibited by most of the restaurant staff in Shillong adds special flavor to the dining experience. 
Café Shillong 
L.P. Building, (NIIT Building), Main Road, Laitumkhra 
Phone: +91 364 250 5759 
Arguably one of the coolest restaurants / cafes in Shillong, this place is actually a full fledged restaurant that is known for its great music and great food. The management who run the popular Center Point Hotel in Shillong runs this place too so the service is always top notch though on busy days the staff seem a little distracted. 
The décor is quite eclectic with a beautiful guitar on the wall. The menu is quite impressive though not all items are available every day. Vegetarian food like the veg burger, veg pasta, veg noodles are highly appreciated. Dessert menu is quite limited with only brownie with ice cream on the list. 
Meat lovers too have a wide choice with pork and beef based dishes as the main stars. A must try is the Khauswey…a local dish served with many side dishes…boiled eggs, shredded prawn, chilli soya chunks, roughly chopped lemon and spring onion. The steaks are quite popular too and so are the sandwiches. Don't miss the coffee…its rumored to be the best in town. 
City Hut 
Earle Holiday Home, Oakland Road, Police Bazar 
Phone: 0364 222 0386 
True to its name, the City Hut waiting area is modelled after a typical village styled Hut in order to present guests with a unique experience. The restaurant area is however quite modernistic and there are many elements of décor in the City Hut that will please you like a wishing well, simulated waterfall with actual white ducks swimming around. On the other side of the reception counter you will see beautifully arranged selections of organic vegetables and fruits and even sacks of grains used as décor elements. There is an actual coal bonfire inside the restaurant and that's a bonus on cold days 
City Hut Dhaba Reception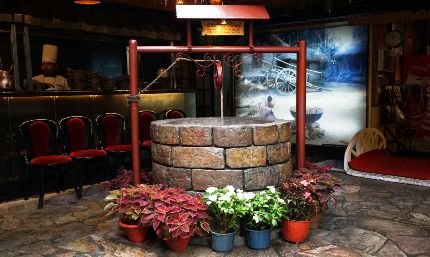 Photo: City Hut Dhaba 
The Thalis are hot sellers in the City Hut and waiters actually discourage guests from ordering multiple starters if they intend to try the Thali. The momos (both steamed and fried) are hot sellers too and many Punjabi families can be seen happily digging into their Dal Makhani and Mutter Paneer. The North Indian Thalis (fish, chicken, egg and veg variants are offered) all range between 250 to 300 INR. 
The City Hut is mostly packed on all days at meal hours and it's one of the few popular restaurants in Shillong that doesn't serve alcohol. It has ample parking space and that's a God Send in a parking starved area like Police Bazaar. The menu offers Khasi cuisine, North Indian, Chinese and Continental options. Meal for two will cost you around 1000 INR (a la carte menu). 
Déjà vu 
Police Point, Laitumkhrah, Shillong 
Phone: +91 364 250 277 
Déjà vu is the preferred dining destination for the young cool community of Shillong and it's a tourist favorite too. The Restaurant has a bar and a good collection of music. Portions are huge so refrain from ordering too much. I came to know much later that Déjà vu is co-owned and managed by the City Hut Dhaba Group so professional and quick service is a given here. This restaurant mostly specialises in Chinese food which is moderately priced. The alcohol list is extensive with local, national and international wines, coolers, aperitifs, liquors and beers. 
The staff seem friendly though there can be a communication problem as most do not understand Hindi or English well. The location may seem a problem as you have to reach the third floor of a building at a busy junction so not good for people with knee problems (there is no elevator or escalator). 
Meal for two will cost around 900 INR. 
Sao Aiom 
Umniuh Khwan, UCC Road 
Ri Bhoi District (by Umiam Lake, 22kms from Police Bazar) 
Phone: + 91 9862420300/ 9862420301 
If having your meals overlooking an abundance of natural beauty is on your priority list then Sao Aiom... Serenity of the Lake is your to-go place. This is part of Ri Kyanjai hotel and specializes in showcasing indigenous cuisine of the North East. The menu in Sa Aiom is huge and offers a range of dishes across Khasi, Naga and Garo cuisines. Besides Jadoh, a good dish to try out is Do O Pura that's a mild yet unusual tasting dish with chicken in tender mustard greens served with rice powder. You can also sample the peppery chicken curry with sticky rice that's a Khasi signature dish. 
Sao Aiom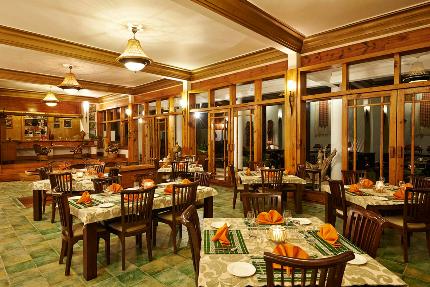 Photo: Ri Kyinjai 
The best part is that you get to eat your food in awesome ambience and can keep looking at the vast emerald forest flanking the Umiam Lake. Often, the daylight dapples over the lake creating a magical tapestry that adds flavor to the experience. 
QZine 
Thana Road, Shillong  
Phone: +91 94369 94611 
It's difficult to locate QZine, tucked upstairs in a really busy mall. You have to keep an eye on the nice sign at the bottom of the mall. The place is air conditioned and despite its sophisticated looks... it really is quite affordable. However there is no lift and a rather steep flight of stairs lead up to the restaurant. 
QZine is known for North Indian dishes though the menu is extensive and features south Indian, Tandoori, Chinese dishes too. Chicken Bharta, Kadhai Paneer, Paneer Butter Masala, lacchey aloo, kebabs are some of its specialties. The vegetarian Tandoori platter was quite unusual and delicious and so was the American Corn Dish. Qzine is owned by the same people who own Madras Café. There are three super comfortable booths that line the wall…you will quite like the comfort that they offer. 
A meal for two will cost around 700 INR. Portions are huge so do order in moderation. 
Barbeque 
Near Lila Brothers, G.S.Road, Police Bazaar, Shillong 
One of the more popular Chinese restaurants in Police Bazaar area Barbeque has an atmospheric if not unusual feel to it. The dim lighting, Chinese paraphernalia on the wall and the design of furniture etc. lends itself well to a hill town like Shillong. 
One concern might be that the restaurant has tried to accommodate maximum seats in minimum space. There is always a huge crowd during lunch and dinner hours so try arriving a little early. Food is mostly delicious and typically non vegetarian menu is far more extensive than the vegetarian options. Momos, pork ribs, chicken wings are the hot sellers. Prices are a bit high than other neighbouring Chinese restaurants. Meal for two costs around 2000 INR. 
Lamee 
Top floor of Lila Brothers, G.S Road  
Opposite Broadway Hotel,  Police Bazaar, Shillong 
Lamee offers good choice when it comes to menu and offers North Indian, Chinese as well as Thai food with wide ranges of both vegetarian and non-vegetarian dishes. The chicken Biryani, cheese naan and paneer side dishes are much sought after. A specialty here is the Chicken with bamboo shoots along with burnt garlic fried rice and fresh fruit salads. 
The service offered is indifferent though and you will miss the expansive smiles that most people in the hills seem to sport all the time. The restaurant closes at 9 p.m. which is quite early if you want to go out there for dinner. Meal for 2 at Lamee would cost around 850 INR. 
There are few restaurants in Shillong that serve great continental and European cuisine. These serve as alternatives to local Khasi, NE, Chinese and North Indian Cuisine. 
Pine Cone Restaurant 
European Ward, Rita Road, Shillong, Meghalaya 793001, India 
Phone: +91-364-2223116 
Open all days of the week from 12:00 PM - 9:00 PM 
The Pine Cone has a very traditional British feel to it in its décor and furnishing style. The menu comprises of both Indian and European offerings and the food quality still commands a lot of awe. 
Try their array of soups, salads, sizzlers and pineapple soufflé…they are the bestsellers. 
Jiva Sizzlers 
Police Bazar, above BBQ Restaurant, Police Bazar, Shillong  
Phone: +91 364 250 3011 
Open from 10.30 a.m. to 9.30 p.m. 
Jiva is one of the best places in Shillong for continental and American food so it's a big surprise as to why it's lesser known in the tourist circuit. Though the place looks like a hole from the outside, the interiors are good enough with dim lighting, nice music and sufficient seating arrangements 
Inside Jiva Sizzlers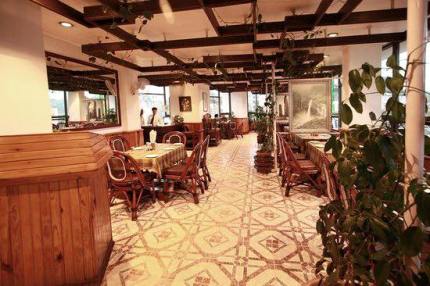 Photo: Jiva 
The pork sizzlers can tempt even a non-pork eater and the olive oil used in the preparations adds an authentic flavor to the dishes. The sizzler range is quite innovative and this is an offering which is uncommon in Shillong. You can try the Chinese sizzler…it's like a fusion dish with complimentary tangy and sweet Chinese salad thrown in. The a la carte menu with garlic bread, lamb chops, pork chops, soups etc. is also good though options for vegetarians seem to be limited. 
You can even visit Jiva for breakfast (a late one) as the restaurant serves a continental breakfast buffet in the mornings. The service is a little slow and the heating arrangements may not seem sufficient on a cold night. Meals for two will cost around 1000 INR. 
These are not fine dining options... these are places to go to if you want to taste authentic local Khasi and Garo food and ambience is not a priority for you. Shillong has small eateries that have huge fan following and are capable of presenting you with an indigenous experience of NE life. 
You can try understanding a few terms before you try out the menu at these eateries. 
Jadoh is basically Rice cooked with beef or pork blood (also called do snam). Fish variants are also available. 
Jastem is Yellowish rice (cooked with turmeric and spices). This is a staple part of Meghalaya diet 
Dai iong is also a staple Dal cooked with black sesame seed... it has a nice smoky flavor. 
Phan Sdeh are delicious Turmeric fried potatoes with chilly. 
Syrwa tyrso is a rather pungent Mustard leaf stew while Tungrymbai is Fermented mixture of soya bean, spice and black sesame paste (quite tasty). 
Doh Khleh is a famous local dish that has Boiled pork with freshly diced ginger and onion and very few spices. 
Doh Sniang kylla …a good accompaniment to drinks is Fried pork curry. 
Snier are cooked Pork small entrails (not for the faint hearted) while Dohnud is Liver and Nierbah is large Pork entrails. 
A dish which reads Doh thad is basically smoked beef or pork. A famous Khasi side dip is Tungtap – Dried fish chutney. 
Trattoria 
Police Bazaar Road 
Don't go by how this tiny canteen styled eatery looks... this is one of the best places to try out indigenous Naga cuisine. You will be bowled over by the number of locals clamouring around the café. Jadoh and the flavorsome mixed veggie dish Jhur Kleh are some of the top sellers. One thing I really liked about Trattoria is their light cooking style... none of the dishes are too heavy or spicy. Dishes are steamed, roasted or lightly tossed with garlic, chilli and ginger with very little oil. 
The owner Richie is so friendly that he will happily let you taste everything in the kitchen before you decide what you want. There is a special pork thali that has multiple pork preparations with rice... you will love this if you are a pork lover. Ambience is not that great... seating arrangements are in the form of narrow benches and that's not too appealing. Go for this one if you yearn for Khasi local flavors... radish salad and dried fish chutney are some of the accompaniments served with meals. 
Note: sometimes pork fat is used instead of oil so if you have an objection to that do specify beforehand. The place is teeming with locals all the time and sometimes food runs out by 4 p.m. Vegetarians don't bother visiting Trattoria. Meals for two will be around 500 INR. 
Jadoh 
Don Bosco Square, Laitumkhrah, Shillong 
Phone: 080959 86705 
Open from 10AM–7PM 
Bang on the Don Bosco Square is Jadoh that is a tiny eatery which serves a great variety of typical Khasi food. Obviously the winner here too is Jadoh…the speciality of Shillong. This is more of a student style eatery than a tourist restaurant and the owner RJ Cunville offers dishes at very cheap prices. 
The meat curries have a distinct smoky flavors and the combo meals (rice, veggie curry, meat curry, salad and spicy chutney) simply appear to fly off the shelves. Meghalaya food served in hygienic environment is what this eatery aims at. Meals for two will be around 500 INR. 
Red Rice 
Police Bazar, Shillong 
Phone: 0364 250 5556 
Hours: 10:30AM–9PM 
Another local cuisine speciality restaurant in Police Bazaar area, the Red Rice lives up to its reputation as one of the best in terms of experiential food experiences. Try their pork meals, pork chilly fry, pork momos... they specialise in everything pork. The set meals have local lentils, local herb preparations and interesting salads and dips apart from meat dishes and yellow rice. 
Meal for two will cost around 500 INR 
Shillong has good range when it comes to cafes, bistros and casual coffee joints. Apart from the ubiquitous CCD which is a staple fixture of almost every significant town and city, there are many interesting cafes in Shillong where you can go and relax watching city life glide by. 
Café Shillong Heritage 
Royal Heritage Tripura Castle, Tripura Castle Road,  
East Khasi Hills, Cleve Colony, Shillong  
Phone Number: +91 364 250 1111 
Open from 12.00 p.m. to 9.30 p.m. every day 
Arguably, Shillong's top luxury Café... the Café Shillong Heritage offers a sophisticated and almost regal air that draws in a lot of international tourist flow. The USP is definitely the location... as indicated by the address the café is a part of the hotel Royal Heritage Tripura Castle that was once the Summer Home of the Kings of Tripura. The Café was conceptualised in 2012 and is replete with touches of luxury like fireplace, beautiful lampshades and vintage wooden fittings. 
There is an outside seating area that overlooks the Don Bosco Square and sitting here with a hot cup of coffee (on not so wintry days) is a great idea. There is also an indoors section and an Al Fresco section with gas patio heaters. There is free Wi Fi and you will see businessmen, diplomats, tourists, locals all making ample use of it. Unlike the Café Shillong (its sister concern) which looks more like a restaurant... the Café Shillong Heritage falls more in the category of luxury cafes. 
The Pork ribs, Khao Suey, Shillong Noodle and Irish coffee are hot sellers. 
A proper meal for two will cost around 2000 INR. 
ML05 Café 
AH 1 | Horti Hub, Before Eastern Air Command, Shillong  
Phone: +91 70850 56522 
Open from 11.00 a.m. to 8.00 p.m. 
The first concept café of Shillong, this place celebrates the love for bikes, vehicles and food. ML05 is a tribute to Shillong's penchant for long drives and biking culture. The location might seem a little disappointing (or exciting) as it is a little far away from the city and is flanked by a canopy of trees along with a blue pond. As you enter the café, you will feel that you were entering in a garage or a car service center. The paintings inside depict highway art and are a medley of bright colors. 
To the right there is a comfy divan perfect for long gossip sessions. All bike lovers will appreciate the gleaming Harley Davidson set in the middle. The lighting is done with bike lights and is a delight to look at. The interiors are done up with Meghalaya upholstery, quilted mattresses and cushions. 
There is a good mix of classic stuff like Lasagne and pizzas along with local Meghalaya delicacies like chilly pork. Some favorites apart from Espresso are Bombay Chicken wings, chilly cheese toast, chicken fried rice and pasta. Meal for two will cost around 700 INR 
Little Chef Café 
Laitumkhrah Main Road, open 10am to 8pm 
Phone: 085750 13498 
One of the more well-known cafes in the Laitumkhrah zone... this is placed on the road leading up to the Director of Health service Office in first floor. Pizzas in the Little Chef Café are quite famous and they range between 200 INR to 500 INR. 
You will get tea, coffee and a good range of pastries and croissants (excellent quality). The owner used to run a bakery in the past and the bakery still operates across the road. The beverages menu is quite extensive. 
Munchies 
Main Road | Laitumkhrah, Shillong 
Phone Number: +91 89740 87724 
Burgers, pasta, pan fried schwarma rolls (a twist on the traditional Swcharma roll) and chicken egg rolls are the hot sellers in Munchies. Unlike a typical coffee joint, you will get good quality masala Chai here. The juicy Lucy burger with bacon and cheese and roast beef burger is a must try. 
Munchies is really generous with the cheese  quotient and if you are a cheese lover then this is your heaven, the sauces are a  little different with the North east chilly flavor thrown in. the coffee that's hand stirred has a strong flavor to it and is way better than the standard CCD stuff. You can try the strawberry smoothie too. You might find food a little expensive... for example, Maggi costs INR 90 and the German platter costs 200 INR. 
Anand, the owner is quite an interesting person and he has good taste in music. In college hours, students and rock music aficionados flock the place. Don't expect sophistication…this is more of a backpacker style café. 
House of Bread 
PDE Building, Banasree, Near Yalena Hotel, Shillong  
Open from 11.00 a.m. to 8.00 p.m. 
This is a little cosy place in the first floor of the PDE building and is not that popular in the tourist circuit. Basically a home-grown and homerun outlet…House of Bread is run by a local and his girlfriend.  
The House of Bread serves amazing Hot Chocolate... it's just literally pure molten chocolate with a little organic milk. They serve a wide variety of bread based products too along with a good selection of pastries. 
Dylan's Café 
Opposite St. Edmund's School, Fruit Garden | Risa Colony, Shillong 
Phone: +91 70850 56522 
Open from 11.30 a.m to 10.00 p.m. 
Dylan's Café has got a great fan following in Shillong and is as well known for its dessert menu as the main course. The fried chicken wings and the Naga Style Chilly Toast are quite popular. The Mississippi Mud Pie is quite inspiring too. 
The ambience is great with soft lights and the décor is a tribute to Bob Dylan. The roof is filled with tiles that have been artfully decorated by customers. There are flower pots in every corner and pleasant bursts of colors which will definitely make you linger. There is a 24 Hours Western Breakfast menu that you can order from. 
The best thing about this café is that there are lots to do apart from just eating. You can try the variety of board games on offer, tap your feet to the lively music and even go shopping. They sell the cutest merchandise right from fridge magnets to bags to wall art etc. 
Open Up 
Mawlai Mawroh, Shillong 
Phone: 09862022802 
Open from 1 p.m. to 9 p.m. 
This is one of the newest cafes in Shillong and if you are a comic buff then you will love the way Samuel Warjri (the owner) has incorporated comic themes all throughout the café. Right from the menu card to the Batman covered walls... Open Up is all about celebrating your beloved comic characters. 
Besides the coffee and the coolers, hot dogs, momos, pork ribs, beef roast and Chicken steaks are pretty popular too. The burger range is specially recommended…the patty is really moist and juicy and the sauces are delicious. 
The café opens up at 1 p.m. which means that you cannot go here for your morning coffee and that's a downer. 
People with a sweet tooth can rejoice as Shillong has some great options when it comes to baked goods and savories. You can buy cookies and baked items for people back home from the following places. 
Bread Café 
Top Floor of Barbeque Restaurant 
G.S Road, Police Bazaar, Shillong 
Don't miss the cheese cake and the delectable black forest cake here... they taste just as amazing as they look. This is a good place to come to if you are looking for some light snacks as there are sandwiches and burgers on offer too. Some of the Bread Cafe hot sellers are Fudgy Coffee, Cheese Croissant and Chocolate Mousse. However this is more of a takeaway kind of place and the service is nothing remarkable. Prices are quite moderate and a light snack will cost you around 200 INR. 
Lil Chef 
Bakery, Laitumkhrah 
Opposite the Road to Little Chef Café 
The Little Chef Bakery specialises in cheese cake and German pastry though there is a range of other offerings. Some snacks are also served which include the famous lamb burger with bacon and cheese sandwich. The confectionary variety is great with cookies and croissants and ginger biscuits that have good local fan following. 
Eee Cee Bakery 
Jail Road, Police Bazar, Shillong, 
Phone: 089743 02490 
This place originally began as a bakery and has now expanded to a full-fledged hotel. The locals of Shillong used to swear by the mutton keema puffs of Eee Cee and these used to get sold out in hours. This is by far the most affordable bakery in Shillong. 
Eee Cee is actually an established wholesaler of homemade noodles, baked goods and crisps and they supply these to many other areas in North East India. 
Ginger Breadman Cookies in Eee Cee Bakery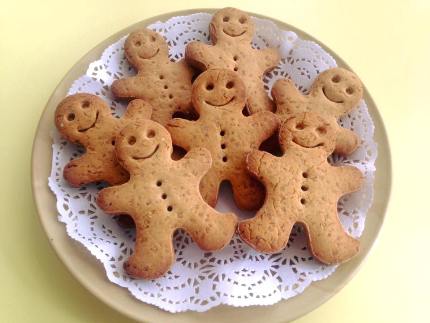 Photo: Eee Cee 
R B Stores  
Police Bazaar, Main Chowk 
This simple little store has little online presence but its popularity knows no bounds inside Shillong. This is actually a multipurpose store and they store delicious cookies, pastries and baked goods. Locals from Cherrapunji, Mawlynnog etc. are often seen carrying bags of baked goodies from RB stores back home. You too can do the same. 
For pure vegetarians who are worried about the same utensils being used for both meat and vegetable dishes, finding a pure vegetarian restaurant becomes a priority. North East India in general is not a very vegetarian friendly zone and Shillong cannot be classified as an exception. However options do exist: 
Madras Cafe 
Jail Road | Opp Mtc Building, Police Bazar, Shillong 
Phone: 0364-250-3311 
Madras Café comes up as a good option that serves north Indian and south Indian vegetarian dishes and offers a purely vegetarian environment. 
Obviously South Indian dishes are best selling items here with Tomato rice, roast dosa, Mysore dosa, fried vada and super-sized idles being the hot favorites. The utthapams have more than preferred ratios of Maida in them but the sambar spiked with garlic and red chutney is mouth-watering. The north Indian thali has lower demand but is equally tasty. You will also get parotta and pan fried noodles. 
Don't get disappointed by looking at the exterior which is non-descriptive... inside its spacious and well furnished with beautiful paintings on the wall. 
INR 110 for a standard masala dosa, INR 75 for 2 super-sized idlis and 180 INR for veg thali... the prices are quite moderate. Do visit before 1 p.m. if you are coming for lunch... the place is super crowded after that. Veg Biryani is served as a Sunday special.' 
Pongal is a hot favorite amongst the newly introduced breakfast menu 
The Boulevard 
Thana Road, | Police Bazar, Shillong 793001,  
Phone: 364 222 9044 
The pure veg restaurant in the Boulevard Hotel is a Godsend for vegetarians living in Shillong or visiting Shillong. They have a great daily breakfast spread having options of alu/ gobhi paratha, Idli sambhar, Masala Dosa, puri Chola, vegetable sandwich, juices and great quality filter coffee. 
The meal menu is mostly north Indian though Chinese and south Indian options are also present. Quality of food is consistently good and the hygiene standards are commendable too. The veg thali is the top seller here. Meal for two in the Boulevard will cost around 800 INR 
Related Articles
Visitors' Reviews/Comments