Best budget hotels in Shillong
Shillong is a place that caters to tourists of all budgets. So if you have limited budget do not despair... Shillong has many great budget hotels and Bed n Breakfast places that offer good service and amenities. The only issue is that many budget hotels will not accept payment via debt or credit card and will only take cash. However stocking up on cash is not an issue if you live near the Shillong town as there are lots of ATM's. Make sure that you carry your ID proof before you check in to hotels in Shillong. 
The Habitat Shillong
Lady Veronica Lane, Laitumkhrah, Near Café Shillong 
Shillong, Meghalaya 793003 
Phone: 0364 222 2892 
Though the Habitat looks nondescript in its exteriors and the property is built on a smallish piece of land, what it offers inside is actually pretty nice. The garden adjacent to the breakfast area has a riot of flowers and adds charm to meals taken there. Walking through the Habitat, you will see a good collection of Handicrafts and local art that are all representative of Meghalaya and its neighboring states. The floors are wooden and most of the furniture looks antique adding to the charm of the place.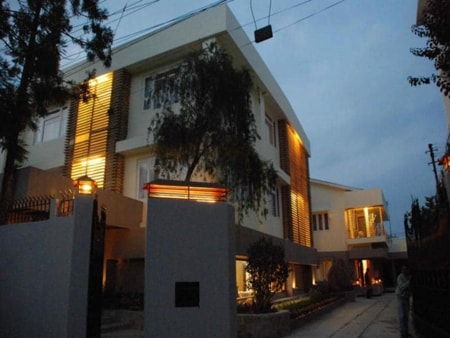 The homestay is nestled into a quiet side lane of the Laitumkhrah area of Shillong but within 5 minutes it's possible to reach the bustling town area. There is a smart looking seminar hall with whiteboards, sound systems, projectors and decent seating capacity so holding a small conference here is also feasible. The proximity of Café Shillong is an added advantage... you can hop there for meals and the live music wafting in from the café will add to charm of your stay in the Habitat. You can also reach the Wards Lake via a shortcut in just 20 minutes of brisk walk. 
Double Deluxe room at the Habitat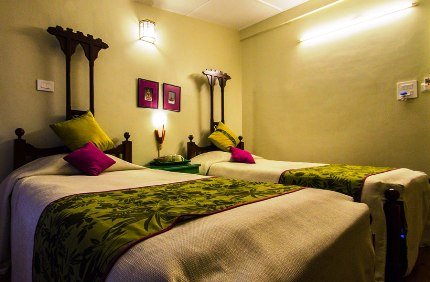 The USP is definitely the Library…its clean, well-organized and has a good collection of literature, biographies, travel and culture books. 
There is a Confluence Shoppe inside that offers a range of gift options; most of which are under the tribal Livelihood Promotion Initiative that supports local artists. 
The staff at the Habitat will help you with cab transfer to and from the airport/ railway station. Their rates are reasonable and staff seem genuinely concerned about the wellbeing of guests. 
Choosing rooms on the first floor facing the terrace is a good idea…Room 101, 102, 103 for example are good choices. However there is no lift so if you choose the upper floors…you have to walk it up. The rooms are somewhat of differing sizes so inspect a few before choosing the one that seems the largest and nicest (rooms are in general a little small in size). 
Food is home cooked and tastes homely yet delicious. The menu especially the breakfast menu (breakfast is complimentary) with only paranthas and bread and eggs as choices is a little limited. The lunch and dinner orders have to be placed 3 hours beforehand and no smoking or room service is allowed inside the Habitat. If you are a Jain or have special meal requirements you need to intimate the hotel staff a day in advance. 
Double deluxe room tariff is around 4876 INR per night while the deluxe rooms are around 4334 INR per night. There is also a suite with two bedrooms and a living area that comes for around 9000 INR per night. You can get discounts online. 
Blueberry Inn
Rita Road, Near Pinewood Hotel, Shillong 
Phone: +91 364 2500 655 / 57; +91 825 7092 950 
The Blueberry Inn is one of those places that have a distinctly cute vibe about them. The hotel is quite near the Wards Lake so there is always a good availability of cabs around. Rooms are all mostly big and airy and the amenities offered are decent though not grand. The Blueberry Inn offers room service and the service is quite quick and helpful.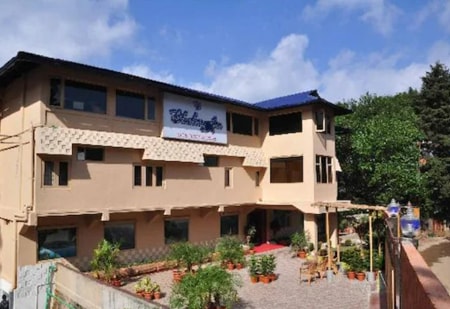 Most rooms have electronic Safes, LCD television with Tata Sky connection, mini fridge, tea/ coffee maker, electric bed warmer and room heaters. However the charges for getting clothes pressed in this hotel is quite steep (they charge 50 INR for a shirt). There is free Wi-Fi. 
Washrooms are clean, spacious and have plentiful hot water supply. There is a lovely open air place where you can opt to have food and drinks apart from the regular restaurant space, the restaurant menu is extensive but not all items are prepared well. Like most hill towns, the restaurant closes at 9.30 p.m. 
There is a breakfast buffet with good choice which usually runs like choley-puri, eggs of your choice, toast, parantha, poha, cereals, fruits and juice in tetra pack along with tea/ coffee. The staff will always appear smiling and eager to assist. 
Single rooms charge 3200 INR per night while double rooms charge 3500 INR per night (rates are exempt from taxes). 
The Pear Tree
Lower Lachumiere, Near Village Khadi Board, Shillong, East Khasi Hills,  
Phone: 098621 81977 
If you are an artist or are interested in painting then the Pear Tree will intrigue you. The owner is a locally known artists and he has put up Van Goghs in the rooms and he even designs the furniture himself. There is a team of carpenters working up there in the attic of the Pear Tree and they craft according to the strict instructions of the owner Mr Bora…the whole process is happily demonstrated to guests. 
The Pear Tree is neither a very large establishment nor is it grand in the touristy sense. Its USP is however, personalised attention (due its small volume) and a certain artistic ambience. The rooms are not huge but have beautiful furniture and lovely linen bedspreads, the artistic bath fittings would rival those in a five star establishment.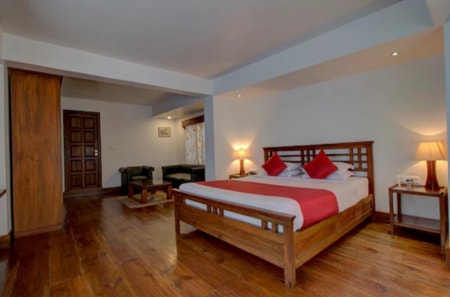 The first floor rooms overlook the pear tree in the premises and some rooms have balconies (try choosing one of these). If you are travelling with your family then choose the suite otherwise opting for the luxury rooms is also a good idea. 
Lunch and dinner can be ordered in from restaurants nearby…the management doesn't object. In house preparations are homely and the breakfast menu is simple. 
The room tariff of the Pear Tree Hotel starts from 3000 INR per night….look online for deals!! 
Travellers Bed & Breakfast
Buddhist Temple Road | Polo Bazaar, Shillong 
Phone: 098621 58574 
If value for money is what you seek then Travellers Bed and Breakfast will suit you. In spite of falling into the Bed and Breakfast segment, this place offers decent driver accommodation too. 
The Travellers B & B is quite close to the main market so shopping, dining and availing transport is easy. The hotel manager Eric is full of helpful advice about places to visit, transportation tips, sightseeing etc. this place is actually an apartment complex and Eric takes care of the whole set –up. For college students, back packers and groups operating in a budget this is a great option.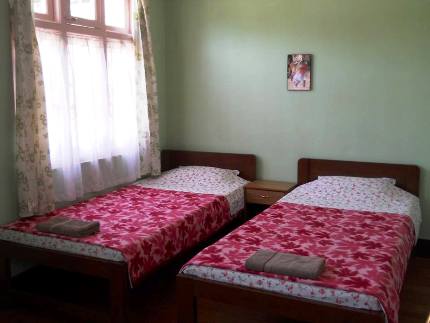 There is a tea / coffee maker in the room and the geyser offers plentiful supply of hot water.  Rooms are clean and pleasing though there are not too many fancy amenities. Check the working status of the geyser before you check into your room. There is no phone in the room so you need to shout out at Eric or the staff for everything and that's an issue. There is Eric's brother Andrew and Nicholas the helper who would try to do their best to make you feel comfortable. 
Location wise the Travellers B & B is advantageous…walk for 15 minutes and you will reach Police Bazaar. You can lunch at the Marine's a great sea food restaurant nearby and order dinner too as the Travellers B & B doesn't offer meals in house apart from breakfast. 
There are many rooms but the backpackers prefer the dorm which is only 400 INR per night. The standard and deluxe room tariff is between 1500 to 1900 INR per night. 
The Shillong Hills Guest House
Upper New Colony | before reaching Women's College, Laitumkrah 
Phone: 098632 74004 
The Shillong Guest House is a pleasant guest house with an equally affable manager Mr George. In case staying in a fancy place is not in your priority then you can well consider the Shillong Guest House. This place is actually run like a homestay and you can get all the local flavors of Khasi hospitality here. The breakfast is complimentary though you need to check this with your travel booking website or the management. 
Rooms are nice and clean without being glamorous and the washrooms are hygienically maintained. There are no added amenities like tea maker, personal safe, mini fridge etc. though TV, comfortable bed, wardrobe, dresser etc. is present. The Guest House kitchen uses all organically sourced produce which maintains the nutritional value of meals. 
The USP is the amazing view of the football ground and the Shillong city that you get from the terrace. You can dine on the terrace…it will be a nice experience. 
You can consult Mr George about planning your trips in and around Sohra, Shillong etc…he knows a lot about the area. The driver Mr Rapbor is also quite well informed and friendly. 
The lower floor of the guest house has a big family room with 4 beds (this has a nice view) and deluxe rooms with 2 beds along with standard rooms with 2 beds. There are few rooms in the upper floor.  
The tariff per night starts from 2800 INR without tax (breakfast is complimentary) 
Cafe Shillong Bed & Breakfast
31 Upper Lachumiere, Shillong 
If you are in Shillong or have been in Shillong then you must have heard about the Café Shillong that is one of the most famous restaurants of this area. However relatively fewer people have heard of its Bed & Breakfast facility which happens to be pretty good.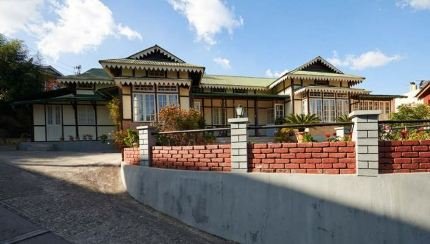 About 1.5 km from Police Bazaar and the location gives it a combination of serenity yet accessibility. There are two blocks in the area and one block contains a reception area and the dining space and 2 rooms. Another block has a room on the ground floor and 2 rooms on first floor so there are limited number of rooms in total. 
Breakfast is served only till 10 a.m. and has limited menu…roti curry, eggs and toast, cereals, fruit and juice apart from tea/ coffee. If you let the staff know beforehand, they will prepare your favourite dishes like chicken sandwiches or fried bacon etc. 
The property is beautiful and has nice interior decoration. You can find the rooms a little small and the washrooms are well maintained though they don't have exhaust. Rooms have flat screen TV, electric kettle etc. Laundry service is mysteriously slow and the clothes are returned only after 2 days. Facilities like free Wi-Fi, doctor on call etc. and 24 hours room service is provided. 
The USP is the charming garden where you can have your breakfast and sip your tea while breathing fresh air and admiring nature. There is a well maintained drawing room and a beautiful reception area that adds to the charm of the property. 
The rates are 5200 INR for luxury double occupancy rooms and 5000 INR for City View Rooms. The classic double occupancy rooms are 4200 INR per night while deluxe double occupancy is 3700 INR per night though cheaper deals are available online. 
White Orchid Guesthouse
Upper Lachaumiere, Shillong  
Phone: + (91) 9436500571/ + (91) 9612469604  
The White Orchid Guesthouse is near the Malki Point that is a well-known central location of Shillong. This is a totally budget friendly decent hotel that offers comfortable stay albeit without frills. The rooms at the backside of the hotel have city views and most rooms are of a decent size. 
The hotel kitchen closes exceptionally early and the last order is taken at 6.30 p.m. however there are many food stalls right across the road from the hotel and you can opt to eat from these places. Food menu options are rather limited and the quality is homely. The Wi Fi of the hotel is pretty good and they offer sightseeing trips and pick up and drop to airport and station. LCD TV in all the rooms is a pretty neat touch. 
A person named Chetan manages the place and he is quite warm and cooperative. The room tariff starts from 800 INR (the bathroom is not attached) and goes up to 990 INR for double occupancy. 
The deluxe orchid rooms are 1500 INR per day and the triple bedded room is 2200 INR per day… 
Shaurya
Above Economic-Pharmacy, Main Police Bazaar, Shillong 
Phone: 090890 62345 
There is a movie hall right next to the Shaurya Inn and unless you are a movie fanatic you will find the noises disturbing. The hotel is very near the Meghalaya Transport Corp that's great as your transport expenses will be slashed. However the Lane in which the hotel is situated is very narrow and it's difficult for large vehicles to enter it. There is a lift inside the building but it only functions till the second floor of the building (the hotel occupies the 3rd and 4th floors). 
Facilities available include safety box (at reception), doctor on call, mobile phone rental service, 24 hours power back up, night concierge service etc. rooms and washrooms are mid-sized and are decent. Breakfast is complimentary and the quality of food served is debatable. 
The room tariff is around 2400 INR per night. Call the Hotel…the management is open to negotiations. 
Earle Holiday Home
Oakland Road, Off Police Bazaar, Shillong 
Phone: 09863302149 
I have stayed here several times during my numerous visits to Shillong and have seen it changing through time. It used to be a traditional Bungalow of 1920s which belonged to late Radha Gobinda Baruah and Bholanath Baruah. The bungalow still exists and is now the hotel office. This is where you go for check in and check out and for any specific help you need from the staff. 
The traditional classic bungalow of Earle Holiday Home 
Next to it on its left is the new building which was originally a single storied building with only four or five rooms. I always chose the large deluxe room at the corner having large windows with nice views of the garden and a sitting area with sofas. The building has been extended to a 2-storeyed hotel now. It's set up in a nice garden setting with flowing plantations at the center and lots of car park around it. 
The Hotel Building, Earle Holiday Home 
Rooms are simple but clean with standard amenities like TV. The staff are nice and friendly but service is little slow. However the holiday home has several great advantages. It's only a 2-3 minute uphill walk to Police Bazaar. The Ward's Lake is an easy walk and on continuation of the same road in front of the hotel... short downhill walk. Plus one of the best restaurants of Shillong - The City Hut Dhaba serving Veg & Non-veg north-Indian food is located right next to the hotel building in the same premises. 
Over all a good value for money and excellent location. 
Quinton Enclave
Quinton Road (Police Bazaar), Shillong 
Phone: 087947 27250 
Quinton Enclave is one of the more promising budget hotels in Shillong. Unlike most hotels in Shillong which are tucked away in by lanes, this one is in a location that can be easily reached by a SUV. Ample parking space is also available. 
The interiors of the room are done up in wood and stone and there is a LCD TV in each room. For a budget hotel the amenities are quite impressive. Electric kettles and room heaters are also provided and there is free Wi Fi that has good speed. 
The rate structure is interestingly explained in the hotel website; big rooms and not so big rooms. The larger rooms are priced at 2800 INR per night for double occupancy (2 single beds and a bunk). INR 400 is charged for every extra person staying in the room. The smaller rooms are priced at 2250 INR for double occupancy (2 single beds and a bunk are inside). 
The Majestic Hotel
Me-ba-ai Plaza, Polo Market, Shillong 
Phone: 0364 250 6597  
An average hotel in Shillong that can act as a stop gap or a last minute option when you visit Shillong. 
The rooms are kept clean and tidy though the furnishings are nothing much to look at. Most of the washrooms have really nice fancy showers and hot water supply is plentiful. The suites are better and they have added dining space. Food is cheap but taste is below average. Staff is well behaved and there is an in house fitness center along with complimentary Wi-Fi. 
The executive room tariff per night is 3300 INR while the suite costs 4250 INR per night 
Apsara Guest House
Cleave Colony | Fruit Garden (near Mizoram house on Tripura Castle Road), Shillong 
Phone: 098567 21384 
The guest house is walking distance from Shillong's famous Dylan tribute café and the location is quite pretty. Rooms are big and well-furnished though there is no room service. The dining room has a beautiful fireplace and the food is homely and delicious. You need to order meals a day in advance so that can be an issue. The manager Mr Sharma is quite helpful and cooperative. 
The tariff per night ranges between 2500 INR to 3500 INR per night depending upon the room you choose. 
Hotel Yalana
Main Road, Laitumkhrah (near Cafe Shillong) 
Phone: 91 364 2211240 / 2226059 
If you don't mind staying a little away from Café Shillong then this budget hotel might appeal to you. There is sufficient car parking space. You must check the room properly before checking in as sometimes they are not cleaned properly. The manager and the staff have debatable manners. 
Quality of food served in the hotel is below average. Incidentally no tea or coffee is served before 8.30 a.m. There is a bar downstairs in the hotel called De Oval which is modeled like a sports bar.  
The USP is the location I guess…Happy Valley and the bazaar area is near and there are many traditional Jadoh eating joints around. 
There are 36 rooms in the hotel and tariff ranges between 2125 INR to 2625 INR per night depending upon the kind of room you choose. 
Related Articles
Visitors' Reviews/Comments
Rajib Basak (June 2022) 
Please give your feedback about hotel Woodland Hill Stay. Kindly say if 3 days is enough to cover Shillong. 
Raj (darjeeling-tourism.com) June 2022 
Hello, Woodland Hill Stay is a nice small boutique hotel... more like a house converted into a hotel. It's about 2.5kms away from Police Bazar (the town centre). The food menu in the hotel is limited. Try to avoid the ground floor rooms. 3 full days should be enough to cover the local sightseeing of Shillong. But if you want to make day trips to places like Mawlynnong, Mawsynram, Cherrapunjee, Umium Lake etc, then depending on your plans, you may need more time. 
Anirban (December 2017) 
Hello Raj, After seeing your comments about Earle Holiday Home in Shillong, I spoke with them about making a reservation and was told that advance amount will not be needed, just name & contact details will suffice. Since you mention that you have stayed there many a times, wanted to seek your opinion on how reliable a reservation done in this manner might be, especially when my journey date is 3 months away. As I will have senior citizens with me, bit concerned about ending up without a room after reaching there. 
On a different note, I stayed at Hotel Fairmont in Darjeeling some time back after seeing your review and it turned out to be such a nice choice. Thanks! 
Raj (darjeeling-tourism.com) December 2017 
Hello, Hotel reservations can not be taken as confirmed without advance being paid and confirmation received over email. You should speak to them again and ask for email confirmation. I had always paid advance through bank transfers and took confirmation over sms.