Best 2, 3, 4 Star Hotels in Shillong
There are many hotels in Shillong that offer best in class accommodation to travellers and these range from boutique properties to affordable 2 and 3 star hotels to fancy and grand 4 stars. Most of the well-known 3 and 4 star hotels in Shillong take credit/ debit cards apart from accepting cash though this is something that you need to check beforehand. Read through the reviews of the some of the best known hotels of Shillong. 
Most hotels in Shillong charge 29% tax and that will pinch you a bit. However some charge 24% too, especially the ones whose tariff plan is under INR 2500 per night. Check the tax details with the hotel management or your travel agent before you book the room. Make sure you carry your ID proof when you check in to any hotel in Shillong. 
Hotel Centre Point
Khyndailad, Police Bazar, Shillong,  
Phone: 0364 222 0480 
Arguably the most popular 3 star hotel in Shillong, the Centre Point is known well amongst the domestic and international tourist circuit of Shillong. The location is great if you like lively city views…the taxi stands, bus stand, market, emporiums, best restaurants etc. are all within easy walking distance. 
Center Point contains La Galerie (a multi cuisine restaurant), Sky Asia the resto lounge and Cloud 9 the nightclub on the rooftop. 
Centre Point Hotel, Shillong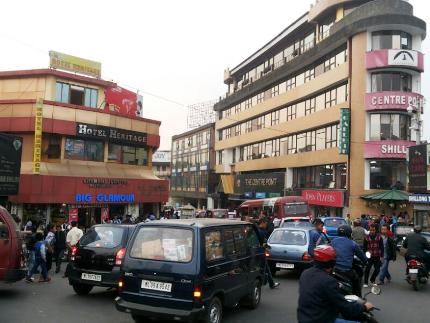 If you are not a disco addict, avoid staying on the 3rd and 4th floors…the Cloud 9 is very popular and thumping music comes in to these floors till well past midnight. The breakfast is complimentary with a nice spread. Food is in general good and there are multiple cuisine options though the prices seem a little steep. The room décor and facilities are very nice and warm bamboo toned furnishings along with the lovely views from each room make this is a good accommodation option. 
Room in Center Point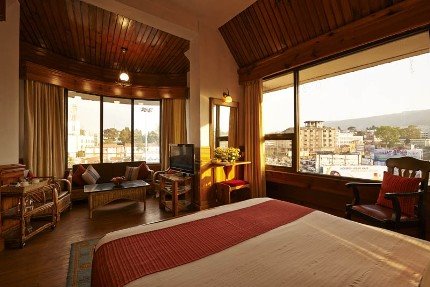 Photo: Center Point Hotel website 
Service is prompt and mostly efficient. There are 31 rooms divided into two wings in Center Point. There are two wings in the hotel; Classic Wing and Club Wing and each have three categories of rooms; Deluxe, Executive and Special. 
The classic deluxe tariff is 5000 INR per night while classic executive is 5500 INR per night and the classic special is 9000 INR per night. The club deluxe tariff is 5700 INR per night while club executive is 6200 INR per night and the club special is 10,000 INR per night 
Rates provided by booking.com 
Ri Kynjai
U.C.C Road Ri Bhoi | Uminiuh Khawn (Umiam, Ri Bhoi District, Barapani), Shillong 
Phone: 098624 20300 
Serenity by the Lake as the Ri Kynjai is better known as, is targeted towards travellers who are looking for retreat style ethnic accommodation. There are stylishly rural cottages supported on wooden stilts, ethnic Khasi spa and a spread of local delicacies. 
The cottages in the 45 acre property have upturned boat roofs that are good for withstanding the heavy rainfall that this area sees. The drive to the resort is quite scenic... majestic pine woods, green paddy fields, tea gardens and vegetable plantations will greet you. 
Ri Kynjai Cottage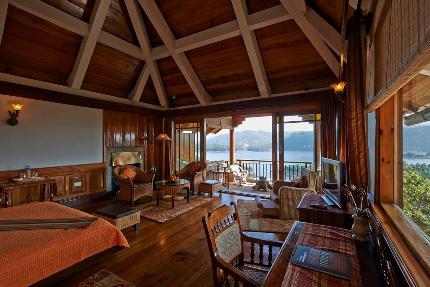 Photo: Ri Kynjai Official Website 
The rooms are unusually beautiful with framed ceilings, red pine wood walls and fireplace. There is a loft, separate living and sleeping space and a balcony. There is a well-known restaurant Sao Aiom that serves Continental and Indian cuisines inside the property. The In House Spa offers interesting Khasi element infused spa treatments. 
The supreme rooms are priced at 8,500 INR per night while superior rooms are priced at 9500 INR while the exquisite cottages are priced at 13,500 INR per night. 
Its 40 minutes away from Shillong and overlooking Umiam Lake. Consider staying here if you are genuinely interested in an indigenous boutique experience and are prepared to forego some modern amenities. 
Rates provided by booking.com 
Royal Heritage-Tripura Castle
Tripura Castle Road | Cleve Colony, Shillong 
Phone: 0364 250 1111 
The Royal Heritage Tripura Castle is situated in the comfortable enclosure of the Cleve Colony. The current scion of the Royal Tripura Manekya dynasty bloodline stays in the main castle and the annexure building has been remodeled into several rooms that are open to travelers who want to experience the royal way of life. 
Facilities include adequate car parking, dedicated room service and valet service, a 30 seater rather regal conference hall (looks more apt for a wedding or a social function) and the grand Manekya Hall. 
Café Shillong Heritage... one of Shillong's premier boutique cafes is also a part of the hotel. The Rice Court is the in-house gourmet restaurant that offers Chinese and Khasi food. 
Four kinds of rooms are available in the Heritage Tripura Castle; Deluxe, Supreme, Superior and the exclusive Maharajah suite. 
The rates are 5000 INR for Deluxe double occupancy, 6500 INR for Supreme Double occupancy, 8000 INR for Superior Double occupancy and 10,000 INR for the lavish Maharajah suite. 
Rates provided by booking.com 
Pinewood Hotel
Rita Road | European Ward, 
Phone: 0364 222 3116 
The Pinewood Hotel is an undertaking of the MTDC (Meghalaya Tourism Department) and it extends over more than 8 acres of landscaped land. The Hotel is about 2 km away from the City Bus Depot. 
There is 1 presidential cottage with ultra luxury facilities (tariff 10,000 INR per night), 9 pretty impressive presidential rooms (8400 INR per night), and 5 deluxe rooms (7600 INR per night) along with 25 executive rooms (3100 INR to 5800 INR per night). 
Almost all rooms are fully panelled with Burma Teak Wood, plush carpets and an actual fireplace. Common facilities include Colour TV, attached baths with plentiful supply of cold and hot water, telephone, salon, doctor on call and round the clock room service. 
The Pinewood Hotel offers a 2400 sq. feet Banquet Hall which opens to a maintained green lawn and a 30 seater Board room too. Apart from this, there is an in house cyber café, gym and Billiards room. 
The in house restaurant serves a mix of Chinese, Indian and continental food. There is a well-appointed Coffee shop and a good bar lounge "Cellar" that has a decent selection of liquors and international alcohol brands. 
The Raj Bhavan and Wards Lake are nearby so one can easily enjoy walks to these places. The service, cuisine and living ambience have an old world British Charm that's appealing. If the idea of staying in a hotel that's more than a 100 year old appeals to you, go for it... though the service is a bit slow. 
Hotel Alpine Continental
Thana Road, Police Bazar 
Phone: 0364 222 0991 
The location is quite good if one wants to stay in the heart of the city... the actual property is on an uphill road and quite close to Police Bazaar area... It's best located with Google Maps. 
There is ample parking space. The hotel offers free Wi Fi but there is some problem with the routers at times. The rooms are quite spacious and the amenities are good... staff working in the reception are quite helpful. The amenities are similar to any standard 3 star hotel in a metro city. 
Most rooms have been refurnished and repainted recently so you will probably like them... washrooms look nice too. The lounge, reception and elevator area are not quite impressive and conveys a mixed impression. The hotel accepts cards which is an advantage. 
Food served is just about okay (shillongs best restaurants are just a walk away) though the breakfast buffet spread is good. 
There are 4 kinds of rooms; standard rooms (don't have view and tariff is 4400 INR per night), Executive Rooms (5100 INR per night), Boutique Room (5700 INR per night) and Executive Suites that are 6400 INR per night. Prices exclusive of taxes and according to Continental Plan. 
Hotel Polo Towers
Polo Grounds, Shillong, Phone:  0364 222 2341 
The Polo Towers Hotel is a part of a large hotel Chain that also operates luxury resorts in Cherapunjee, Tura etc. this is a largish hotel with modern amenities that's meant for the traveler who prefers standardized touristy accommodation. 
Some of the rooms offer a good view of the Seven Sister Falls which is incidentally quite near the hotel. Some rooms face the road and are quite noisy…it's a good idea to check the room prior to booking. The parking area is quite small and can only accommodate only 5 cars at a time. Quality of housekeeping and food served are both decent. 
There are 52 rooms and all have free Wi Fi connectivity, good furnishings, mini bar, coffee and tea maker. Washrooms have special facilities for the differently abled and that's a nice touch. 
There are three small in in house restaurants in Hotel Polo Towers; Ginger (multi cuisine restaurant that's well known for sizzlers and fish preparations), Sky Grill (open air barbeque style eatery built in an Al Fresco style) and Milano (Italian style restaurant). Additionally there is a Cupcake Factory that's useful as a midnight (or mid-day) sweet snack craving can be satiated. 
There are 4 kinds of rooms in Polo Towers Hotel; Deluxe (INR 3395 per night), Premier Room (INR 4960 per night), Boutique (INR 5850 per night) and Suite Room (INR 7550 per night). 
Rates provided by booking.com 
The Eee Cee Hotel
Khyndailad, Jail Road, Police Bazar 
Phone: +91 364 2500188 | +91 364 2500258 
The location is Police Bazaar so that's a good thing if you want all city amenities within walking distance. The rooms are not fancy but decent enough with wooden floors and clean. The service is quite slow and the in house restaurant food is average (you can order in food from the multiple restaurants nearby). 
The Eee Cee Hotel is certainly one of the most unusually named hotels in the area and the bakery with the same name is already well known in the tourist circuit. There are 5 kinds of rooms in the Eee Cee Hotel; Standard (tariff INR 2000 per night), Standard Triple Bedded (tariff 2400 INR per night), Deluxe (tariff 2500 INR per night), Executive (tariff 3000 INR per night) and Superior Executive (tariff 4000 INR per night). Complimentary breakfast is included in all room tariffs. 
Rates provided by booking.com 
Orchid Lake Resort
Umiam, Ri Bhoi District, Barapani 
Phone: 0364 257 0258  
For Booking Contact the Following Address 
WZ 73 B1 Janakpuri,  
Near Janakpuri East Metro Station 
New Delhi-110058, India 
Phone: 91 11 65660202, +91 7428822220 
If you wish to stay at a scenic location then the Orchid Lake Resort overlooking the Umiam Lake is a great choice. The rooms are large, spacious though some of them need refurbishing. The resort is 13 km away from the Elephant Falls in the Barapani district and just 3 km away from the Nonglait Park.  
This hotel is also run by the MTDC and is nestled inside the Umiam Water Sports Complex on the banks of the Umiam. There are water sports facilities like skiing, kayaking and boating which guests can avail. The restaurant and bar inside is just about average and the hotel service is also slow. 
There are 27 rooms in total and these are distributed across 2 floors. Facilities like bottled drinking water, decent furniture, all time hot water facility, round the clock room service etc are provided. The tariff starts from 1200 INR. If you are a nature lover and can compromise on other modern amenities then this is a good choice. 
Hotel Poinisuk
Laitumkhrah Point, Upland Road, New Colony, Shillong,  
Phone: 0364 710 0030 
Hotel Poinisuk is good location wise as the markets, famous restaurants and transportation hubs are all nearby. There is an In House Bar called Klong while the In House restaurant is called Dopwal( on offer are Pan Asian, European, Chinese and local cuisine like Khasi Chicken and Doi neilong chicken). The restaurant and bar both offer nice views…try out the Meghalaya special Mahou and Kattenberg beers …you might like these. 
The hotel offers complimentary free WI Fi and breakfast is also complimentary. The parking space is ample that's a big advantage. 
There are three basic categories of rooms; Executive, Deluxe and Premium. Executive room with double occupancy charges 4200 INR per night while the Deluxe room charges 5000 INR per right for double occupancy (this has mini bar, in room fridge and plusher amenities). The best rooms are the premium double occupancy rooms which are very large and have a separate writing area and safety locker along with other amenities…the charge is 7000 INR per night. The rooms are averagely maintained and you need to check the facilities thoroughly before booking.  
Apart from the premium rooms, the other variants are smallish and may disappoint you. If there is a power cut in the hotel…you will probably be irked at the noise their generator makes. Overall a decent option if you are not going to spend too much time in your room. The USP is definitely the rooftop restaurant and bar. 
Rates provided by booking.com 
The Boulevard Hotel
Thana Road, Police Bazar. Phone: 0364 222 9044 
Category: Pure Vegetarian Hotel 
If you are a vegetarian and fastidious about your food, then staying at the Boulevard Hotel in Shillong is probably your best accommodation choice. The hotel serves only pure vegetarian fare and serves Jain cuisine on request too.  
However none of the rooms in the hotel have nice views and rooms with views are pretty common in Shillong. The hotel doesn't have its own parking space and you have to park your vehicle in the nearby Municipal Parking Area that charges 10 INR per hour. 
The rooms are decent in size and the washrooms are neatly maintained. Service is of average quality and often slow but the manager is quite courteous and helpful. There is an Okay-ish conference hall and In house Banquet hall too. Amenities include Cable TV, 24 hours hot water supply, complimentary newspapers, car rental service, lockers etc. 
This is one of the few places in Shillong which serves authentic North Indian vegetarian food and there is a restaurant named Bistro on the top floor which has beautiful glass walls and offers good city views. 
The rooms are divided into three categories; deluxe, super deluxe and executive. The executive rooms charge 1790 INR, super deluxe rooms charge 1590 INR and deluxe rooms charge 1190 INR per night. 
Hotel Broadway
G.S. Road (Police Bazaar area) 
Phone: +36 42 224 553 
For booking inquires you need to contact: 
GDS Hotels Pvt. Ltd.  
WZ 73 B1 Janakpuri,  
Near Janakpuri East Metro Station, New Delhi-110058 
The Hotel Broadway is owned and managed by the Meghalaya Tourism Department .i.e. MGTDC. The booking especially bulk bookings are managed by the GDS hotels as mentioned above. The Hotel Broadway also features in the MGTDC GDS website where you can submit your inquires online... 
Food served in the hotel is mostly Chinese and the quality is mostly good. Bengali tourists seem to prefer this hotel a lot. Later I learnt that there is no in house restaurant and the food is brought in from a nearby Chinese Joint. However as the hotel is in a strategic location i.e. Police bazaar…you can hop in to any of the well-known restaurants nearby for your meals. 
The staff is courteous but they somehow lack the warmth that most hills people seem to exude naturally, the rooms are modest and so are the amenities. There is no lift so choose a room on the lower floors if you don't want to face the stairs. There is no view from rooms whatsoever; in fact the hotel is sandwiched between two other buildings with very narrow space between them. Some front facing rooms have common balcony overlooking the crowded street and numerous shops below. 
There are 4 kinds of rooms in Hotel Broadway and they are Super Deluxe, Standard, Deluxe and semi deluxe rooms. The prices start upwards from 1000 INR per night and the hotel management is open to negotiations. 
Related Articles
Visitors' Reviews/Comments