Shopping in Shillong
Shopping in Shillong can be a great experience if you know the right places and right things to buy. Ethnic handicrafts, beautiful handlooms, luscious fruits and spices, handmade organic products, winter wear and fashion apparel and accessories are just some of the things you can buy from the "Scotland of the East". There are amazing shopping hubs in Shillong like Police Bazaar, Barra Bazaar, and Bhutia Market which can meet your shopping requirements. It's important to understand that most small scale shops in Shillong do not take cards... so keep plenty of cash in hand. 
What to buy in Shillong
Shawls and Stoles 
Shillong is rather cold for most part of the year and the market is flooded with a variety of options for warm clothing. You can find a great selection of Naga and Manipuri shawls infused with rich indigenous motifs. Most local people in Meghalaya and Nagaland walk around wearing these shawls. Wearing these shawls outside North East India will surely fetch you a lot of compliments. Interestingly, many people buy the colourful Manipuri Lungis found in Shillong and then get them stitched into shirts, kurtas and skirts...they look quite fashionable. 
Scottish Cloth/ Scottish Dress Material 
Scottish Cloth looks extremely classy and they can be fashioned into frocks for kids, jackets, shrugs and shirts. If you live down in the plains then wearing Scottish checks in the winters saves you the trouble of wearing a sweater. Scottish checks are usually priced upwards from 280 INR per meter and you will be tempted to buy more than you should. Hanumanbux is a quite popular shop opposite the Dreamland Cinema in Police Bazaar and it sells a great variety of Scottish Checks as well as Manipuri Lungis. 
Khasi Scrubs 
Now these are a must buy and if you are not into fashion, shopping or souvenir collection and are a purely utility oriented person... these scrubs will still tempt you like anything. The great news is that these scrubs are available almost everywhere and smiling Khasi Ladies will walk around with bunches of Khasi Scrubs. These are so lightweight, strong and efficient that you will hate using those city scrubs after you get used to them. Another advantage of these scrubs is that they can be cut down into small pieces to fit into your suitcase. Priced at about 60 to 100 INR per piece. 
Organic Produce and products 
Be it honey based beauty scrubs to hand made soaps to the fiery Raja Chilly... Meghalaya has a lot of treasures to offer the organic produce lover. Look out for Jams and Jellies made of Sohiong, Pineapple and peaches... they are sold by a cottage industry named MEG and are retailed by several shops around police bazaar, Bara bazaar etc. 
Look out for Sohiong (local fruit) made wine... it has numerous health benefits. Also look out for the Bhut Jolokia Chilli with its rating of 1.35 million scoville units on the Scovilla chart.  Turmeric and Cashews are produced in abundance in Meghalaya so food and beauty products made from these are also a great buy. Another good thing to buy are essential oils... Cedar, perlia, Wintergreen and Lemongrass... these oils are available in emporiums and organic stores in Shillong. 
Besides all these pick up mulberries, sour sohphie berries, pale pink soshang, raspberries and big juicy strawberries... they are found in abundance in barra bazaar and police bazaar lanes. In case you make a detour to Tura Bazaar then make sure that you buy loads of cashews... Tura is famous for its cashew plantation. If you missed buying organic produce in Shillong... check out Zizira's web portal (a web based natural product store that aims to promote farmers of Meghalaya) and order online. 
Designer/ Vintage Wear 
If you have been in and around the North East states then you would know that Meghalaya is amongst the most fashionable of the usually well-heeled seven sisters. Girls and ladies sashay out of churches and restaurants in high heels, the average person walking on the street is inevitably well turned out and even people of lower socio economic strata somehow manage to dress great. 
Not surprisingly, Shillong has its own edition of the Fashion Week (it's called the Shillong Fashion Week) and many upcoming young designers of India hail from Meghalaya. If you are interested in serious fashion and want to buy some really nice apparel and accessories then check out the following stores: 
Daniel Syiem 
Beathouse, Laitumkhrah, Phone: 983025350 
Daniel Syeim is well known in Meghalaya's fashion circuit though very few outsiders know about it... Daniel designs modernistic drapes using local Khasi fabrics, he has a nice selection of noon ethnic silk dresses which you can pick up if you aren't too fond of super colorful Khasi fabrics. 
Rebecca's Thrift Store 
Lower Nongrim, Shillong. Phone: 961287394 
If you like vintage stuff then Rebecca's Thrift Store is the place for you. You will get great stocks of Yves Saint Laurent, Pierre Cardin, Prada and Armani here. If you look a little harder... you might be able to discover a 1970's Sisley's vintage coat and early editions of Commes des Garcon. This place is like a treasure hunt... you never know what you might unearth. 
Meghalaya Handloom and Handicrafts Development Emporium 
Police Bazaar, Phone: 93642522755 
A good selection of local textiles, beautiful fabrics, weaves and traditional Jaintia and Garo Fabrics are available in this Police Bazaar outlet. You will also find an impressive array of souvenirs made from bamboo shoots and dry fibres. 
Famous Shopping Areas in Shillong
Police Bazaar in Shillong 
(Khyndailad) 
Police Bazaar is the most happening shopping hub in Shillong and chances are, if you are staying in a hotel inside the city... you are probably near this bazaar. In fact, Police Bazaar is the most popular bazaar in Meghalaya as people from other parts of the state visit it for shopping and trading. Though there are many shopping malls in Police Bazaar, the market overflows with road vendors who sell everything from woollen pyjamas to radios to pen drives to bags! 
Police Bazaar, Shillong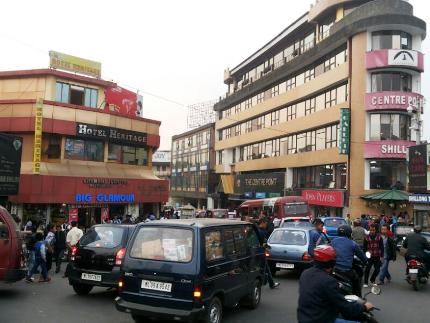 There is a huge circle (chowk) in the middle of Police Bazaar …which is surrounded by plants and seven roads reach out from the circle and go up to different places of Shillong. Almost any place in Shillong can be explained with the reference direction from Police Bazaar. 
Circle at Police Bazaar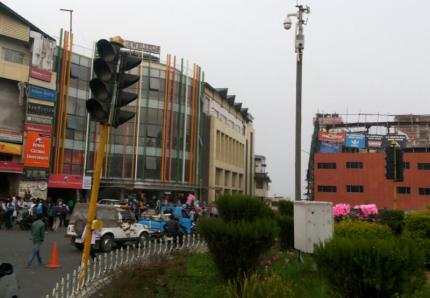 Police bazaar has numerous small van service providers, bus services, taxi stand etc. and is also the transport hub of Shillong. Many roads in Police Bazaar do not allow vehicular traffic and in case you love street shopping then these are the places to target. 
You will get food right from dried fish to fried silkworms to bakery items and betel nuts. You will also get smuggled winter clothing from Thailand, electronic items including mobiles and laptops and drives from China, beauty kits from Japan, Korea and China and a mind boggling variety of bags and shoes. Even medicines... especially herbal ones are sold on the roadside but they may be of questionable quality.  
Small shops in the basement of malls and 2/3 storeyed buildings sell fresh fruit plates, fancy crockery, caps, jackets, blazers and pyjamas. These are usually a lot cheaper than the things you get in malls. 
Police Bazaar Circle (Khyndailad)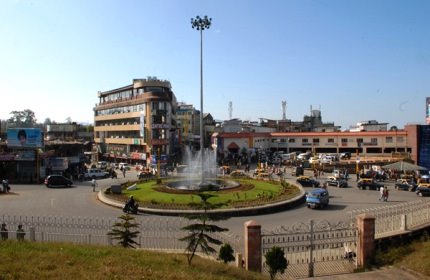 Photo: Meghalaya Tourism 
Glory's Plaza or G.P as it is fondly referred to be, is a multi-storeyed shopping complex in Police Bazar. G.P is targeted towards the young, urban and fashion aspiring crowd of varying pocket capacities. G.P has a range of shops selling Tibetan jewellery and clothing, punk rock and Goth styled apparel and accessories and Chic stuff inspired (and some actually imported from) Bangkok. The building is a little crowded and dingy but if you really love shopping... you won't mind. For men, there is a good range of leather jackets, sneakers and boots... if you bargain hard…you will end up with a choice deal. 
Megha Emporium and Khasi Emporium are right near the Circle in Police Bazaar... they sell an amazing variety of bamboo and cane woven bags, baskets, trays and display items. Besides this you will get silk sarees, jewellery, tribal artefacts etc. at these emporiums. Since these are private emporiums, you can bargain hard. If you go along the road towards E.C Hotel, you will find two state owned emporiums selling the same kind of products. However, these are larger and more reliable shops with no scope of bargaining and offer a wider range of Meghalaya art and craft. 
Megha Emporium and Khasi Emporium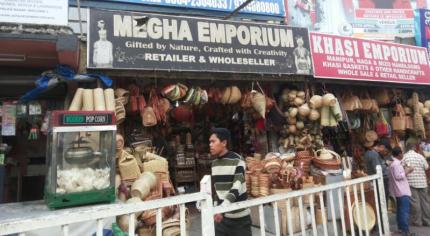 If you are fond of cooking and organic farm produce then visit any of the local grocery outlets in Shillong's Police Bazaar and buy orange honey, black mushrooms, fish pickle and pork pickle. You will also find pear, peach and fruit jams, preserves and compotes… 
Bara Bazar 
(Lewduh) 
Barabazar is one of the biggest traditional markets in the whole of North East India and is rumoured to be one of the biggest Asian open markets and has an interesting history. Lewduh (as the place is known as in local dialect) was originally situated in the capital of Hima Shillong Nongkseh but it later moved to its present location. Interestingly most shopkeepers in Lewduh are Women and the place is under the direct management of the ancient committee of Syiem of Mylliem. 
There is a fascinating ritual called Khlieh Lew that's performed in the market each year and huge monoliths are erected by shop owners and traders. The whole shopkeeper and trader community prays towards getting the blessings of "U blei Shyllong"…the God of Shillong and the deity of the Market "Ka Lew Lei Hat Lei Khyrdrop". The trade and commerce community of Shillong firmly believes in the potency and the power of these rituals... The community still believes in the ancient Khasi State of Hima Mylliem and continually prays for its prosperity. 
Important tip: Bara Bazaar is not only attractive to shopaholics, it's a treat for photographers and history & culture lovers too. However if you cannot stand crowds and dirt then better skip the exploration because Bara Bazaar is a labyrinth of small alleys and lanes filled with people and random open drains. If you are going there for shopping... bargain hard and make it seem like you aren't too wealthy. If you are photographing... get there early around 8.30 a.m. and don't carry around heavy equipment. Keep an eye on your stuff and always ask for permission before clicking. 
Some interesting things to explore and buy in Bara Bazaar are: 
A lane full of tailors... most locals refer to it as Darzi Gali. Any item of clothing that you have shopped for recently can be re-stitched, modified etc. for a very paltry sum. You will mostly get the garment back by the time you are done with your explorations. 
You will find shops selling Khasi knives and wooden pipes (smoking). These make for good souvenirs and are priced between 30 INR to 150 INR. Betel nut crackers are also easily and cheaply available. 
There are many colorful shops overflowing with strands of Nepali, faux rudraksha, khasi, fibre and wooden beads. All you have to do is to place an order and your customised bead jewellery will be ready in 20 minutes. Or you can carry the strands back home. 
Lots of stores selling bamboo and cane items. These products like flattish Dalis, pointed caps, stools, boxes, mats etc. are artistic and durable. 
Those who have a flair for archery can shop for Khasi arrows and bows that are found in their most authentic form in Bara Bazaar. 
Get a Daao or a traditional khasi grass cutting spade to maintain your lawn back home. These are lighter and easier to handle than ones you get in cities. Khasi brushes and scrubs are also available. 
Spices especially chillies, turmeric and betel nut are famous in Shillong. You will find a tempting array of pears (Meghalaya is one of India's biggest exporters of Pears), blood red plums and peaches besides other fruits. Also look out for Sohiong... a delicious local fruit that has a tangy taste and rich purple color (incidentally, they are known as Blackberry in English). 
Bhutia Market 
The Bhutia market is one of the more popular marketing spots in Shillong and it is populated by Tibetan origin shopkeepers. The Bhutias are actually a sub section of people from Bhutan who claim themselves as Tibetan refugees who have then settled down in different parts of India. The Bhutia market is the perfect place to buy woollens in Shillong as an amazing array of sweaters, jackets, shawls, stoles, kid's winter clothes are available. Generally garments sold by the Bhutias (especially the winter clothes) last for years, have good design structures and are quite affordable. 
All kinds of latest fashion apparel and footwear along with accessories are also available in the Bhutia market. Clothes in Bhutia Market are quite cheap and prices can be haggled down lower if you employ your bargaining skills properly. Once you get tired of all the shopping, hop in to the nearby stalls for munching momos, Chinese Bhel (a must try in Shillong), sandwiches and tea/ coffee. 
If you have been to other Bhutia markets in India, then you won't find anything novel about Shillong's version. 
Motphran Over Bridge/ OB Textiles 
Shillong is popularly known as the fashion capital of NE and as such it becomes interesting to observe the lengths to which the youth and the "not so young" in Shillong go to acquire and sustain their "fashionable" image. Bridge Textiles!!! Huge lines of second hand shops line both sides of the over bridge and the actual walking space has been reduced to more than half of its capacity. In fact the bridge is scarcely used as a transportation avenue and is more popular know as a garments flea market. 
Most of the stuff comes from western countries and 80% of it is second hand though it is often described as "foreign goods" or "custom rejects". Chinese electronic items of a wide price and quality range are also available is some of these shops. If buying this stuff is not up your alley, try people watching here on a Sunday (Sundays are peak days when the bridge is jam-packed with customers)... you will surely find the experience intriguing. 
In case local shopping doesn't interest you and Retail therapy is more your thing then you can check Reliance Trends at Quinton Road and Pantaloons at Assam Auto Complex (phone: 0364 252 1022). Vishal Mega Mart in Jail Road Police Bazaar is another option (phone: 09836010385). 
Related Articles
Visitors' Reviews/Comments