Best Budget & Luxury Hotels in Cherrapunjee or Sohra
Cherrapunji is not as popular a tourist destination as Shillong and its charms have started being known only recently which explains the scanty flow of tourists and restricted range of accommodation options. However there do exist a few luxurious as well as budget accommodation options along with boutique styled properties and homestays. Apart from the really large establishments that are few in number, the rest of hotels/ resorts are quite small and therefore you have to book quite early to secure a room. You also need to bring cash as many of the smaller establishments do not accept cards. 
There are some hotels and resorts in Cherrapunjee that can appeal to the more elite group of travellers as they offer facilities that are equivalent to a 3 star/ 4 star hotel. Some of these hotels and resorts are boutique properties in remote scenic locations while some are larger and closer to town. You can choose your preferred accommodation option according to your travel goals. Most of these hotels and resorts accept cards but machines may not work all the time. 
Polo Orchid Resort 
Category: Luxury 
Mawphlang Mawsmai, Near Nohsngithiang, Cherrapunjee 
Phone: 087947 01637 
Polo Orchid Resorts is one of the better known resorts in Cherrapunji and its location is pretty scenic as it is perched on a cliff where it commands great views and overlooks green hills. Attractions of Cherrapunji like Mawsmai Falls, Nongsthiang Falls, Caves of Arwai and Thangkarang Park are all nearby this resort. The resort has a somewhat rustic appeal and the rooms are a blend of traditional Meghalaya décor elements and modern comfort. Several categories of rooms exist in the resort and they are The Orchid Room, Misty Mountain Villa, and Log Cabin with Plunge Pool, Polo Cottage and Dewdrop Villa. 
Amenities include LED television sets, tea and coffee maker, writing table and chairs, in-room safe, iron board, charging points for laptops and mobiles, feather duvets, premium quality Linen etc. All the lighting in the rooms is eco-friendly. 
There is an in-house restaurant, a café and pub inside the resort premises and while none of them are very large…they look decent. Unlike Shillong, Cherrapunjee doesn't have too many bars, cafes and restaurants so if you are staying here then all your food and in house entertainment requirements will be taken care off. There is also a smallish banquet hall that can accommodate up to 60 people for events and gatherings. An In House Spa "The Zen Spa" is also available and it offers a range of therapeutic massages, spa treatments and nature-therapies. 
Of special mention are the Log Cabins which offer a unique indigenous experience.  
The tariff per night for the Log Cabin with Plunge Pool is 11,999 INR per night. These are private cabins with Canadian spruce wood walls and floors that have a sky shower and a private pool that commands a good view of the valley. 
Log Cabins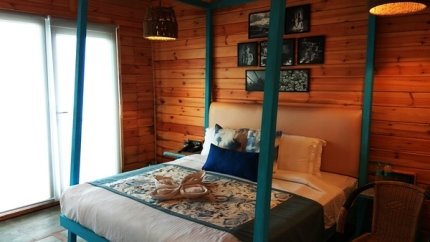 Photo: Polo Orchid Website 
The Misty Mountain Villa, an ultra-luxurious Villa style accommodation option is preferred by film stars and ambassadors and is priced upwards of 17,000 INR per night. The Orchid room and Polo Cottage are less expensive options priced in the bracket between 5000 INR to 7000 INR per night. 
Arguably, the priciest resort in Cherapunjee…the Polo Resort is a part of the Polo Group that runs Polo Towers in Shillong. It's a good place to stay if you don't mind the price tag. 
Rates provided by booking.com 
Cherrapunji Holiday Resort 
Category: Mid-Range 
Village Laitkynsew, Cherrapunji 793108 
(about 30 minute drive from the main market area of Cherrapunjee). 
Phone: 94361 15925, 9615338500 
Run by Denis and his wife who is a local, this nature resort is mainly targeted towards families and couples. Look out for the small signboards that read "Cherra Resort" right from the main market place. Locals also refer to the Cherrapunjee Holiday Resort as Sohra Resort. The is a nice lawn in front. From the lawn and some of the rooms you can get wonderful views of Laitkiynsew village, lush mountain landscapes and even the plains of Bangladesh. You will realize how close you are actually to Bangladesh.  
The resort offers sightseeing opportunities to all nearby attractions including the Double Decker Root Bridge, waterfalls, caves etc. Swimming expeditions, river canoeing, outdoor picnics, camp outs, hiking etc are some of the activities arranged by the resort management. 
There are no TV's in any of the rooms apart from a common one in the Hall so if Television is your lifeline then think twice before checking in. 3 kinds of rooms with ascending level of comfort are available; standard, deluxe and executive. 
Room tariff ranges from INR 3,700 to 4,425 per night depending on the type of room you choose (breakfast is included and is so is a vegetarian meal... you can of course order other items including non-veg at extra cost). 
There are attractive packages available like the student's concession packages (for groups of 20 or more students) and family tour packages. 
The package includes treks to living root bridge, musical programs, camp fire arrangements, picnic lunch, drive to various viewpoints (however transportation cost is not included). All meals and taxes are inclusive in the packages and this makes them quite attractive if you consider the price Vis a Vis the offerings. 
The food is all simple and home cooked with basic Indian and Chinese items with local specialities like Chicken Neiiong, Mulli Neileh Salad, Tungtap Chutney, lentils with mustard leaves etc. The in-house restaurant serves combo meals, Thalis and pure vegetarian A La Carte items. This is one of the best places too have a delicious vegetarian lunch/ dinner/ breakfast in Sohra. The restaurant opens from 8.30 a.m. to 5.30 p.m. 
Sohra Plaza 
Category: Budget 
Sohra-Shella Road, Cherrapunjee 
Phone: 097749 70825 
The USP of Sohra Plaza is its location as it's just outside the main town of Cherrapunjee. You can walk for twenty minutes to get to Cherrapunjee main market and transport hubs. There is a huge lawn in front of the hotel and the view from all four sides of the lawn is great. There are green hills nearby and a stream flows near the hotel making it a great place for morning and evening walks. The view from the rooms of Sohra Plaza is excellent though the place resembles a homestay more than a hotel. 
There is ample parking and the 5 rooms are basic though clean and spacious. Food can be ordered from the nearby Orange Roots Restaurant. It's recommended to take the top room and the bottom front room as they get the maximum sunlight. The corner room is a little dark and dingy. There is a huge amount of space in front of the hotel that could have been converted into a badminton lawn or tennis court but the space remains underutilised. The staff seem a little aloof and cold though the owner My Nongrum is quite helpful. Overall, an okay place with excellent location. 
The room tariff is around 2500 INR per night. 
Coniferous Resort 
Category: Budget 
0.5 km from Sohra Police Station 
Near Civil Hospital Cherrapunjee 
Phone No: 03637 235537 
Quoted to be the first ever resort of Cherrapunjee, the Coniferous Resort was formally established in 2008 by Illapsyuk Diengdoh and Borsha Singh Dkhar whose objective was to showcase the unique beauty of Sohra. However despite the title resort, the Coniferous is actually a smallish standalone hotel that has a rather nice mountainous backdrop. Location wise it is excellent, the market is near and the famous Mawsmai Caves are just 4 km away while the Seven Sister Falls is also a short distance away. 
There are 5 kinds of rooms in the Coniferous Resort and the standard double bedded rooms are the most affordable at only 1800 INR per night. The deluxe double occupancy room is 2200 INR per night while the super deluxe double occupancy and the standard four bedded family rooms are 3000 INR. The deluxe four bedded room is 5000 INR per night. Opt for the super deluxe rooms if you can as they have attached balconies…the others are quite small in size. Some of the washrooms in the super deluxe rooms come with a view so overall it can be a novel experience. 
Room service is quick but there are frequent communication problems with the staff. The guys at the reception; Sagar and Dharmo are quite friendly. Food is quite average though and the items may seem a little pricey if you consider the quality and quantity. 
Kutmadan Resort 
Category: Budget 
MDR 27, Cherrapunjee, Meghalaya 793108 
Phone: 080148 59700 
The Kutmadan Resort is a little far away from the main market and almost overlooks the Bangladesh Border. It has almost nothing but rugged natural beauty around and this may prove to be an advantage or disadvantage depending upon what your travel goals are. 
Local artist displaying his art in the laws of Kutmadan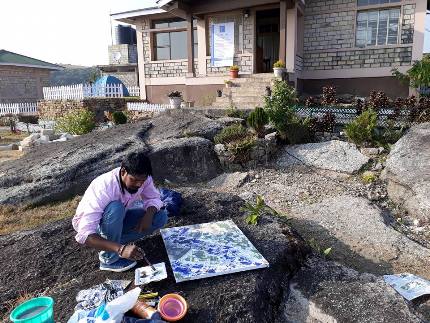 Photo: Kutmadan 
There are only 4 standard rooms and a suite in this resort and each room can accommodate only 2 to 3 people so the title "resort" seems to be a little farfetched. The place overlooks rolling green hills and the views are stunning. The tariff for the standard cottages per night is 2750 INR while for the suite it is 3800 INR. Facilities are basic though comfortable and the focus is on enjoying nature along with outdoor activities. 
There is a guy "Fredrick" who works there…you could ask for him when you go…he is very friendly and polite. There is an in house singer who keeps guests entertained at bonfire evenings and barbeque nights (all these are organized by management on prior notice). The resort provides the perfect backdrop for sunrises, sunsets and quiet starlit nights…in short it is all you could ask for if nature watching is high on your priority list. Because of the small size of the property, the rooms are very well maintained and you can avail personalized and customized service.  
On the flip side, service is a little slow, mobile networks don't work properly and the geysers don't work occasionally. The food is simple and a mix of local Indian and Chinese cuisine. 
Incidentally, the resort does justice to its name Kutmadan which literally means "at the edge of the land". From the resort…one can go up to the nearby village Sohkhmi and then to Umrew River. The trek is wonderful and at Umrew river side you can enjoy camping, fishing and interaction with the locals. 
Pala Resort 
Category: Mid-Range 
Kutmadan, Sohra, Cherrapunji, Shillong, Meghalaya 793111 
Phone: 087947 40141 
The cottages of Pala Resort have been named after the seven sister waterfalls. There are three suites that have been luxuriously designed with a blend of modern comforts and local craft elements. The Bangladesh border, hills and waterfalls are visible from the resort premises. There are few shops or signs of civilization around and the resort offers a nice experience with nature oriented activities like trekking, fishing, hiking, zip lining, river rafting etc. 
The Wah Pukri Suite and the Wah Bet Suite are priced at 3850 INR per night. While the Maipan Suite, Wah Slan Suite, Liewlong Suite and the Synrang Suite are priced at 4350 INR per night, the ultra-luxurious Shongri and Law Phyllun Suites are priced at 4950 INR per night. Incidentally the latter two cottages are placed right next to the waterfall and present a completely different living experience. 
The resort provides a multi cuisine restaurant though the focus is still on local and Chinese cuisine. Guides are available for exploring the nearby attractions and treks while transport facilities are also arranged for the guests. 
On the flip side, the approach road to the resort is very bad and there are maintenance issues inside the resort as well. The phone lines in the room do not work often though the management sends staff to each room every two hours to check on the requirements of the guests. 
Sa-I-Mika Resort 
Category: Mid-Range 
Wahshari, Khliehshnong, Sohra/Cherrapunjee 
Phone: +91-70-85-92-1328 
Like most other eco resorts in Cherrapunjee, the Sa-I-Mika resort also has the cottage system. There are two kinds of cottages; 9 Stream View Cottages and 5 Valley View Cottages. Each cottage has a distinct tribal architectural style that is unique and inspired from the tribes of Meghalaya. The USP of the resort is that each cottage has been styled uniquely and bear little resemblance to each other. 
Two of the cottages; Ken and Twill have a splendid mountain and a charming little rivulet as the backyard. The cottages are mostly built with stone or wood or a combination of both and have rustic interiors. If unconventional accommodation and a rustic local taste of life is what you are seeking then Sa I Mika resort will suit you. However TV reception and phone connections are not good as is the case with most eco resorts of Cherrapunjee. 
The food is homely and overall of good quality. For breakfast you can get comfort food like aloo parantha, pancakes and French toast while for lunch and dinner mostly local and north Indian cuisine is served. 
The rooms are priced between 2000 INR to 4835 INR and some of them may seem a little pricey if you look at the basic amenities. The cottages sometimes develop leaks and the solar back up is not very consistent. The management and staff are both a little slow to respond at times and the service may seem inadequate. If you can bear with all this and only appreciate the natural charm of the place then Sa I Mika is a good option. 
Cherrapunjee is dotted all over with numerous small homestays and lodges which offer basic accommodation and decent facilities at appealing prices. They do not usually accept cards so you have to make payments with cash. Here are the best known ones…. 
Seven Sisters Falls View Inn 
Category: Budget 
Opposite the Seven Sisters Falls, Cherrapunjee 
Phone: 986243852, 9862542945 
As the name suggests, the Inn is right near the famous Seven Sisters Falls which is a huge advantage. You can admire the gushing beauty of the waterfall right from your room if you stay here. However the Seven Sisters Falls View Inn looks very nondescript both in its interiors as well as exteriors. 
This is actually a basic lodge which offers dorms, private rooms as well as attic style accommodation. The private rooms are categorised into Normal Rooms (2000 INR per night and Deluxe Rooms (3000 INR per night) 
Normal Rooms 
Photo: The Seven Sisters Falls View Inn 
The Inn has an In House Restaurant that serves Indian, Chinese and Local Khasi delicacies. There is a Play area and some thatched roof sitting areas for families inside the premises. The service and the maintenance of the rooms is not that satisfactory. 
Kor Shangthait HomeStay 
Category: Budget 
Sohra Shella Road, Cherrapunjee 
Phone: 098563 48562 
One of the better equipped homestays in Cherrapunji, the Kor Shangthait is a well maintained homestay in Cherrapunji that's only 3 km away from the seven sister's fall. This is a small establishment that has only 5 rooms though all rooms have large comfy beds, flat screen TV's, bottled mineral water and private washrooms with lots of toiletries. The washrooms are nice and airy and have 24 hour hot water supply. 
This is a single storied property with a common balcony and sitting area in the first floor. Some facilities offered by the management are airport pick and drop, medical and parking facilities and provision of tour guides. The owner Mr Wahlang is quite nice and affable and goes out of his way to plan trips for and help his guests. 
Food isn't prepared in-house but there are plenty of restaurants around where you can order from. On the flip side, none of the rooms have great views. 
The room tariff ranges between 1500 INR per night to 3000 INR per night depending upon which room you choose and the season you choose to visit in. 
NG Eco Home Stay 
Category: Budget 
Sohra, Opposite Sohra Fire Substation, Cherrapunjee 
Phone: 099540 56775 
The NG Eco Homestay is another option for tourists who are looking for a way in which they could enjoy the beauty of Sohra in a not so remote area. The Homestay is only 15 minutes away from Sohra main market so availing the charms of the town is also feasible. 
As the appearance will suggest, this isn't a very fancy accommodation option and the facilities can only be described as modest. The rooms are quite spacious and have basic furniture with minimum frills. The washrooms are attached and have water heaters though these too are quite basic. The room tariff is around 1600 INR per night. 
Food is decent though if you are not too fond of local Khasi cuisine... you should mention that as the dishes have a strong regional flavour. If you need to go out really early then the management will allow you to make your own tea/ coffee in the kitchen as the staff arrives only after 7.30 a.m. 
Service is an issue here as housekeeping duties are not performed on time and the staff seemed reluctant to supply fresh towels, linen etc. 
As with most other eco resorts in Cherrapunjee, the surroundings are beautiful with green mountains and succulent vegetation all around. The Homestay is run by Sunshine Lingdoh who is a friendly and cooperative person. Better go up to the homestay or call up and book as the official website rate is higher. 
Unlike Shillong, Cherrapunjee can be classified as a back packers paradise as it has some great options for students and backpackers who are on a shoe string budget. Obviously these places do not accept cards and they are in great demand during season time…so you have to book really early 
D Cloud Guest House 
Category: Low Budget 
Sohra-Shella Road, Mawpunkyrtiang, Saitsohpen, Lower Cherra, 
Opposite to Fire and Emergency Station, Cherrapunjee 
Phone: 098561 81358 
Camping Arrangements near D Cloud Guest House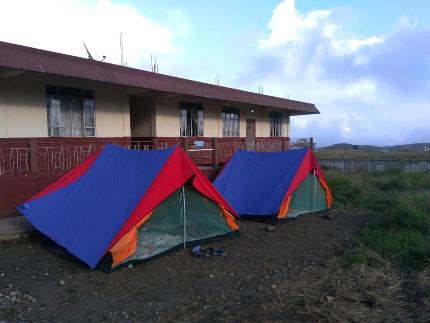 Photo: D Cloud 
The guest house is located 200 m away from the highway and is in a nice serene spot with two streams flowing nearby. The owner Yai is very friendly and helpful and often goes out of his way to accommodate and take care of guests. The rooms are very simple and will not appeal to you if you are expecting luxury of any kind.  
Camping, bonfire and outdoor activities are best experienced from the last week of October to March. This place is almost a backpacker's paradise and you can avail of a place to stay for as low as 500 INR per night. 
Rates provided by booking.com 
By The Way 
Category: Low Budget 
Lower Cherrapunjee, Near Indian Oil Petrol Station 
Phone: 9856630274 
This place is just a ten minute drive away from Sohra Taxi Stand, a shared cab will only charge you Rs. 10 for dropping you till By the Way. This is an excellent location for planning trips to Mawlynnong, Dawki, Nongriat and all other fascinating attractions of Meghalaya. By the Way is again a Backpackers paradise. This is a hostel with both dorm as well as private rooms and there are no private washrooms. However all common washrooms are cleaned quite frequently and kept in hygienic and pleasant condition. 
This hostel is easily the cheapest place to stay in Cherrapunjee and offers accommodation for as little as 300 INR per night. However do call and book early as "By the Way" is generally all filled up during season time. The owner Hebrit is quite friendly and cooperative and is an encyclopaedia of information about local areas. 
Related Articles
Visitors' Reviews/Comments