Khasi Heritage Village & Park Shillong
Season time in the Khasi Heritage village is spring and there is a huge inflow of tourists who have come in for the Monolith festival. At most other times especially off season... this model Khasi heritage village will strike you as a ghost town with rows of quaint looking houses and no people. 
However look a little closely and you will find lots to learn and explore. There are thatched houses inside the heritage village that showcase the lifestyle of the traditional khasi tribes like Myliem, Nongkhhlaw, Jirang, Nongstin, Sohbar, Mawsynram, Nonglang, Mawphalang, Shella Wahadarship etc. These houses are prototypes and they contain exact replicas of the bedroom, sitting area, kitchen, storehouse and livestock rearing area. 
There is an archery section where bows and arrows are kept on display. Incidentally, archery is the preferred sport of the Khasis and almost all the men and young boys know how to use these weapons. There was a person called Woodren Khangsngi from the village of Nongkynrih village who had been making bows and arrows and selling them at a stall here... however he is absent frequently. 
Khasi Heritage Village, Shillong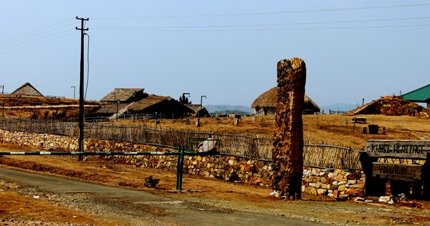 There is a long suspension bridge inside along with an amphitheatre that screens documentaries and holds stage shows during the famous Monolith festival. 
The Monolith festival is usually held around March... this is an initiative by the KHADC or the Khasi Hills Autonomous District Council.  The festival aims to re-unite all the 53 Himas of the Khasis through a popular platform of cultural display and simultaneously creates a medium through which the tourist populace can learn more about the rich Khasi art and culture. 
Some staple elements of each year's Monolith festival are sports events, workshops, cultural extravaganzas, stage shows etc. More than a 100 food stalls are set up to showcase local khasi food delicacies and local spirits. There are plans of making this an annual affair. 
In 2016 an aboriginal Australian band Nuragunya performed at the Monolith Festival making it an international cultural exchange program. Snap Paka or a group dance ensemble along with stage performances by Khasi Jaintia Group, Raids Hoppatti, Raid Nongkharai etc were an important part of the program along with performances by Sumersault (a fusion band). 
The Khasi Monolith Festival is one of the platforms to expose Meghalaya's indigenous musical talent to the world... the state is anyway known for its aptitude in music. 
The bargain and shop market where you can buy fresh produce at heavily discounted prices is an important part of the festival. Games and educational workshops will be held for kids and youngsters. Watch out for the Museum Display section. 
In the 2016 edition of the monolith Festival the tools and materials dug out from the Sohpetbneng Hill (locally called Navel of the Earth) were displayed. The tools were said to date back to 1220 BC and it was believed that around this time seven heavenly Khasi tribes descended from heaven. 
The Khasi Heritage Village is quite environmentally aware and is strictly a no plastic zone. Incidentally, this is a good place to use the restroom before you proceed to the Mawphalang forest. There is also an eatery here with limited range of menu and facilities for tea/ coffee and bottled drinking water. 
In off season... the people operating the stalls and eatery remain busy in other activities and the place looks deserted. Better visit the Khasi heritage village with a guide... you need to understand the meaning and significance of the objects inside the village. 
Open Hours
Open from 8am to 6pm. 
How to reach
Khasi Heritage Village is about 27kms from Shillong town and takes little over 1 hour by cab. It's located Opposite the Mawphalang Sacred Forest which can be easily combined in the visit. 
Related Articles
Visitors' Reviews/Comments