Don Bosco Center of Indigenous Cultures, Shillong
The Do Bosco Museum in Shillong (known as Don Bosco Center of Indigenous Cultures) isnít just a museum... itís more of an institution with its own publications, research wing, newsletter and a calendar full of cultural activities. Arguably, one of the best museums in India... the Don Bosco museum has been toured by royalty... the princess of Thailand and Rajya Sabha MPs paid a visit and over 1 lakh visitors visited the place in 2016. 
Competitions for writers, musicians and lyricists are held in the premises and researchers and scholars name the museum as their favorite place for understanding the indigenous culture of North East India. The museum is quite conveniently located in Mawlai and is very near Police Bazaar. 
If you really want to see the museum properly then you would require half a day. However most tourists spend 2 to 3 hours here to check sections of interest... this is not a place that can be rushed through in 15 minutes. 
The DBCIC as itís fondly referred as, is hexagonal in shape with seven storeys. The design of the building is marvellous and itís referred to as Shillongís architectural pride. The Don Bosco centre has been established with the goal of popularising cultural intelligence and awareness and the museum is more of a holistic educational resource than a viewing forum. 
Don Bosco Museum, Shillong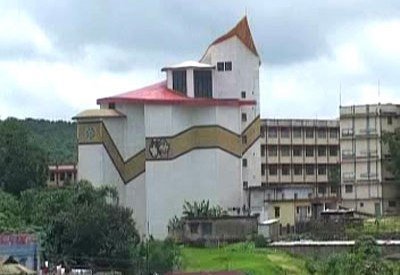 Photo: Meghalaya Tourism 
There are 16 galleries in the museum and each deal with a different aspect. 
Agriculture Gallery 
North East India contains many different and new types of farming and agricultural practices that are showcased in the agricultural section of the museum. There are extensive elaboration on the plough cultivation, wet rice cultivation and shifting cultivation. 
Art Gallery 
There is an extensive collection of rare paintings, unusual artefacts and indigenous objects that are sourced from various corners of North Eastern states. You will see bamboo and cane craft, stone work, metal art and magnificent specimens of tribal jewellery and headband. An unusual collection of utensils, statuettes, paintings also adorn the gallery. 
Basketry Gallery 
These are baskets of North East India and specially Meghalaya are quite famous and this section has diverse variety of bamboo baskets. If you look closely you will be able to identify different styles of basket weaving like single internode basket, two and four internode basket weaves etc. Bamboo headgear, rain shields and utensils are also displayed. The Manipuri style of bamboo weaving is also displayed as the inhabitants of the state use bamboo in almost every aspect of life. 
Ornaments and costume jewelry Gallery: in the tribes of North East India, jewellery and ornaments play a special role and native tribes don these during church services, festivities, official functions etc. the jewellery of North East India has amazing variety... you will find ornaments made of feather, beads, metal, semi-precious stones, bamboo, cloth and embroidered patches. 
Fishing and Hunting Gallery 
This gallery has artifacts that were conventionally used for hunting game, fishing and gathering crops and produce. Different communities of North East use different kinds of artifacts for fishing and hunting and they are displayed with the descriptions and name of the weapons. 
Food Gallery 
This displays photographs and models of different kinds of cooked dishes typical to each state of North East India. Different indigenous fruits, vegetables and slices of these regions are also on display. 
Housing Gallery 
The traditional houses of North East India are made with materials sourced from nature like leaves of trees, sticks, bamboo, wooden planks, grass, mud and hay. Entire villages and settlements are built on mountainous slopes ad hill tops where these buildings protect the crop fields from strong winds. There are also models of houses on plains that were built on tall bamboo poles that shielded the inhabitants from creeping predators and rodents. Itís interesting to note the different kind of homes and various architectural styles that define them. 
Introductory and prehistory Gallery 
This gallery contains lots of information about the history and evolution of mankind along with the cultural and social evolution of man. This process is depicted through sketches, models, paintings, miniatures and some exhibits. Of special interest is a huge map that depicts all the NE tribe races, their anthropological connections and characteristics. The skull exhibits are also fascinating. 
The land and peoples gallery 
This section will be particularly interesting for students of anthropology, social sciences and history. The varied tribal faces living in all corners of NE India, their similarities and differences are all shown here with the help of photographs, models and statuettes. 
Language Museum 
Itís interesting to note from the exhibits in this section that North East India is home to more than 200 languages though most of these languages originate from the same sub family (Tibet burman strain of Sino Tibetan family)... even though all these languages are heterogeneous and they are mutually different sounding. 
The villages of NE guard their culture and ethnicity strongly and there is limited interaction between different tribal groups which is the reason why a common language that will bind them together never got created. The illustrations in this section are mostly in the form of flowcharts along with recordings and inscriptions and will appeal to lovers of language, history and social science. 
Mission and Culture Gallery 
This section deals with detailing the position, influence and role of the Church in shaping the culture of North east India. This particular gallery is quite large and is divided into 4 sub sections. The first section is avoidable if you are not particularly interested in the Churchís activities as it details the mutual services offered by the tribal society and the Church to each other. 
The second section details the formation of several facilities in North East like origin of education, publications, moral doctrines, youth ministries etc. some parts of this section may be interesting if you want to know about the evolution of society in North East region. 
The third section details all activates that were performed by the church in above mentioned domains from 1st century to 21st century. 
The fourth section details Meghalaya culture with different parts about Garo and Khasi Mythology. Pioneers, important social workers and activists of Meghalaya are introduced with relevant text descriptions and illustrations in this section. 
Musical Instruments Gallery 
North East India takes music very seriously and this art is a part of every social function and is also used as a tool of knowledge transmission. Itís interesting to note how the natural environment, agricultural cycles, history and conflicts happening in North East India have shaped songs and tunes. This gallery is quite impressive with framed displays of musical instruments (do not miss the famous Manipuri Pung), drawings, recordings and LCD displays showing clippings of indigenous musical instruments. This happens to be one of the best illustrated sections in the museum. 
Our Neighbor's Gallery 
A very interesting section with photographs and models of neighbouring countries of North East India like Bhutan, China, Nepal, Myanmar and Bangladesh. Basic data of each country and its culture is provided in a touch screen that visitors can use freely to expand their knowledge. The life size models in this section will be particularly interesting for kids. 
Photo Gallery: this section has a good collection of rare black and white photographs that provide an insight into ancient tribal life in North East India/ there is a computer screen displaying different images of North east India and the pictures change every few seconds allowing observers a photographic journey to the different parts of North East. 
Culture and Religion Gallery 
Though the name may trigger you to skip this section, do spare a few minutes to take a look here. Of special interest are a miniature tower (rath) thatís used by the Jaintias during the Behdienklam festival and an elaborate arrangement of baskets that are used to offer ceremonial food to the spirits in the villages. This section celebrates the unity of people of diverse backgrounds through religion and culture. 
Alcoves Gallery 
The most textually informative section in the museum, the alcoves store information about various aspects of the North East in great detail. The alcoves here are traditional weaving, sacred forest of Mawphalang, Aptami in paddy fields, Loktak Lake, Traditional Manipuri dance, Garo huts, Garo tree top huts, Bamboo transportation and Mizo Village. People researching on any of these aspects will find this gallery really helpful. 
Itís good to see that the Don Bosco museum is a full-fledged organised institute that has various facilities like elevator for the sick and infirm, mini museum for children, parking lot, washrooms, media and conference hall. There is also an interactive computer zone with touch screen computers, Wi-fi connectivity, sensor lighting system etc. there is also a 50 seated bus and 14 seated tempo and a full-fledged eatery. 
Donít miss the lovely open air skywalk in the 7th floor (you will get a birdís eye view of Shillong City from here) and beautiful musical videos on North East that are shown in the auditorium. 
The eatery deserves special mention as it serves a good variety of local cuisine right from pork chops to spiced tender bamboo shoots to dishes flavored with NEíS famous Raja Mirchi. You can sample Khasi dishes like Jadoh and Tungrymbai and Garo dishes like Wakpura along with dishes from Assam, Tripura, Sikkim, and Arunachal etc. 
For the non-experimental foodie, there is standard Indian, Continental and Chinese fare on offer. The Eatery is styled more in the form of a food gallery and it highly popular amongst foreign visitors as well as Indian tourists. 
Open Hours
Open from Monday to Saturday, Closed on Sundays. 
9.00 a.m. to 5.30 p.m. (February to November) 
9.00 a.m. to 4.30 p.m. (December and January) 
Ticket Prices
Indian Adults: INR 100; Indian Students: INR 50 
Foreigner Adults: INR 200; Foreigner Students INR 150 
Note: Students wonít get discounted rates unless they are able to show a valid ID card 
How to reach
Address: Don Bosco Museum (Centre for indigenous Cultures), Mawlai Phudmuri 
Phone: 91 364 255 0260. 
The Don Bosco Museum is about 4 km away from Police Bazaar in Shillong. The museum is a stoneís throw away from the Sacred Heart Theological College and the Girls School. 
Related Articles
Visitors' Reviews/Comments