Khairbari Tiger & Leopard Rescue Center
This is a rehabilitation center for tigers and leopards nestled in South Khairbari forest. You can visit the place either from Jaldapara or while approaching Jaldapara from Murti via Birpara. From Jaldapara Tourist Lodge (also known as Madarihat Tourist Lodge) of West Bengal Tourism, a drive of about 2kms will get you to the entrance of South Khairbari forest. From there you need to drive for another 12kms through dense forests. 
The route through the forest is a muddy road but motorable. The road is quite bad in several places and will require a large vehicle like a Jeep or Sumo to negotiate some of those bad patches. Encountering wild elephants along the way is quite common on this route and that's a great extra bonus. 
An alternative route from Jaldapara along Madari Road taking about 45 minutes (20kms) is better and small vehicles can also reach along that way. Use a vehicle with local driver who knows this route. 
There is a designated paid parking area which is about 0.5km from the main gate of the rescue center. You need to either walk down to the center from here or take a shared Toto (3-wheelers) which operate between the parking and the gate. The Toto rate is Rs. 10/- per person. Your vehicle can also drop you at the gate and then go down to the parking area and wait. There are several temporary stalls at the parking where villager sell snack items, tea, water and cold drinks. 
Forest route from the gate to the rescue center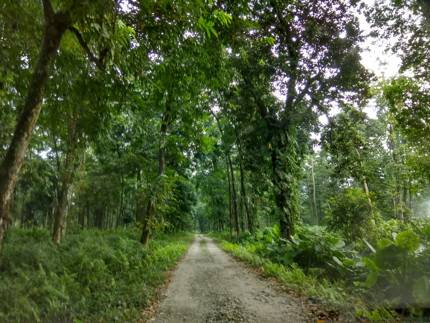 At the gate you need to buy an entry ticket at a nominal price. Now you have an option to walk through the forest up to the rescue center, take a safari on a battery operated car, or take a van rickshaw with a flat platform fixed on a 3-wheeled cycle where up to four can sit. I thought the van rickshaw is quite economical and convenient. You can negotiate the rate. An approximate rate is Rs. 150/- for the full van rickshaw which will take you around for about an hour. 
Right inside the gate there is a large children's playground with swings, seesaw etc that suggests that the authority here are also promoting this place for family excursions. Once you reach the rescue center (which should take about 15-minute walk from the gate), there are several sections. The animals are kept in a semi natural habitats in these sections. 
A leopard in the rescue center 
The first section is for leopards, the others are for tigers. In 2005 when a ban was imposed on animal shows in circus, the forest officers seized some 11 tigers from Olympic Circus in Hoogly district. Those tigers were later brought here for rehabilitation. But those tigers have died of aging. This center was inaugurated on November 5, 2005 by then minister in-charge of forest. It was then named as 'South Khairbari Circus Animal Rescue Centre'. A plaque below a large model of Royal Bengal Tiger located near the fenced sections captures the inauguration theme and details. 
Rescue Center - The model of a tiger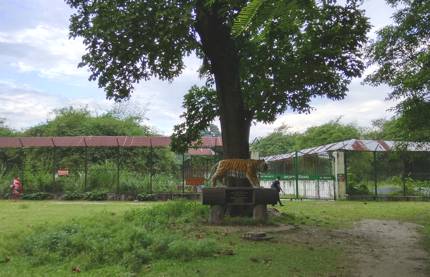 Nowadays the tigers that are wounded, or found unwell or seized from the smugglers, as well as leopards and their solitary cubs found in the tea gardens are brought into this center for rehabilitation. When I last visited, I found only couple of tigers at the center although it has a capacity of 15. 
There were of course a few leopards as well. Since the animals are kept somewhat in natural habitat although in enclosures, it may not be always easy to spot them unless they are out in the open and visible. One tiger here is a permanent resident as it has lost one of its legs. I was told that a crocodile had eaten it away while the tiger was swimming across a river. 
Tourist trying to spot a tiger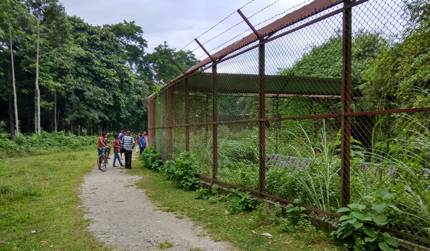 Having recuperated at the rescue center for long, most of these animals become unfit to get back to jungles and survive with other wildlife. Several rehabilitated tigers have been transferred to zoos. I was also given to understand that due to proper treatment and food, the average life span of the tigers brought to the center also increases substantially compared to their natural life in the forests. 
Overall the center is quite well spread out and like a parkland within the dense forest. You can spend about an hour at the center and even interact with the staff to understand the operation. 
Related Articles
Visitors' Reviews/Comments