Historic Buxa Fort and Great Trek Routes
This is one of the few places in the whole of Dooars region where proper trek routes are available for nature lovers and you can choose a trail as per your choice of difficulty level. There are light to medium trek routes as well as ones that are meant for veteran trekkers. 
One of the most popular short trek routes is the uphill trail to Buxa Fort (also known as Buxa Duar). To take the trek you need to first reach a small village called Santalabari (also known as Santrabari). From the Rajabhatkhawa entry gate to Buxa Tiger Reserve, Santalabari is a straight 15kms drive through the forests of Buxa. From Jayanti Village in Buxa reserve, the distance is also about the same. 
The village trek association here has a small counter where the trek route begins. You need to take a guide from here. If you start your trek from Santalabari itself, then there is an initial hike for about 2.5kms on a flat route through the forest and you reach the foothill where the uphill trek route begins. In fact you can also bring your vehicle up to the foothill. 
The trek route winds around through the hill and reaches the historic Buxa fort, and continues further up through Sinchula Pass all the way to the Rupam valley of Butan. In fact there was a time when Bhutanese villagers used this route to carry baskets full of oranges that hung from their shoulders and brought them all the way down to Santalabari. During winters a large village market (locally known as haat) used to set up at Santalabari. Oranges are locally known as 'Santra' and hence the name of the village 'Santrabari' (now known better as Santalabari). 
There are only handful of village stores at Santalabari. You can buy bottled water and some packaged snacks from here if you want. Some villagers have also opened home stays at Santalabari taking advantage of the growing tourism here. There is also an office of the forest department here.  
Santalabari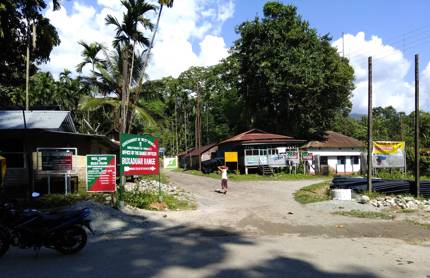 As we started the climb up the steep uphill trek route we realized that it's no way a very easy trek. The route is very steep at several stretches and full of loose rocks that make it even more difficult to negotiate (particularly when you come down the trail). 
We soon realized the real value of the friendly guide who generously stretched his hands to help some of us in the group to take support and move along. I strongly recommend that you use comfortable cotton wears and proper sneakers for the trek. Also carry enough drinking water. 
Trek route to Buxa Fort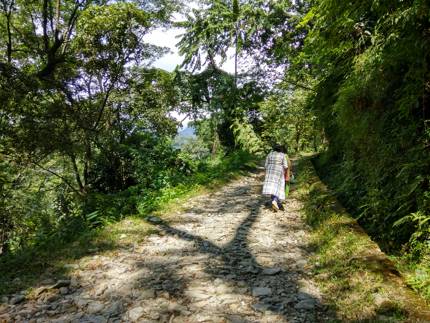 If you just want to get a feel of the trek and do not want to go all the way up to the fort, then you can plan up to a View Point which is about 0.9km from the base. Along the way there is also a shaded resting area where you can sit and gather your breath and then move forward. From the makeshift view point which requires climbing a stony stairway, the view is marvelous. Other than the canopy of trees of Buxa reserve, you can see five mountain streams that run down to the plains. 
View Point on the way to Buxa Fort 
As you continue your trek, while you need to always take care of your steps on the boulders, you will have ample chances to look around and enjoy the beauty of nature... wonderful view of the forest, several streams including Jayanti river, flowering Orchids, and if lucky some wildlife as well. Along the way to the fort you will find a nice tea stall. View from here too is wonderful. 
From the foothill the Buxa Fort is about 2.5kms and takes about one hour of trek one-way. It's located at an altitude of 2,845ft. Although you see only the ruins of the fort today, there is a deep history behind Buxa fort. The fort which once belonged to the Bhutan King was captured by the British in 1865. While there are several routes in Dooars region that connect India with Bhutan, the Buxa fort is located on one of the most important routes although this route is on one of the most difficult terrain. 
Buxa Fort 
Having captured the fort, the British used it to detain the freedom fighters here. Later in 1959 when Tibetan monks escaped Tibet due to Chinese invasion, they used the Buxa fort as a refugee camp. Subsequently the fort was also used to even imprison the members of the Communist Party. 
Prisoners' Cells, Buxa Fort 
Once during the pre-independence time, the prisoners wrote a letter to the poet Rabindranath Tagore who was then in Darjeeling. Tagore replied to them (his letter dated 2nd June 1939) which has been engraved on the fort wall. You can still see and even enter the prisoners cells at Buxa fort. 
There is a small village settlement next to the Buxa fort. You can have tea at a local tea stall here. While it is possible to camp on the grounds next to the fort, there are also home stays in the village locality next to the fort area. Having spent about 30-45 minutes at the fort, it'll be time to return unless you have plans to take onward treks. If you parked your car at the foothill, you won't have to walk further 2.5kms from there up to Sanatalabari. 
Cars parked at foothill (last point where cars can reach)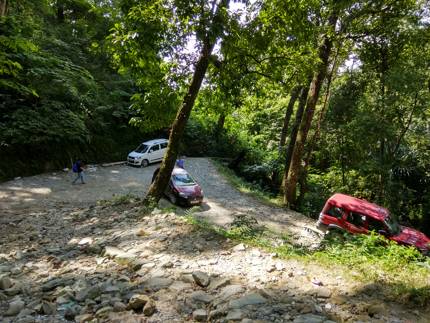 Trek routes from Buxa fort
There are several trekking routes that originate from Buxa fort. 
Lepchaka Village: A 3km trek from Buxa fort takes you to Lepchaka village which is a small hamlet on a hill top. This village is inhabited by Drukpas who are originally Butanese. The view all around is stunning. Other than getting a complete panoramic view of Buxa Tiger reserve, you get to see the plains and several streams flowing down including Sankosh, Raidak, Jayanti and Bala. There are few Homestays here run by the villagers. 
Jayanti Village: From Lepchaka you can continue downhill (for another 10kms) and reach Jayanti village on Jayanti river bank. In one of our trekking trips, we planned for this trek and stayed overnight at Buxa fort locality. Next morning we hiked through Tashigaon village  to Lepchaka and continued. Having hiked for long, we reached an edge of a hill with an endless gorge. We could see the plains ahead below but there was no route further down. 
With nobody to show us the way, we backtracked till we found two dirt trails... we thought that one was going down to the bank of Kautlum river. So the other must be leading to Jayanti.... and we took that trail which appeared to be the one that was more frequently used by the locals. Alas, we again reached a dead-end with a huge gorge. Disappointed... we returned to Lepchaka to spend the night at a village homestay. 
When we shared our disappointment with the village family over dinner, a little girl offered to help and show us the way next morning. We were surprised that we were actually on the right trail but missed a diversion along the way. The little village girl mentioned that the locals use this route to commute to Jayanti from Lepchaka. The downhill hike from Lepchaka took about 4 hours and when we finlly reached Jayanti river bank, our feet were bleeding... leeches are a problem here.  
Rupam Valley in Bhutan: From Buxa Fort there is a trek route to Rover's Point (about 4kms from the fort at an altitude of 4,500ft) and further onward to Rupam Valley in Bhutan through Sinchula pass (another 12kms of trek). Once we tried this trek as well but in vain. Having hiked through steep tiring trail we reached Rover's Point (known as the land of unknown birds) via Shadhigaon and then up to Omchu spring. We could not find the way beyond this point. It started raining and leeches were all over us. We had to give up and return to Buxa fort. 
Related Articles
Visitors' Reviews/Comments