Jhalong (Jaldhaka), Paren and Bindu
While most tourists visit Dooars to take jungle safaris, but there are far more to been seen in Dooars other than wildlife. There are beautiful view points, villages and valleys that offer a wonderful variation and a special flavor to your trip. Jhalong (also known as Jaldhaka), Paren and Bindu valley are three such places where you can enjoy wonderful scenic views and nature. 
If you are staying around Gorumara National Park (like at Lataguri or Murti) you can plan an excellent day trip covering these places in half a day or full day. In fact many tourists having taken their morning safari or before availing their late afternoon safari at Gorumara, make a day trip to Jhalong, Paren and Bindu. However many also prefer to stay overnight here to soak in the nature for longer.  
If you are making a day trip... best is to hire a private car. From Lataguri you need to first come to Chalsa (about 20kms) and take a right turn towards Nagrakata. From both Murti and Malbazar the distance to Chalsa is about 8kms. However before reaching Nagrakata you will reach Khunia more (about 8kms from Chalsa) and here you will turn left to the road which goes all the way to Gairibas and then onward to Jahlong, Paren and Bindu. 
This road from Khunia More goes right through the core area of
Chapramari Forest
for a long stretch before reaching Gairibas. In fact at several stretches this route passes through the elephant corridor... so encountering an elephant herd or a bison on this route is not uncommon. 
Road from Khunia through Chapramari forest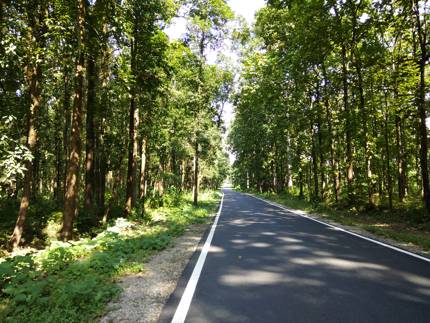 Before reaching the village Gairibas, look towards right and you can see rubber plantations along the road for a long stretch... tall trees where plastic bags are hung on the barks. From the cuts on the barks the white sticky fluid is collected into the bags and later refined to produce rubber. 
Rubber plantation along the way. 
Watch the plastic bags collecting fluid from barks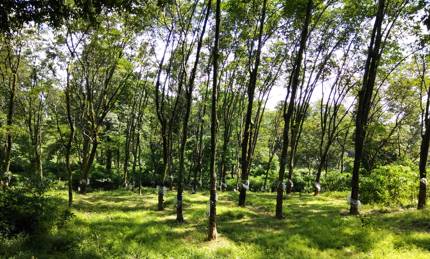 Actually river side areas on this part of Dooars is not suitable for tea bush plantation. This is because the soil here is fed mainly by the streams flowing down from Bhutan hills and the rain fed waters of these rivers contain dolomite washouts due to the mines in Bhutan. This makes the soil unsuitable for tea plantation. However rubber plants being robust trees can grow in plenty in such soil. In fact Rubber plantation has now become an important source of economy here. 
Further ahead you will reach a wonderful view point along the way... this is the Gairibas View Point located by the roadside. There is a low concrete barriers on one side of the road... a deep gorge here goes all the way down to a valley below where you can see the Jaldhaka river flowing. Across the valley rises the Bhutan hills, and below on the Indian side you can see the tiny settlement of Jhalong by the river bank... an awesome sight. You can spend 15-20 minutes here. 
View from Gairibas View Point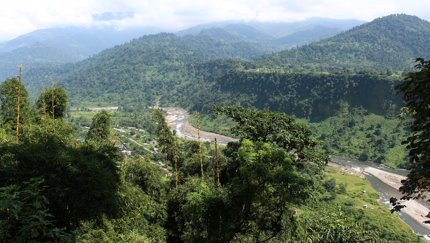 At one corner of the view point where the road takes a sharp turn, there is a small restaurant. You can take some snacks here like eggs with toast or pakoras. They also serve meals (Nepali thali) during lunch. Bottled water, cold drinks and packaged snacks like wafers are also available here. Other than inside seating, the restaurant has taken up a small garden area next to the view point with open seating for its guests. This garden offers excellent view of the river below and the Bhutan hills across. 
Close-up view of Jaldhaka river from Gairibas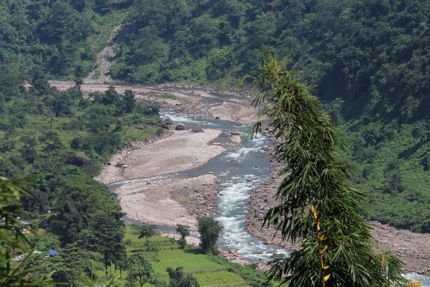 Drive along... this is one area in Dooars where you will have the pleasure of driving on hill routes because you are ascending all the way to Bindu. 2kms from Gairibas you will reach the Jhalong village. The entire area of Jhalong and then Paren and Bindu falls under Kalimpong district. There is a bus service from PC Mittal bus stand at Siliguri to Jhalong, however service can be irregular at times. Jhalong is about 95kms from Siliguri and buses take about 2 hours 45 minutes each way. 
Jhalong Village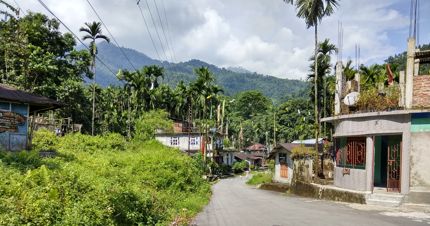 Jhalong is where Jhalong river has merged with Jaldhaka river. The Jaldhaka Hydel Project has also been established here and therefore Jahlong is also known as Jaldhaka. So both the names 'Jhalong' and 'Jaldhaka' are used interchangeably here although they mean the same place. 
At Jhalong and on the left of the road you can see Jhalong Forest Rest House located on the bank of Jhalong river (it's also known as Nature Education and Wilderness Resort) and run by WBFDC (West Bengal Forest Development Corporation) of state forest department. 
Jhalong Rest House of WBFDC. 
The board shows the pathway on the left to River Camp.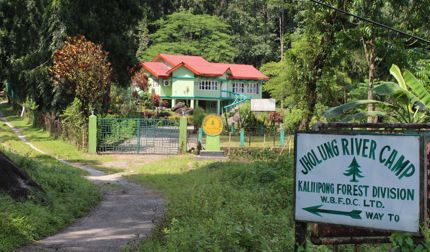 View of the mountains around is wonderful. The Jhalong river (locally known as Jhalong Khola) flows next to the rest house over rocky bed. The lodge has two double bedrooms that are spacious and have windows opening out to the views. Rooms have TV and attached bathrooms have geysers. They offer Bengali style food in the dining room. This is arguably the best place to stay in Jhalong. 
Jhalong River flowing next to Jhalong Rest House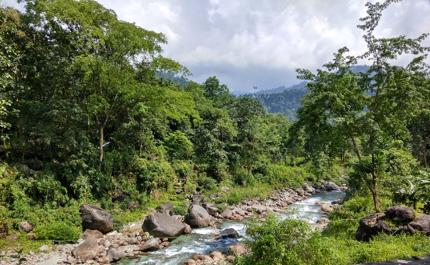 Right next to the rest house is a pathway leading to Jhalong River Camp which too is run by WBFDC and located right on Jhalong river bank. Tents (more like Glamps - glamorous camps) are provided with amenities such as hot water in attached bathrooms (although for limited time) and simple food. The common dining area too is set up in a natural setting in an wooden gazebo under tree shades. This is a good option for those looking to camp in tents. 
A tent at Jhalong River Camp, WBFDC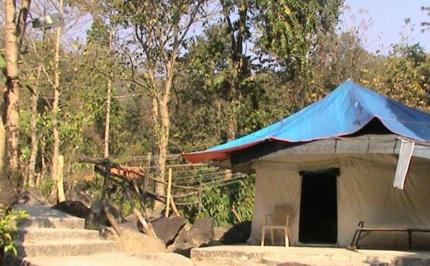 Right after the Forest Rest House there is a bridge to cross over Jhalong river. And then towards right a village road enters the Jhalong Market. Many Bhutanese villagers who live across the Jaldhaka river come to this market for their weekly provisions. There is a market in Bhutan hills as well known as 'Gol Bazaar' and villagers from Indian side too go there... an amazing harmony. 
Jhalong Market... also known as Jaldhaka Market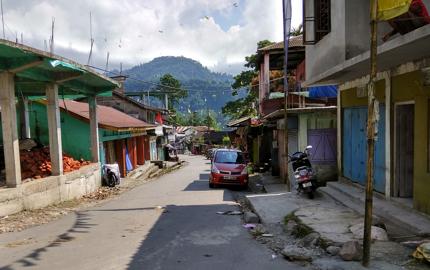 Further ahead about 3kms from Jhalong Forest Rest House is the Power Plant of Jaldhaka Hydel Project on the left. The first unit of this hydro power plant was commissioned in 1967 and the last in 1983. It has a total power production capacity of 36.9MW. 
Sentry at the entry to Jaldhaka Hydel Project Site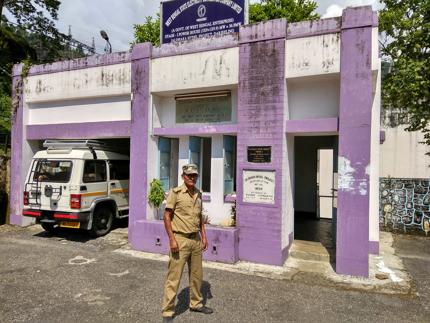 A sentry stands at the entrance... he mentioned that a prior permission from the West Bengal State Electricity Board (WBSEB) is required to enter the project site and see power production. So we could not enter the site but the sentry was gracious enough to pose for a picture. He also mentioned that the settlement in Jhalong developed mainly around this hydro power project. The dam for the Stage-I of this hydel project is located at Bindu which is further 7kms away and our last destination. 
Soon after the power plant site you can see the Jaldhaka river flowing on the right . And there was a nice cozy restaurant (Hotel Jaldhaka River Breeze) right on the river bank with a wonderful garden setting in front. Our local driver Kiron recommended that we take our lunch here. 
Restaurant (Jaldhaka River Breeze). 
See the outside seating with Jaldhaka river flowing below. 
The restaurant and the kitchen were run by few local Nepali ladies. The dining room was simple and spacious... we observed that other than tourists, the eatery is also frequented by locals (particularly the staff of hydel project) to take their lunch. You need to order a thali (meal platter) of chicken, egg or veggie, and each thali comes with rice, some common sabji, fries, dal and papad. Food was fulfilling. They close by 5:30pm unless you order in advance and they can keep it open till 7pm. 
Inside seating at the restaurant at Jaldhaka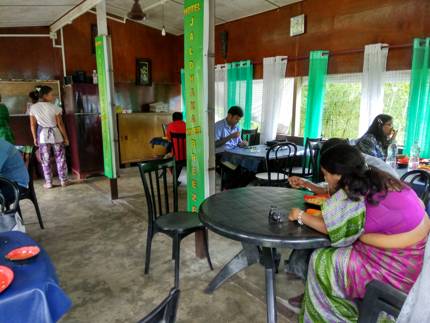 After lunch we moved ahead towards Paren which is further 2kms away. Paren is a cluster of small villages and spread out in three levels - Lower Paren, Paren Compound and Upper Paren. Once you reach Lower Paren, there is an unpaved road on the left which goes uphill towards Paren Compound and Upper Paren. I got down at the junction, discussed with a lady at the corner stall and decided to take the left turn to explore Upper Paren and Paren Compound. 
A local person (a nice well mannered & friendly man) who overheard me talking to the lady at the stall, intercepted us as we started. He mentioned that he runs a homestay here and invited us for tea. He also proudly claimed that his is the best home stay option in lower Paren and pointed his finger towards his house... an elegant house perched on the hill. We thanked him for the invitation, but due to time constraints we decided to move on. 
Paren... the road leads to Upper Paren. 
The house ahead is the homestay the man pointed to.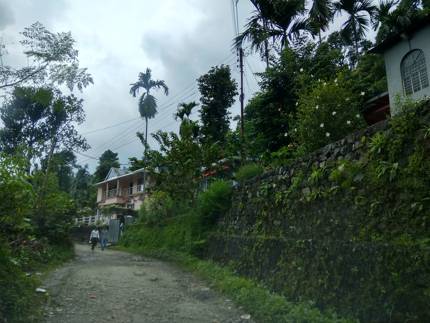 The road meanders through small mountain villages and lush forests of sal and coniferous trees. This uphill road is called Paren-Todey Road and reaches all the way up to the village Todey. However small cars will find the surface quite rough at patches because it's not a tarred road. 
In about 15-minute drive along this route there is a small nature resort at a place known as Upper Gairigaon and tucked on one side and almost hidden. The privately run resort is called Khambuhang Nature Holiday Camp (Phone: +91 9475478701). It has four independent small cottages in an excellent garden setting with flowering plants, pathways and surrounded by lush forest of Sal... an excellent place for nature lovers and honeymooners. 
Khambuhang Nature Holiday Camp Cottages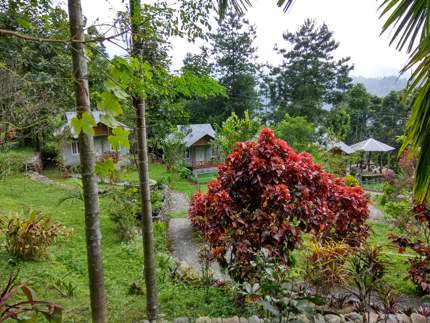 Each cottage has triple beds, a balcony, TV and attached bathroom. They can arrange for hot water. There is a car park at the road level from where a stony stairway leads down to the garden and the cottages. This is a budget accommodation. Homemade food is served in the common dining room. The local owner who stays in a plush bungalow on the opposite side of the road mentioned that they give 20% discount if booked directly. 
The Paren - Todey road goes further up to the quaint village Todey and beyond to Tangta village where there is a small monastery (the Tangta Monastery). 
The best accommodation in Paren is the WBFDC Paren Nature Resort run by the Forest Department and located at Paren Compound at an altitude of 2,500ft. There is a diversion to the left on Paren-Todey road before Gairigaon that leads to this nature resort.... the road ends at this resort. The WBFDC Nature Resort has 4 simple cottages scattered on a lush ground and surrounded by thick forest of pine and Sal trees. The cottages have TV, attached bath. Food here is average but the stay experience and nature around can compensate the shortfall by far. 
We were back to Lower Paren and moved on towards Bindu which is further 6kms away and located at an altitude of 2000ft. Vehicles can go up to a point and then you need to walk for about 200 meters to get to Bindu Dam (also known as Jaldhaka Dam) which is the main attraction at Bindu. As you walk, you see the valley, river Jaldhaka flowing on the bed of rocks and Bhutan hills towering on the other side... the view is stunning. The dam is on a valley surrounded by Himalayan mountains of both Bhutan and India. In fact Bindu is the last village on this route before Bhutan. 
Bindu Dam, Jaldhaka river and Bhutan hills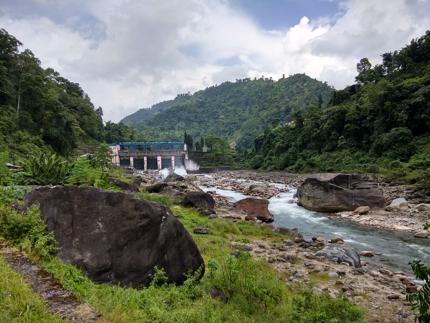 Soon we stepped down from the road to a pathway leading to the river through large boulders to see the dam from a close distance. You can not go up to the dam ... it is not allowed. This is the dam which is used for power generation at the Jaldhaka Hydel Plant that I mentioned earlier. The large rocks on the river bank are ideal to sit on and paddle on the cool waters of the river. However you need to mind your steps... the rocks are quite slippery at several places. Also the water current can be strong. 
Bindu Dam, a closer view from the boulders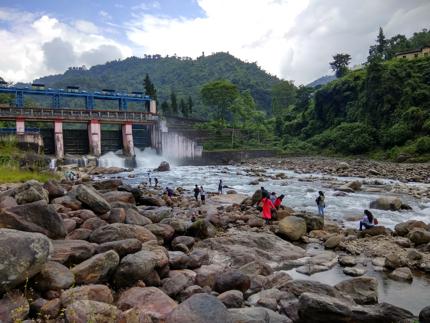 There are four gates on the dam... when open the water gushes out of the gates and scene at the dam is magnificent. Sitting on the rocks you can feel the mist coming out of the water and holding a camera lens can be difficult without getting it moist. 
There are three mountain streams that converge at the other side of the dam - Bindu Khola, Dudh Khola and Jaldahaka. They all merge at the dam and become one river... the river Jaldhaka. From this side though you can not see the three streams on the other side of the dam. 
After you get down from the car and start walking towards the Bindu dam area, there are couple of simple budget restaurants along the way... many tourists take lunch or snacks here.  
Restaurant at Bindu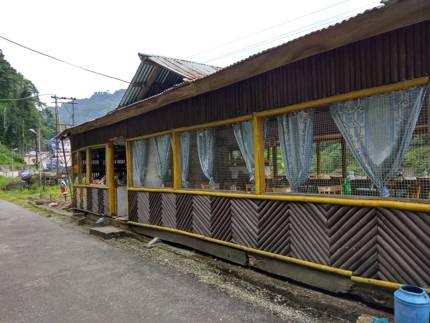 At several places around Bindu you can see cardamom (elaichi) plantation and orange orchards... cultivation of these is an important source of livelihood for the local villagers. You can also see terraced farming at several places near Bindu.  
It started drizzling and we were back in our car. Our final destination is Dalgaon View Point. We drove back to Gairibas (about 17kms from Bindu) and took a right turn. A 4kms uphill drive from here leads to Dalgaon village... you can see a lot of Cinchona plantations here (Cinchona plants are used in the production of quinine which in turn is used in the treatment of Malaria). From here towards right and after the check post we drove another 1km and reached the view point.  There is a small board at the check post indicating the direction to the view point. 
The view point has a nice manicured garden and a circular watchtower. We found several local young couples there engrossed within themselves... a good place for lovers. The view from here is excellent. You can see the Jaldhaka river below flowing through the valley and the Bhutan hills on the other side. You can easily spend 15-20 minutes here soaking in the views and the ambience. 
Note 
Most of the Lodges, Rest Houses and Camps of WBFDC (West Bengal Forest Development Corporation) that I have mentioned above, can be booked through their Salt Lake (Kolkata) office. Some of the WBFCDC lodges/cottages including Jhalong River Camp and the one in Paren can be booked online through the official website wbfdc.net. 
Booking Office: 
Aranya Bikash, West Bengal Forest Development Corporation Limited 
KB19 Sector-III, Salt Lake, Ground - Floor, Kolkata - 700106 
Phone: +91 33 2335 0064; +91 7604044479  [Timings 10am - 5pm] 
Related Articles
Visitors' Reviews/Comments
Arun Kumar Ghosh (March 2021) 
Ohh! What a beautiful & fantastic description of the places covered with proper guidance for the tourists who are coming for the first time in Dooars. A vivid description and true guide of the places, if anyone goes through the lines.