Dooars Tea Garden Tour & Tea Resorts
When you drive across Dooars, one thing remains common is the wonderful sight of vast stretches of sprawling tea gardens. You will surely wish to see some of them from closer proximity and spend some time there, and eventually have a growing desire to perhaps stay overnight at a tea planters bungalow that was originally built in the British era but has retained the colonial aura. 
Well, staying in a tea resort bungalow may not be an option for all... because such tea bungalows are limited in number and relatively expensive. Limited because tea tourism in Dooars is relatively new, and expensive because such upscale tea bungalows are mostly targeted for luxury travelers. 
Having said that... other than tea resort bungalows there do exist few budget accommodations that are set up in tea estates and offer nice way of enjoying the gardens and even tea plucking.  
And one thing which is in huge abundance and free are endless stretches of tea gardens for all to visit on a day trip and enjoy. With permission from the manager, you can also make a visit to the factories and watch tea processing. There are presently 324 tea gardens in Dooars each spanning across hundreds of acres of land areas. And they are spread out almost all throughout the Dooars plains. So you can't miss a tea garden while in Dooars. 
However there are some tea gardens that are special when it comes to views, backdrops and the settings with wonderful greenery and serenity. Below I have described visits to few of such lovely tea gardens and followed by the best tea garden resorts that can suit all pockets. 
Tea Gardens - Dooars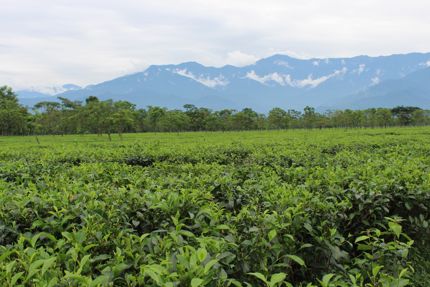 Great tea garden tour in Dooars
While visiting Gorumara National Park, you should carve out some time for tea garden tours. This can also be done along the way while driving from Gorumara to Jaldapara. For tea garden tours you need to have your own vehicle because it will require you to drive through the gardens. 
Below I shall let you know about two of the most picturesque tea gardens in Dooars - Daranipur and Chengmari. Additionally you will visit a riverside view point that will blow your mind off. 
In Gorumara the two most popular places for tourist accommodations are Lataguri and Murti. You need to first get to Chalsa... a small township which is 20kms from Lataguri (takes 30 minutes by car) and only 8kms from Murti (about 10-12 minutes by car). Here take a right turn towards National Highway #17 towards Nagrakata. Along the way you will pass by Khunia More and then cross over Jaldhaka river. And soon you will pass through Nagrakata. 
After about 20kms from Chalsa you will see a country road on the left with a signage on the main road showing 'Chengmari Tea Estate'. You will get that signage about 500 meters before the bridge over Diana river. If you instead reach the Diana bridge then you know that you missed the signage. Take a left turn at the signage and into the country road. It passes through Looksan village. 
Soon you will reach a point where the route straight ahead leads to Chengmari Tea Estate while the one on right to a settlement known as 'Lal Jhamela Basti'. Take the right here (we will come back here for Chengmari later). Drive along and you will find yourself in a picture perfect setting of tea gardens on both sides of the road. This is Dharanipur Tea Estate. Get off the car and soak in the views. 
Dharanipur Tea Estate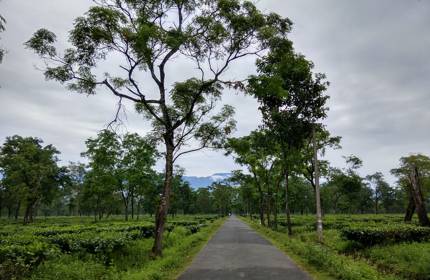 Look straight ahead and you can see the Bhutan hills... it feels as if this road meets the foothills at the horizon. Walk through the gardens and watch how '2 leaves and a bud' is formed on the tea bushes which are plucked for the best quality of tea. This is a great place to take pictures. 
2 leaves and a bud plucked at Dharanipur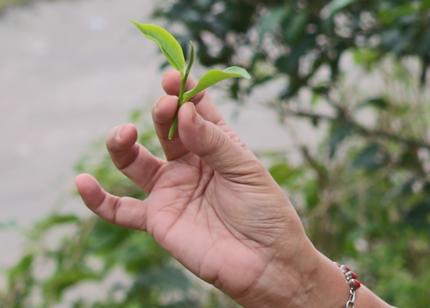 Drive along and soon you will reach a right and then a left turn... stop at the left turn and notice that a walkway through the tea bushes leads straight ahead. While we were looking curiously towards the pathway and wondering where would that lead to, a garden worker on his bicycle noticed us. He came by and said... that pathway leads to the Diana river and a viewing area which very few tourists know about. He advised that we should not miss that... it's only 5-6 minute walk. 
Starting point of the walkway towards Diana river 
Walking along the pathway and through the tea bushes was an experience by itself, but when we reached the river bank, we were absolutely spellbound by the views around. 
Walkway through tea bushes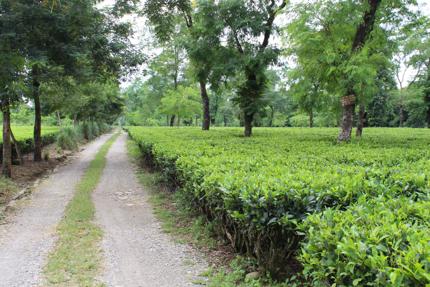 Dharanipur tea gardens on one side, Diana river flowing below and Bhutan hills on the other side towards left with patches of clouds scattered on them.... stunning views. There is a bamboo made seat and a table on the river bank... perfect for a picnic and enjoying the views. 
Diana River View Point, Dooars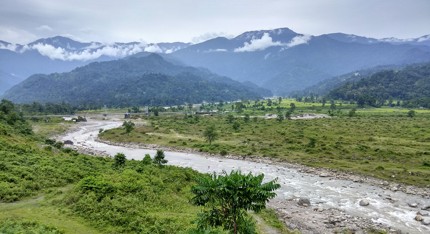 Look towards right along the river and you can see far away the bridge over the river on NH-17. This is the bridge you would reach if you missed the signage for left turn on the highway. And that route along the highway takes you all the way towards Jaldapara National Park. 
The bridge over river Diana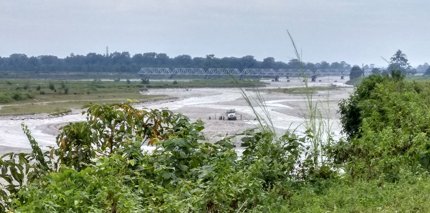 Having spent some time at the Diana View Point and after taking lots of pictures and videos, we started walking back. It started drizzling a bit but was very enjoyable. Had we known about the place we would have definitely brought packed lunch with us and enjoyed a private picnic. 
Back to the car... we kept driving along through Dharanipur tea gardens and in about 6-7 minute drive we reach a small village settlement ... this is Lal Jhamela Basti located 30kms from Chalsa and 10kms from the National Highway-17. Although this is an unassuming quaint village, it is significant for its sweeping views of Diana river and Bhutan hills, and also for its historic background. 
Lal Jhamela Basti 
The river bank here is full of large boulders and great for picnickers. However due to its low visibility in tourism sector and also its remoteness, there are hardy any tourists around. You can see few local kids and youths playing in the waters of Diana. From the bank of the river the view is stunning. You are closer to the Bhutan hills. You can clearly see the suspension bridge over the river that connects the Indian side with Bhutan. In fact you can walk for about 25 minutes to reach up to the bridge. 
Suspension bridge to Bhutan over Diana river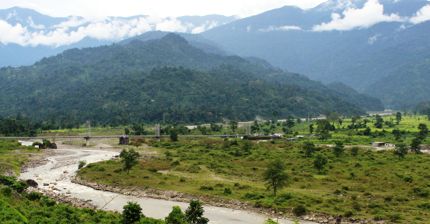 Lal Jhamela Basti has a poignant background... in early 1970s a violent movement took place here which was led by two CPI(M) leaders 'Lal Oraon'' and 'Jhamela Oraon' after who the village has been so named. The bloody movement took place because the villagers claimed that their right to the land was transferred to private tea companies by the Congress led Government. Lot of blood was shed during this movement when the villagers clashed with police forces. However gradually it all settled down as 329 families were given free land of 3 bighas (i.e. 60 cottas) each. 
Now the village is a sought after place for nature lovers who would like to spend few days in tranquility and away from the touristy crowd. And there are a few home stays here that are owned and run by the villagers. One such home stay is Riverside Homestay owned jointly by Ashok Sharma and his Partner Gautam Biswas which is located on the main road and by the river side. 
Riverside Homestay, Lal Jhamela Basti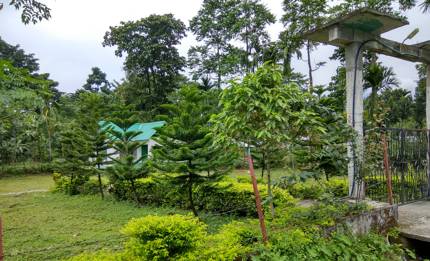 The homestay is set up in lush garden setting. The rooms are basic. There are several double rooms in two different bungalows. Homemade food is simple and Bengali type. When I met Sharma, he was doing the gardening work himself. I found it hard to believe that he owned this property. A nice unassuming man. You can contact him at (+91) 9734104340 for information & booking. 
We came back to the point where we took a right turn for Dharanipur Tea Estate. But now we would take the other route for Chengmari Tea Estate. Within a few minutes there was a signage of Chengmari where the tea gardens begin. Move along and soon you will be driving through vast expanses of lush tea bushes on both sides. There are walkways through the bushes. You can get off the car and walk through tea bushes to watch the tea leaves closely and even touch them. 
Chengmari Tea Estate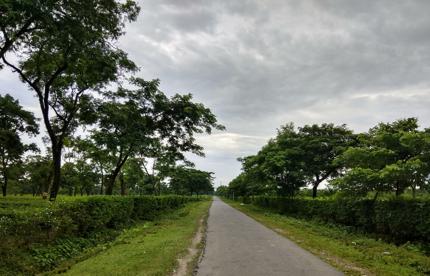 While Dharanipur Tea Estate does not have any factory, Chengmari does have a factory of its own where tea leaves are processed. Straight ahead along the main route you can reach the factory in few minutes of drive. Here with permission from the manager you can watch various stages of tea processing including withering, fermenting, drying and then weighing & packing. 
2 leaves & a bud in Chengmari Tea Garden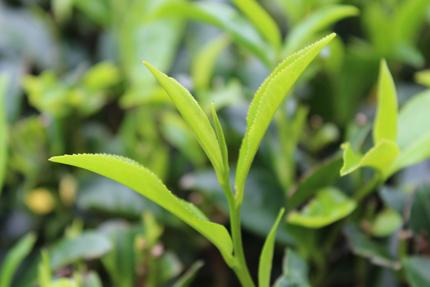 Great Tea Resorts in Dooars
Below are some of the great tea resorts in Dooars where you can plan to stay and have an intimate experience of tea gardens. The upscale tea resorts offer stay in tea planters bungalows which were originally built during the British era. However they have been luxuriously refurbished along with amenities to offer a flavor of both modern and colonial charm. 
Room rates of upscale tea resort bungalows usually includes all meals, evening snacks and fresh tea. Most such resorts also offer several other activities at additional cost including factory visits to see tea processing, tea garden visits to see tea plucking, sightseeing tours, jungle safaris, bird watching, river rafting, cultural performances in the evenings, campfire with barbecue etc. There are also limited mid-priced and budget resorts in Dooars tea gardens. 
Cost of upscale tea resorts can range from Rs, 10,000 to 15,000 per night for a room of two along with meals. While that of budget ones can be in the range of Rs. 2000 for a double room without food. In the mid-range the tariff would be around Rs. 3,500 for a double room. 
Nya Sylee Tea Resort 
(Category: Upscale) 
This is owned by the Octavius Tea and located at Nagrakata (about 21kms from Chalsa and 93kms from Bagdogra airport). Out of 775 hectares of total area, about 460 hecatres are under tea plantation. The plush British bungalow has three suites (one of them with an additional attached room to accommodate up to four). The grand veranda has sweeping views of tea gardens. The common lounge room has fireplace, TV, pool table and a small library. 
Nya Sylee Tea Resort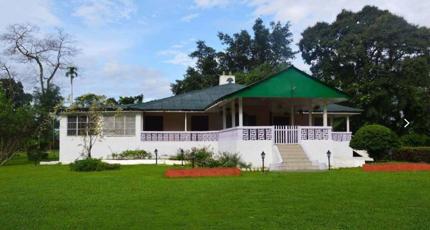 Rooms have King beds, tiled floors, dressing mirror, etc. The bathrooms are spacious and have walk-in showers and have hot & cold water. Toiletries are provided. The rooms are air-conditioned (in summer) and heaters are provided in winter. There is no TV in the rooms though. There is a nice lawn in front of the bungalow. It has hammocks hung from the trees and nice sit outs to relax over a cup of tea. 
Sylee Tea Resort 
(Category: Upscale) 
Octavius has another two-storied bungalow at Sailihat at Sylee Tea Estate which is about 17kms from Chalsa and 60kms from Bagdogra airport. There is an expansive veranda at the ground floor and excellent balconies on the upper floor offering lovely views of the tea gardens. It too has three rooms and a living room with similar amenities as the other one. However rate of this one is littler lesser. 
Sylee Bungalow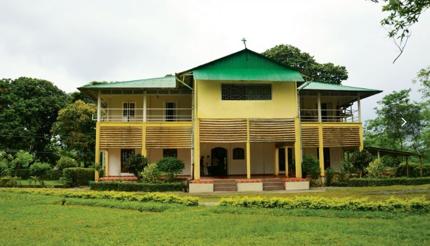 The Reserve, Fagu 
(Category: Mid-Priced) 
This is a 19th century heritage planters bungalow located at the lower Fagu tea gardens in Gorubathan area which is fringed by Batabari Forest at its southern end. It's about 20kms from Chalsa, 60kms from NJP and 75kms from Bagdogra airport. 
The Reserve, Fagu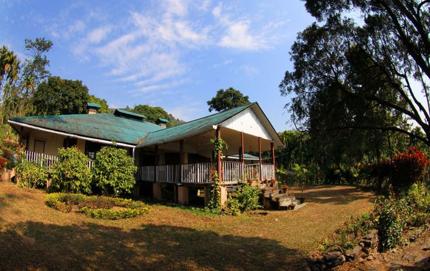 This tea resort offers a wonderful balance in terms of stay in a colonial bungalow amidst sprawling tea gardens yet at a reasonable price that can be afforded by even budget travelers. It has three large rooms. The bungalow has been constructed on a hill slope surrounded by tea gardens and forests. Great place to relax and have a quiet time in nature. 
Room in Fagu bungalow 
The main features of this bungalow includes its wood-floored grand veranda with wonderful view, large spacious rooms (that includes family room where 4 persons can stay) complete with fireplace, timber flooring, dressing table, windows with lovely garden views, attached modern bathrooms with geysers etc. There is in-room tea/coffee maker as well. The bungalow preserves the grandeur and charm of the British colonial days yet offers cozy modern amenities. 
However there is no air-conditioning or TV in the rooms. Ceiling fans are provided. Bathrooms have bathtubs, but the wash basins are small. The tea estate has a tea processing factory. So you can ask for a factory visit. They also organize tribal dance in the evenings. Campfire and barbecue are offered at additional cost. The dining and living rooms are large. Food is good but can be a little on the expensive side. The approach road to the bungalow is little cumbersome, but cars can reach. Once inside the bungalow compound... it's a different world all together. 
The Mystic Forest: A Tea Garden Resort 
(Category: Budget) 
All budget travelers should be able to get a nice flavor of tea gardens and sip a nice cup of Dooars tea with a stay in this resort. It's located at Jaldapara National Park area (in Madhya Madaraihat) and 15kms from Hasimara railway station. From NH-317 you need to take Rishi road that leads towards Holong Bazar. At one point a route on the right leads to the resort (however the last stretch of about 100 meters is not motorable, and you need to walk). 
Small cottage style buildings are lined up on rows and spread across a lush garden setting with many flowering plantations around. The whole resort compound is part of Jayshree Tea Gardens and you can walk around to the back side of the cottages to get a sweeping views of the tea bushes. The walkways within the resort is also nice. There are gazebo type sit outs with bamboo made seats and tables where you can relax in the morning and have a cup of tea. There are hammocks in the garden as well. 
The Mystic Forest Resort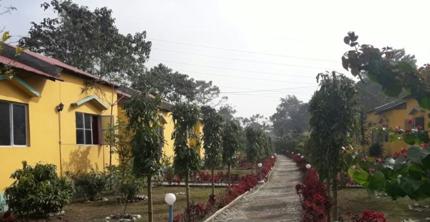 Rooms have small wall TVs, fans, attached western style bathrooms with geysers etc. Each room has a separate living area with sofa and divan. There is also a balcony with each cottage. However the overall finish of the rooms are quite basic. 
The food is prepared in Bengali as well as north Indian style. Although the food rates seem to be a bit expensive, the portions served are large and compensates for the price. Try out the chicken served on bamboo boats... one of their signature dishes. Staff are all nice and friendly, but are mostly from the local villages... so do not expect great professionalism. They are otherwise quite cooperative. Dining room is large and comprises of long tables where the guests sit in rows for their meals. 
Tea gardens at Mystic Forest Resort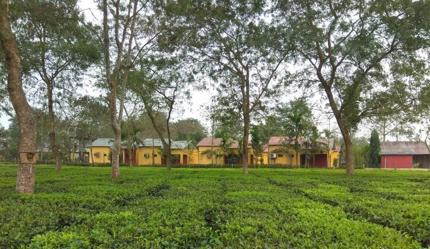 There can be some improvements such as curtains should be put up on the semi-transparent glass windows, brighter lights in the rooms etc. But overall a nice budget accommodation in tea gardens for a quiet stay and great for families on budget. 
Note: It may not be easy to locate The Mystic Resort. So talk to the staff beforehand and get the exact direction before you reach. Locals may not be able to help much with the direction. 
Related Articles
Visitors' Reviews/Comments