Banani Lodge of WBFDC at Murti, Gorumara
Category: Budget / Mid-Priced 
If you consider only quality of accommodation, amenities and service, Banani Resort may not appear to be a top-notch property, but with various other factors combined, this one is always the first to get filled up before any others in Murti area of Dooars. And there are several reasons for that. 
First, it's the location. The lodge with its 2-storied main building and several cottages is spread out in a large and lush garden setting, and located right next to Murti river. Several rooms in the main building as well as cottages offer lovely view of the river, forest on the opposite side with hills beyond.  
Second, being run by West Bengal Forest Development Corporation (WBFDC), the guests at Banani get the first priority of getting a booking for the Jeep safaris as well as Watchtower visits at
Gorumara National Park
. In fact you can do the bookings right at the reception without having to queue up for hours at the counter at Lataguri. The Jeep will pick you up and drop you at the lodge. 
Third, there are several different types of rooms and cottages within affordable rates. It can suit most budget travelers (but not the backpackers or those who are on very low budget though). 
As you enter the property through the main gate, you can see that it's spread out in a large compound with lush lawns and greenery all around. The pebbled pathway leads to the main building which has a small reception on entry. The first thing you should do is book the safaris or watchtower visits because that's one thing you must be having in your agenda and it's something very high on demand. 
Banani Lodge Murti, Main Building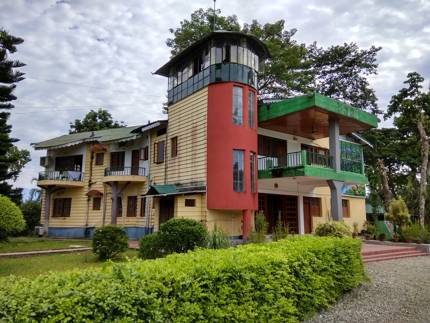 The dining room is right ahead on the ground floor. It's fairly large with few tables scattered. Not quite impressive but acceptable. There is a 3rd party contractor appointed for the food. They serve mostly Bengali type food here (along with few north Indian dishes). Food is quite good but limited in choice. The contractor's staff are quite nice and cooperative. But that's probably where the best part of the service ends. The other services provided by the resort staff are quite short of expectations. 
Dining Room, Banani Lodge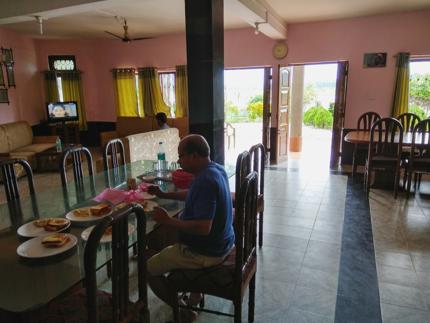 There is a TV at one corner of the dining hall with sofa seating around. So this area also serves as the lobby for the lodge where guests can wait while waiting for check in or check out. Outside the resort several small stalls have come up selling street side snacks & food. I have seen many tourists indulging in those trying to save on cost... not sure how hygienic that might be. 
There are several rooms in the main building both in the ground floor as well as in the upper floor. All rooms in the resort are named after rivers, birds etc. The ones in the ground floor have their entry doors from the dining room and noise in the dining area can make it a bit irritating at times. Several rooms upstairs like Jaldhaka, Torsha etc have great view of river Murti. Few rooms upstairs have garden view while others have partial view of the river. 
However there is a common large balcony upstairs at the back side and accessible from the lounge which has wonderful view of the grounds of the property, the river and the forest beyond. The forest you see across Murti river is the extension of Chapramari forest. 
From the dining room below there is a door that leads to the back side of the property. There is a children's playground there and you can see the cottages circling the grounds. From the backdoor you can walk along the pebbled path and go down right up to the bank of Murti river and enjoy the views. 
Banani Lodge (Main Building), Backside 
Other than rooms in the main building, there are several cottages of different types that are spread across the grounds... most are independent cottages (few on concrete stilts) and few two-storied ones divided into two parts (ground floor and first floor accommodations). Most cottages are air-conditioned while in main building you have choice of AC and non-AC rooms. 
Children's playground and cottages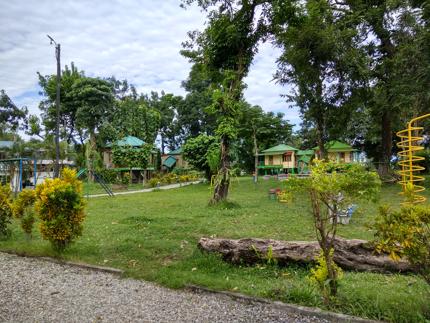 The cottages have a separate living room with a sofa seating area while the main-building rooms have a small seating area with a table and chairs. Rooms and cottages are spacious and have attached bath with geysers & western style toilets. They provide basic toiletries along with a small container having local honey. All rooms and cottages have intercom, TV and other basic amenities. 
View of Murti river from Banani lodge (backside)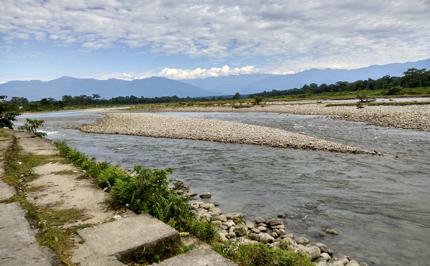 Free wi-fi is available in the dining area and in the rooms that are close to the dining hall. You can also use room service to get food and snacks in your rooms. Room rate includes breakfast which is usually toast, omelet & tea (optionally puri, sabji and tea). 
How to reach
Banani Lodge is located at Murti in Dooars. It's about 70kms from NJP (1 hour 45 minutes by car), 82kms from Bagdogra airport (2 hours 15 minutes), and 8kms from Chalsa. The nearest railway station is New Mal Junction (18kms). 
Lodge contacts
Reception - 7797870810; Manager - 7407368859 
How to book
Like all other WBFDC lodge, you can book Banani up to 90 days in advance by either visiting their office at Salt Lake City (Kolkata) or online using their website. If you specifically want to book a river view cottage or a room, I suggest you contact their lodge (numbers given above) and find out the names of the rooms/cottages that have river views and then book accordingly. 
Booking Office: 
Aranya Bikash, West Bengal Forest Development Corporation Limited 
KB19 Sector-III, Salt Lake, Ground - Floor, Kolkata - 700106 
Phone: +91 33 2335 0064; +91 7604044479  [Timings 10am - 5pm] 
Online Booking: 
Visit their official website (wbfdc.net). You need to register and create a free account first. 
Related Articles
Visitors' Reviews/Comments