Buxa Jungle Lodge WBFDC
Category: Budget 
This is arguably the best accommodation in
Buxa Tiger Reserve
area and is operated by West Bengal Forest Development Corporation (WBFDC). The lodge is located at a small village known as Rajabhatkhawa in Alipurduar district and is very close to the entry gate to the core area of Buxa Tiger Reserve. It is only 15 kms from the railway station of Alipurduar Jn. 
The highlight of this affordable lodge is its location. Nestled within nature and surrounded by forests of Buxa, the small resort offers a serene and a quiet ambience. If you plan to spend a few days in solitude away from the crowd to enjoy the views of forest and greenery, then this could be an ideal place. 
The surrounding forests is also a cause of occasional wild elephants straying into the premises of the lodge. I heard from the staff that the fence of the resort is often broken and damaged by herds of elephants who come here to eat jackfruits from the trees here. While a sight of elephants could be quite exciting, a stray tusker can be very aggressive and you should stay away from it. 
Entry Gate, Buxa Jungle Lodge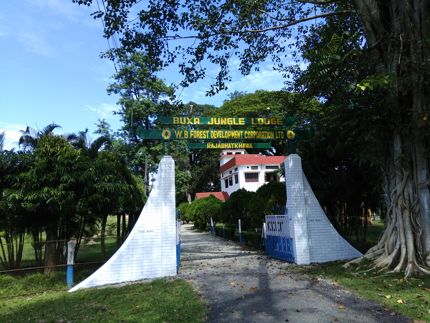 As you enter through the gate, you get into a long pebble stone pathway. On the right is Unit-1 which is the oldest building having few non-ac rooms as well as the common dining room. This is where you need to walk up for your meals (there is practically no room service here). 
Unit-1, Buxa Jungle Lodge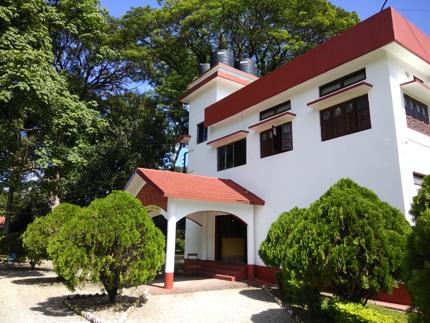 On the left of the pebbled pathway is a large wonderful lawn with lots of plantations, swings and seats to relax and enjoy the greenery all around. At one end of the lawn is Unit-2 which is built in a barrack style with adjacent rooms having a long and wide common veranda overlooking the lawn. This in my view is the best unit. Rooms are spacious and most have air-conditioning. 
The Unit-3 is at the farthest end, built like Unit-2 and has more privacy. However adequate natural lights is an issue here as the only window from the rooms open to a covered space behind. In front though they have a long common veranda and overlooks a side lawn. 
Unit-2 in front, Unit-3 farthest away 
There are overall 10 double bedded rooms, 1 three-bedded room, 3 four-bedded rooms and a 6-bed dormitory. There are options for a/c or non-a/c rooms which is rare in this area. Rooms in Unit-1 are smallest and not quite well maintained. They are the cheapest but you should avoid those if you can, although one advantage here is the common dining room. 
Common Balcony in Unit-2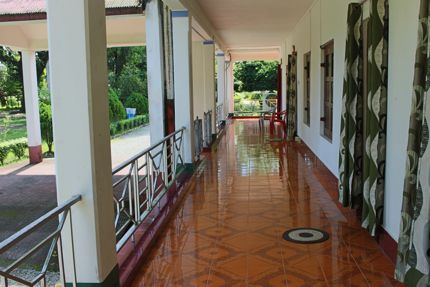 All rooms have standard amenities including TV, attached bath with geysers etc. Rooms would be given clean, but daily cleaning is not done unless you keep harping on it. The furnishing is not quite modern but blends well with the rustic natural surroundings. You need to order for food well in advance, otherwise they won't make it (there is a 10% service charge added to each order although there is no room service provided. You will be lucky to get a morning bed tea). There are not any choices in the food menu which is typical Bengali cuisine. However the food quality is acceptable. 
A room in Unit-2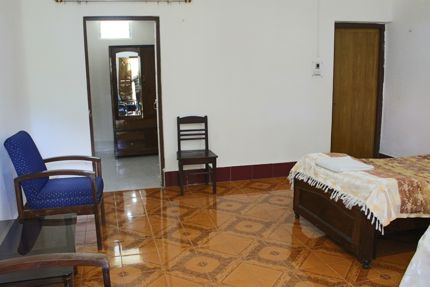 Service is less than average. I found the staff often busy playing carom on the open lawn and not much interested in attending to guest calls for service. This is what happens when untrained village youths are engaged in such hospitality service. So expect inconsistent and nonchalant behavior at times. 
How to reach
The Rajabhatkhawa station is almost adjacent to Buxa Jungle Lodge. There are very few trains that stop here though (Kanchankanya Express from Kolakata and few passenger trains from Siliguri are the only ones that have stops here). Although the lodge is very near, there is no direct entry to the lodge from the station. You need to take a jungle route and walk for about 1km to get to the main gate of the lodge (unless you get some transport like an auto which is often not available). 
If you are with family, kids or old members, it is better to get off at Alipurduar station. You will get ample taxis and autos there, and the lodge is only 15kms from Alipurduar station. NJP (New Jalpaiguri) station is 162kms and will take about 4 hours by taxi. Bagdogra airport is about 171kms away. From NJP station or Bagdogra, a small taxi fare is around Rs. 3,500/- (Fare updated: March 2022). 
Contacts & Booking Office
Aranya Bikash, West Bengal Forest Development Corporation Limited 
KB19 Sector-III, Salt Lake, Ground - Floor, Kolkata - 700106 
Phone: +91 33 2335 0064; +91 7604044479  [Timings 10am - 5pm] 
Website: wbfdc.net 
Related Articles
Visitors' Reviews/Comments