Ramada Hotel Darjeeling
Category: 4 Star 
Style & Character
This property belongs to Ramada group of hotels and opened in 2017...one of the latest additions to luxury hotels in Darjeeling. It's located at the heart of Darjeeling township and only 500 meters away from the Chowrasta Mall. It's a fairly large property... the exterior is painted with a combination of blended gray, brown and burgundy and the same theme continues to the interior of the hotels including the rooms. The front facade is broad and overall gives a modern look. 
The hotel targets mid-range luxury travelers including tourists & families who want comfort and modern amenities while staying centrally in the town and close to the main shopping and dining hub. The hotel also targets corporate and business segments equally. However the location of the hotel is quite congested. During high season you might find vehicles right in front of the hotel entrance and need to negotiate your way through to the lobby entryway. 
Ramada Hotel, Darjeeling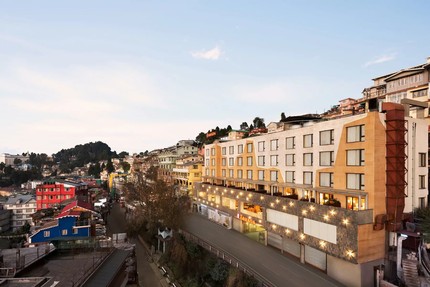 The lobby is at the road level and that makes it convenient for the seniors and those having mobility issued to easily access the lobby. There are elevators in the hotel. 
Rooms
There are 62 rooms of different types. The Deluxe Rooms do not have mountain views, instead they face the pool and manicured greenery. The Superior Rooms are similar in size and amenities but have large windows with great views of Kanchenjunga snow peaks. The Premium Rooms have private balconies that open out to lovely views of the mountains and snow peaks. All these rooms are 330 square feet in size and have adequate space. 
Superior Room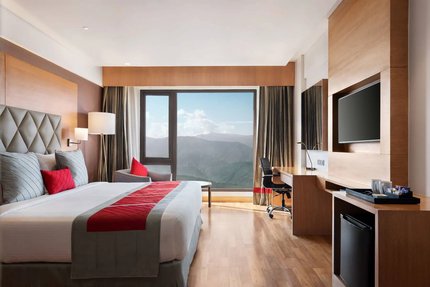 Apart from the above, there is one Suite Room of 1108 sq. ft space offering great vistas of the mountains, and there is a room dedicated to persons with impaired mobility which has broader doors and wheel-in bathroom. Check out
Hotels for physically handicapped
to know more about this room. 
Common in-room amenities include king size or twin beds, free Wi-Fi, 40" LED TV with satellite channels, tea/coffee making machine, iron board on request, work desk, electronic safe, hair dryer, STD/ISD phone, complimentary 2 bottles of water, stocked minibar (chargeable though) etc. 
Premium Room (with balcony)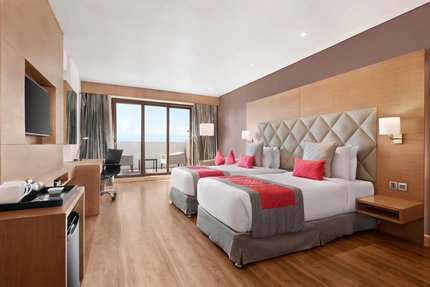 However the most impressive and a rare facility in Darjeeling is the centralized heating system which is extremely useful during the night times and all day in winter. The basic room heaters provided by most other hotels in this category are inadequate although some hotels have started offering electrical bed warmers. The central heating is far more comfortable to other alternatives. Bathrooms are well done up. They have separate glass covered shower/bath area and come with nice toiletries. 
Bathroom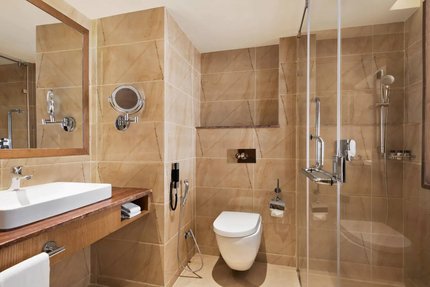 Amenities & Service
The entire hotel is wi-fi enabled and it's free, and that's a big plus. There is a gym with some basic equipment as well as a spa where you can get massages, skin treatments. There is a Sauna as well. 
Although the hotel has a pool in the second floor, it has remained non-operational as of Feb 2019. Even after it gets operational, looking at the size, I would hesitate to call it a real swimming pool. I am told that it will take more time (not sure why) to get it operational. 
There is a children's play room with a few board games, darts etc. They also have a car rental desk. They can also get you a taxi (however charges are much higher than what you get from the outside taxi stand which is just steps away). The front desk is manned 24 hours. 
Overall the service is courteous and friendly and they try their best to fulfill your requirements. However at times you might find the service a little unprofessional and lacking proper training. There is no car parking in the hotel (which is quite unexpected from a hotel of such size and category). There are laundry service, daily house keeping service, room service and they even offer late check out facility. 
There have been instances where cleanliness has been an issue... you would find hairs a the corners of the room, but this is more of an exception than a norm. But one real problem is the noise from outside, the rooms specially the ones at the lower floors and facing the road can be subjected to road traffic noise. The sound proofing of the rooms are not quite adequate. 
Food & Drinks
Although the hotel touts about being a pure vegetarian hotel, it strangely offers non-vegetarian dishes as well including eggs and chicken. The buffet breakfast spread is good. The dining room is large and quite impressive and has large glass panels offering views of the township and the mountains. 
They offer continental, Indian and Chinese cuisine. Overall the food quality is good. Sometimes the portions are inconsistent... you might be surprised to see larger or lesser quantity of the same dish compared to what was served earlier. 
Dining Room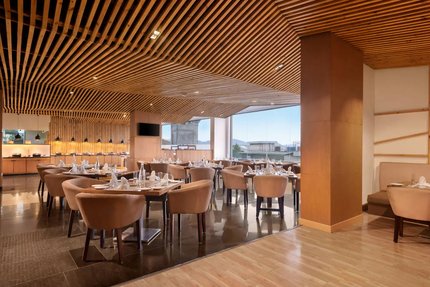 Although there is a provision of a bar, it has remained non-operational as of February 2019. It seems they haven't received the bar license yet. You can however go out and walk a little to buy a bottle from a liquor shop and have it in your room. The rooms are all non-smoking though. 
Rates provided by booking.com 
Location
As I mentioned, Ramada is located in a congested area full of passing traffic. Entry is right from Gandhi road and steps away from the junction of Ladenla road, Nehru road and Gandhi road. Outside the entrance of the hotel the area can get quite jammed with vehicles. 
Otherwise the location is very convenient. The main shopping area on Nehru road, great restaurants like Glenary's and Keventers are only stones throw away. The Chowrasta Mall is only a 500-meter walk. It can't get any better when convenience is a primary requirement. 
Rates provided by booking.com 
2-3 Auckland Villa Gandhi Road, Near Capital Tower, Darjeeling, West Bengal 734101. 
Related Articles
Visitors' Reviews/Comments