Visit Fambong Lho Wildlife Sanctuary
What to expect
If you are a nature lover and visiting Gangtok, then spare minimum a day to visit Fambong Lho Wildlife Sanctuary. I say minimum a day because you can also stay there overnight in complete solitude in a log hut surrounded by lush forests and with nature as your only company. 
Don't expect the big cats or even elephants and rhinos in the forests here... you won't find them. This dense jungle is a home to smaller yet many rare animals, range of colorful birds, and varieties of rainforest plants and trees that comprises of oaks, ferns, bamboo and different medicinal plants. Fambong Lho Sanctuary is spread across 52 sq. kms between Singtam settlement and Dikchu village. 
Red Panda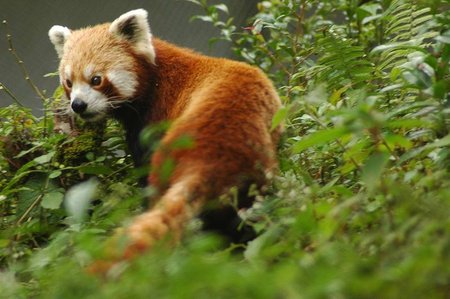 Photo: Wikimedia Commons 
Sir Joseph Hooker, the British botanist and explorer had mentioned that among all places in Sikkim, Fambong Lho has the maximum varieties of rhododendrons. Apart from the species R. Nivale which is found in high altitude areas, all other varieties of rhododendrons can be found in this sanctuary. You can also find several varieties of orchids here. The sanctuary gets its name from the Lepcha word "Hambomloh" meaning wild local varieties of avocado trees that are also found in abundance. 
Among the animals in the sanctuary, there are Red Pandas, Civet Cats (including the rare species known as the Bear Cat), Barking Deer, Yellow Throated Martens. If you are lucky, you can even spot the Himalayan Black Bear. Other animals include Red Fox, Musk Deer, Takins etc. Occasionally, even Clouded Leopards have also been spotted. However, animal sighting may not be always possible, particularly if it has rained and become foggy when the visibility also becomes low. 
Black-eared Shrike-babbler at Fambong Lho WLS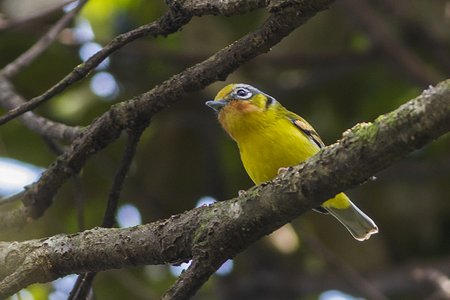 Photo: Dibyendu Ash, cc by sa 3.0 
Fambong Lho is a great place for the bird watchers. There are numerous species of birds in this sanctuary including the beautiful and endangered satyr tragopan, fire-tailed myzornis, different types of minla, babblers, chestnut-crowned warbler, different types of laughingthrush, etc. 
Satyr Tragopan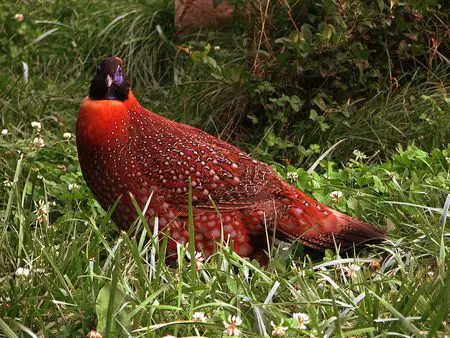 Photo: Estulif, cc by sa 2.0 
Day Trip from Gangtok
Most tourists go there on a day trip from Gangtok and you should be ready for a trek along the jungle trail... there are no jeep safaris inside. Fambong Lho Sanctuary is located 20kms away from Gangtok town and it takes nearly 1 hour to reach by car. 
The motorable road from Gangtok ends at a place called Pangthang, and then you need to walk for about 20 minutes to get to the main gate of the forest. Cars can't go all the way up to the entry gate. On the way at Pangthang you will pass by a 10-acre nursery of G.B. Pant Institute... there are so many varieties of colorful orchids and medicinal plants here.  
You need to get a permit in order to enter the sanctuary (refer to 'How to visit' section below for details). There is a marked hiking trail inside and you must stick to that and not stray around. 
From the gate, the hike is uphill from an elevation of 5000ft to 7000ft over a distance of 3kms and you will reach the highest point of the sanctuary known as Tinjure. The last section of the trail to Tinjure top has a series of steep steps along a ridge leading up to the view point (a gazebo) on top. Once at Tinjure on a clear day, your rewards will be awesome. You can get wonderful view of the Himalayan range including that of Mt. Kanchenjunga snow peaks. 
Tinjure View Point 
From Tinjure, you can also see the whole of Gangtok town and the river Teesta below flowing through its valley. There are also few watchtowers in the forest including one at Tinjure. 
You can do the entire trek (up and down) in 3-5 hours depending on the pace you keep and time you spend in between. You should wear comfortable shoes like sneakers, carry enough water and snacks (but do not litter the forest with the wastes). 
Night stays in the sanctuary
In order to properly feel the nature and the sanctuary and get close to your inner soul and silence, a better option would be to stay overnight at the Golitar Log House that belongs to the Forest Department of Sikkim. It is located outside the gate in the buffer zone of the forest. 
Log House at Golitar, Sikkim 
Photo: Dibyendu Ash, cc by sa 3.0 
From Pangthang (the point where you need to leave your taxi/car), the Log House at Golitar is a 7-8 minute walk (can take little more time if you have luggage). You can book this directly through forest department or through a registered local tour operator. 
This is a simple lodging with only basic amenities. You will need to get your provisions (i.e. groceries and all edibles) and cook yourself and wash your dishes. The kitchen has cutlery and oven. There is virtually no service. There is a caretaker and his wife. But they won't be at your beck and call, they come and go at their own time. However, if you tip them, they can help you in cooking. 
They can also arrange for some vegetables which they pluck from the forest. If you ask them, they can prepare a curry from wild bamboo shoots right in front of you which is quite tasty. And if you give them some money (around Rs. 150-200), they will get log wood in the evenings and fill in the huge earthen oven in the kitchen, and light it so that you can stay warm while having dinner. 
When the night falls, all you can hear are the occasional sounds of the animals, and when the sun rises, you hear only chirping of the birds. Wake up early in the morning and you get magnificent views of sunrise over Kanchenjunga from this log house. You get lovely views of the snow peaks from Golitar. Sit on a chair on the small balcony and you will realize there is only one company you have here other than your co-traveler, and that is the nature. Far away from the touristy crowd, you will feel for once that you needed this break and solace quite badly... it was long due. 
How to visit Fambong Lho WLS
It is best to go through a registered tour operator in Gangtok to visit Fambong Lho WLS, whether for a day trip or for night stays, combined with a trek. Visit
Gantok Local Tours & Operators
and in the last section of the page you will find a list of reputed operators.  
Here are few things to note: 
You will need a special permit from Sikkim's Forest Department which can be arranged by the operator. The permit fee is nominal (Rs. 55/- per person). You will need a Photo Id proof like your Passport or Voter's Card plus two passport size photographs to get the permit. 
You should also go with a knowledgeable guide so that you can understand the flora and fauna of the forests. The operator can arrange for the guide as well. 
If you plan to stay overnight, the operator can also book the Log House at Golitar for you. The Log House is about 50 meters outside the gate. The cost is around Rs. 500 per day per person. 
The operator will arrange for the transport, drop you and bring you back on the day of your return. If you are going on a day trip and trek, an estimated cost would be Rs. 3,000 per person which includes return transport from Gangtok, permit fee, guide fee and a simple lunch. The rate will however depend on your group size. 
Fambong Lho WLS is open from 8am to 3pm. 
Best time to visit: March to late May and September to mid-December. 
Related Articles
Visitors' Reviews/Comments