Kabi Lungchok, North Sikkim
Kabi Lungchok is a historic spot located amidst forested area in Kabi, a small village located in North Sikkim and 21kms from Gangtok town and takes about 55-minute by car. While Sikkim's original tribe Lepchas have been living in Sikkim (mainly in north Sikkim) since centuries, over the years thousands of Bhutias have also migrated to Sikkim from Tibet. 
It is at this spot where leaders of the two tribes Bhutia and Lepchas had sworn loyalty to each other in 13th century to become blood brothers so that both the tribes can live harmoniously and peacefully in Sikkim for generations to come, and that became a reality in the state. 
Entry to Kabi Lungchok 
The legend (which has been propagated traditionally by words of mouth) says that in 13th century Khey Bumsa - the prince from the Minyak House in Kham in Eastern Tibet, and Thekong Tek - the religious leader of the Lepchas along with their followers and advisers met at this spot where they completed the swearing ceremony for the two races to be in blood brotherhood. 
They invoked all the powerful spirits of the valley to be witness during the event. They swore that the two tribes will remain in blood brotherhood as long as the river Rangeet flows and Mount Kanchenjunga exists. They dipped their feet into a vessel filled with animal blood and erected a stone here as a mark of this significant event. The place is considered sacred by the Sikkimese. 
Pathway through forest to Kabi Lungchok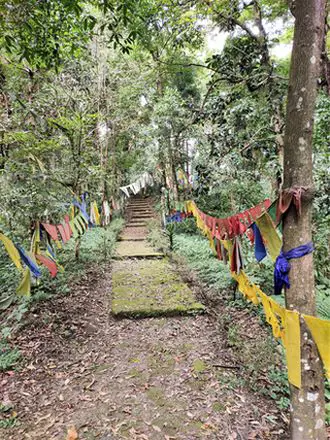 The entryway to Kabi Lungchok is at Kabi village and by the roadside. Just stop your car and walk through the entry gate... there is a stony stepped pathway through a forested area and you will reach the spot in about 3-4 minutes. It's an elevated place within the forest. There is a large statue erected here in the middle of the jungle showing Khey Bumsa, Thekong Tek and his wife. 
Kabi Lungchok - The Statue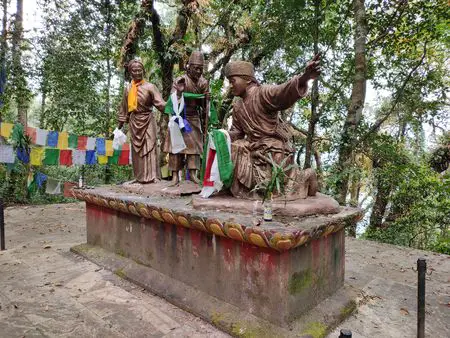 Unfortunately the entire place is not quite well maintained. There are numerous flying insects all around that swarm in. There is no entry fee for Kabi Lungchok. Not many however seem to visit this place. There is a circular area fringed by low stone walls few meters before the statue. You can sometimes find school kids taking a break on their way back home and chatting here. Nobody in the locality seems to know when this stone-wall fringed circular area was built and why. 
However, the recognition of brotherhood between the two races have such deep respect within the Sikkimese that in recent times a new statue has been erected near the entrance to MG Road. You can see this if you walk a few meters up the road that goes up the hill right next to where MG Road begins. The statue shows Thekong Tek along with his wife and Kye Bumsa in a sitting posture. 
Related Articles
Visitors' Reviews/Comments