Tour of Chopta Valley in North Sikkim
Chopta Valley is located in North Sikkim at an altitude of 13,100 feet and can be approached from
Lachen
. It is not verdant and green like most other parts of Sikkim... it has rather a barren and austere landscape that seems exotic. In the spring however the valley transforms itself and becomes a riot of colors as primulas and rhododendrons and thousands of unnamed blooms color it up. 
Chopta Valley, North Sikkim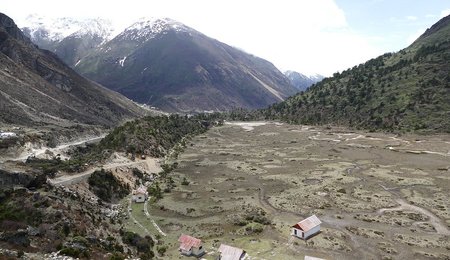 Photo: Ankur Panchbudhe/flickr 
For general tourists, it's best visited on the way from Lachen to
Gurudongmar Lake
or on your way back from the lake. 35kms ahead of Lachen and towards Gurudongmar lake, you will come to Thangu village. And soon after Thangu, you need to take short a detour to arrive at Chopta Valley. The distance from Lachen to Chopta Valley is 39kms and will take nearly 2 hours by car. 
A rough mud hewn road runs along the valley and it's recommended to park your car here for sometime to imbibe the tranquillity all around and take some great pictures. 
On the way to Chopta Valley, North Sikkim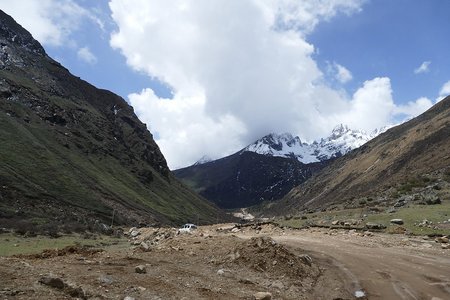 Photo: Ankur Panchbudhe/flickr 
The place contains several snaking rivers which freeze over from autumn onwards. Look at the scattered green shrubbery dotting the valley…these are the last greens on this vista as the road goes up to the Tibetan plateau that's virtually bare. It's here that you can experience walking on a frozen river (extra caution recommended!!). You can also opt to go on a super adventurous trek to Mungthang valley (15,500 feet) from Chopta Valley. 
The nomadic Lachenpa tribes chose Chopta as their summer home and some years back it was the practice of the entire village to follow group migration practices. The whole village shifted to Thangu from Lachen in summers but right now they have started leading a more settled life. 
The Chopta Valley offers grand sweeping mountainous vistas, fresh air and lovely wildflowers along with birds who have not yet begun to shy away from humans. These are rough and untamed lands though... don't expect coffee shops and public toilets here. 
Chopta Valley, North Sikkim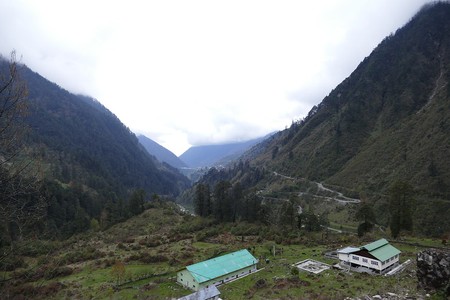 Photo: Ankur Panchbudhe/flickr 
There is no accommodation option here... you need to choose to stay either in Thangu (restricted) or in Lachen in order to explore Gurudongmar lake and Chopta valley. 
Best time to visit
Try visiting anytime between April to Mid-June (spring and summer) and October to November (autumn) when the weather is excellent. Avoid the monsoon period between mid June to September as the routes become slippery and treacherous due to rains. The spring months are best for experiencing the flowers and autumn is good for seeing the frozen rivers. 
Location and Transport
Chopta valley is 160 km away from Gangtok and most tourists stop overnight at
Lachen
and energize themselves for the journey to Chopta valley via Thangu. Note that Chopta Valley is usually covered as part of the
Lachen and Gurudongmar Lake tour
. It is a protected area and you need to go through a registered tour operator to visit these places in North Sikkim. Jeep type vehicles and SUVs are used to get to these places because of rough roads and terrain. 
International tourists have travel restrictions to Chopta... however a pass can be obtained from the permits office at Gangtok if one so desires. You must go through authorized tour operators. 
Thangu has a military check post where your driver needs to get down and complete some paperwork before you can actually proceed further. Thangu to Chopta Valley will only take 20 minutes if there aren't any road obstructions. Stock up on maggi, momos and butter tea from the stalls here….Chopta is beyond the reach of such amenities. 
Related Articles
Visitors' Reviews/Comments