Sikkim Travel Card
The new way of traveling to Sikkim
What is it?
Don't imagine this to be some kind of discount travel card which you can use to avail discounts at hotels, tours and other outlets in Sikkim. Instead, it is a mandatory online card for tourists and visitors to visit Sikkim which has been introduced by the Sikkim government due to the Covid-19 pandemic. It's now part of the 'New Normal' way to travel to Sikkim. The Sikkim Travel Card (also known as Sikkim Arrival Card) is free of cost and can be obtained from the Sikkim Government website instantly through an online application.  
The objective of the travel card is to enable Sikkim Government to know your personal, group, health and tour related details in advance and track the status during your stay in Sikkim so that you can enjoy Sikkim responsibly and safely while ensuring health and safety of the residents of Sikkim. 
Sikkim Travel Card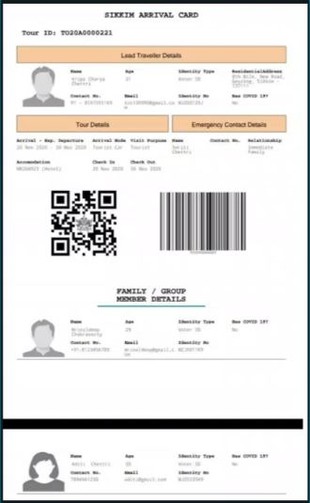 Note that the Travel Card is required in addition to
existing Sikkim Permit
(i.e. Inner Line Permit / Protected Area Permit which you might additionally need depending on your nationality and intended place of visit within Sikkim). The permits are meant to safeguard against security concerns while the Travel Card is to safeguard against Covid-19 Pandemic concerns. Both are in effect simultaneously. 
In order for the state officials to track your tour status, you will be required to update the travel card information online everyday during your stay in Sikkim. Your hotel or tour operator can also update the card on your behalf, which they usually do taking away your daily headache. 
You should have the Travel Card ready and duly filled up in advance before you enter Sikkim. Because, at the entry points of Sikkim (such as at Rangpo or Melli Check Post), you will need to show the travel card. You may be denied entry if you fail to do so. Even if they allow you conditionally, you must get the card when you check into your hotel. For that, you must carry all required documentation such as your scanned copy of passport size photo, government issued photo ID etc that are required to generate the travel card. Foreigners will need to upload scanned copy of their passport. You can be in a mess, if you do not get proper internet connection in your hotel for some reason. 
Also note that you need to carry the Travel Card in Sikkim all the time. Enforcement officers have been designated who may check at any point of time and you need to show them the updated card. 
How to apply & get the card?
As already mentioned, you will need to make an online application. There are several sections in the online application form. Once you fill it up and submit, you can generate the travel card and then download it or print it. If you have all information ready when you start filling up the form, it takes about 10 minutes to complete the form and generate the card. If you have other members traveling with you, then you will need to fill up their details as well and the application process will be longer. 
Once downloaded, you can store the card in your mobile phone in PDF form. Every time your travel card information is updated online, you are required to download the latest card. 
Before you jump into the online application form, go through the steps below to understand what information will be required in different sections as you start filling up the form: 
SECTION-1: Personal Details 
This is where you need to fill up your personal details. If you are travelling in a group or family, the personal details of the Lead Traveler (i.e. the main member) should be entered here. The information and softcopy of documents required in this section includes: 
Name, Date of Birth, Gender 
Email, Mobile Phone Number (you should be contractible on this phone in Sikkim) 
Upload a passport size photo (up to 250KB in size and in JPG or PNG format) 
Nationality, Specify type of Photo ID you will use (i.e. Voter's Card, Driving License, Birth Certificate or Passport), ID No., and then upload a scanned copy of the Photo ID. Note: Aadhar card is not accepted. Foreigners need to upload their passport. 
Residential Address and Emergency Contact Details. 
Once you have filled up the above details, you can press/tap on the 'Continue' button and an OTP (One Time Password) will be sent to your phone. Once you verify the OTP, you can proceed to the next section of the application form. 
SECTION-2: Tour Details 
Here you need to mention Sikkim Entry and Exit details and optionally the details of your travel agent and hotels/lodges in Sikkim. Information required in this section are: 
Expected arrival and departure dates 
Mode of arrival (bus, taxi, private car, motorbike, flight), Purpose of Visit 
Details of Travel Agent (optional) 
Details of your hotel/lodge (optional) 
Note that although you can mention the optional details of travel agent and hotels through which you have done your bookings, the actual details will be recorded when you avail their services. But if you have the operator/hotel bookings, it is better to provide the details here. 
SECTION-3: Health / Covid-19 Declarations 
This is where you will be asked a few Covid-19 related questions, such as, have you been tested Covid-19 positive, have you been in contact with any Covid patient, do you have any common or serious symptoms, have you been travelling outside your state or country in the past 14 days etc. 
Although not mandatory, you can then upload a Covid-19 test certificate. It should be RT-PCR / TrueNat test certificate and not more than 72 hours old from the date of arrival in Sikkim. 
You are required to download and install Arogya Setu app in your mobile. This is a travel mandate by Government of India. You will need to confirm if you have done so. While you can proceed without doing so, you must do it before you travel and update the status, otherwise you will be questioned. 
SECTION-4: Group / Family Member Details 
For each additional person travelling with you, you will need to fill up all the above details for each one of them (although most of that will be pre-filled from already entered details). Once you have entered all details, you can preview and confirm submission. 
You can save as the Lead Traveler so that all the details along with that of the group/family are saved under your name and each individual can keep a copy of the same travel card. 
LAST STEP 
Once you confirm and submit, you will receive a confirmation message on your mobile along with a 12-digit Tour Id. You will need this Tour-Id to generate and download your Travel Card or Print it. This Tour-Id will also be required for updating your travel card with latest tour status during your stay in Sikkim and you need to share that with your hotel and travel agent. In fact, this Tour Id will be used by your hotel at the time of check-in and check-out. 
Application for Sikkim Travel Card
You can use the button below to open the application form in Sikkim Government website. 
In case you need to change/delete any personal or member details, you can use the button below. 
NOTE: In order to update the tour status while in Sikkim as per your destination visits or daily tour itinerary, there is a separate interface which needs to be used at the time of availing the service in Sikkim. Your hotel or operator in Sikkim will help you with that. 
Other Sikkim Travel Requirements
Sikkim state government strongly recommends that you book hotels and use tour operators that have been certified as Health & Safety Compliant. In fact, you can book your entire tour of Sikkim including hotels and sightseeing tours through empanelled tour operators who are certified by state government as Health & Safety Compliant. Otherwise, you can also book them independently. 
Special stickers for vehicles, and banners/standees for hotels and tourist offices are displayed by all service providers who are certified as health & safety compliant. 
Tourists can be fined by enforcement officers if found to violate any of the following requirements: 
Wearing of Masks. 
Maintaining social distancing of 2 meters. 
Updation of Travel Cards. 
Staying at compliant accommodations. 
Using services from compliant tour operators. 
NOTE: It is possible not to mention the hotel and operator details in the Travel Card and enter Sikkim. However, if you stay in a non-compliant hotel or use services of a non-compliant tour operator, you are liable to be fined by the authority. More number of accommodations and operators are being added in the compliant list so that you get wider choices. 
All tourists are advised to carry a RT-PCR / TrueNat Negative Test Certificate before entering Sikkim and it should not be older than 72 hours prior to entry to Sikkim. However, this certificate is not a mandatory requirement, but certainly will be a plus point. 
As already mentioned earlier, you are required to download 'Arogya Setu' App in your mobile. 
Related Articles
Visitors' Reviews/Comments