Little Singamari Homestay, Darjeeling
Category: Budget 
About the homestay
The homestay is so named because the area in which it is located is known as Singamari... it's about 3kms from the lower Darjeeling town (i.e. the Chowk Bazaar area) on Lebong Cart Road and very close to the famous St. Joseph's College (also know known as North Point School & College) that was established in 1888.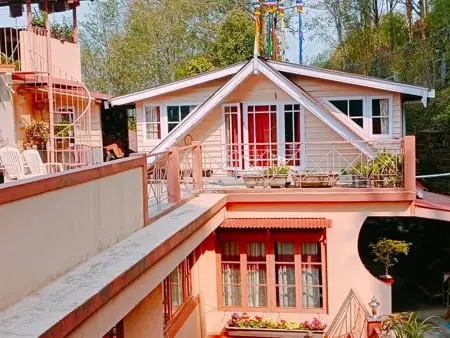 The area is peaceful, quiet and serene. So, if you are looking to stay a little away from the crowded town area of Darjeeling, enjoy the views and the nature in tranquility, yet be close enough to the main township so that you can easily get there, then you probably do not need to think about any other property.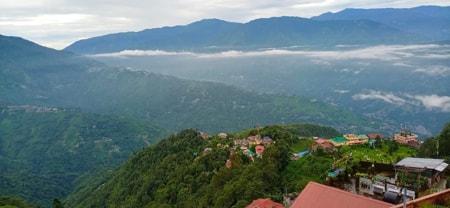 While there are several other homestays near around, but this place clearly stands out from most of its peers when it comes to cleanliness of rooms maintained with great sense of aesthetics yet with simplicity, views of the surrounding valley and the tea gardens from the balconies, excellent food, and to top it all, great hospitality. 
The property is hosted by the Syangdan family that comprises of Mrs. Ramila, her husband Shiromani, and his brother's family. All of the are extremely courteous including all the staff members, and they will all make feel at home right from the moment you step in to the property. There is a beautiful garden with varieties of flowering plantations and there are many flower pots that are placed all over... it will be a treat to the garden and flower lovers. They also have a small Buddhist Stupa in the premises.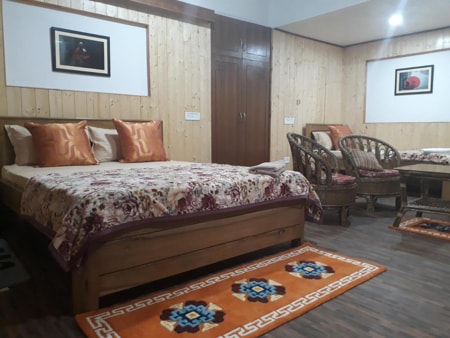 The property overlooks the beautiful Singtam Tea Gardens. The rooms are spacious... there are Double bedded Deluxe rooms with balconies and Triple bedded rooms with balconies. You have all the amenities in the rooms that you can expect out of a quality homestay such as TV, nice free Wi-fi, electric kettle, bathroom slippers, geyser in the western style bathrooms with plenty of hot water, and surprisingly, electric bed warmers which will be so effective during the winters. They also provide room heaters on request and at no additional cost. Filtered drinking water is also provided at the common area... you can refill your bottles at no cost. 
From the balcony of the room, the views all around are wonderful... you can see the valley and the mountains, as well as the sprawling tea gardens on the slopes of the hills. However, there is no view of Mt. Kanchenjunga from the rooms... that's hardly any drawback, because you will get the views of Kanchejunga anyway when you out for a walk or taking a sightseeing tour. By the way, the hosts can also organize vehicle and driver for local sightseeing tours as well as transfers to NJP station/Airport, or any other nearby place such as Gangtok.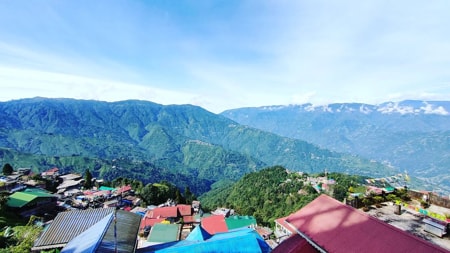 They have a separate dining area which too is very well done up and quite cozy offering great views of the valley through the large windows. Although the dining room is in the same premises, it is separate from the rooms and requires a little walk. They have two kitchens, one is used by the host's family while the other one is used to cater to the guests in the dining room. If you want to prepare something on your own such as the meal for your baby, just ask them and they will let you use their private kitchen. The homemade food served here is simply amazing and you won't need to think of cooking meals yourself. 
The portions of the meals are enough and simply scrumptious. In fact, you can request them to make what you want and they will go out of their way to cook that for to perfection. Ramila herself oversees the cooking. The breakfast and tea are complimentary. In breakfast, if you want, they will serve you a huge omelet filled with cheese and chicken sausages and accompanied with toasts and Darjeeling tea. Other great options include Aloo Paratha, Aalu-Pyaaz Parathas with tomato-garlic-onion chutney or Plain Paratha with Aloobhaji. During lunch or dinner, a must try is butter chicken... delicious! They also make great Chicken Momos... don't miss that!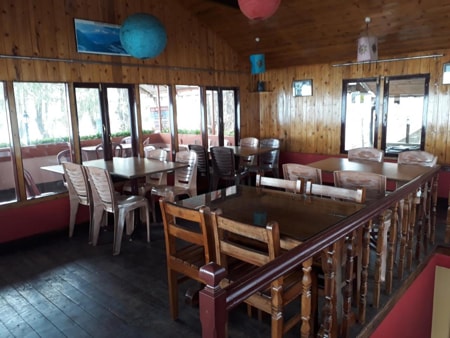 In the common corridor, there is nook that has shelved stacked with many interesting books. And there are cushioned seats there in a cozy ambience. If you are a bookworm, this is where you can spend a good amount of your time along with a cup of tea. The hosts double up as great friends and they will also give you many interesting tips about places around Darjeeling and sightseeing tours. 
If you want to go down to the township, easiest is to hop into a shared taxis that you can get on the road. Shared taxis ply on this route frequently and you can get to the Chowk Bazar (lower town) in 10 minutes by paying Rs. 15 per person. Alternatively, you can walk for about 3kms. From Chowk Bazaar, the Mall (i.e. Chowrasta) is 12-15 minute uphill walk. Another option is to take a reserved taxi from the homestay which will charge around Rs. 200 to drop you to the Mall road (near Bhanu Bhavan) from where the Mall is a short walk. 
There are several tourist attractions within a short walking distance of Little Singamari Homestay. The Himalayan Mountaineering Institute along with Darjeeling Zoo and Bengal Natural History Museum, the Ropeway (cable car), the Tenzing & Gombu Rocks are all within walking distance. 
Rates provided by booking.com 
My overall opinion
Little away from the main township, but that is the main USP of this homestay... to offer a very comfortable stay in a quiet serene ambience with lovely views of the valley and tea gardens right from your room's balcony, while being not too far from the town. 
Excellent property and very well maintained. Very cozy comfortable rooms having adequate amenities. 
Great food... both in quality and portions. 
Undoubtedly, one of the best and friendliest hosts who have raised the standards very high compared to their peers. All the family members and even the staff can speak good English and unlike many other homestay staff, are able to easily break the language barriers with foreigners and people from the other states of the country. 
While everything about the room is great... some westerners might find the beds a little too hard, because they are traditional Indian beds. Nothing wrong with the beds, it's about who is used to what. The hosts have, in fact, gone ahead and bought bed mattresses to address this issue. 
Prices are very reasonable compared to other similar homestays in Darjeeling. 
Overall, it's a great property offering great value for money. 
Rates provided by booking.com 
Location and Contacts Info
51 Lebong Cart Road, PO North Point, near North Point College, 
Singamari, Darjeeling, West Bengal 734104 
Related Articles
Visitors' Reviews/Comments