Ara Restaurant & Bar, Darjeeling
Category: Mid-Range, Cuisine: Chinese, Continental, Tandoor 
About Ara and Its Ambiance
Located right at the Mall (Chowrasta) and opposite to the fountain, this restaurant & bar undoubtedly has one of the best locations in Darjeeling. It belongs to the Bellevue Hotel and the entrance is at the ground floor... as you can walk up along Nehru road and get to Chowrasta (Mall), turn right and you will find the restaurant.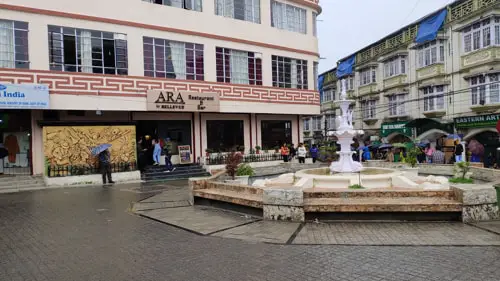 If you want to have a quiet family meal, you should take up a table at the ground floor. The ambiance is appealing with nice lighting, wood paneled ceilings, brick-textured walls, and wooden tables with comfortable seats. They also put on 1980's soft western music such as Pink Floyd in the background which sets up the evening nicely. There are also large LED TVs fixed on the walls playing sports channels which you can watch too.  
The overall setup is more like a Gastropub where families can also dine. Upstairs on the first floor, they have a fairly large space and there is live music in the evenings... mostly bollywood music and vocals by local talents. Tables are laid out and you can even dance to the music if you want.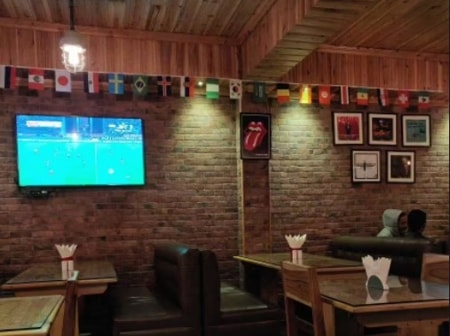 Food & Drinks
This is a multi-cuisine restaurant serving Chinese, Continental, Indian Tandoor and even some Italian pasta dishes... both vegetarian and non-vegetarian. Non-veg dishes includes  chicken, egg, prawn, fish and even pork. They serve all meals including breakfast, lunch and dinner. 
In breakfast, you can get traditional full English breakfast which includes fried eggs, sausage, bacon, grilled tomato mushrooms, toast with butter, choice of tea or coffee. You can also get toast/butter, eggs made to order, tea/coffee etc, or in Indian breakfast, you have a choice of aloo paratha, puri aloo, chola puri etc.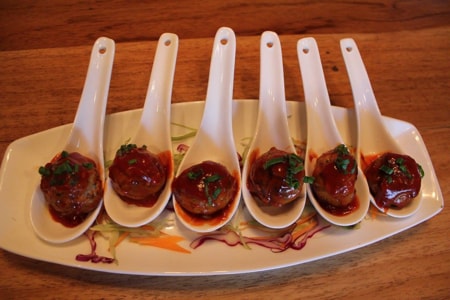 In lunch and dinner, they have a range of soups and salad (both in Chinese and Continental). Some of them includes Lemon coriander soup (veg/chicken), Munchow soup (veg/chicken), Waldorf Salad (continental), Kimchi salad (Chinese), etc. There are also a range of veg and non-veg starters such as Schezwan Paneer, veg. or chicken lollypop, Paneer Shashleek, and lot more. 
In Chinese menu, there are good choices for main courses and side dishes. Some of the popular main dishes includes the mixed Schezwan fried rice, Chinese chopsuey, Hakka chowmein (chicken or pork), etc. In side-dishes, try out shredded chicken in barbecue sauce, or chilli paneer/chicken, or veg manchurian. Another favorite here is the roasted chilli pork as well as pork pepper fry. Prawn hot garlic is also excellent. 
Coming to continental, they specialize in Pork Chops. And one of their great signature dishes is the Chicken Cordon Bleu served with spaghetti in white sauce. Roast pork legs are also prepared very well. They also make chicken sizzlers and steaks, barbecued drumsticks and chicken wings, several pasta dishes (veg and non veg), grilled fish fillets served with tartar sauce, etc. So, there are plenty of choices in continental too.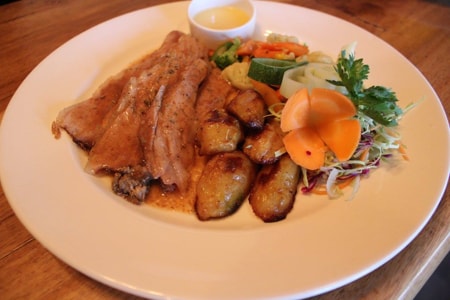 In Indian tandoor, almost all standard tandoor dishes (prepared in earthen oven) are available including tandoori roti, naan, kulcha, chicken tandoori, dal makhani and dal fry, paneer and other veggie preparations. 
The bar is well stocked and they also keep imported spirits. You can get chilled beer and wine as well. They also make nice cocktails. You can order wine by the glass (no need to buy a full bottle).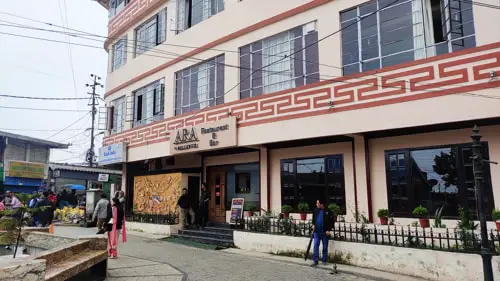 My Overall Opinion
The ambiance and the location are the strongest points of this restaurant. 
Overall, the food is nice, portions are appropriate, and the service in the restaurant is quite friendly and efficient. However, during the high seasons and when there is rush, the consistency of the preparations (both food and cocktails) may be an issue and this is where there is scope for improvement. 
In Darjeeling, live music with an option to dance is a rare offering and this is where the restaurant scores heavily over the other nightlife options available in the town. 
The price of food and drinks may be slightly on the higher side but considering all its offerings and the portions served, it is reasonable compared to its competitors. 
Most tourists queue up for a table in a restaurant like Glenary's or Keventer's because of their names, however their food quality has become quite questionable. It may be worth giving Ara a try instead of waiting in the queues for hours at the other famous restaurants. Ara being relatively a new restaurant, you can get a table quickly. In the afternoon hours, you can easily get a table for lunch. 
There has been an occasion when a brawl broke out in the restaurant between few guests and the staff, and police had to intervene. There has also been a case where the guests were denied entry to the upper floor to join the live music, apparently for no reasons. These are unacceptable situations and the management needs to control such incidents so that guests do not land up into such rough situations.  
Open Hours & Price
The restaurant opens at around 7am for breakfast. 
During the high seasons, the last order for dinner is taken at 10pm. 
Meal for two would cost around Rs. 800 - 900 (without alcoholic drinks). 
Location and Contacts
The Ara Restaurant & Bar is located right below the Bellevue Hotel on Chowrasta (Mall). 
Phone: 0354 225 4000. No reservation is required. You can walk in. 
Related Articles
Visitors' Reviews/Comments
Rahul Mahato (October 2021) 
Offensive and ill-mannered behavior of the table staff(male) and manager ruined our Glenary's experience. We visited Glenary's in Darjeeling during DASAIN festival at around 3pm. The staff blocked us aggressively to enter the balcony section (although we entered and found a sweet little spot for ourselves outside in balcony area) to eat and even asked us to literally "get out" (his literal words) of the section directly from the table area. 
We have been observing locals sitting in the same section with pastries and buns to enjoy the view while we were asked to not sit and leave instantly. 
The staff blocked us and said that they don't allow people to sit with confectionery items and eat at this balcony section but we observed the locals sitting in that area and eating confectionery items... we were told to sit outside but questioning about people who were already eating and space to sit and eat, we were told to get out. There were no sign boards to mark places for pastry food etc anywhere in the store. 
Being in hospitality business their behaviour towards us was like they are doing a big favour to us by giving us food. 
We asked the cashier to return the items and this is when the manager stepped in and asked to find our own tables if we are entering Glenary's and he cannot return the items. He did not listen to us and behaved very rudely after which we asked for return adamantly. 
As a tourist in Darjeeling and also a resident of Siliguri, which is the ultimate gateway to the hills in general in the north east section of India, I am ashamed and disgusted by this experience. I am writing this to warn the tourists to avoid this spot at festive times if you do not want to face local-tourist fights and quarrels. It ruined our experience. The hotels and cafes in Siliguri are far better in hospitality and behavior than these spots in the hills. 
Seema Krishnan (June 2017) 
We had lunch at Glenary's and loved the old world charm of that place so much and we again visited the place for tea in the evening.