Noryang: Authentic Tibetan Food in Darjeeling
Category: Budget, Cuisine: Tibetan, Chinese 
A Little Background
Back in the days when I walked around Darjeeling town looking for authentic Tibetan food, I could hardly find any proper Tibetan restaurant. My friend Subash Tamang suggested that I try out an unassuming small eatery on Gandhi Road. 
Noryang Tibetan Kitchen, Darjeeling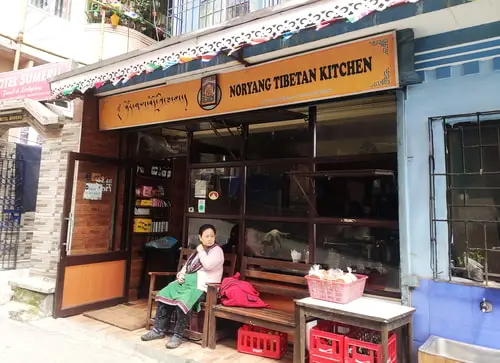 And that was when I first discovered
the tiny little Kunga
, people hardly knew about it then. I went there time and again relishing my favorite Tibetan food. Then I wrote about my experiences there. Over time, Kunga became an extremely popular Tibetan eatery. 
However, as time passed, Kunga became overwhelmed with the rush of tourists, turned far more commercialized. There are often long queues outside, and inside, guests even need to share tables leaving practically no elbow space. And the food doesn't taste as well as it once used to. So, my search began for proper Tibetan eatery once again.  
This time another friend of mine, Gautam Shreshtha suggested that I try out Noryang Tibetan Kitchen. And I wasted no time. 
The Ambience
It's tucked on an uphill lane and a little off Gandhi Road (yet quite centrally located). It took me just 3-4 minutes to walk up to this restaurant from near Keventer's. I was so relieved to be away from the noisy and crowded locality, and get some fresh air. 
Inside Noryang Tibetan Kitchen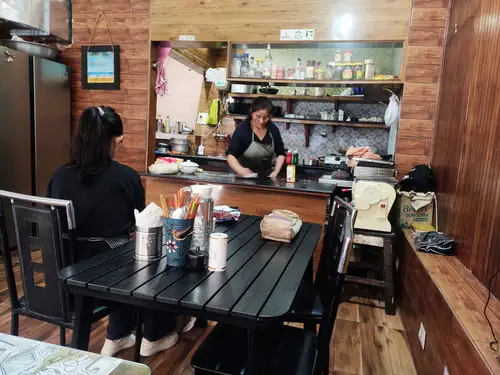 The restaurant is smallish, looks simple, but very inviting. Outside, there is an wooden seat... just in case you need to wait for a table to get free. Inside, there are only 4 tables presently... some of them can seat 6-8 persons. The best part of the restaurant is its wide open kitchen right in front. Overall, you get a nice laid-back vibe. 
The restaurant is run by Lobsang Dolma, a sweet Tibetan lady who is the cook herself.  
Lobsang Dolma of Noryang 
The Food at Noryang
Lobsang prepares everything right from the scratch. She will cut the vegetables and meat, boil them and mix local ingredients right in front of you, and serve the food piping hot. 
She is accompanied by a couple of other lady staff... it's an all-lady service and you will be treated not only to authentic Tibetan food, but also to great Tibetan hospitality. 
The menu card is available right on the table and under the glass sheet, so it's always visible to you. There were many Tibetan items on it, and I had to ask Lobsang for her suggestions... and so treated me to the following to my absolute delight: 
As starter, she served us Chicken Kothey... you must have had momos, the steamed or fried dumplings filled with vegetables or meat. Chicken Kothey is a Tibetan variation of momos... it's half steamed and half-fried and quite elongated.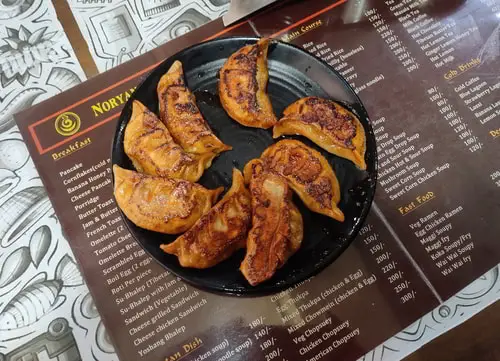 It is served with a red sauce which is extremely tasty and completes that pot-sticker flavor. Although the red sauce looks very hot and spicy, it isn't. Even more than the mouthwatering look and the feel of the kothey, the soft juicy taste of the chicken filling inside was simply awesome. There were 8 pieces of Chicken Kothey on a plate. 
Then came the Chicken Shapta... you can imagine this to be a Tibetan style chicken curry. It has flavors of ginger and chili, but not over-spiced like what you get in typical Indo-Chinese dishes. She had also used onion, carrot and capsicum slices in the gravy. 
Chicken Shapta and Tingmos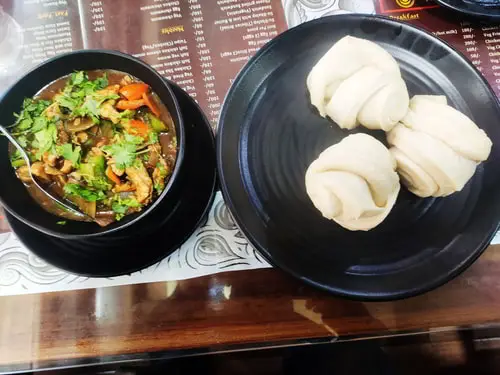 Lobsang then brought along three pieces of Tingmo that looked like rolled buns. They are actually steamed Tibetan bread, extremely soft and puffy, and an ideal thing to pair with Chicken Shapta, unless you want to have the shapta with rice or roti.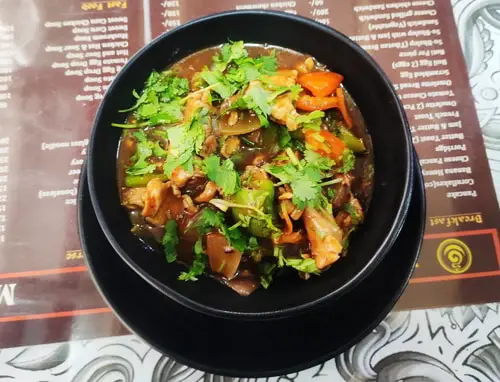 The tingmos came hot and fresh. Two of us only needed one each. The shapta too was served fresh and hot, the quantity was enough for two. The chicken was fresh and the gravy was delicious. 
We finally finished off with Vanilla Custard which is served on a glass cone. The yellowish color makes it so attractive to look at, but even better, is the taste... it's not very sweet, exactly to my liking and simply melts in the mouth.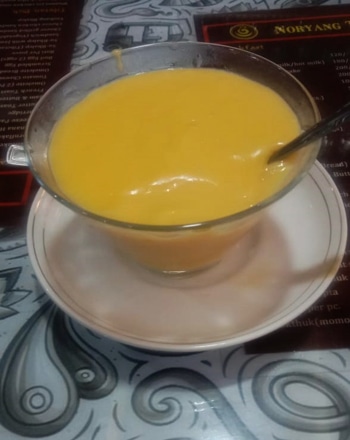 Right behind our table, there were bottled water stacked on the cabinets... both small and large bottles. If you want, you can pick up one on your own and place it on your table instead of waiting for someone to serve you a bottled water. 
As I asked for the bill, Lobsang came and offered me a couple of round flat breads packed in a plastic... she said these were Su Balep, a type of Tibetan bread. She makes 5 kg of such bread herself everyday and uses ingredients like flour, barley powder, sugar, eggs, etc. She asked me to carry it back home, it would last for 3-4 days. 
A basket full of Su Balep at Noryang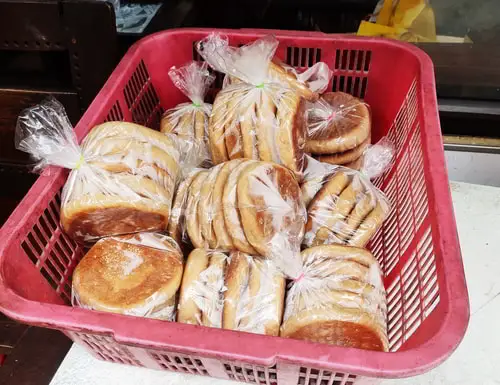 In fact, she keeps a basket full of Su Balep on a table outside and many locals come in the morning and take them away to have them fresh in breakfast. 
Back home and as suggested by her, I asked my wife to heat it slightly on a pan (you can also use a little butter while heating it), and serve the Su Balep for my breakfast along with some salamis and cheese that I bought at Keventer's... a heavenly delight! 
Noryang Food Menu
The menu has a lot other items. They serve breakfast, lunch and dinner. The breakfast items are shown separately on the menu. 
In breakfast, you can have items such as cornflakes with milk, pancake (try out the Banana Honey Pancake), French toasts, eggs of your choice and pair that with Tibetan bread, cheese/ vegetable/ chicken grilled sandwiches, etc., and of course, tea or coffee. 
In fact, they serve different types of tea and coffee as well as hot chocolate, hot milk, etc throughout the day, as well as cold beverages like cold coffee, lassi, blue lagoon, etc. Try out the hot ginger honey lemon tea... it's excellent. 
During meals, for an appetizer, try out a soup from the several they have in the menu. 
In Tibetan dishes, other than what I have mentioned, they also serve Wontons in chicken soup, chicken or vegetable Thenthuk (a flat noodle soup which is a filling dish by itself), Mokthuk (momo thukpa soup which too can be enough for one), etc. 
You can also have different kinds of steamed or fried momos. There are items on noodles such as chowmeins and chopsueys as well (both chicken, egg or vegetable). 
And there are egg/ veg/ chicken fried rice, chili chicken, mixed vegetables, mixed veg paneer, mushroom gravy, chicken curry, Ema Datshi (a Bhutanese dish made from hot chili peppers and cheese), Phing Aloo (glass noodles), etc. 
If you want something spicy, then try out the Noryang Special Spicy Keema Noodles. Under fast food, they offer ramens, wai wai/ maggie (fried or soupy), etc. 
In desserts, other than the Vanila Custard, they also make chocolate custard. 
Food Prices
Breakfast items range from Rs. 100 - 200. 
Tibetan dishes range from Rs. 140 - 200. 
Momos are priced between Rs, 60 - 160 (soft chicken cheese momo has the highest price tag in this category). 
Noodles are priced from RS. 120 - 300 (American chopsuey is highest priced). 
Main courses like fried rice, chicken curry, etc range from Rs. 100 - 200. 
Soups between Rs. 80 - 120. 
Beverages are priced between Rs. 30 - 100. 
Desserts are between Rs. 100 - 140. 
A meal for two would cost around Rs. 550/- 
How to reach
As you walk past the prominent Ramada Hotel on Gandhi Road (right near the traffic police post), take the first turn to the left towards Broadway Hotel. After about 50 yards of uphill walk and right in front of Broadway hotel, take the left. 
After another short 40-yards uphill walk, you will see Noryang Tibetan Kitchen on the right... you can't miss it. It's only about 3-4 minutes of walk from Keventer's. 
Points to Note
Since Lobsang prepares the food from scratch, it takes more time than usual. And, if there are other guests, it can take a considerable amount of time to get your food on the table. So, you should not come here if you are in hurry.  
It requires a steep uphill walk from Gandhi Road for about 2-3 minutes to get to Noryang. So, if you have mobility issues, you may think about it twice. 
Although the eatery is small at present, Lobsang mentioned that she also owns the adjacent space and will extend the restaurant in near future. 
Address & Open Hours
16, Rockville Road, Darjeeling, Pin: 734101 
They are usually open all seven days a week from 9 am till 9pm. 
Related Articles
Visitors' Reviews/Comments