Mohan Eateries, Darjeeling
Category: Budget, Cuisine: Traditional Nepali 
This is a tiny eatery and well known within the circle of tourists and locals on budget. It's located on Robertson Road (just below Keventer's and below Chanakya Hotel). 
There is a taxi stand here (the Old Club-side Stand) and you might need to maneuver through parked taxis to get to the entrance of the eatery. The interior is casual yet homely and gives a rustic vibe with lots of photographs of old Darjeeling.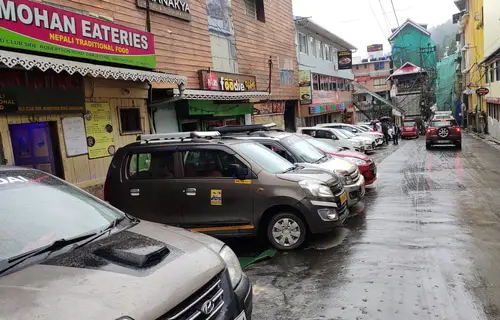 This small restaurant can serve at the most 7-8 persons together. There are joined L-shaped tables and in all likelihood, you will find yourself sitting right next to locals or other tourists dining together. They play light background music with bluish interior lighting. 
The eatery is owned by Mohan, a very friendly local. He and his wife are the hosts. They try to do their best to serve the food fast. If you order popular ones like thalis that are always kept ready, you can get your food quite fast. Otherwise, during the rush hours, the service can slow down a little. 
While the restaurant serves several local dishes, it is best known for the Nepali Thali. You can opt for veggie, chicken, pork or even beef thali. 
A thali is a platter comprising of a full meal with various items in it. It's served on a fairly large traditional bell-metal plate along with side items served on bell metal utensils. 
Sometimes, I have seen that they offer a welcome drink which is usually Chhas (a curd based light drink which is a little sour in taste). 
A typical chicken thali here comprises of rice (prepared in Nepali style by mixing yellow lentil grains in it), pickles, ucchey (half fried bitter gourd), papad, alu bhaji (fried potatoes), vegetable, etc. Daal and chicken curry are served on separate vessels. There are usually 2-3 pieces of chickens with bones. Chicken curry is a bit oily but non-spicy.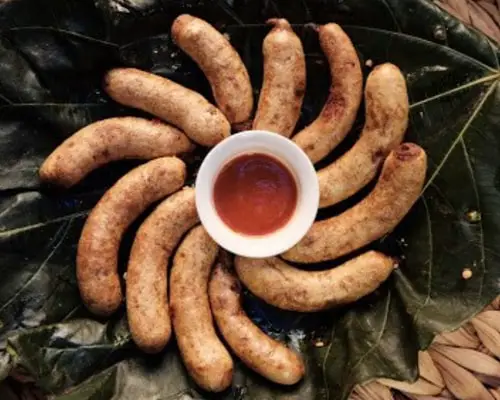 The thali is overall non-spicy and tastes quite nice (quite similar to Bengali food but has a distinct taste). Rice and daal are unlimited. A chicken thali cost Rs. 200/-. 
Other items in the menu includes 
Veg/ chicken/ cheese momos (served on a bamboo basket with a leaf base),  
Chili pork which is garnished with tomatoes, onion and cucumber, 
Chicken and Pork sausages (6 pieces in a plate). 
Dry fried meat items such as chicken, pork, beef and even buffalo (Sukuti). Note that the Buffalo meat won't be very tender and unless you are used to it, you can skip it. 
Chicken or pork rice. 
They also offer noodles such as chicken and pork thukpa.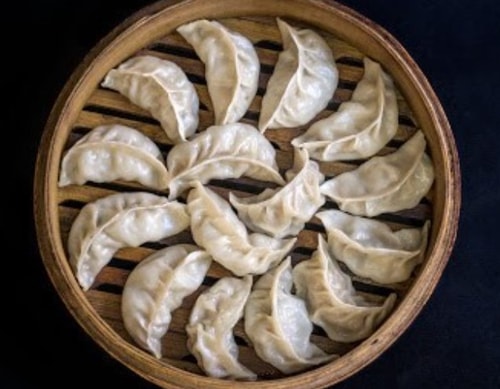 The dishes range from Rs. 200 - 300 per plate. You can also buy local pickles from them. During the season (spring time), they also serve wine made from rhododendrons. 
Related Articles
Visitors' Reviews/Comments