Padmaja Naidu Himalayan Zoological Park
About Darjeeling Zoo
Don't discount Darjeeling Zoo (officially known as Padmaja Naidu Himalayan Zoological Park) as yet another typical one that you see in a city. This is where you can actually come across some amazing high altitude Himalayan animals including some endangered species that are rarely seen anywhere else in the world. In India, this is the largest high altitude zoo. It spans across 67.5 acres of area at an average altitude of 7,000ft (2133m). 
Main entry gate for Darjeeling Zoo and HMI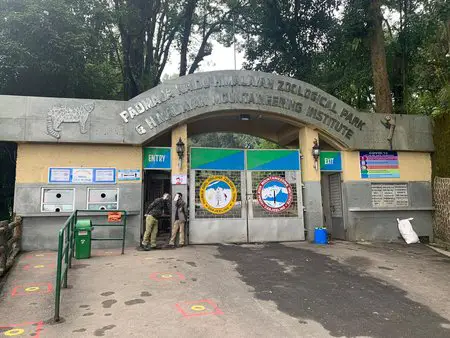 There are some 130 Zoos in India. On September 10, 2022, the Central Zoo Authority (CZA) of India released the ranking list of all the Zoos. Darjeeling Zoo topped the list and has been ranked as the best Zoo in the country. Although Darjeeling Zoo falls under Medium Category Zoo (there is also a Large Category), it topped the list across all categories. The ranking was done based on content, planning, administration and zoo activities. So, this makes Darjeeling Zoo (PNHZP) definitely a must visit place for all tourists visiting Darjeeling. 
India's former Prime Minister late Indira Gandhi dedicated this zoo in memory of Padmaja Naidu. She was an ex Governor of West Bengal and the daughter of Sarojini Naidu, a national leader and a poet. 
Since then the zoo is officially known as the Padmaja Naidu Himalayan Zoological Park (PNHZP), but more commonly as Darjeeling Zoo. This zoo which is located at the Birch Hill area (now known as Jawahar Parvat) was established in 1958. It was then known as the Himalayan Zoological Park. 
Uphill path through Darjeeling Zoo, fenced stairs on the right 
Photo: Shuba/flickr, cc by 2.0 
Darjeeling Zoo is now amongst the best zoos in the world. This is the first zoo in India to receive the prestigious international award "The Earth Heroes" 2014 out of over 300 zoos worldwide. This annual award is given away by Royal Bank of Scotland in collaboration with the British Government. Reason for this award is... it has done a superb job of conserving Himalayan animals and plantations while specializing in breeding animals that are used to Alpine conditions. 
The Zoo Highlights
Some of the highlights of the zoo includes the conservation programs where you can see vulnerable and endangered high altitude Himalayan animals like the Tibetan Wolf, Red Panda, Snow Leopard, Clouded Leopards etc all in semi natural habitats. And then there are Siberian Tigers, Yaks and more. 
Clouded Leopard at Darjeeling Zoo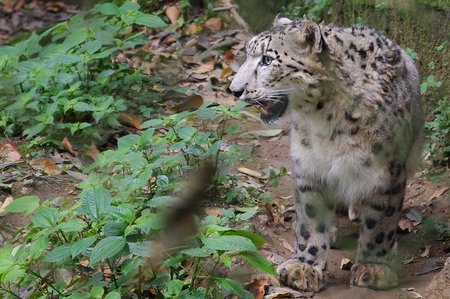 Photo: elkhiki, flickr, cc by 2.0 
A recent study showed that the zoo has over 200 species of trees & plants, shrubs, climbers, medicinal plants etc out which there are some 60 varieties of Orchids. Some slow growing oak trees are over 100 years old. There are trees like Birch, Alder, and others that belong to Castanopsis species etc. 
As you enter through the main gate, you will see some curio and souvenir shops on the left. And right in front is the Aviary, a huge circular bird cage. You can see different kinds of birds inside including Rose Ring Parakeets, Hill Mynas, Ring Necked Pheasants, Blue Gold Macaw and more. The striking ones are the two large Macaws with yellow and blue color combinations. 
A white Macaw at Darjeeling Zoo aviary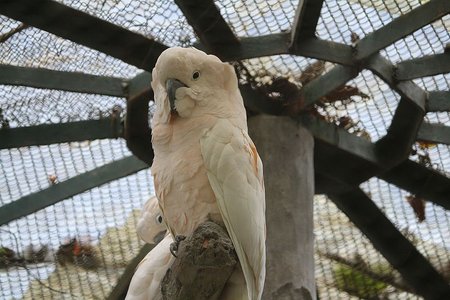 Photo: Nishankur Chawale/ Wikimedia Commons 
There are roads spanning out in all directions, one straight up, one on the right and one turning towards backside. Take the road straight uphill. You will see flights of stairs that are coming down along the right side of this road. Don't take the stairs. On your return, you will come down these stairs and that would be much easier. 
Himalayan Black Bear in Darjeeling Zoo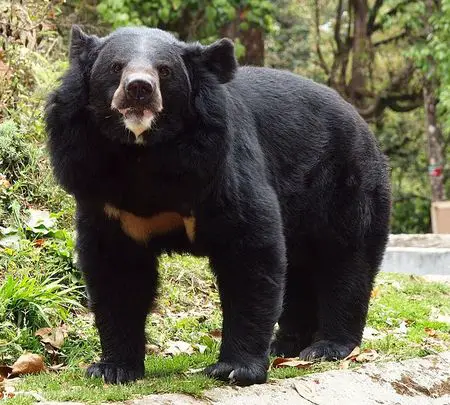 Photo: Mopop, cc by 2.0 
As you take a few steps forward, look up on the hill towards right. You will see Himalayan Black Bears roaming about. If you don't see them from here, you can see them while you return down the stairs. They are usually found in the Himalayan mountain areas in Tibet, Nepal, China etc. at an altitude of 10,000 to 12,000 ft. 
During the winter they come down to lower altitude areas. These black bears can weigh between 90 to 120kgs. While fattening for the hibernation during winter time, they can weigh even up to 180kg. 
Yak in Darjeeling Zoo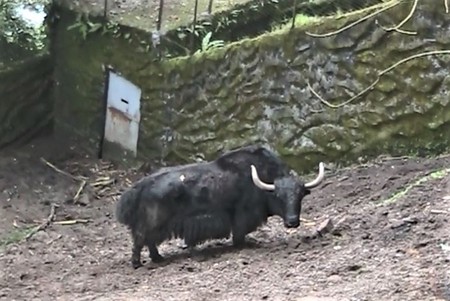 Walk forward and look on the left below and over the fence. You will see Yaks. Yak is a long hair bovine that can be seen in Himalayan region and also in south central Asia. The males can weigh up to 1,000kgs and females one third of that. The age of maturity is between 3 to 4 years. The maximum life span of a Yak is about 23 years. Their status is currently vulnerable. 
Among other animals that you can see on this stretch are Sambar Deer, Blue Sheep, Himalayan Tahr, Barking Deer, Goral and Musk Deer. 
As you walk along, high up on your right you can see the cages made out of iron nets. That's the upper section of the zoo. In about 75 meters from the main gate, you will see a road on the right which is going uphill. That's the one to take to see the upper section. Otherwise you can keep going straight to visit the
Himalayan Mountaineering Institute
and cover this area on your return. 
As you climb up towards the upper part of the zoo, across the wired fence on your left in the hills you can see Indian Tigers in open space. This is the area where you can also see Snow Leopards, Black Leopards and Clouded Leopards. This zoo is one of the rare places where you can see even Siberian Tigers. If you look towards right below and over the fence, you will see the Tibetan Wolves in the open. There is also another section next to it where Jackals are kept. 
Update: A snow leopard has been imported to Darjeeling Zoo in 2016 from the Dudley Zoological Gardens of UK. The name of the 2-year old snow leopard is Makalu. There are 9 other snow leopards in the zoo (one male and 8 females). Makalu makes the total number to 10. 
Tibetan Wolf in Darjeeling Zoo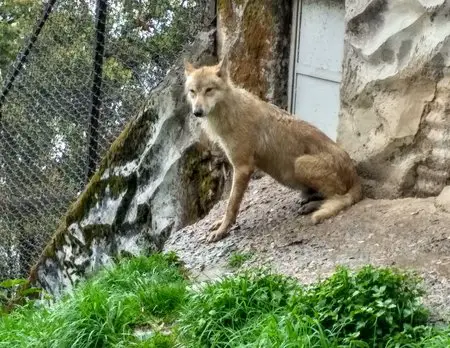 Photo: Subash Rammohan, cc by sa 4.0 
You will soon reach the stairs that go all the way down to the bottom next to the aviary. There are shaded benches here where you can sit and relax. The stairs are not steep and you can comfortably climb down. Once you reach the bottom, you are back again in front of the circular aviary. 
Go straight ahead keeping the main gate to your right and you will reach the Red Panda conservation section. You will see the Red Pandas on your left over a fence walking around in a natural setting. Their average weight is 3 to 4kgs, average length is 50 to 60cm. They are matured within 18 months from birth. 
In captivity, they are found to be living for up to 16 years. Red Panda is a highly endangered species. In their natural habitat of forests, they usually spend the day on tree tops and come down after duck looking for food. They love to eat bamboo leaves and fruits. They are herbivorous. 
Red Panda in Darjeeling Zoo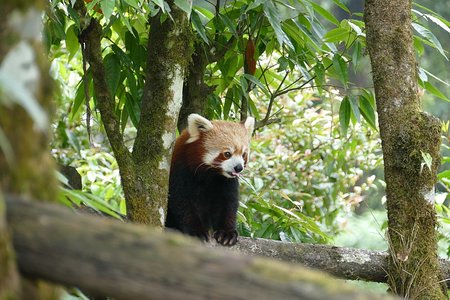 Photo: Ankur Panchbudhe, flickr, cc by 2.0 
Note that Darjeeling Zoo started its conservation program for Snow Leopards way back in 1983 and Red Pandas in 1986, and since then it has become the pioneer in this field. It is also the first zoo in the country that has successfully released Red Pandas back into the wild. 
On the same road, there is an aquarium and section for pheasants. Come back and from the aviary turn right, and enjoy a walk along the natural trail. On the way you will see Himalayan Newt, small amphibian which is a type of salamanders. At the end, there is a section for Snow Leopard. From this road also you can see the Himalayan Black Bears. 
Update: Five animals known as Takins (antelope-like goats) have been imported from Berlin Zoo (Germany) to Darjeeling Zoo in 2019 as part of an exchange program. There are 3 males and 2 females that are named Charles, Danny, Rock and their sisters Claire and Ramona. 
Takin, at Motithang Takin Preserve, Thimphu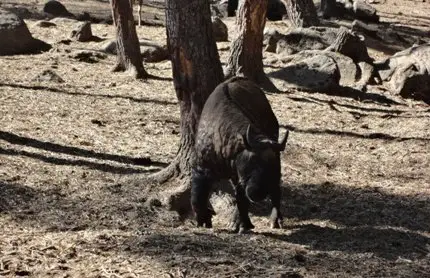 These are Mishmi Takins which is a subspecies of Takins and is an endangered species. Note that Takin is the national animal of Bhutan where they are locally known as
Dong Gyem Tsey
. They feed on bamboo and mountain grass. You can find more information about Takins on my article
Thimphu Attractions
under the section '
The Motithang Takin Preserve
'. As part of the exchange program, Darjeeling Zoo has given two Red Pandas to Berlin Zoo. 
Darjeeling Zoo offers an animal adoption program. You can pay for the care of an animal of your choice and in the process support the conservation of the animals. 
Watch the video of Darjeeling Zoo
Animal Collections in Darjeeling Zoo
Below is the complete list of animals, birds and reptiles that you can find in Darjeeling Zoo. 
MAMMALS 
Indian Tiger, Snow Leopard, Black Leopard (Black Panther), Common Leopard, Clouded Leopard, Leopard Cat, Tibetan Wold, Asiatic Black Bear, Red Panda, Goral, Blue Ship, Yak, Sambhar Deer, Musk Deer, Barking Deer, Himalayan Tahr, Coomon Palm Civet, Himalayan Palm Civet, Jackal, Slow Loris. 
BIRDS 
Kalij Pheasant, Golden  Pheasant, Silver  Pheasant, Frey Peacock  Pheasant, Himalayan Monal Pheasant, ring Necked Pheasant, Reeve's Pheasant, Lady Amherst, Red Jungle Fowl, Alexendrine Parakeet, Rode-Ringed Parakeet, Hill Myna, Grey Turaco, African Grey Parrot, Blue Gold Macaw, Green Pheasant, Cheer Pheasant. 
REPTILES & AMPHIBIANS 
Star Tortoise, Himalayan Newt 
Facilities
There is parking space outside the main gate. 
There are public toilets near the main gate that are also accessible to handicapped persons. 
Drinking water available near the aviary. 
There are several rain shelters and resting benches all across the zoo. 
There is a souvenir shop inside. You can also buy photographs. 
There is also a refreshment corner/eatery inside. 
Wheelchairs are provided at nominal cost. 
Open Hours & Entry Fee
Open daily (except Thursday) from 8:30am to 4:30pm in summer season, 8:30am to 4pm in winter season. 
Rs. 110/- for Indians and citizens from SAARC countries. 
Child below 6 years is free. 
There is an additional charge for taking cameras inside (Rs. 10/-). 
How to reach
Darjeeling Zoo is located at the Jawahar Parbat, earlier known as the Birch Hill Park. Cars are not allowed to park near the gate. There are two ways you can reach. You can take the Jawahar Road from the Mall (Chowrasta) along Mall Road and keep walking for a while (about 30 minutes) and reach the entrance of the Zoo/HMI. 
Alternatively you can take a taxi from Chowk Bazaar area and get near the zoo along Lebong Cart Road. The Zoo is about 3kms from Chowk Bazaar and takes 15 minutes by taxi. Below the Zoo on Lebong Cart Road, cars and taxis can park along the roadside. From the roadside, there is a stairway and then it's a 4-5 minute uphill walk from up to the entry gate. You will see big signs on a rock showing directions. 
Darjeeling Zoo along with several other popular attractions in Darjeeling are covered by the standard
local sightseeing tours
offered by taxi drivers and tour operators. 
Outside the Zoo main gate and alongside the narrow road that winds down to the Lebong Cart road, there are several makeshift stalls that sell handcrafts, spices and pickles, trinkets, woolens etc. 
Stalls outside Darjeeling Zoo 
Photo: Syed Sajidul Islam, cc by sa 4.0 
GTA has introduced Battery Operated Carts between Bhanu Bhawan (i.e. Gorkha Bhawan) on Mall road and the Zoo/HMI during tourist season between 10am to 4pm. A cart can accommodate up to 8 persons. One way rate is Rs. 20 per person. It makes several round trips. You can also reserve a cart for Rs. 500. Update 2019: Carts are no longer in operation. 
Zoo Contacts
Padmaja Naidu Himalayan Zoological Park, Jawahar Parvat, Darjeeling 
Related Articles
Visitors' Reviews/Comments
Mrs. Rustom Dalal (April 2019) 
At the zoo there are signs for silence. We witnessed hordes of noisy tourists trying to disturb the black bear and snow leopard just because they wanted the animals to stand up for a good 'selfie'. Please ensure that tourists behave whilst visiting the zoo.  
Shubham Dey (January 2017) 
Dear zoo authority, Please take more care about animals. Cut some trees in zoo area to give them sunlight. And please return the three monkeys to their real place or keep them warm. 
Vandan Katira (September 2014) 
Hi, Thx for this wonderful site annd comprehensive writup on almost all the things. I am travelling to Darjeeling (2 nights)- Pelling (2 nights) - Gangtok (3 nights) in October. We are 4 adults and 3 kids, 2 yrs, 5 yrs and 8 yrs. Would welcome your advice on which Zoo to visit ? Both in Darjeeling and or Gangtok? Or any one? then which one ? 
Raj (darjeeling-tourism.com) September 2014 
In Darjeeling Zoo you will be able see most animals. Gangtok zoo is vast, requires lot more time and animals are kept in semi-natural habitat, so you may not always be able to see the animals. So visit Darjeeling Zoo (you can also then visit the HMI museum in the same premises) and then in Gangtok, if you have time, visit the zoo (it's closed on Thursdays).