Himalayan Mountaineering Institute Darjeeling
HMI History
Following the conquest of Mount Everest in 1953 for the first time in history, Edmund Hillary was knighted by the Queen of England. And in India, the nation built the HMI in Darjeeling to commemorate the success of sherpa Tenzing Norgay. Tenzing was the only other companion of Edmund Hillary to the summit. Himalayan Mountaineering Institute was built as a tribute to Tenzing so that he could impart his skills to all those who pursued climbing activities in the Himalayas. 
Tenzing was the first Director of field training in HMI. Himalayan Mountaineering Institute is now a complex of various activities and units. It is said to be a destination by itself and a pilgrimage for all the climbing enthusiasts. It comprises of a residential school for mountaineering students, Swiss style houses for the sherpa trainers, a well stocked museum with whole host of mountaineering artifacts and many expedition displays, a restaurant & a tea parlor, a souvenir shop and more. 
Main entry gate for Darjeeling Zoo and HMI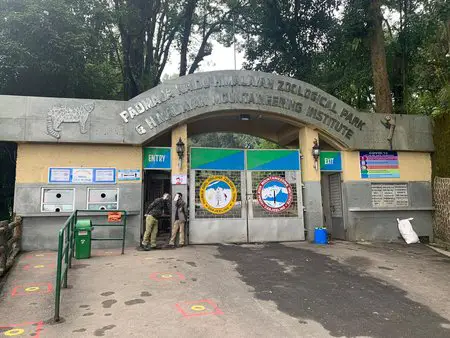 As you enter through the main gate, you will see some small shops on your left including curio & souvenir shops selling Himalayan craft, gems and other stuff. There are several roads that originate from here out of which one goes straight up, one to the right and one turning ahead. Walk along the road that goes straight uphill. After about 100 meters you will pass through the arch gate of HMI.  
Entrance to HMI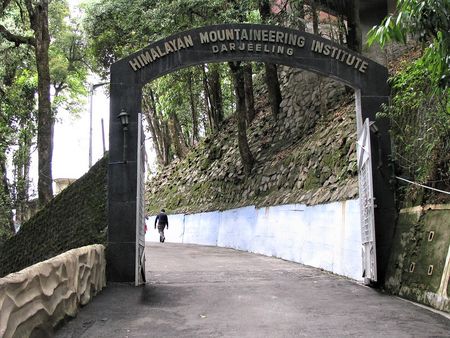 Photo: Shankar S/flickr 
And soon ahead you will see the yellow colored Institute building with one of its walls having an impression of a mountaineer and a quote next to it that says "May you climb from peak to peak". 
The foundation stone of the Himalayan Mountaineering Institute was laid by the first Prime Minister of India Jawahar Lal Nehru on November 4th, 1954. You will see the stone here. You will also notice many mountaineering knots hanging from the walls of the institute. Kinds of knots include Waterman Knot, Overhand Knot, Triple Bowline on the Bight and lot more. 
Himalayan Mountaineering Institute, Darjeeling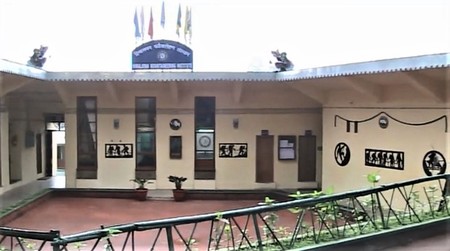 About the mountaineering school at HMI
All those who are interested including foreign students within allowable age limits can enroll for the various mountaineering and rock climbing courses offered by the Institute. There are 16 scheduled courses that take place every year other than special courses that are organized on demand. 
Here are some of the main courses:  
28-day Basic Mountaineering Course that includes acclimatization, theoretical training, trekking to approach the base camp, field training above the base camp etc. Tee base camp of HMI is at Chaurikhang in West Sikkim at an altitude of 14,600ft. This is where the field training takes place. 
28-day Advance Mountaineering Course where one learns advanced mountaineering techniques and participate in planned expeditions, rescue operations and more. The trainees return as complete mountaineers. This course can be undertaken only by those who have secured Grade 'A' in the Basic Mountaineering course from HMI. 
Adventure Courses that are designed like outbound programs including rock climbing, camping, trekking and watersports. 
There are courses conducted for the visually impaired and includes rock crafts, trekking at high altitude etc. 
The institute is well equipped with many facilities both indoor and outdoor. There is a large auditorium called the Jayal Hall named after the first Principal of the institute. It can house 150 students. The auditorium is used for demos, lectures and screening mountaineering films. There is also a well stocked library at the premises that has over 250 valuable books on mountaineering and various other subjects including the flora & fauna, exploration, travel etc. 
There is a 50-foot by 20-foot sports climbing wall which is of international standard. There is also an indoor climbing wall and well laid out obstacle training area. The institute also uses the nearby
Tenzing Rock and Gombu Rock
on the Lebong Cart Road for practical training of rock climbing. 
Watch the video of HMI compound 
The HMI Museum
From the HMI Institute, you will need to walk up the road a little to reach the Museum. The museum has two sections, the Main museum at the ground floor and the Mount Everest & Mount Makalu Museum at the upper floor. This is the oldest mountaineering museum in the country that was set up in 1957. It serves as a key resource for researchers and students of mountaineering. It's also open to public. Photography is prohibited inside the museums. 
As you walk into the ground floor, there is a lobby area and you will notice a help counter on the right. You can get information here about the museum and its various sections. Near the entrance of the main hall you will see a large picture of Jawahar Lal Nehru, Haren Mukherjee the then Governor, B C Roy the Chief Minister of West Bengal of that time and Tenzing Norgay. 
As you walk forward bearing left, there is a huge relief model of the Himalayas showing you the entire range and all the principal peaks. Further down there are various mountaineering exhibits. A section named "Equipment in Vogue" displays various accessories like ice axe/ hammer, night apparel, boots etc. You can see Ice Axe used by late Major Jayal.  
On one side of the wall there are collections of badges of various mountaineering clubs and associations. Some of them include German Mountaineering Club, Austria Alpine Club, Swiss Alpine Club, Iranian Expedition, Western Himalayan Mountaineering Institute of Manali and lot more. Then there is a section of wireless sets, gas lamps, head lamps, snow shovels, pit furnace, oxygen cylinders with regulators, compass etc that are used during mountaineering. 
There is a section on boots, latches, water bottles, camp shoes. Then you will see s statue of Buddha (Vairo Chana) regarded as the first Thayani Buddha by the Nepalese Buddhists. Then you will see dresses & models. There is a huge model of a Tibetan married woman. 
All these reflect the culture and people of the Himalayas. The section also talks about the races and the languages in this part of the world. You will then see Himalayan Crow (a huge black bird), Red Legged Partridge (another big bird of the Himalayas), flying squirrel, snow fox etc. 
Here you will see the stairs to the upper floor which is the Everest and Makalu section. Upstairs the first thing you will notice is life size models of mountaineers showing crevasse crossing. Then you will see many large pictures. One of the most prominent ones is that of Tenzing Norgay on top of the Everest on May 29, 1953 at 11:30am when he climbed to the summit along with Edmund Hillary. 
You will also see the New Zealand made mountain mule used by Edmund Hillary and George in 1953 during the British Everest expedition, and mountaineers crossing a deep gorge over a small metal frame. You will then come across the exhibits of 2009 Mt. Makalu expedition displaying sleeping bags, altitude socks, caps, jackets etc. You will see a model on a huge glass-top table where all the main peaks of the Himalayas are shown starting from Nanda Devi, Trishul and including all the mountain ranges of Western, Central and Eastern Himalayas 
Now starts the Everest section. It gives a chronological account of the attempts made at the Everest since 1852. It even includes information about the controversial 1924 British Everest Expedition where George Mallory and Andrew Irvin disappeared near the summit. Many years later Mallory's body was found some hundred feet below the top, and it remained a mystery till date whether or not they could complete their climb to the top. 
You will see the personal gears and clothing of Tenzing Norgay like ice axe, jackets, gloves, cap etc. The equipment used by Tenzing and Edmund Hillary during the 1953 Everest expedition are also displayed in this section. You will also see here a picture of an eagle found dead at an altitude of 26,000 foot during the 1960 Everest expedition. 
You will then get to the photographs of many who have successfully climbed the Everest. There is one picture that says "Nine Indian Atop Everest" that includes photograph of Nawang Gombu who was the first person to climb Everest twice (in 1963 & 1965). 
Other attractions and facilities at HMI
At the HMI area, you will find several activities. As part of the Tree Top Rope Course there is the Zipline, although a short one and is very popular with young ones. Then there is Tree Walk with 4 obstacle activity, 6 obstacle activity, etc where one needs to walk on a rope and negotiate a few obstacles under the supervision of a guide. There is a ticket counter right next to this activity area and the rate charts are put up there. 
There is a powerful telescope installed at the HMI which can be used to see the entire Kanchenjunga range very clearly. It was presented by Adolph Hitler to Maharaja Judh Shumsher Jung Bahadur Rana of Nepal. It was passed down through generations and finally given as a gift to the Himalayan Mountaineering Institute. 
Statue of Tenzing Norgay at HMI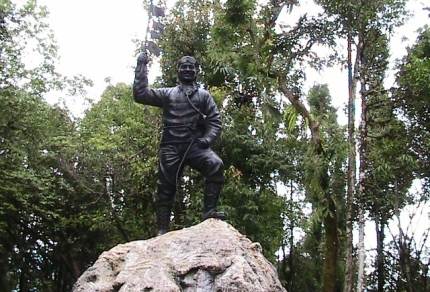 Just outside the HMI Museum building, there is an open space. On one side there is a statue of Tenzing Norgay standing on a mount with a flag in his hand. He was the Director of Field Training until 1976 when he retired and an Advisor of the HMI until his death on May 9, 1986. This statue that was erected in his honor, was unveiled by none other than his companion during mount Everest expedition, Sir Edmund Hillary on March 25, 1997. 
Here you will also find few small shops and the HMI Restaurant and Tea Parlor. The restaurant serves breakfast, lunch and snack. There are Chinese items also available in the menu. Next to it is a souvenir shop, an ice cream parlor, and a photo studio where they dress one up in local style and take pictures. 
HMI Restaurant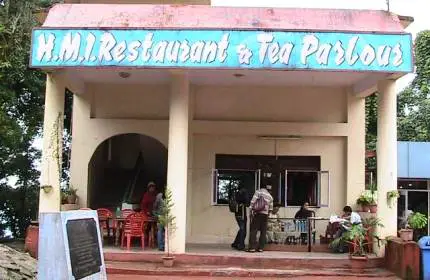 There are toilets available little below the Institute building as well as near the main entrance. 
A bust and a stupa (chorten) have been consecrated at HMI premises on April 24, 2017 in honor of Nawang Gombu, a sherpa who climbed Everest twice - once in 1963 and again in 1965. He was the youngest sherpa in Edmund Hillary and Tenzing Norgay's Everest expedition of 1953 when he managed to climb up to an altitude of 26,000ft with heavy load. He subsequently conquered Everest and many other peaks. Incidentally the date of consecration was his 6th death anniversary. 
Open Hours and Entry Fees
The combined ticket price is Rs. 110/- per person (Indians and SAARC country nationals). 
Child below 6 years is free. 
There is also additional charge for taking cameras inside (Rs. 10/-). 
Zipline cost is Rs. 80/- and combined with Tree Walk there is a package of Rs. 210/-. 
How to reach HMI
Himalayan Mountaineering Institute is located in Darjeeling at the Jawahar Parbat, earlier known as the Birch Hill Park. There are two ways you can reach. You can take the Jawahar Road from
Mall Road
that originates from
Chowrasta (Mall)
and keep walking for about 30 minutes and reach HMI. 
Alternatively, take a reserved or shared taxi from Chowk Bazaar at lower town. HMI is 3kms (about 15 minutes drive) from Chowk Bazaar along Lebong Cart Road. Look right and you will see big signs on a rock showing direction to HMI along a narrow uphill lane. Cars are usually not allowed up to the gate. Cars/taxis can park along Lebong Cart Road. It's 4-5 minute uphill walk from there up to the gate. 
HMI along with several other popular attractions including Darjeeling Zoo are covered by the standard
local sightseeing tours
offered by taxi drivers and tour operators. 
GTA has introduced Battery Operated Carts between Bhanu Bhawan (i.e. Gorkha Bhawan) on Mall road and the HMI/Zoo during tourist season between 10am to 4pm. A cart can accommodate up to 8 persons. One way rate is Rs. 20 per person. It makes several round trips. You can also reserve a cart for Rs. 500. Update 2019: Carts are no longer in operation. 
Address and Contacts
Himalayan Mountaineering Institute,  
Jawahar Parvat, Darjeeling – 734101. West Bengal, India. 
Phone: (0354) 225 4087 
Phone (Training Office): +91 – 76022 15312 
HMI Website: hmidarjeeling.com 
Related Articles
Visitors' Reviews/Comments
Sadhana Roy (August 2020) 
I'm interested in mountain climbing... but how do you contact this institute and complete all courses in mountain climbing. Mountaineering is most important for me. I want to complete all courses and get to the summit of mount Everest and fulfill my dream...please help me ...how to contact this institute......and please provide the above course fees. 
Raj (darjeeling-tourism.com) August 2020 
Hello, HMI conducts various courses including Basic and Advanced courses in mountaineering, each of 28 days duration. You should first take the Basic course which is conducted at the base camp of HMI located at Chaurikhang in West Sikkim at an altitude of 14,600ft. This basic course imparts training to acquire skills to participate in expeditions up to an altitude of 7,000 meters. During this basic course, trainees attempt peaks such as Frey and BC Roy. If you secure 'A' grade in this course, only then you can be eligible to take the Advanced Mountaineering course which prepares the trainees to climb mountains in actual high altitude expeditions like Everest. 
You can email to HMI (
[email protected]
) to get details of course schedule and fees, alternatively, you can also call them up over the phone and directly talk to them on +91 – 76022 15312 (this is the Training Office number).