Dali Monastery Darjeeling
Located in Dali which is about 3kms away from Darjeeling Town, although this monastery is popularly known as the Dali Monastery, it's actual name is Druk Sangag Choling Monastery. This is the name which is written on its outside wall with large bold letters and prominently visible as you approach it from the road and walk through its arch gate. 
When you look at the monastery from a little distance standing on the Hill Cart Road, it looks awesome. It's one of the largest monasteries with white buildings built in typical Tibetan style and perched on a steep hill and overlooking the Hill Cart Road which is the main arterial road of Darjeeling. 
Dali Monastery Darjeeling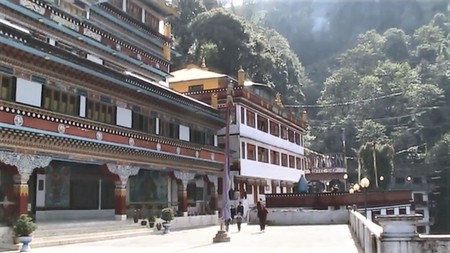 The monastery was originally built at the time of Kyabje Thuksey Rinpoche in 1971. He was a well known religious Tibetan teacher. Dali Monastery belongs to the Kagyupa sect. Today it is the head quarters and residence of Drukchen Rimpoche the XII, who is the supreme head of the Kagyupa sect of Buddhists. As you enter through the arch gate and walk up along the ramp, you will be awestruck with the structure of the buildings. Soon you will need to climb flights of many steep stairs. 
On the way you will see a prayer room on your right. There are several huge cylindrical golden colored drums on one side of the room. During prayer time monks sit in front of the drums and offer prayers. The chants and humming sound creates a wonderful spiritual ambience. 
Prayer Room - Dali Monastery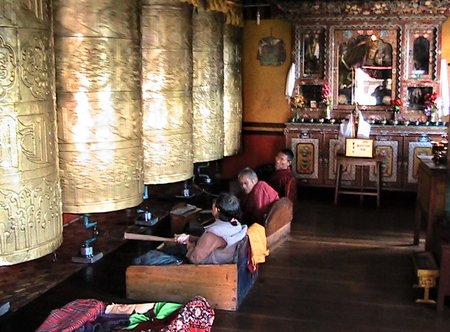 Walk further up and you will reach a large flat open area. There is a school inside and you may see many students in their school uniform with bags are walking in. If you walk towards the right of this large open terrace area, you will reach a Cafe called the Kunga Paljor Coffee Shop. 
Dali Monastery Coffee Shop 
If you have time and like to relax in a quiet and peaceful ambience while sipping a cup of coffee or tea, this is an ideal place. It serves tea, coffee and vegetarian snack items like momos (dumplings), idly (South Indian rice cakes), chana, potato chips etc. and also cold drinks. 
Inside the Coffee Shop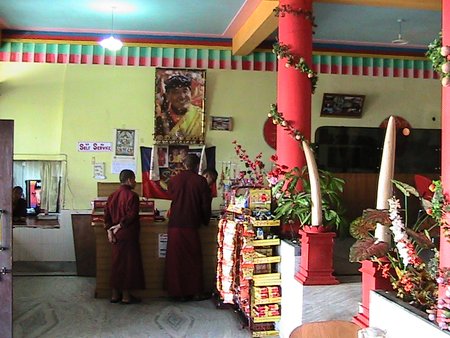 This is a self service cafe (i.e. no waiters to serve you). On one side there are some books and magazines kept so that you can do some reading about Darjeeling and the Tibetan culture as well. A great place to relax and enjoy a quiet time in a religious environment. 
If there is one thing that may be annoying at the monastery... that would be the few stray dogs. They seem to be the pets of the monks and move around freely and even enter the cafe area. Although they are harmless, they look quite frightening anyway. Another negative... although there is public toilet facility in the monastery premises, it is quite unclean, to say the least. 
Dali Monastery has many monks and disciples who are resident here. There are over 200 monks now in the monastery. So you will see them every where in the premises. During 1993 Dalali Lama once came here and stayed for three days teaching the in-depth principles of Tibetan religion and culture to the students and disciples. 
Watch the video of Dali Monastery 
Open Hours
Dali Monastery is open daily from early morning until evening.  
The prayer timings are from 5am until 6:30am, and 5pm until 6:30pm. There is no entry fee. 
Location
Dali Monastery is located about 3.3kms away from Darjeeling Town Center (Chowrasta Mall). It is on the Hill Cart Road perched on a cliff and will be to your left as you approach from the Darjeeling town. Check out
Darjeeling Map
to see the location of the Monastery. 
Related Articles
Visitors' Reviews/Comments
Share your experience.