Top Darjeeling Monasteries
What to Expect
Over the centuries and more so when China invaded Tibet in 1950, thousands of Tibetans left Tibet and many of them immigrated to Darjeeling. As a result, there is a prominent influence of Buddhism in Darjeeling. Several wonderful monasteries have come up in Darjeeling over time, some date back to 1800s. Many monasteries in Darjeeling have been built in traditional Tibetan style. In Tibetan Buddhism, a monastery or the community chapel is often known as the 'Gompa'. 
Within the Buddhists there are several sects like the Yellow Hat (i.e. Gelugpa order), Red Hat (i.e. Nyingma order), Kagyupa order etc. And each monastery belongs to a specific sect. 
Dali Monastery Darjeeling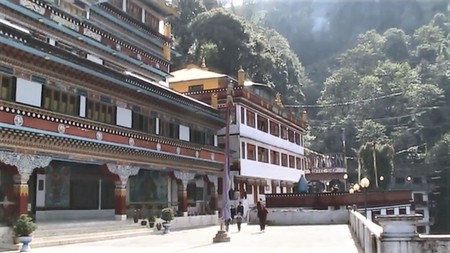 So what can you expect to see in a monastery in Darjeeling? There is usually a Parikrama or a Pradakshina path around the monastery and there will be a row of prayer wheels outside. All monasteries have a main shrine or a building which is known as Lhakhang. 
Inside the main building, it's a large hall with dim lights... there are hardly any windows or doors in a monastery other than the main entrance door through which natural lights can come in. Huge floor-to-ceiling pillars ornate with paintings and carvings of deities are common. There are rows of low tables and stools kept on the floor for the lamas to sit. 
At a prominent place against a wall, there will be the seat of the deities. Usually, a large statue or a model of Gautam Buddha will be at the center flanked by models of Rinponche (Padmasambhava) and Chenrezig on his two sides. However, this arrangement can vary depending on the sect. For example, in monasteries of Nyingma sect (Red Hat), statue of Padmasambhava is at the center flanked by his two wives on his two sides. 
Large statue of Buddha at Samten Choling Monastery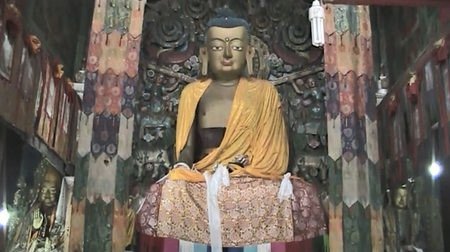 There are also several other smaller models of different gods and goddesses kept here and they are all considered very sacred because paper rolls with prayers written on them are kept inside these models. The lit up rows of lamps and low lights create a strange yet awe-inspiring ambience inside, more so during the prayer time when you can listen to the chants of the lamas. 
The inside walls of the main building are usually full of colorful fresco paintings and murals depicting the life story of Buddha. You can see a riot of colors in these paintings with the dominant ones being red, blue and yellow. Among many, the paintings showing Gautam Buddha and his 16 disciples, as well as the Principal lama gurus of Tibet are quite common. 
Wall Mural inside Bhutia Busti Monastery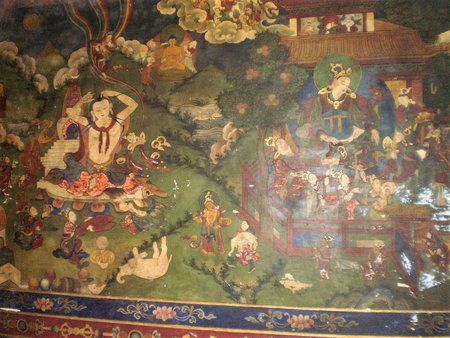 Another important asset of a monastery is its set of religious books. You can often find them inside glass cabinets that are fixed or engraved on the walls. The pages of these books are created manually by hand... they are quite hardy and measure 6-inch by 2-foot in dimensions. All these books are hand-printed in Tibet using wooden print blocks and inks. 
Each book can have several hundred such pages that are together wrapped with a piece of cloth, the whole thing is then sandwiched between two thin wooden sheets on which the name of the book is written. The entire book is then tied and held together by a cloth tape. 
The Buddhist religious book named 'Kangyur' has about 110 volumes, and each volume has over 1,000 pages. The content of this book comprises mainly of Tripitaka and Mantras. The religious book 'Tanjur' has more than 225 volumes and has content related to philosophy, grammar, medicine, astrology etc. These books are highly expensive and very few monasteries can afford to keep all volumes of the two books. In fact, most keep only some volumes of 'Kangyur' that are put into regular use and practice by the lamas. 
What else can you see in a Monastery in Darjeeling? Usually, you will also find a separate place or a suite inside the compound that is reserved for His Holiness Dalai Lama along with his picture. 
During mid-February to mid-March the monks at the Buddhist Monasteries fly the prayer flags in typical Tibetan tradition, hold folk dances (known as 'Chaam') and other religious activities to welcome the Tibetan New Year which is known as the Losar. 
Great Monasteries in Darjeeling
Some monasteries like the Samten Choling and Old Ghum Monasteries are part of standard local sightseeing tours offered by taxi drivers or tour operators. The others you can visit on foot or by hiring a taxi. Here are the great monasteries in Darjeeling. Visit the links for details. 
Belonging to the well known Kagyupa sect of Buddhists, Dali Monastery is located some 5kms away from the main Darjeeling town center. Perched on a hill, this monastery is a huge construction and overlooks the Hill Cart Road. When you approach Darjeeling by car, this gigantic structure at a higher elevation on a cliff will welcome you with its divine bliss. 
Dali Monastery, Darjeeling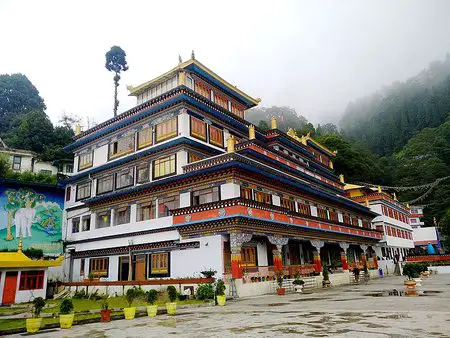 Photo: JyotiPN, cc by sa 4.0 
While the chants and drumming during the prayer time creates a serene spiritual ambience, the monastery also offers a huge open terrace where you can relax and watch the monks and other religious activities in a quiet environment. 
There is a Coffee Shop inside the monastery premises and adjoining the open terrace. Here you can go and have some coffee or fresh Darjeeling tea along with some momos. There is also a monastic school inside the monastery. The monks or the lamas here are friendly and you can ask them for any information that you want regarding the monastery and its religious activities. 
The Monastery which is located at about 1.5 km walking distance from the Mall, was earlier located at the Observatory Hill. It was originally built in 1761, but went through repeated ill fates finally causing the monastery to be relocated to its present location. In view of its original foundation at Observatory Hill, this is the oldest Buddhist Monastery in Darjeeling. 
Bhutia Busti Monastery, Darjeeling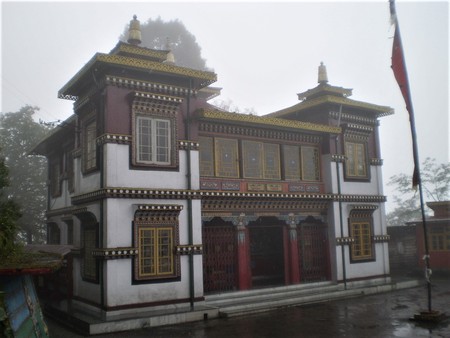 Although the downhill walk to the monastery is quite doable, the walk back up can be very exhausting. However, your rewards will be awesome. The monastery building is nestled in a quaint and peaceful ambience. Step into the large prayer room and you can see a model of Buddha inside a glass cabinet and photo of Dalali Lama, many different images of gods and goddesses, and walls that are full of beautiful murals that are created using powdered precious stones including gold. 
Yiga Choeling Monastery is the original or the old Ghum Monastery. It was built in 1850 and is one of the oldest Tibetan Buddhist monasteries in the Darjeeling area. The main attractions here includes a huge 15-foot statue of Maitreya Buddha or Future Buddha that was created with clay brought from Tibet. The view around is wonderful. The monastery belongs to the Yellow Hat sect. 
Old Ghoom Monastery (Yiga Choeling)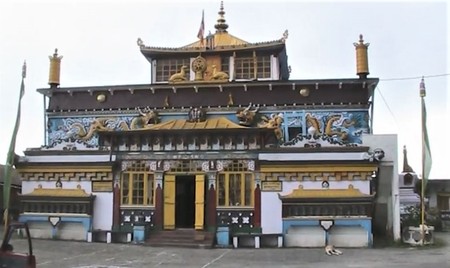 Located in Ghum and about 7kms from the Darjeeling town, Samten Choling is also another prominent Buddhist monastery in Darjeeling area. This monastery is popularly known as the Ghum monastery and is included in the
3-Point local tour
offered by taxi drivers and tour operators. 
Samten Choling Monastery, Ghum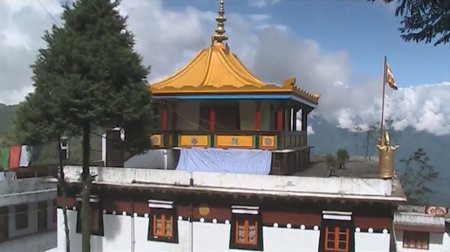 Inside there is a huge 26-foot statue of Buddha that was made in the honor of renowned scholar Lama Anagarika Govinda. His research and book on Buddhism has been acclaimed by Buddhist community from all over the world. The monastery belongs to Yellow Hat sect of Buddhists. 
There is a small cafe in the premises which opens early in the morning serving tea and simple snacks to tourists visiting the monastery. You can join the prayers and hear the divine chants early in the mornings or in the evenings. 
Located in a place called Aloobari some 3kms away from Darjeeling town, the original name of this monastery is Mak Dhog Monastery or Magdhog Monastery. 
It was dedicated to world peace because its time of construction coincided with that of the time of World War-1. It has several statues including that of Buddha and the sage Padmasambhava who transmitted Buddhism in Tibet and Bhutan. 
Aloobari Monastery Gate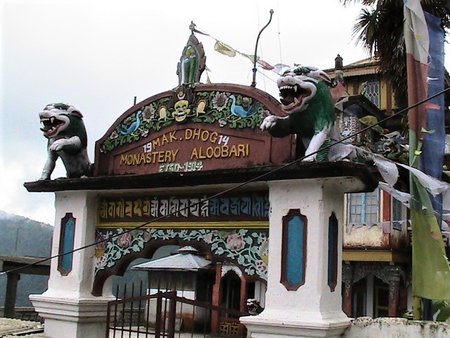 Related Articles
Visitors' Reviews/Comments
Agnieszka Ludew (November 2015) 
Dear Raj, I am looking for opportunity to stay in the Tibetan Buddhist Monastery in Darjeeling. Do you have any information if this is accessible for a foreigners? Thank you for this website and your work. Kind regards 
Raj (darjeeling-tourism.com) November 2015 
Hi, Some monasteries can accommodate guests/outsiders temporarily but mostly based on assigned work. Dali monastery is one such place where I have seen foreigners staying while teaching at the school run by the monastery. This needs to be however pre-arranged.