Trip to Bijanbari from Darjeeling
Out of the many beautiful day trips from Darjeeling, Bijanbari will rate as one of the best. Bijanbari is a small town located at a valley and at an altitude of about 2,500ft (i.e. 760m). There is a winding scenic road that goes down from the Ghoom area all the way down to this sleepy town over a stretch of 22 kilometers (14 miles). 
On the way you will pass by some lovely mountain streams, waterfalls, prize winning tea gardens and unspoiled forests. Over this stretch the road drops by about 4800 ft. Some 13km (i.e. about 8 miles) along this road you will see the great Hima Falls which is also a popular picnic spot. There is a beautiful bridge that crosses over the falls stream. 
Further down and another 6km (i.e. 3.6 miles) away, you will find the Biswambhar rock, a steep 50-ft high rock rising vertically. You will also pass by some beautiful tea gardens like Marybong, Rishihaat, Chontong etc. You get breathtaking view of Darjeeling town and adjoining areas from a number of spots on the way. And finally you will reach Bijanbari town. There is also a trekking route from Singalila range that ends at Bijanbari. 
Bijanbari is a small town with only few thousand people living there. The local language is Nepali. Don't expect city facilities here. You are travelling only to experience the simple life people lead there and enjoy the nature around. The town goes to sleep by 8pm. There are only three private and one government school in the area. A government college was established in 1995. 
There are no great restaurants in Bijanbari, just one or two eateries offering basic vegetarian food that are often used by locals and trekkers. So if you are looking for great food, then carry it along with you. As you go further, you will see the river Little (Chota) Rangeet flowing over a bed of rocks and boulders, and separating the hills from Poolbazar. There are several picnic spots by the river side. There are also food stalls by the river side. 
Bijanbari from a distance 
Poolbazar (or Pulbazar) is a place close to Bijanbari town. This is where the oldest and the biggest market of Darjeeling district runs selling vegetables and trading farm animals. The market is known as 'haat' in colloquial terms and is set up weekly on Fridays. There is a Hindu temple in Poolbazar that was established in 1971. Inside you will see great images of goddess Durga, Lord Shiva, Ganesha and others. The images are all carved on stones and painted with bright colors. They have been created by the artist Lal Prashad Rai. 
The valley around the river Rangeet has many fruit orchards like apple, orange, pineapple and others. There are many agricultural products that are grown in the valley including rice, potatoes, tomato, cabbage and lot more. Paddy or rice is cultivated in the months of June-July and harvested in January. 
Bijanbari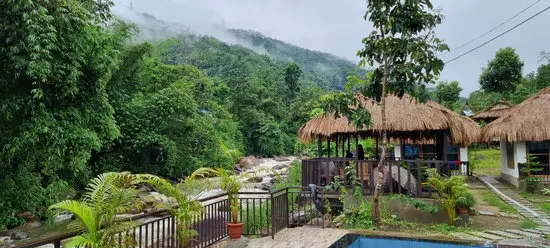 About 2km from Poolbazar, you will reach a Sericulture farm that makes products out of mulberry bushes and silk worms. Another nice place to visit here is the hydroelectric power plant located at a nearby place called Lodhoma. See how the water is captured at the fiercely flowing stream to generate power. Here on one side you will see lovely orange orchard and on the other side is a steeply rising hill. 
There are some great hiking routes from Bijanbari. Singla Bazar can be reached in about 4 hours, Relling is about 8 kms (5 miles) away and Som Tea Estate is about 4 hours walk from Bijanbari. Other nice places offering great walks and picnic spots include Kaizalay, Gok, Kainjalia, Jhepi, Sumbuck, Rimbik etc. There is another place called Kolbong which is about 5km from Kainjali from where the view of the Sikkim area is simply awesome. 
Update October 22, 2011: A bridge on the river Little Rangeet at Bijanbari collapsed resulting in death of over 30 people and injuries to many more. Over 100 people gathered on the bridge to listen to the Gorkha Janamukti Morcha leaders who were delivering speeches at that time. 
How to reach Bijanbari from Darjeeling
Bijanbari is about 30kms from Darjeeling town and can be approached via Ghum. There are several ways you can visit Bijanbari from Darjeeling. Easiest and of course relatively more costly way is to hire a cab from the taxi stand at Chowk Bazaar or Gandhi road. The shortest route from Darjeeling is via Tukvar Tea Estate, Jammuni bridge, Pulbazaar ... takes about 1 hour 35 minutes. 
There are also Darjeeling-Bijanbari buses that leave from the bus stand early in the morning. You can also take a shared jeep from Chowk Bazaar. 
Alternatively check out with the GTA tourism office located on the Mall Road. They offer the above tour during high season on a per person rate. They use a jeep or a mini bus. You will need to pack your lunch or have it from the river side food stalls. For address and contacts of GTA office, check out
Darjeeling Tourist Information Centers
. Update: GTA Tourism Center on Darjeeling Mall Road no longer offers the tour, but they can provide information about Bijanbari and how to reach. 
Where to stay
In case you like to stay overnight at Bijanbari, there is a nice budget homestay at Lamagaon (about 11kms from Bijanbari) known as Lamagaon Homestay. It's on the hills and at a higher altitude (5,200ft). Rooms are well furnished and the property has beautiful flower gardens and even small animals like rabbits. Food is good and homemade. Fresh homemade breads, mangoes (in season), fruit juices, Nepali thali (platter) are some of the highlights. 
Lamagaon Homestay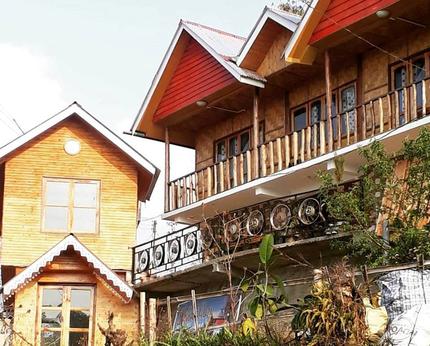 They grow several types of fruits and vegetables in their gardens including oranges, squash etc. Non-vegetarian food is also served including chicken and even freshly caught fish. You can also try barbecue in village style by roasting your meat on log fire. The homestay organizes treks, bird watching, fishing, local sightseeing etc. 
Contact Details 
Phone: (+91) 94346 10510, 98323 30100 
Most other accommodations are basic with shared bathrooms and mainly meant for the trekkers. There is an Inspection Bungalow on top of a ridge which can also be availed through the state department. 
Related Articles
1) Check out
River Teesta & Rangeet
Confluence to know about a magnificent spectacle where the two rivers meet at a nearby area. 
3) Check out
Darjeeling Tours
to know about many other wonderful places that you can visit from Darjeeling within hours. 
Visitors' Reviews/Comments
Rajorshi Basu Roy Chowdhury (October 2013) 
Hello Raj, I found this site most informative an I need information about BijonBari as I have limited budget and want to explore that place for about 5 days which include some other places around it. I wish to stay at "Home Stay or other place to stay" in a clean home with a clean toilet. Basically I don't need any meal over there as I am an regular trekker and used to go out before dawn. This time my small family is also along with me so I might need to get dinner from them. What's basically I need from you is a contact number of one of them you know better so that I can find all the information about the rates and other things from them. Please co-operate as you can, and that will be a great help to me. Date of visit: 20.11.2013 to 25.11.2013. Thank You. Regards 
Raj (darjeeling-tourism.com) October 2013 
Hi, You won't find any good hotel at the main area of Bijanbari like in Poolbazaar etc, particularly to stay with family. I suggest you stay at Karmi Farm which is located at Kolbong only few miles away. From Bijanbari, you will get shared jeeps, taxi etc to reach the farm. Andrew runs the farm and has a main house with couple of annex cottages below the main house. There are dorms with shared toilets as well as private rooms with attached toilets. Excellent place for views across to Sikkim, trekking and birdwatching. You will however need to take in-house food (mostly veg though and prepared in Nepalese, Sikkimese style). Email:
[email protected]