About Sandakphu - The Experience
Sandakphu has always been known as the trekkers' paradise and located at north west of Darjeeling town at an altitude of 11,929ft (i.e. 3,636m). This is the highest point (or peak) of the Singalila mountain range. 
Many tourists who find the 3 days trek too strenuous to bear, take a 4-wheel drive vehicle like a jeep or a Land Rover from Manebhanjan and go all the way up to Sandakphu along the steep gravel road. The motor road is full of loose stones and boulders, and takes about 5 hours to reach. 
The distance from Manebhanjan to Sandakphu is about 32 kilometers. From Darjeeling, the distance to Sandakphu is 58kms (26km up to Manebhanjan). But once you reach Sandakphu after a tedious trek, you will be rewarded with the real bounty of the nature. 
If you love snow peaks, then you will feel privileged that you made it up to this point and joined the group of few who have witnessed an end-to-end panoramic views of the Himalayan peaks. And these include four of the five highest peaks of the world. I shall come to the view shortly. 
Sandakphu Lodges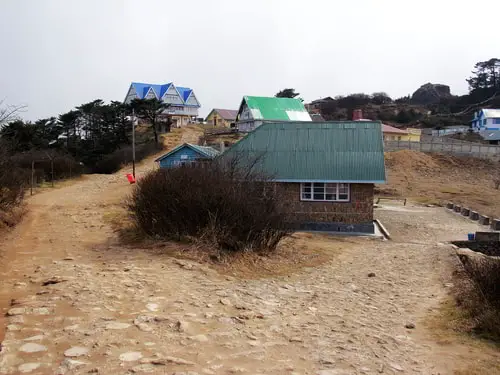 GTA Lodge is the first one, 
Sherpa Chalet with angular roof structures at the end 
The name Sandakphu means "Height of the poison plants". This is because of the poisonous aconite plants growing in abundance here and Sandakphu being the highest point of Darjeeling hills where such plants grow. Don't worry, they won't reach any harm to you unless you try to eat the attractive purple blue colored flowers or the leaves of these handsome looking plants that are usually 1-meter in height. Sandakphu is also home to lovely flowering plants like primula and rhododendrons that bloom in plenty in spring. 
The last stretch of the route from Bikheybhanjang up to Sandakphu (4kms) is really steep. This stretch and the slopes of Sandakphu area are full of silver firs, rhododendron trees and magnolias. Sandakphu is a small village with few huts, GTA (Gorkhaland Territorial Administration, erstwhile DGHC) trekkers huts and few other private lodges for tourists and trekkers. 
Now about the view of snow mountains. From Sandakphu, you get a 180 degree view of the Eastern Himalayas, with ranges that belong to Nepal on the west, Sikkim and Bhutan in the middle and Arunachal Pradesh in the east.  
The entire range from Nepal to Arunachal is about 320 kms long. But the most dominant in the range are the Everest and Kanchenjunga family of peaks. The best time to view the snow peaks is when the day breaks at the wee hours. The best season is between April to May and from October to November. 
Roads leading to Sandakphu 
As the first sunlight strikes, you will see the dazzling peaks of the Everest family in Nepal at the far west including the gorgeous Mt. Everest (29,029 ft., the highest peak in the world). It is about 160kms away from Sandakphu. You will find it along with other peaks like Lhotse (27940 ft., the fourth highest peak) and Mt. Makalu (27,825 ft, the fifth highest peak). If you look further west, you will see the Chamlang (24,006 ft) that stands like a square wall of snow. 
Everest view from Sandakphu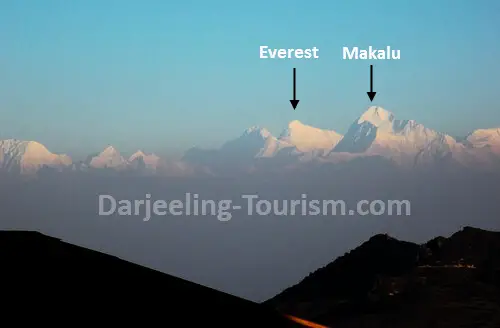 If you now start looking towards east at Sikkim, you will see the striking and prominent peaks of Kanchenjunga family (summit 28,156 ft., the third highest peak in the world). The name Kanchenjunga means "Five treasures of the snow" and has five snow peaks in its family. It is characterized by massive mass of snow. Buddhists call it 'Sleeping Buddha' and this massif is considered a holy deity in Sikkim. It is because of this sacred belief, mountaineers are not permitted to climb to the peak of Kanchenjunga. 
Kanchenjunga view from Sandakphu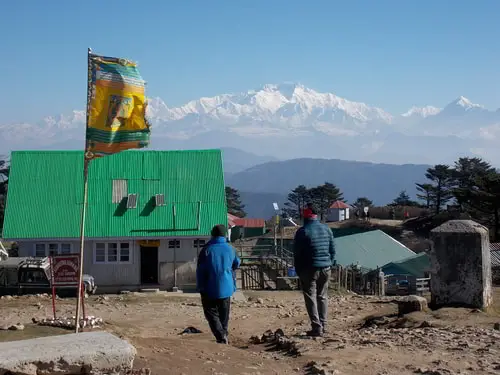 Other peaks close to Kanchenjunga include Kabru (24,026 ft), Kumbhakarna (25,294 ft.) and Pandim (22,010 ft). Between Everest and Kanchenjunga you will see the peaks of Three Sisters. 
If you look further east of Kanchenjunga, you will see the great Tibetan peaks of Narsing, Dongkya and Chola. And then you can spot Chamolhari in Bhutan. 
Where to stay at Sandakphu
There is a GTA Lodge in Sandkphu which is quite popular with tourists and trekkers. Accommodation and service is quite basic though (often only a caretaker manages the operation). You need to visit a GTA Tourism Office and book a GTA lodge (there is no online booking system). You will find address and contact info of GTA tourism offices here:
Darjeeling Tourist Information Centers
. 
There are also several private hotels here. One of the popular ones is
Hotel Sherpa Chalet
. It's on a hill top and has rooms in lower and upper floors with great views of Kanchenjunga. Other private hotels includes Sunrise Hotel (Phone: +977 974-1450002), Namo Buddha Hotel (Phone: 070768 24423) etc. You need to call them up, transfer a part of the booking amount to their bank account and get a confirmation on booking. During low seasons, you can walk in and get a room. 
How to reach Sandakphu
You can take a jeep or a Land Rover from Manebhanjan to reach Sandkaphu. It takes about 4.5 hours. You have the option of either leaving the vehicle after you reach, or keep it overnight. There is a separate night charge applicable if you keep the vehicle overnight. If you want to trek all the way, then check out
Sandakphu and Singalila Trek
Related Articles
Visitors' Reviews
Saurav Roychoudhury (November 2019) 
Dear Raj, Good morning! I am a solo traveler and looking at a low cost travel experience. Would greatly appreciate your advice on shared transport options for traveling to Sandakhpu, and home stay options, quiet and quaint places away from any hustle & bustle. I wish to just spend some days in quiet looking at the mountains and greenery. Thanks and regards, 
Raj (darjeeling-tourism.com) November 2019 
Hello, you won't get any direct shared taxi from Bagdogra or NJP all the way to Manebhanjan. You can book a luxury shared taxi online on Wizzride.com up to Ghum (on the way to Darjeeling) and take a shared Jeep to Sukhia/Manebhanjan. Alternatively, walk up to the car park outside Bagdogra airport building... there are usually drivers offering shared rides to Darjeeling (this they do unofficially, so I can not recommend this)... get off at Ghum and follow the same modes as above. Once you reach Manebhanjan you can inquire at the Land Rover ticket counter for shared Jeep... you can join locals or other groups and pay a lower one-way fare. At Sandakphu, there are few hotels and lodges that I have discussed on this page above. 
Arun Chatterjee (November 2018) 
I too went to Singalila in October 2016 for which I came into contact with Mr. Keshav Gurung and he gave me the contact number of hotel Namo Buddha at Sandakphu and Hotel Pradhan at Manebhanjan. Mr. Gurung is a nice person. As per his advice I deposited the required amount to stay at Shikhar Lodge. After reaching Tumling I got a warm reception from Nila Gurung (owner of Shikar Lodge). At Sandakphu I was fully satisfied by Mr. Samten Sherpa of Hotel Namo Buddha.  When I was coming back from Manebhanjan I met Mr. Gurung along with my daughter. Overall it was an amazing experience... courtesy of Mr. Gurung.  
Rajib chowdhury (February 2017) 
Hi Raj, I really appreciate your effort here. I'll be visiting Sandakphu on mid February. Is it a good time to plan my visit & Will there be snowfall during this time ? Again THANKS A TON for such an informative site 
Raj (darjeeling-tourism.com) February 2017 
Hi, in Feb routes are likely to be closed to vehicles due to heavy snow. 
Callie Chee, Australia (January 2016) 
Thank you for your wonderful post. Now, I am planning to visit Sandakphu from Darjeeling to take some photos. I am planning to take only a day safari tour from Darjeeling. Is the sunset of the mountains eg Kanchenjunga equally as nice as the sunrise? By the time the jeep gets there, I think the sunrise is over. Are the roads safe to travel at night if I were to travel at night to catch the sunrise? And how long is it from Darjeeling? Many thanks! 
Raj (darjeeling-tourism.com) January 2016 
Yes, both sunrise and sunset views from Sandakphu are excellent and offer the spectacle of changing colors on the snow peaks. There are sunrise and sunset points in Sandakphu to get the best views. But day safari from Darjeeling wont serve the purpose. It can easily take over 5 hours one-way from Darjeeling. I shall not recommend night driving at all on this route because the gravel road is steep at many places and full of sharp turns. There is also a possibility of fog blocking the views. You should plan an overnight stay at Sandakphu to view sunrise or sunset. 
A S M Faizullah (January 2015) 
Dear Raj, Greetings of new year. I, along with my wife & 3.5 yr old son, have plahnned to have snowfall experience and thus thinking to visit Sandakphu on 3-Feb-15. Shall we be able to make 1 day round-trip Darjeeling-Sandakphu? Please give your expert advice with cost idea. Thanks & regards 
Raj (darjeeling-tourism.com) January 2015 
Routes will likely be closed beyond Tumling. But you can still see lots of snow around Tumling.