Habeeb Mullick & Son, Darjeeling
Located at the Chowrasta Mall of Darjeeling, Habeeb Mullick and Sons, a curio shop has been delighting the tourists since it opened in 1890. This is one of the oldest stores that was established during the British Raj days. There are two almost identical sections with two separate entrances from the front offering almost identical items. 
Although the two sections look almost identical, they belong to the two Mullick brothers - Parvaz and Habeeb. It used to be one common shop once. However the two brothers would most often be found together in one section. 
Habeeb Mullick and Son, Darjeeling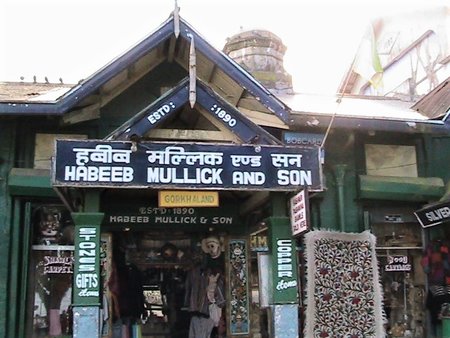 If you have read Rudyard Kipling's book Kim, you will feel that the store has been as if inspired by Lurgan Sahib's jewelry shop in Simla. As you walk in, you will see the shop stacked with varied kinds of curios, gifts and souvenir items. There are Tibetan masks, decorative kettles made out of stones, different kinds of ornate chains, necklaces & pendants with colorful gems engraved, jeweled brooches, silver jewelry, copper and brass items, stoles and pashminas that are made of fine wool, carpets and lot more. 
Once when I was having a chat with one of the owners Parvaz, he mentioned that this shop was established by his great grand father Habeeb Mullick. He took me to a small corner where there is a black and white framed photograph hanging from the wall. It was a picture of this shop that was taken when it was first opened in Chowrasta Mall in 1890. 
There are also other black & white pictures hanging there including one of the Mall itself depicting the way it looked during those days. Mullick told me that some of these photos are available for sale at the
Das Studio
located on the Nehru Road a few yards away. 
When I asked him what is the specialty of the shop, he mentioned that the section on the left specializes on Tibetan and other Indian artwork that are sold all over India. The section on the right although have similar stocks, specializes in wood craft. I did see a beautiful wood carved model of a fish. Since there are different kinds of jewelry and other intricate products that are designed by the artisans of the store, they want to protect the art and therefore photography is prohibited inside the store. 
Location & Contacts
As you approach the Chowrasta Mall from Nehru Road, Habeeb Mullick and Sons will be right in front at the Mall and on the left of the Oxford book store. 
Contacts
Shop Phone: (0354) 2254109 - Mr. Parvaz, one of the owners. 
Related Articles
Visitors' Reviews/Comments
Share your experience or stories.