Shops in Chowrasta (Mall), Darjeeling
The
Mall (Chowrasta
)
in Darjeeling is not only a wonderful meeting square where you can relax and watch the views and activities, it also offers an excellent opportunity for shopping. There are many glittering shops that circle the Mall. Some of these were established during the British India days and have created distinctive brands for themselves today. There are various kinds of stores here including curios, jewelry, art & craft, gift & souvenirs, stores selling Darjeeling Tea along with tea accessories such as tea pots, cups, cozy, etc. 
Stores lined up on Darjeeling Mall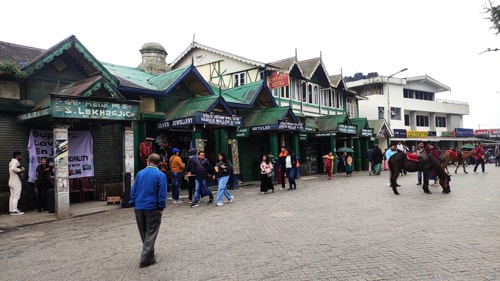 As you approach the Mall from Nehru Road and after having crossed over the Pine Ridge Hotel, you will see a bunch of great shops at the Mall on your left that are all colored green, and that is how they have been since ages. One of the most famous of these stores is
Habeeb Mullick & Son
that has two sections with two separate entrances and run by the two Mullick brothers. This is the oldest store in the hill town selling exquisite silver jewelry, curios, models, shawls and lot of other items. 
Habeeb Mullick and Son, Darjeeling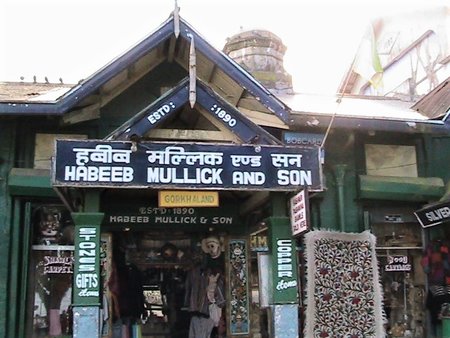 The next store is my another favorite, the
Oxford Book Store
. This book store is special. Here you will get books and maps of Darjeeling and Himalayan areas which you won't get anywhere else. Every time I visit Darjeeling, I pick up a book from here that adds to my Darjeeling collections. 
Oxford Book and Stationery Co., Darjeeling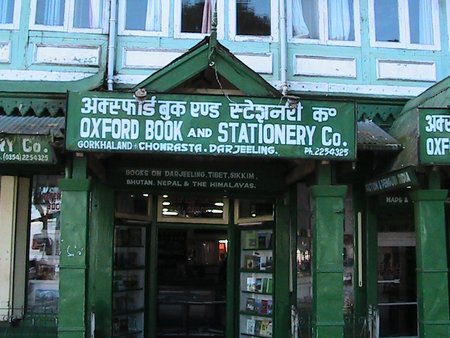 Another store on this side of the Mall is Chowrasta Store (at the left corner) and is a favorite for the liquor and wine lovers. It's well stocked with both Indian and imported liquor and wine. The board outside earlier had a large display of liquor to which the local authorities had raised an objection. The board has now been changed... it now has the name of the store written in Nepali as well as in English. 
Next to the series of green colored stores is a 2-storied white building below which there are several stores including an State Bank of India (SBI) ATM. One of them where you can try out some great Darjeeling Tea is the
Golden Tips Tea Bar
. This is a nice large tea lounge having great view of the valley from behind and serving some nice snacks as well. However, right opposite to this outlet is another larger outlet of Golden Tips known as
Teattoria
which also has an open terrace. You can also buy packaged Darjeeling tea as well as various tea accessories. Right next to Golden Tips Tea Bar is
Pair Up
... a store selling footwear. 
Stores at Darjeeling Chowrasta Mall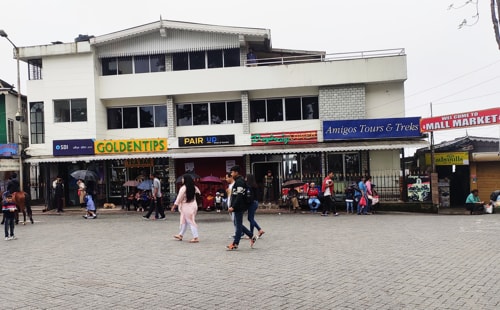 Next after the white building is
Nathmulls Tea & Sunset Lounge
. Nathmulls is one of the oldest and largest tea merchants in Darjeeling operating since 1931. They collect tea from tea auctions as well as from various tea estates directly. Here at the outlet you will get flavored Darjeeling tea of different varieties in packets.  
Inside there is a section that sells different kinds of souvenir and gift items. You will get jute bags, brass makes of small elephants, porcelain items like small cups & plates, jewelry boxes, wood carved items like small fishes, metallic hukkas and more. They of course sell Darjeeling Tea in packets of various sizes as well. 
On the right of Nathmulls and the last store before the Mall road begins is Tibet Arts. It's a small store selling all types of curios. They also sell Pashminas (special fine woolen items) and shawls, models and other crafts. 
A narrow lane passes right next to Nathmulls and Tibet Arts, which leads to the Mall Market... this is where the Bhutias set up stalls selling all kinds of woolens and winter-wears including gloves, jackets, sweaters, shawls, mufflers, etc. If you look up near the entry of this narrow lane, there are huge signs of Mall Market. 
On the right of the statue of poet Bhanubhakta, the Mall Road (East) begins. You can see huge signs of New Mahakal Market. There are temporary stalls setup along the Mall Road (east) right from its start and for a long way inside. At the entry, there are several vendors selling phuchkas... they are known as Phuchka walas. Phuchkas are street snacks that are small hollow flour balls having fillings made out of spiced potato and tamarind water. They sell like hot cakes in various parts of India and are favorites to both kids and adults. 
Entry to New Mahakal Market, Darjeeling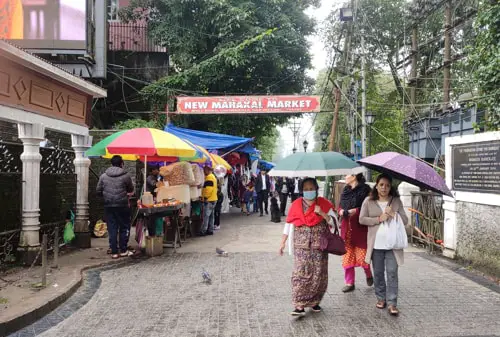 Phuchkas are also also known as pani puris or golgappas. These men also sell masala muri and bhel puri, two other types of snacks made of puffed rice and various kinds of spices and ingredients. Price is reasonable and comparable to that of Kolkata. After the phuchkawalas, the long line of stalls start selling dress materials as well as woolens that are similar to that of Mall Market. Many of them also sell toys, curios, trinkets, etc. 
Phuchkawalas and stalls at New Mahakal Market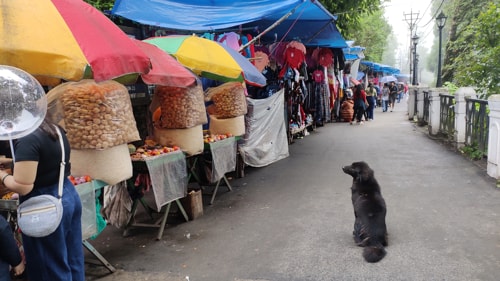 On the other side of the Mall where the Zakir Hussain Road enters the Mall area, there is a cluster of shops. One of the prominent ones is Jolly Arts, that offers different kinds of crafts, floor & wall carpets, silver jewelry, jewelry boxes and other curio and handicraft products. They also have great collections of Tibetan masks some of which show vivid facial expressions, stones, artwork on clothes, jewelry items, fine woolen shawls and many other souvenir and gift items. They are one of the most reputed stores in the mall. The store is owned by Mr. Altaf Fazili. His son Washim is also present at the store most times. 
Jolly Arts, Darjeeling Mall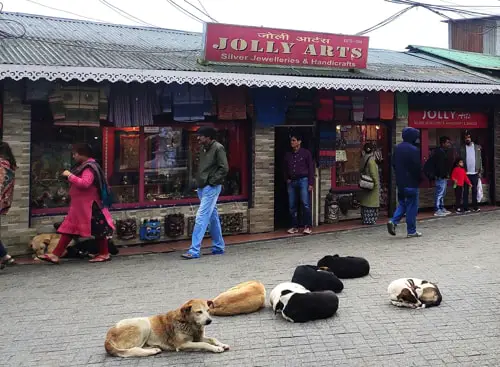 The next store is Arts Crafts & Curios. They have a nice collection of Tibetan masks as well. They also sell Khukris (Gorkha curved decorative knives), different models made of oxidized metals, models of Lord Ganesha, key rings, different types of stones etc. 
There are few more stores here. Curio Corner is government registered and sells Tibetan jewelry, carpets and curios. Next to it is the Darjeeling Tea Corner where you can buy packaged Darjeeling Tea. And then Bhutan Tibet Art Shop selling Tibetan artwork and crafts. 
Related Articles
Visitors' Reviews/Comments
Share your experience or stories.