Glenary's Restaurant Darjeeling
Category: Mid-Range, Cuisine: Continental, Indian, Chinese 
About Glenary's
Glenary's Restaurant & Bar has been a landmark of Darjeeling since many years. This two storied white building located on Nehru Road and just a minute's walk from the Mall is special and close to the heart of many Darjeeling lovers. The restaurant is over 100 years old and was established during the British colonial days. Today it's privately owned by the Edwards family who are resident of Darjeeling. 
Glenary's Darjeeling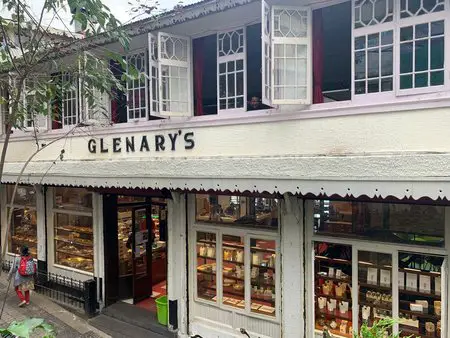 There is a short walkway from Nehru road that leads to this building that has its own open space in front. Having an exclusive open space in front and that too in a hill town like Darjeeling where land area comes with a huge premium, is a rare sight. Having been established back in the British Raj days, Glenary's has been fortunate to enjoy such a premium space. 
The building has several sections. The
Glenary's Bakery and Cafe
is located at the ground floor.
The Buzz Bar
is located at the basement of the building. The main restaurant & bar is located on the first floor. 
You can access the staircase to the upper floor restaurant either from inside the ground floor bakery, or through a separate entrance at the road level and on the right side of the building. 
The Ambience
The dining room is large and impressive and exudes a classy elegance. Several glass top wooden tables and chairs with black lacquer finish are laid across the dining room. The tables have white table cloths, porcelain vas with fresh flowers, and glasses with napkins inserted into them. The ceiling is quite impressive as well. It has matte-yellow finish with carved artwork as well as chandeliers. With white wooden framed glass windows, wooden floor and decorative pillars, the ambience of the restaurant is definitely quite appealing.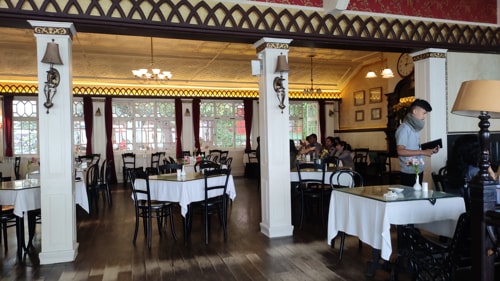 As you enter the dining room, on the left there are window-side tables overlooking the busy Nehru Road below. These tables are great to watch the people walk by as you relish your food. 
The Glenary's restaurant has undergone some major renovations and restructuring. The well stocked bar which is now located next to the entrance door, used to be on the opposite side and at the end of the large dining room. There used to be sofas on the right side of the room offering wonderful views of the mountains and valley through the large windows. Those sofa seats were the first to get filled up. 
Now the sofas have been all replaced with tables and chairs. However the great views through the windows are still the same and during the day time, that area on the right-end is still a coveted seating place.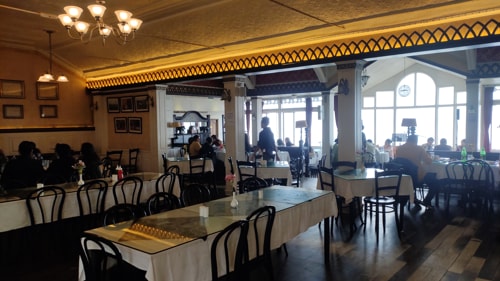 There is also an roof-covered outdoor terrace which can be accessed from the right-end section of the dining room. This terrace has been newly added and is very popular among the tourists. This is a great place to dine alfresco and enjoy the views of the mountains and Darjeeling township. There is an wooden stairway at one end of the terrace which leads down to the open terrace of the
Glenary's Bakery
at the ground floor.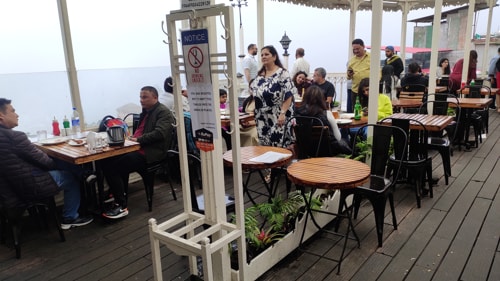 Glenary's has a well stocked bar serving Indian and imported spirits and cocktails. They have a nice collection of Indian and imported whiskeys, as well as brandy, rum, gin, vodka, beer, wine and cocktails.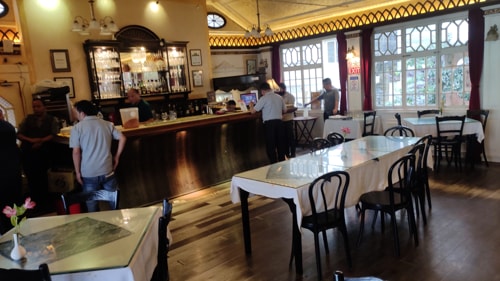 There is a ladies toilet and a Gent's urinal in the restaurant. 
Glenary's Food Menu
The restaurant mainly serves Continental, Indian and Chinese dishes. In Indian cuisine you get both Tandoor items (that are prepared in earthen oven) and other north Indian dishes. 
So what kind of food should you try here? Over the years, we have dined here numerous times and tried almost all the dishes. We love the food at Glenary's in general. Here are some of our favorites: 
For starters some of the great dishes are pepper chicken and Chinese fried chicken. You can also go for fish finger, cheese balls, French fries, paneer or veg pakodas and crispy fried pork, chicken/ pork/ beef/ prawn chili. Alternatively, you can go for one of the many soups. We like Chicken clear or chicken mushroom soups. You can also try hot & sour, chicken corn, vegetable or tomato soup. 
In Continental, some of the great dishes include mixed grill, roast chicken, chicken hamburger steak and fried fish & chips. There are pork and beef items as well like roast pork, roast beef, beef steak etc which you can have with a portion of French fries. Other great dishes are Fish or Vegetable Au Gratin, or even baked cheese macaroni. 
In Chinese, some of the great non vegetarian dishes include sliced chicken with vegetable, chicken or fish manchurian, chicken mushroom, chicken/ pork/ beef chilly and Chinese roast pork. In vegetarian, you can go for Chinese vegetable, baby corn in hot sauce or veg manchurian. In the mains you have a choice of veg/ chicken/ mixed/ pork/ beef chowmeins or fried rice. 
In Indian, tandoor items at Glenary's are our first choice. Favorites include Tandoori chicken, chicken reshmi kababs, chicken tikka kabab and the fish mahi tikka. You can combine it with tandoori roti or naan or even garlic naan. There are also standard North Indian vegetarian and non-vegetarian dishes in the menu such as paneer matar, sahi paneer, corn palak paneer, chicken butter masala, chicken kofta curry, chicken bharta, etc. 
For desserts, the brownie with chocolate sauce & ice cream is great. Or you can just try an ice cream or even the fruit salad. For beverages, they serve tea & coffee in pots, cold drinks, juices and fresh lime & soda. 
Dinner for two including a starter, a main course and a side with a non-alcoholic beverage will cost around Rs. 900. If you indulge in alcoholic drinks, it can burn a much larger hole in your pocket. For example, a bottle of Kingfisher beer (650ml) costs Rs. 300, cocktails are also priced in the range of Rs. 300. Note that all food and beverages are subject to GST. 
Service
Most of the old staff have been replaced with local young staff. While the service in general is okay, during the rush time it can slow down considerably. Note that during the high tourist seasons (such as summers, puja vacations and Christmas), there are usually long serpentine queue outside that starts from the stairway and hoes all the way outside to the road... to get a table might easily take more than an hour. 
Open Hours
Noon - 10pm.  
The restaurant serves lunch & dinner. You will get breakfast at the bakery & cafe below at the ground level. They accept credit cards. 
TIP: Try to avoid Glenary's during the rush hours, particularly if you are in a large group. They don't seem to have any guest queue management system in place and do not keep track of who may be waiting before who. It's like free for all, go & grab a table that becomes free. 
Location and Contacts
Glenary's is located on Nehru Road that leads to the Chowrasta Mall. As you walk along Nehru Road, you won't miss this two storied white building on the left. Mall is only 1-minute walk from Glenary's Restaurant. 
Phone: (0354) 225 8408 
Related Articles
Visitors' Reviews/Comments
Rahul Mahato (October 2021) 
Offensive and ill-mannered behavior of the table staff (male) and manager ruined our Glenary's experience. We visited Glenary's in Darjeeling during DASAIN festival at around 3pm. The staff blocked us aggressively to enter the balcony section (although we entered and found a sweet little spot for ourselves outside in balcony area) to eat and even asked us to literally "get out" (his literal words) of the section directly from the table area. 
We have been observing locals sitting in the same section with pastries and buns to enjoy the view while we were asked to not sit and leave instantly. 
The staff blocked us and said that they don't allow people to sit with confectionery items and eat at this balcony section but we observed the locals sitting in that area and eating confectionery items... we were told to sit outside but questioning about people who were already eating and space to sit and eat, we were told to get out. There were no sign boards to mark places for pastry food etc anywhere in the store. 
Being in hospitality business their behaviour towards us was like they are doing a big favour to us by giving us food. 
We asked the cashier to return the items and this is when the manager stepped in and asked to find our own tables if we are entering Glenary's and he cannot return the items. He did not listen to us and behaved very rudely after which we asked for return adamantly. 
As a tourist in Darjeeling and also a resident of Siliguri, which is the ultimate gateway to the hills in general in the north east section of India, I am ashamed and disgusted by this experience. I am writing this to warn the tourists to avoid this spot at festive times if you do not want to face local-tourist fights and quarrels. It ruined our experience. The hotels and cafes in Siliguri are far better in hospitality and behavior than these spots in the hills. 
Seema Krishnan (June 2017) 
We had lunch at Glenary's and loved the old world charm of that place so much and we again visited the place for tea in the evening.