Glenary's Bakery & Cafe, Darjeeling
Category: Mid-Range 
About Glenary's
Glenary's Bakery & Cafe, also known as the Glenary's Cake Shop is located at the ground floor of a two storied white colonial building that prominently displays its name in front. This is a prominent landmark of Darjeeling and existing since the British colonial days. It's run by the Edwards family. Glenary's is located on Nehru Road and at a stones throw away from the Mall (Chowrasta).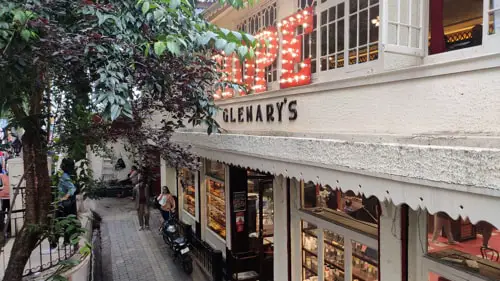 Glenary's Restaurant
is located upstairs which you can access through a stairway either from inside the cafe or from outside the building. And at the basement is the
Buzz Bar
which is a modern pub. All three units belong to the Edwards family and the entire white building is known fondly in Darjeeling as The Glenary's. Ajoy Edwards, who is the political leader of 'Humro Party' in Darjeeling, is the present generation owner of Glenary's.  
As you walk in through the huge wooden framed glass door into the bakery, to your left you will see large glass cases showcasing various types of cakes, pastries and snacks along with price tags. You can ask a staff to take out the pieces which you like and she will place them on a plate and hand it over to you.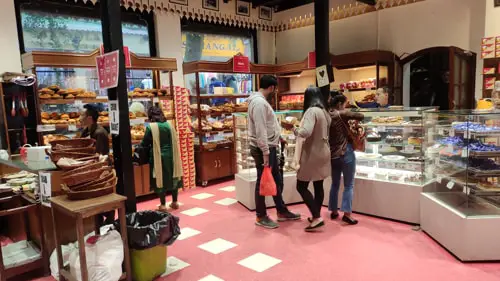 Glenary's Cakes, Pastries & Snacks
There are various delicious choices among cakes and pastries, such as Blueberry Cheese Cake, Black Forest, Chocolate Triangle, Chocolate Slice, Pineapple Cake, Almond Sponge, Strawberry Pastry, Coffee Pastry, Chocolate Tart and a lot more. Cost of a piece varies from RS. 55 to Rs. 140.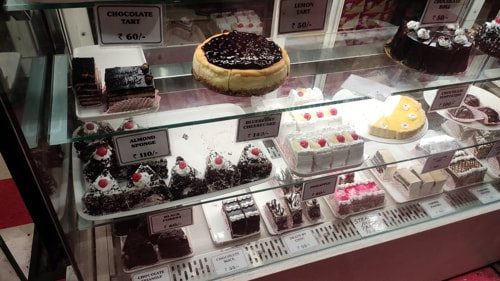 Here in the glass cases you will also get excellent snack items such as Chicken Cheese Pie (one of my favorites here), Veg Quiche Pie with Egg, Cheese Pie, etc. The cost of a piece varies from Rs. 70 to Rs. 80.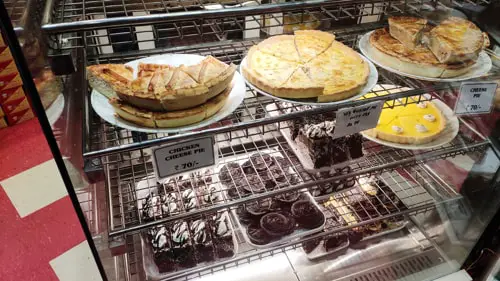 There is another section to the extreme left as you enter, where there are large open wooden shelves arranged in a row that are full of fresh breads and loafs of different types including white and whole wheat breads along with many other bakery items such as Mini Jam Tarts, Jam Tarts, Sweet Scones, Chocolate Brownies, Muffins, Croissant, various types of biscuits and cookies (such as Jeera Biscuits, Ginger Biscuits), and lot more. 
Few other great selections here includes Custard roll, queens muffin, chicken patties and Pork sausage Patties. This is a self-service section and you need use a basket and pickup the pieces or packets using a tong.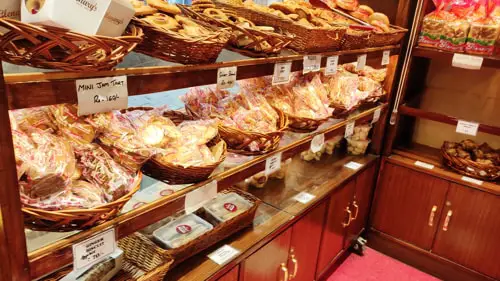 Dining at Glenary's
Once you are done with your selections, you will then need to walk ahead and make the payment at the counter. Here you can ask them to either pack it for you or let them know that if you would like to eat here. There are several tables spread out in the bakery where you can sit and have your snacks and desserts. 
There is also an outdoor section at the end of the dining area where there is an open terrace. Wooden-top tables and chairs are lined up here. The space is limited and there is only a single row of tables all of which offer lovely view of the valley. So, if there is no rains, this is usually the first section to get filled up.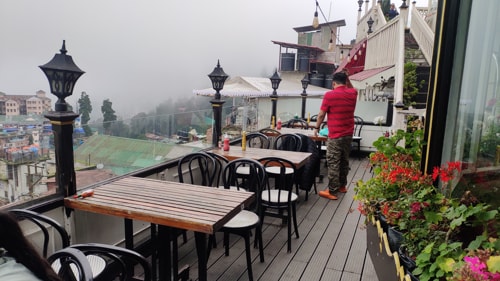 Glenary's Bakery & Cafe is well known for the breakfast it serves. During breakfast, you get items like sandwiches, burgers, rolls, pies, pizzas, pastries, cakes and many other items including fresh bread and loafs. You can end your breakfast with some great Darjeeling tea or coffee. 
And now there is free wifi available at Glenary's. So if you have a laptop or your smart phone, it's good time to have a cup of Darjeeling tea, share your pictures with your friends or clear your emails. 
Glenary's has remained as the best bakery in Darjeeling district. They have an outlet at the lower town of Darjeeling at Chowk Bazaar (a much smaller one , but you will get most of the bakery items there as well which comes from the main shop). They also have a branch at Bagdogra (near the airport). Many restaurants and even hotels in Darjeeling buy the breads, cheese etc from Glenary's and serve them to their customers, such has been its reputation. 
On one side of the bakery is a red colored old telephone booth that is symbolic of the early days. It adds to the grandeur of the cafe as a light music plays on all the time. You can see a red carpeted stairway next to the booth. That leads upstairs to the restaurant. 
Open Hours
Glenary's Bakery, Cake Shop & Cafe: 7am - 8:30pm. You get breakfast, snacks, cakes & pastries at the bakery & cafe. They accept credit cards. 
Location and Contacts
Glenary's is located on Nehru Road that leads to the Chowrasta Mall. As you walk along Nehru Road, you won't miss this two storied white building on the left. Mall is less than two minutes walk from the Glenary's. Phone: (0354) 225 8408 
Related Articles
Visitors' Reviews/Comments
Share your experience.